An upright walker focuses on promoting correct posture. It is a walker that helps you stand up straight, without having to bend over or hunch down while walking.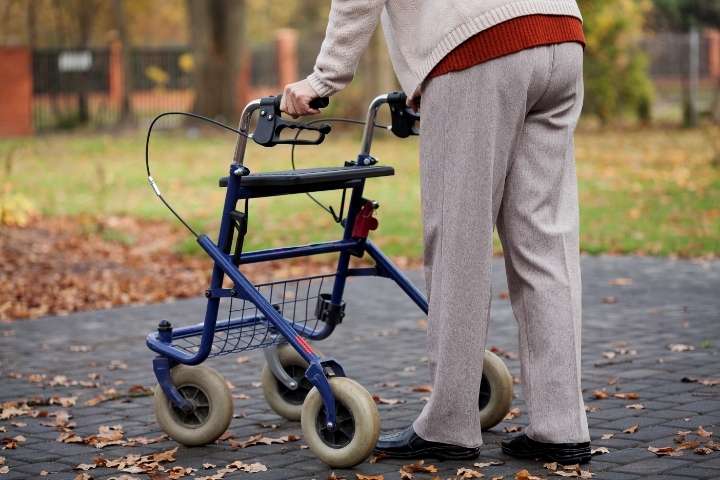 Also called an armrest walker or a stand up walker, using an upright walker, seniors can maintain an upright position without tiring themselves.
If you are looking to buy the best upright walker for seniors, we have you covered.
In this article, we review these standing walkers for you on the basis of their maneuverability, safety, affordability and which use case are they ideal for.
The table below gives a quick snapshot of the best upright walkers for seniors. If you are looking for more details, read on for our detailed stand up walker reviews below.
The Best Stand Up Walkers For Seniors
As seniors age, they often face difficulties doing routine tasks such as walking, sitting, and standing. Mobility loss is one of the biggest problems that people encounter when approaching old age. In 2011, 24% of adults aged above 65 used a mobility aid [1].
There are several types of mobility devices, such as walkers, rollators, wheelchairs, and scooters, etc. But when it comes to standing up straight while walking, nothing beats the upright walker, also known as the stand up walker.
Let's get started with our upright walker reviews! Here is our curated list of the top 8 with their Pros and Cons and why we selected that particular product.
#1 – ELENKER Upright Walker – Best Upright Walker For Seniors
In our list of the best upright walkers for the elderly, ELENKER upright walker takes the top spot. The ELENKER stand up walker is expressly designed to assist senior citizens and patients with disabilities to get around better.
It ensures that the user has an upright posture, which relieves pain and pressure from the back, shoulders, neck, and wrists.
This upright walker has two large 10 inch front wheels and two 8 inch rear wheels with an additional obstacle aid pedal. The 10 inch front wheels make it a great upright walker for uneven surfaces as it can easily navigate bumpy ground.
The obstacle aid pedal of this stand up walker comes handy when a wheel is stuck in a pothole or runs into objects in front of the walker.
It is a standard-sized upright walker with a padded seat made out of solid polyurethane and nylon, which can be used to take breaks and rest while walking.
Pros
An adjustable armrest tube (38″ to 45″) can adjust the padded armrest length and the holding angle, allowing the user to stand in a more natural position.

Heavy-duty frame with a load capacity of 300 pounds.

Ergonomic dual handbrakes serve as extra safety measures for an elderly user.

360° swivel wheels provide ease of movement and enhanced maneuverability.

Does not require any assembly.

Large 10 inch front wheels for a smoother walk.

Folding design makes this upright walker portable and easy to store.
Cons
The seat must be locked on before sitting, otherwise, the walker can collapse.
Why Is The Elenker Upright Walker The Best Upright Walker For Seniors?
The ELENKER Upright Walker is our top choice as the best upright rollator walker with seat. With its excellent design, elderly folk can regain their confidence when moving and lose their fear of falling when they walk.
Very stable and sturdy, allowing the user to maintain proper balance.

Preliminary clinical studies show the use of this walker results in a better walking posture, reduced pain in the back, arms, legs, wrists, and joints, and an increase in stability and balance.

Has height-adjustable armrests that reduce the stress on arms while using the walker. This means the user can use the walker for longer periods of time.

Has a weight capacity of up to 300 pounds, which is as much as any of the other upright walkers on our list.

Lockable hand brake serves as a very important safety feature allowing the user to stop, slow down, and even park the walker safely.

Its very comfortable seat can be used to sit down or relax on after getting tired of walking. This gives seniors a chance to regain their strength when they are tired.
You might also like to read: Best Walker Glides for Concrete Surfaces
#2 – Upwalker – The Original Upright Walker As Seen On TV And Best For Outdoor Use
LifeWalker Mobility Products was the first one to come with upright walkers in the market. Also called the upwalker, you might remember the commercials and infomercials of upright walker as seen on TV. It occupies the second spot on our list of best upright walkers for seniors.
We also found that it was the best upright walker for outdoors, given its design, safety and ability to handle different terrains.
Upwalker has a very ergonomic design. It has padded handlebars, making the transition from sitting to standing and vice versa as easy as possible. The walker also has a padded seat with a comfortably padded backrest that slides in front for sitting and can slide back to support walking.
The Upwalker is ISO certified and rates quite high in its safety and stability. The frame of the Upwalker is lightweight and can be easily folded, making the walker ideal for storage and transportation. The frame has a weight capacity of up to 300 pounds.
This detailed video gives a complete demo of how easy it is to unbox and set up the Upwalker:
Pros
Ergonomic handbrakes ensure the ultimate safety of the user.

Adjustable height armrests provide better arm support as well as upper torso support.

No assembly required, as it arrives fully assembled.

Multi-terrain large 8-inch wheels are suitable for driving on all types of surfaces.

Can support user weight up to 300 pounds. 

Includes three free accessories: a personal bag item, a beverage holder, and a detachable backrest.
Cons
It can be wide or large for smaller individuals. If you are shorter senior, you can consider the alternative Upwalker Lite below.

A 23 pound walker is on the heavier side for maneuverability and may be too heavy for some users.
Why Is Upwalker The Best Upright Walker For Outdoor Use?
We found the Upwalker to be the best upright walker for outdoor use because of the following reasons:
It is ISO certified and the company stands behind its product for safety and stability. You do not want anything remotely unstable when using outdoors.
Its brake cables are concealed within the frame. Thus they are not a tripping or entangling hazard when being used outdoors.
The 8 inch wheels are sturdy enough to navigate rough and uneven surfaces.
The padded handlebars are ideal for easy transition from the sitting to standing position and vice versa, making it convenient for frequent rests outdoors.
At this stage, you might want to read our comparison article Elenker Upright Walker Vs Upwalker
#3 – Upwalker Lite – Best Upright Walker For Short Seniors
The Upwalker Lite is the lighter version of the very popular Upwalker Standard Upright Walker that we discussed above.
Slightly less expensive than its full feature counterpart, it is the best upright walker for short seniors.
This upright walker weighs only 15.5 pounds and has an extremely compact design. It is a particularly easy-to-maneuver upright walker, whether you are using it indoors or outside, making it great to use in tight spaces.
Shorter seniors looking for a lighter walker will want to strongly consider this one. This upright walker packs a strong punch in a small package. It is ideal for users between 4'7″ and 5'10" in height. 
Additionally, the adjustable armrests and padded seat with a detachable backrest take care of your comfort while you are out and about. 
This video below shows the Upwalker Lite in action:
Pros
Very lightweight walker as it just weighs about 15.5 pounds, which ties the spot for our lightest walker with a seat.
Makes for easier portability before and after use.
For its light frame, it still supports up to 300 pounds of weight.
With its light weight, can be maneuvered through tighter spaces with relative ease.
Relatively more affordable.
Cons
Built with the intention of creating a sturdy frame with less weight, but some users may still find it to be not sturdy enough.
May not be suitable for larger individuals due to its light frame. Larger individuals are encouraged to consider the Upwalker Standard model in our previous entry.
Why Is Upwalker Lite The Best Upright Walker For Short Seniors?
We found that the Upwalker Lite is the best upright walker for a short person because of the following factors:
On the lower side, this upright walker is ideal for seniors up to 4'7″ in height. On the higher side, it can work with seniors up to 5'10".
It is extremely lightweight. This will work very well for shorter seniors who might not have as much body strength. It weighs only 15.5 lbs.
Because of its smaller frame, it is very maneuverable and easy to handle for seniors with a smaller build.
You might also like to read: How Much do Walkers Cost?
#4 – Oasisspace Upright Rollator Walker
Inability to walk on their own without any support can take a toll on the seniors' confidence. With the Oasisspace Upright Walker, the elderly can start getting around more and work on getting their freedom back.
This upright walker has a very simple and convenient design, which instills the user with confidence and serves will to improve their balance.
It has a special folding design, which takes less space while storing and is suitable for traveling.
This upright walker also comes with a very strong dual brake, which is easy to use and prevents seniors from falling. The user has to push the brake forward to slow down or to stop.
It also has adjustable armrests which have a height change range of 39″ to 48″. This makes it suitable for people measuring between 5 and 6 feet in height.
Pros
The Oasisspace Upright Walker is a narrow walker which is door friendly, which many traditional stands-up walkers are not.

The front wheels are 10 inches wide, and the rear wheels are 8 inches wide, and all four of them have a swivel design to increase mobility. Larger wheels make it easier to maneuver over obstacles.

Walker's sturdy frame is made of high-quality aluminum, making it sturdy and stable.

The maximum load capacity of the walker is 300 pounds.

Walker has a comfortable, removable seat, which also has an attached large storage bag. It is durable and waterproof and can be used to store essential supplies.

Seat height is only 21 inches off the ground, which is one of the lower walker seats on our list. This can potentially allow for more ease when sitting down and standing up.
Cons
At 26 pounds, this is the heaviest walker on our list. Note that some users may like a slightly heavier walker for added stability. Others may find that it can be a bit cumbersome to move around.
If you are more than 6 feet in height, this is not really the best upright walker for tall seniors
You may also like our article on Narrow Walkers for Seniors
#5 – Beyour Walker Upright Walker For The Elderly
Beyour Walker Store has come up with a really nice stand up walker with seat for seniors and disabled individuals. It is a lightweight folding walker of 22 pounds, making it easy to transport and portable.
The upright walker also has a strong frame for its light weight, with a load capacity of 300 pounds.
The wheels of this standup walker are suitable to drive over pretty much any terrain. It has two front wheels that are 10″ inches in diameter and 2 rear wheels that are 8″ inches in diameter.
The walker has an ergonomic design that prevents it from tipping over and the wheels swivel 360° for easy maneuverability.
Pros
This walker's additional free accessories are a cane or umbrella holder, as well as a removable nylon bag.

Soft padded cushion height-adjustable armrests have a height change range of 39″ to 46″.

The stand up walker's frame has seven different height levels, which makes the walker highly adjustable.

Threshold air pedal allows the users to go over obstacles and thresholds easily.

Ergonomic loop hand brakes with dual stopping power protect the elderly from any mishaps.
Cons
Seniors may find it challenging when initially assembling this walker.

Maybe too narrow and small to fit a larger individual.
You might also like to read: The Best Rollator Walker for a Tall Person
#6 – WINLOVE Upright Walker – Best For Tall Seniors
If you are looking the best upright walker for tall seniors, look no further than WINLOVE. With a supported height of 6 feet 5 inches, this stand up walker with seat is an amazing choice for those blessed with exceptional height.
The 10 inch front wheels and 8 inch back wheels are good enough for all kinds of surfaces. While other features like weight limit of 300 lbs and efficient braking mechanism is pretty standard across all upright walkers, WINLOVE shines in being lightweight. At 18.9 pounds, it is the second lightest on our list.
Another feature that separates WINLOVE from the pack (apart from it being the best tall walker for seniors) is the 24 hour customer support. The company is available to help you with your queries 24 hours a day, seven days a week. They are fairly responsive. We tested their response time and it was within the claimed four hours.
Please note that this walker with high arms is expressly designed for tall seniors – those between 5 feet 10 inches and 6 feet 5 inches. If you are looking for an upright walker for short seniors, the Upwalker Lite is a great option.
Pros
Lockable handbrakes are easy to use and make the walker safer.

Very lightweight walker as it just weighs about 18.9 pounds, which makes it the second lightest on our list of best upright walkers with a seat.

Despite its light weight, it is still advertised to support up to 300 pounds of weight.
Seat height is on the lower side at 21.5 inches, which can make it convenient to sit down and stand up from.

Compact and easy to transport.

A highly durable and stable frame increases the balancing ability of the user.

Does not require any assembly as it comes pre-assembled.

It also has an additional cup holder and storage bag.

Very responsive manufacturing company.
Cons
WINLOVE upright walker does not come with assembly instructions. We could not find a YouTube video from the company for assembly as well. So while putting together this tall walker, please keep someone handy who can help you if needed.
It tends to tip over when going over bumps. So it might not be great for the outdoors.
Why Is Winlove The Best Upright Walker For Tall Seniors?
WINLOVE high walker for elderly is a great option for tall seniors because:
It supports a height up to 6 feet 5 inches. This should cover most tall seniors.
It is roomy enough to accommodate wide people comfortably.
You might also like to read: How to Protect Hardwood Floors from Walkers
#7 – Robert Jamison Stand Up Walker For Seniors – Cheapest Upright Walker With Seat
This upright walker is another excellent standing walker for seniors, allowing users to stand with their shoulders and arms relaxed. It has adjustable armrests so that the user can adjust the armrest height to their wrists' height. This puts less strain on the back muscles.
As compared to other products the biggest thing that stands out in this product is its price. It is the best priced upright walker on our list.
The upright walker leg height is also adjustable with just the push of a button. Its height changes from 42.5 to 45.6 inches, and with a high maximum load capacity of 300 points, it is suitable for most people.
Pros
Padded and comfortable armrests allow the user to maintain their focus in front of them.

Provides comfortable neck, shoulder, and upper torso support.

Its special compact design makes the walker foldable and reduces the walker's width, making it easy to carry and transport.

Additional removable shopping bag for storing items.

Easy lock hand brakes are easy to use yet very effective. 

Strong backrest protects seniors from back-related issues when sitting.
Cons
The weight of the walkerl can be on the heavier side for elderly folks to lift.

At 24.5 inches in total width, the walker may be too wide to pass through narrower doors.
You might also like to read: How To Use A Rolling Walker Properly

#8 – Xrx Foldable Upright Walker For Seniors – Least Expensive Upright Walker
The Xrx stand up walker is final upright walker on our list and a unique one. It is the only walker on our list with no seat, so those needing a seat with their walker should consider one of the other many options.
But because it does not have a seat, it is the least expensive upright walker.
Regardless, this is a well-designed walker that is particularly lightweight, making it very easy to maneuver for elders. In fact, without the seat, it is also the lightest upright walker in our selection, weighing in at 13 pounds.
This walker is really useful if you need something for a shorter period of time. It comes handy for short distances like going from the bed to the toilet or moving about within the house.
The walker has a dual hand grip design to make balancing easier. These handles provide additional support to the user during the transition from sitting to standing and vice versa. The walker also has additional forearm support, which relieves fatigue and stress and allows the user to relax.
Pros
The walker has a maximum load capacity of 250 pounds.

Very strong and durable frame made out of solid steel pipes.

Simplistic, easy to fold and unfold design, allowing for hassle-free usability.

Handles as well as legs have adjustable height settings of up to 10 levels.

Wheels have high-quality hand brakes for safety.

Also includes personal items bag for storing necessary items.

Partly due to its lack of seat, this walker is the lightest on our list at only 13 pounds.
Cons
The only walker in our selection with a lack of a seat.
Perhaps due to its low weight, it supports 250 pounds, which will be plenty for many users, but is the lowest weight capacity on our list.

Wheels are only 4 inches in diameter, making it more difficult to maneuver over obstacles and rougher grounds. This walker has the smallest wheels of any walker in our selection. Although all these cons are really negatives, if you are using this stand up walker outdoors. Otherwise, it is a perfectly good stand up walker for indoor use.
You might also like to read: Walker, Crutches, or Cane after Hip Replacement – What to Use?
Features Of A Good Upright Walker
Quality Wheels
The best stand up walkers have large and sturdy wheels that can sustain plenty of downwards pressure without breaking. The wheels must also be rugged and suitable to roll over all kinds of surfaces.
At a minimum, the wheels should be 8 inches in diameter. Some upright walkers' wheels are also 10 inches in diameter which makes them better for rough surfaces.
Compact Design
Portability is an essential feature of a good stand-up walker. An upright walker with a compact design can easily pass through narrow passages. A compact design also increases maneuverability in tight spaces like hallways.
A standing walker that becomes compact after folding is easy to transport. The process of folding and unfolding the walkers should be easy and simple.
Suitable Weight
The products on our list of best stand up walkers range anywhere from 15 pounds to 25 pounds.
The weight of a walker is likely going to be one of the most subjective decision criteria. Some users will prefer a light weight stand up walker that can be maneuvered more easily. Other users may prefer the added stability and reassurance of having a heavier walker.
Generally, if you are stronger in your upper body and arms, you should be able to maneuver a heavier stand up walker with seat. But if you feel that your upper body is frail, you would like to go for a lightweight upright walker.
Medicare Coverage
Not all upright walkers are covered by Medicare. We have written an in depth article on medicare coverage of rollator and upright walkers for you.
Solid Frame
The frame of an upright walker is its main support. The frame should have a sturdy build quality and be constructed of durable materials like aluminum or steel.
The walker's frame should be solid enough to bear the weight of the person without tipping over or breaking down. A sturdy frame largely diminishes the possibility of any accidents and mishaps.
In our upright walker reviews, we have chosen only those products that have good frame quality.
Seat Quality
The upright walker's seat should be of decent quality to provide ample cushioning. Elderly skin is thinner and more prone to breakdown. An upright walker without a properly cushioned seat can become very uncomfortable, very quickly.
The following video presented by licensed physical therapists demonstrates which walkers are best the best upright walkers for different kinds of people.
You might also like to read: Different Types of Walking Assistance Devices
Upright Walker FAQs
When buying an upright walker, users have many frequently asked questions. Here are the answers to some of them.
1. Are Stand Up Walkers Safe?
With stand up walkers or upright walkers, you stand taller. This means that your center of gravity is higher and it can increase the risk of tipping. Not all upright walkers are designed the same. We found the Upwalker to be the safest stand up walker.
2. How Much Does An Upright Walker Cost?
The price of an upright walker ranges from a couple of hundred dollars for standard models to over five hundred dollars for the UPWalker.
3. Is The Upwalker Covered By Medicare?
As of October 2021, the UPWalker is not covered by Medicare as its suppliers are not funded by the program. Other upright walkers may be covered under Medicare, so you'll want to check to see that your specific walker meets the criteria for Medicare coverage.
4. How Much Does The Upwalker Cost?
The UPWalker comes in three models – UPWalker, UPwalker Lite and UPWalker Premium Lite. They range in price from a little over $500 to just over $600.
5. Who Should Use A Rollator Walker?
Rollator walkers and other upright walkers are suitable for the elderly and people who have difficulties while walking and standing. It is for people who can not maintain their balance while standing and cannot walk without any external help or support.
6. Is It Better To Walk With A Cane Or A Walker?
Canes help people who have side problems such as legs or arms, whereas walkers help people who have neck, shoulder, wrists, or back-related issues.
You might also like to read about: Trays and Baskets for Walkers
Parting Words: The Best Upright Walker For Different Uses
A standing walker is a fantastic mobility device for the elderly as it helps them to live a confident and independent life. It promotes correct and upright posture and provides important assistance for those with neurological, cardiovascular, or pulmonary diseases.
If your loved ones experience regular wrist, back, and leg pain due to the use of conventional walkers and rollators, consider buying an upright walker for them to help them correct their posture.
In this article, we have selected the best upright walkers for seniors based on the features mentioned in our buyer's guide and the ratings and comments mentioned by real users.
However individual upright walkers stand out in different use cases. As a quick snapshot, the following products are the best fit according to the given condition:
Best Upright Walker For Seniors
Overall, ELENKER Upright Walker is the best upright walker for seniors based on its maneuverability, safety, comfort and price.
Best Upright Walker For Outdoor Use
In our opinion, the Upwalker Upright Walker For Seniors is the best choice for outdoor use. It scores the highest on safety, which is paramount when using the walker outdoors. It is ISO certified that gives the users a sense of comfort that the company stands solidly behind its products.
Best Upright Walker for Short Seniors
The Upwalker Lite came out as the best upright walker for short seniors. It works with shorter seniors, up to a height of 4 feet 7 inches. It is also a very lightweight upright walker, measuring only 15.5 pounds, thus easy to maneuver for shorter seniors who also might be frail.
Best Upright Walker for Tall Seniors
Winlove's upright walker is best if you are a taller senior. It works for seniors up to the height of 6 feet 5 inches. It is also a fairly wide upright walker that can accommodate heavier elderly people.
Cheapest Upright Walker With Seat
That honor goes to Robert Jamison Stand Up Walker for Seniors. It is the most well-priced option on our list that comes with a seat. It offers great value and features at a very reasonable price point. The compact folding feature is especially noteworthy.
Least Expensive Upright Walker
Among all the upright walkers on our list, Xrx's walker is the least expensive. It is a basic model without a seat and is ideal for indoors and short distances.
As we age, we need a whole host of medical supplies and equipment. If you are looking to buy or rent home medical supplies, you can check out this comprehensive guide.
While we make every effort to provide updated and correct information, the advice given in this article and website should not be construed as "medical adviceâ€. Please consult with your physician or medical practitioner before using any upright walkers.
Each individual may have his or her unique case issues and your medical practitioner will be able to provide expert advice on a suitable assistive device to suit your specific needs.
We cover a wide range of mobility devices on our website. You might be interested in reading:
References: