Elenker Upright Walker Vs UP Walker- which one is the winner? Let's find out! 
If you are reading this, you are probably looking for an upright walker to help you correct your posture or a walking aid for recovering from an injury, or maybe just looking for a walker to help your parents keep up with their mobility as they age. We have two of the best options of an upright walker on the market and a comparison review based on important parameters like frame structure and strength, adjustable armrest, user friendly, the comfort of the seat, weight of walker, wheel size, and foldability. 
Most of the old models of upright walkers do require you to hunch down a little, giving you stress on your back. Elenker walker and UP walker come with easily adjustable heights and comfortable armrests so that you don't have to put the pressure of your body weight in your palms. 
Let's find out Elenker Upright Walker Vs. UP Walker- Which one is the winner? Shall we?
Elenker Upright Walker
This upright walking aid is manufactured by the Elenker company and was recently launched on January 9, 2020. Elenker started manufacturing in the mobility market in 2017 and has launched high-quality knee walkers and rollators. Since it was just launched 1.5 years ago, clearly, the technology is advanced and that too at an affordable price. 
It weighs 18.5 pounds which is fairly lightweight for a rollator, and the design focuses more on form than the design. It has strong PVC used for the body, adjustable armrest, and 8 inches wheels that will glide smoothly on both indoor and outdoor terrains. It also has a convenient cane/ umbrella holder on the side.
The handle is adjustable from 38 inches to 43 inches and is suitable for users anywhere between 5-6 feet tall (average height of adult). It can handle up to 300 pounds of user weight and some additional in the storage bag, which is also perfectly heightened so that you can reach it without stressing your back much. You can decrease the height and make it into a 20-inch seat with a backrest and mesh, breathable material seat.   
It also has a variation product that has 10 inches front wheel and 8 inches rear wheel.  
Pros
One hand foldable.

It costs under $225 and is even cheaper at

Walmart.

 

Rear-wheel brakes so that walkers don't slip on slopes and cause accidents.

8 inches wheel size that can swivel 360 degrees making it suitable   
Cons
The seat is uncomfortable.

Not suitable for people above 6 feet in height.    
You may also like Does Medicare Pay For Upright Walker
UP Walker
In 2017 November, LifeWalkers launched the Original rollator upright walker on the market, and then two years later, in May 2019, they released a lighter version called UP walker Lite that weighs only 15.5 pounds.   
When the original version was launched, many complained about its large size and that it is difficult for them to handle in small houses or jam-packed environments. Also, the weight was bothering elderly users. In other words, the original UP walker is only a walking aid for correcting posture, not preferred for medical uses.  
Both the original and lite UP walkers have adjustable armrests and convertible seats and attached carry bags. The original one also has a drink holder. Both of them have lockable brakes and all-terrain wheels for both outdoor and indoor use. Both of them are foldable. 
The Lite UP walker is designed to work for everyone and is not cumbersome for elderly users as it is light, and the frame is small in size so that it can also be used in small apartments and is foldable. Both of the models can carry user weight up to 300 pounds. 
The wheel size in the original UP walker is 8 inches for all the wheels, and the Lite UP walker it's 8 inches for the front and 6 inches for the rear wheels.  
Pros
Adjustable armrest height to cater to comfort and posture of users of a different range of users. 

Convertible and stable seats and brake locks for safety.

Can carry up to 300 pounds of weight. 

Attached carry bags and drink holder.
Cons 
It is on the pricey side, the original walker costs $650, and the lite version costs $545.5.

The original UP walker is heavy to handle. 
You may also like What is the Lightest Weight Rollator Walker?
Elenker Upright Walker Vs UP Walker: Features and Benefits
Design and structure
Elenker decided to work on the function of the walker more than its design. It is constructed from aluminum tubes for the strength of the walker, and the design is in a cross structure to help in the folding process better. The seat is made of nylon, and the armrest is also chunky and comfortable, and the bag is simple with a zipper. The colors available are red, white and silver.
The material used in the UP walker is aluminum, plastic, and polyurethane, but still, both of the models have a color theme, i.e., black for the original and blue for the Lite version.   
Winner: UP walker 
Adjustments and ease
Elenker provides adjustable armrests, and the process of adjustment is also easy. You have to rotate a knob to adjust your walker to your height. 
Meanwhile, UP walkers can be adjusted by a sliding button that you can hold down to adjust the armrest and release once you are satisfied. It also has 13 adjustment heights. 
Winner: UP walker
Brake locks and wires
Elenker walker's brakes are attached to the rear wheel, and the control to the brakes is located near your handle. You have to push the brake forward to lock the walker when you sit and pull the brakes when you want to control the speed or take a pause. The wires of the breaks are abruptly hanging out of the frame that might cause a little inconvenience by getting hooked by some object. 
UP walker also has the brakes in the rear wheel, and the lock system is also the same as Elenker. The UP walker did a great job in hiding and managing the wires and tied them across the frame so that you cannot see the wires and cause inconvenience.
Winner: UP walker 
You may also like Best Rollator Walkers for Rough Surfaces
Cost
Elenker is providing all the same facilities as any other good advance featured walker but at an affordable price.
UP walker does provide some extra features here and there as compared to Elenker walker, but it should not cost almost double the price of Elenker walker for the same facilities.  
Winner: Elenker walker
Wheels and mobility
Elenker comes in a wheel size of 8 inches and a variation of 10 inches front wheel variation for extra support and stability. The wheels are all-terrain wheels and are suitable for both indoors and outdoors surfaces. The wheels can swivel easily in 360 degrees. 
UP walker's models come in only 8 inches and 6 inches wheel sizes. The wheel quality is all-terrain and high quality to sustain indoor and outdoor surfaces. The wheels can easily swivel in 360 degrees. The wheels also have an additional feature of fixing the wheels to move in one direction, i.e., forward and backward. This feature is designed for patients who are recovering from an injury and only require to move in one direction. The patients who struggle with balance can also choose this.
Winner: UP walker  
You may also like What is a Rollator Walker Used For?
Handle
Elenker walker does not allow the facility to move your handle and only use it in a vertical direction. The brake control is also located near the handle for ease. 
UP walker does provide mobility in the handle, and you can move it anywhere from horizontal to a vertical direction for you to decide which position to use the handles.
Winner: UP walker
Weight of the walker
Elenker walker weighs 18.5 pounds which makes it lightweight and easy to maneuver while walking to control your walker, not the other way around. 
UP walker weighed 23 pounds, making it difficult for the elderly to use it according to their convenience. The Lite Up walker solved this problem and made it weigh 15.5 pounds only. 
Winner: Tie between Elenker walker and UP walker
Weight capacity
Elenker walkers can carry 300 pounds of user weight. 
Up walkers, both models can carry 300 pounds of user weight.
Winner: Tie between Elenker walker and UP walker 
Seat comfortability
The Elenker Walker convertible seat is upright and will only allow you to sit in a straight posture. The seat orientation cannot be changed. The material is breathable mesh material for extra comfort. 
The seats in UP Walker are adjustable and can be moved forward or backward as per our comfort level. The seat material is made of durable polyester material. 
Winner: UP Walker
You may also like Best Rollator Walker With Seat
Storage bag and extra holders
Elenker walkers come with a zipper black storage bag, which is a large bag for more storage. Elenker provides a cane/umbrella holder on the side for the patients who might need a cane while they sit. Extra points for thoughtfulness. 
UP walkers also have a black/blue stylish zipper storage bag that comes attached. They provide an extra drink/bottle holder. In my opinion, that can also be stored in the bag at times because both the palms are always busy while holding handles. 
Winner: Elenker Walker
https://www.youtube.com/watch?v=WHEM2yFJOZs
Foldability
Elenker Walker is one-hand foldable. You have to pull a belt attached to the seat in an upward direction, and the walker is folded. 
UP Walker will need you to do 2-3 steps while folding it. The first step is the same as Elenker, and then you push the frame in the middle and attach a hook/button in the middle. 
Winner: Elenker Walker
Elenker Upright Walker: Stand-Out Features 
The stand-out feature of Elenker Upright Walker is the price of the walker, which is just $209.99. This product has all the features that any other advanced walker must have but on a budget. 

Another such feature is the side cane/umbrella holder. This is just simple thought of the manufacturers to think that a person using an upright walker might also need a cane to hold on to. For a full hand-free service, they included this feature.
You may also like How To Use A Rolling Walker Properly
UP Walker: Stand-Out Features
The original UP walker has an amazing feature of armrest setting that will fit any user from 4.5 feet to 6.5 feet. 

The Lite UP walker is one of the lightest and rigid walkers on the market.

They have a feature of setting the wheels to move in only one direction to help recovering patients and patients who have a problem in balancing their walk.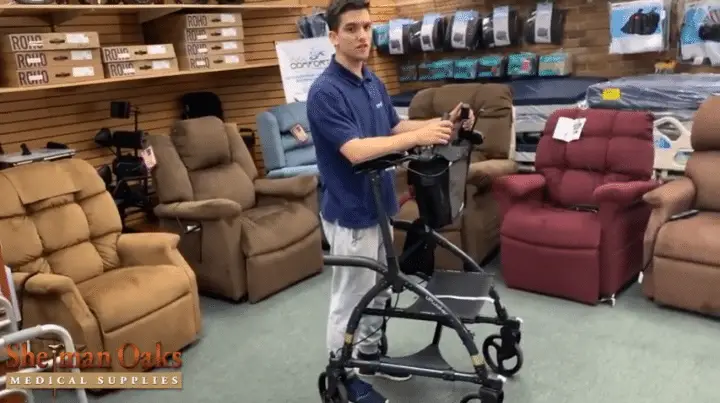 Conclusion
We have compared and reviewed two supreme walkers on the market, i.e., Elenker upright walkers Vs. UP walkers- which one is the winner. We reviewed it on the basis of the weight of the walker, the comfort of using it, wheel size and quality, complexity in folding, the height and weight range of the walker. 
Use Elenker upright walker if:
You want a supreme quality walker on a budget. It costs only $290.99

If you are anywhere in between 5-6 feet, you can adjust it according to you.

If you also want to improve your sitting posture, the seat of this walker is a little bit uncomfortable, but it helps you in sitting straight.
Go for UP walker if:
You want to adjust your walker heights between 4.5 feet to 6.5 feet, i.e., it is available for a large range of users. The Original UP walker provides this feature.

If you want to use a walker for medical reasons or in small houses, use the Lite version of UP walkers. 

You want a comfortable seat in your walker; you can adjust the seat by moving it forward or backward.

You want a walker that can be adjusted to walking in a forward and backward direction due to medical reasons; you can fix the wheels to move in one direction.