If you are in a hurry, have a look at the snapshot below for our top choices. You can also scroll down for more details.
If you are more than 6 feet tall and are looking for a rollator walker, you need to read this article; as you probably know, a regular rollator walker doesn't work for a tall person; especially when you have to bend down or hunch everywhere you go, it's such a pain.
But in this article we give you the solution, we've reviewed the best rollator walker for a tall person.
Parameters to Choose a Rollator Walker for a Tall Person
Apart from height adjustment, several other important parameters need to be kept in mind for comfortable rollator usage, especially if you're tall. These parameters are:
Adjustable hand grip: to adjust as per the height of the owner

Adjustable seat height: so that you can sit and feel comfortable 

Maximum weight-bearing capacity: typical rollator walkers can carry weights in the range of 250 – 300 pounds. Tall people may sometimes be above this weight limit, and it is important to ensure that the rollator can bear the load of the owner

Appropriate wheel size: an ideal wheel size should be at least 8 inches to provide stability and avoid the possibility of falling over

Ideally, the device's correct width should be: broader than the width of your hips but narrower than typical doors or pathways.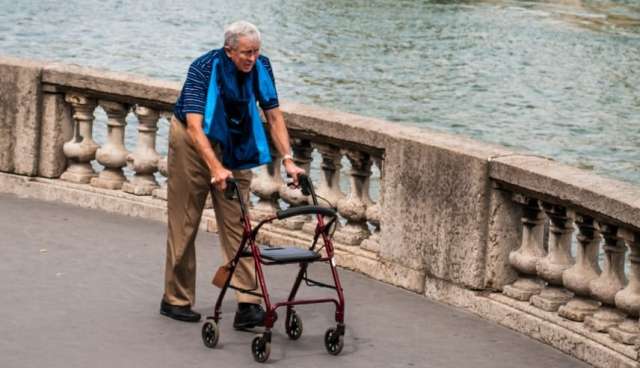 Other parameters are equally important, such as maneuverability, affordability, quality, and aesthetics of the rollator walker.
While it is usually difficult to buy the right rollator due to the huge number of choices out there, it becomes an even more difficult decision for taller people to select the right product for themselves. This is why we've created this list.
Reviews of the Best Rollator Walkers for Tall People
We have evaluated all the models that are listed in this article on the 5 key parameters mentioned above. Apart from this, we have also gone through hundreds of customer ratings and reviews telling us the "real deal" about many of the product features claimed by companies.
Our article gives you the critical information that you need to make a buying decision. While our list is ranked based on an overall performance and user review, you need to make a buying decision based on your own special needs.
For example, some rollators may be mentioned as more comfortable than others but may not have the right specs to reach up to the correct height of a person – making them useless.
So now – let's move to the actual list!
#1 Drive Nitro Medical Euro Style Tall Rollator Walker
The Tall Nitro is the crème de la crème of rollators for tall people. With a handle grip adjusting height between 36 inches and 41 inches, this product is meant for people whose height is above 6 feet.
This product can handle up to 300 pounds, which typically meets most users' needs. At the same time, the product itself weighs a comparatively light 17.5 pounds, which makes it easy to lift and store.
The aluminum frame comes with a lifetime warranty, and the brakes and handles housing come with a 5-year limited warranty for peace of mind. That said, the frame is very well built and sturdy. The seat is 18-inch wide, padded for comfort, and comes at a comfortable height of 23.6 inches, which makes it easy to sit and get up from.
The product steers easily. The large, 10-inch casters in front provide great support and stability to this device, especially since taller people typically happen to be heavier as well. The hidden brake cables and beautiful red color make the drive nitro tall much more youthful-looking and fashionable in comparison to traditional walkers and other competitors.
This device folds up with one hand, and when folded, it pulls together and becomes narrow (instead of folding to a smaller size). This is a very useful feature since it stands and rolls and does not take up much space when narrow. The product comes fully assembled in the box, which saves some trouble for the customer. The large pouch at the bottom of the seat allows for carrying personal belongings and other items.
One of the very few drawbacks of this device is that it is too wide for narrow doorways. Another problem is that rubber treads on the wheels wear out over time, making the product unsteady.
Why you should buy it?
Adjustable height, designed for people above 6 feet high

Lightweight, but can take on up to 300 pounds of weight

A comfortable padded seat with an easily maneuverable steering wheel

Stylish and colorful

Durable
Here we have a video featuring Drive Medical Nitro Euro Style Rollator Walker.
You may also like Upright Walker vs Rollator
#2 Comodita Heavy-Duty Prima Rollator Walker
The most impressive aspect of the Comodita Prima is its ability to hold up to 400 pounds of weight – far higher than any other rollator on the market. It is built with a reinforced frame and wheels meant to support and provide extra safety.
The adjustable handlebars support users up to a height of 6 feet and 4 inches – this is definitely a rollator walker for a tall person. The seat is also 22 inches high above the ground.
Speaking about the seat – the device sports a 14.25-inch deep seating surface made of nylon. It also has an ergonomically designed backrest for maximum comfort.
The rubber tires of 8 inch provide extra safety and comfort on any uneven surfaces. Since the back tires are a little further apart, your feet don't run into the tires. The tires grip so nicely, and when you brake, the rollator does not move at all.
The rollator does not come assembled in the box, though it is fairly easy to put it together – just drop the 2 arms into their slots. Everything else is already configured. A cane holder and a cup holder are thoughtfully included with the device. The cane holder doesn't add much to the overall width. The cup holder, while adding a few inches, is easy to add or remove because it just fits into a slot.
The device comes in 4 stylish colors – red, blue, champagne and graphite.
One downside of this rollator walker is that it is too heavy (coming in at about 19 pounds), and therefore it is not meant for people who are unable to lift such heavyweights. Another grouse is that the braking wires are not built into the frame, thus getting tangled at times into other things around.
Why you should buy it?
Can take on up to 400 pounds of weight – easily one of the highest in its class

Comfortable – deep seats, ergonomically designed backrest and 8-inch rubber wheels

Stylish and durable
You may also like Alternative To Tennis Balls On A Walker
#3 Dolomite D12076T Futura Tall Rollator Walker
The Dolomite Futura Tall rollator walker is designed for individuals above a height of 6 feet and 2 inches. At 43.5-inches high, the handlebars on this rollator are one of the highest available. Its seat also adjusts for tall people.
This rollator walker's steel frame provides extra durability and safety, and the device does not have any weak mechanical joints at all. Stainless steel brakes on the rollator last longer than those on other similar devices. The frame has a 2-year warranty as well.
Its seating weight capacity of up to 330 pounds is robust, though not the highest in the market. The rollator weighs 18 pounds, which is quite heavy. The 8-inch tires provide extra safety and comfort on both indoor and outdoor surfaces. The rollator does not come assembled but does not require any tools to assemble it either – fairly easy to put together.
Distance between the rear wheel is 21.5 inches which makes walking along with the rollator comfortable. When folded, the Dolomite Futura Tall Rollator Walker takes up very little space and can easily fit in a car or a closet.
One major concern is the lack of forearm rests, which makes it uncomfortable to sit for longer periods. The braking wires are external to the frame, which is always a drawback.
Why you should buy it?
Meant for people over 6 feet 2 inches tall with very high handlebars and seat

Extremely durable steel frame. Good, strong brakes
You may also like How Safe Are Upright Walkers?
#4 Carex Crosstour Euro Style Rollator Walker
The Carex Crosstour Rollator Walker is what we call a good value-for-money, compared with other Euro-style rollator walkers. With handlebars adjusting between 34 inches to 38 inches, this device supports people up to 6 feet 4 inches tall.
With a maximum weight capacity of 300 pounds, it is certainly not top of the line. But its lightweight aluminum frame (only 14 pounds) makes it easy to carry around and store away.
A particularly nice feature of this rollator walker is that it stands when folded due to the euro-style design. This feature can be quite useful in many places where you need to temporarily fold the rollator (such as a coffee place, restaurants, movie halls, etc.) for short periods.
The seat and backrest are particularly comfortable for seating for short spans. A water-resistant pouch is provided for carrying personal belongings below the seat. However, the bag tends to make the folding of the device uncomfortable. The large 8-inch front wheels make the device comfortable for use on all kinds of surfaces. If interested, we have curated a list of our favorite rollator walker accessories.
One major concern area is with the inordinately complicated assembly, which requires special attention on the braking mechanism.
Why you should buy it?
Lightweight and easy to fold

8-inch front wheels

Comfortable seat
You may also like Best Walker Glides for Concrete Surfaces
#5 Evolution Trillium Lightweight Tall Rollator Walker
This is another very lightweight entry into this list. The Evolution Trillium Tall Rollator Walker has a handlebar height of 34.5 to 37.5 inches and a seat height of 24 inches, making it a comfortable device for people who are above 6 feet.
It has a durable but very lightweight frame at just 14 pounds. It can maneuver easily in small areas and has a good turning radius. Even at such a lightweight, this rolling walker can support up to 350 pounds weight, which is quite impressive.
The Evolution Trillium's large, 8-inch EVA wheels are durable and can easily handle both indoor and outdoor surfaces. The handles and brakes are ergonomically designed and provide comfort to the user. This rollator comes in a variety of colors for the aesthetically minded.
It can stand up and roll when folded. A simple locking mechanism that holds the rollator in its position when folded makes it even more comfortable. It is also possible to partially fold this standard walker to reduce the width, which makes it easy to navigate in narrow spaces and passages.
The seat is extremely comfortable, and there is wide, padded back support that adds to the comfort. A sturdy cloth basket in the front that automatically folds and unfolds along with the rollator provides good storage bag for grocery shopping or personal effects.
One of this rollator's criticisms is that the handles are in line with the seat, thus causing the user to keep their arms extended always.
The Evolution Trillium Lightweight Tall Rollator Walker is for 6 feet and 6 inches tall people.
Why you should buy it?
Very comfortable seats

Lightweight design

It folds easily and rolls when folded

Durable
You may also like Best Hemi Walkers for Seniors
#6 OasisSpace Upright Tall Rollator Walker
Compare to the others; this is an upright walker, which means that the user walks in an upright position, keeping their arms on a padded armrest instead of being slouched over. Upright walkers are known to improve mobility for patients suffering from neurological, cardiovascular, or pulmonology-related disorders.
The OasisSpace Tall Rollator has very large 10-inch front wheels and 8 inch back wheels, which help the user negotiate rough surfaces with extreme ease. The front wheels have a 360-degree swivel which is useful for comfortable navigation.
The seat and padded backrest of this tall rollator walker provide good comfort for short sittings. The rollator is very easy to assemble, requiring minimal tool-work. Another great feature is its unique folding design. The user can adjust the rollator's width as per his/her requirement. It comes with a large walker bag which is useful for carrying personal goods and groceries etc.
The height of the armrests, the hand rest angles, and the length of the grips are all adjustable, providing maximum customization as per your requirement.
A very important consideration – upright walkers are not everyone's cup of tea. Many users just don't feel comfortable walking in them; therefore, one should only proceed to buy one if you are sure about the concept.
This rollator walker is not ideal for people taller than 6 feet 4 inches. 
We have a separate article that tackles the question does Medicare pays for an Upright Walker and where can you buy and rent one.
Why you should buy it?
Highly customizable as per your height and movement requirements

Large, stable wheels and comfortable navigation.

Easy to fold and assemble
#7 Evolution Xpresso Tall Rollator Walker
With an adjustable handle height of 34 to 37 inches and a seat of 24 inches, the tall version of the Xpresso Zero can handle most heights under 6 and a half feet. At the same time, at 17 pounds with a maximum seating capacity of 350 pounds, this is a lightweight but durable rollator with a compact design and easy maneuverability.
It has large, 8-inch, durable EVA tires, which provide good support on most kinds of surfaces. The seat has plush padding and is comfortable for sitting. This rollator has a single hand folding mechanism and folds compactly, and remains upright when folded.
The Xpresso Zero comes in several colors (Black, brown, green, red and blue). However, it has a price range that is higher than many of its competitors. However, one downside is that it is not meant for people taller than 6 feet 4 inches.
Why you should buy it?
Lightweight, but can carry heavy loads

Durable and folds quite compact

It comes in several color options
You may also like Trays and Baskets for Walkers
The Best Rollator Walker For a Tall Person – The Final Verdict
A good rollator walker can be a life-altering product for a person in need. That is why we believe in bringing all the facts and important information before you to help you make an informed choice. All things considered, in our verdict, Drive Medical Nitro Euro Style Rollator Walker (Tall) stands out.
Each person has unique tastes, needs, and preferences. There are more specific requirements for taller people that need to be catered for the rollator to make sense. We have used the 5 most important characteristics that users have mentioned for the right "tall" rollator walker.
Lastly, since everyone has their own personal requirements, our ranking may or may not make sense to you. What is important is that we have curated the entire information and put it together in one place for you – along with reviews and feedback from actual buyers who have previously bought the product.
We hope you will find this list useful and wish you the very best in your search for the rollator walker for a tall person. 
If you are looking for a rollator walker having higher weight capacity, read our article on best bariatric rollator walkers.