If you use a rollator walker or are planning to use one, you may have some questions. In this article, we answer some frequently asked questions around rollator walkers.
Will Medicare Pay for My Rollator Walker?
Medicare Part B (Medical Insurance) covers durable medical equipment, which includes walkers and rollators. The walker or rollator must be prescribed as medically necessary for use at home by your medical practitioner for it to be eligible for Medicare.
If the supplier accepts the assignment, you will be eligible to pay for 20% of the amount approved by your Medicare, as well as the Part B deductible. Medicare treats different DME's in different ways and depending on the type of walker/rollator, you may have to either rent it or buy it (sometimes you may have a choice to do either).
Also please note that Medicare will not cover the DME if your doctor and supplier are not enrolled in Medicare. Typically, there are stringent criteria for enrollment of suppliers and doctors in Medicare, so be sure to check before purchasing!
Be aware that there is a difference between participation and enrollment in Medicare. If your supplier is only enrolled but isn't "participatingâ€, he may choose to not accept the assignment. In that case, he can get away with charging any amount. Therefore, make sure that they are "participating†suppliers, so that they have to accept assignments.
If you already own a DME and are merely looking for repairs, select a supplier from the pre-approved Medicare suppliers list. Please know that repair includes part replacement as well, and do not shy away from using Medicare if there are replacements to be made to the tires, braking mechanism, seat etc.
What Is the Lightest Weight Rollator Walker?
Carex 3 Wheel Walker for Seniors which weighs only 10 pounds is the lightest weight rollator walker. But if you are looking to buy a lightweight rollator walker, you should look at other parameters and not only the weight of the walker. Some things that you might want to look at when buying a rollator walker are its maneuverability, durability, safety, comfort, affordability, and even aesthetics.
You may also like How to Carry Things in a Wheelchair?
How to Fold a Rollator Walker?
In general, there are two types of walkers:
Flat Folding
These rollators are folded in the same way as a scissor may be folded, with the front wheels collapsing back on the back wheels, the front right wheel touching the back-right wheel and the front left wheel touching the back left once.
Typically, they have two collapsible bars connecting the front and back portion of the rollator. When folding, this bar needs to be pushed up (either through a button or manually), so that it collapses. In some rollators, this can be done manually, or in others, you can push the seat in an upward direction and the bar collapses along with it.
When unfolding, the bar needs to be pushed down, and there is a locking mechanism that holds the folding bar in place which needs to be set.
Cross Brace Design
These rollators fold side to side – front right wheel touching front left wheel and back right wheel touching back left wheel.
They have two cross-braces connecting the left and right portion of the rollator, which can be folded along with the seat or pouch (in some cases the pouch may have to be removed). Pushing the folding seat down also folds the rollator. To open the rollator, simply pull the two halves apart.
The benefit of this design is that the rollator takes up much less space, and in many cases, it can stand and be rolled on its own when folded – which can be a big plus if it needs to be folded on a temporary basis (such as at a coffee shop or a grocery shop).
How to Lock a Rollator Walker?
Most rollator walkers are equipped with parking brakes. Parking brakes are necessary in order to be able to stop and sit on the rollator when the user is either tired or needs to sit up or sit down.
Parking brakes are usually accessible by pulling down on the brake levers that are provided at the handlebars. In most walkers pushing the brakes down will lock the rollator in place, whereas pushing the brakes up will apply brakes less vigorously and is used to slow down the rollator when it is going too fast or needs to be stopped due to oncoming traffic etc.
Some models can even be locked in the folded position, usually through either a strap or a mechanism to click into place. This is extremely useful in case you need to park your rollator temporarily or if you want to load the rollator in the trunk of your car. Without the locking mechanism, the rollator can slide off from wherever it was standing.  
You may also like Does Medicare Pay For Upright Walker??
How to Walk With a Rollator Walker?
Most rollator walkers have handlebars at the users' height and 4 wheels to push them. In order to walk with the rollator, stand behind it, holding the handlebars.
The handlebars will typically have breaks on them. If the breaks are in either an upward or downward position, they need to be released so that the walker can move forward.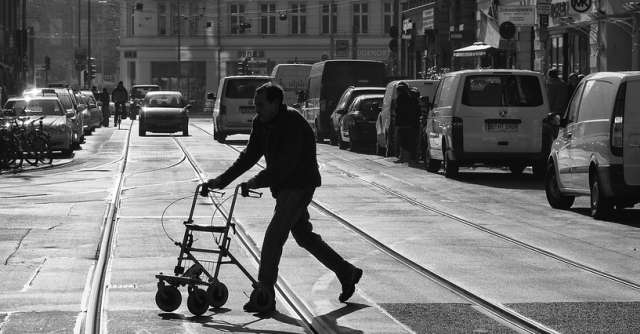 Once the brakes are released, just hold the walker by the handlebars, move forward in a normal walking position and push the rollator gently along with you. The rollator will give you balance, while also helping you move forward comfortably.
As a word of caution, rollators are good for light balance issues, but not recommended if balance or strength is a major issue for you. If you feel while walking that the rollator is running away from you, or is moving too fast, ideally you should be looking to use a walker instead of a rollator.
Rollators can provide great comfort if you are able to walk, but have a problem either balancing or remaining stable when walking or else when you need to frequently rest and therefore need a place to sit.
Here we have a video that demonstrates how to use a rollator walker.
Are Rollator Walkers Meant for Tall People?
Yes, you get rollator walkers meant for tall people. They are height adjustable and can give support to people as tall as 6 feet 4 inches. The handgrip can rise so that the user does not have to bend over and can walk upright while using such a rollator walker.  
You may also like Our Favorite Rollator Walker Accessories
How Wide Is a Rollator Walker?
4-Wheeled Rollators
Normal 4-wheel rollators are in the range of 23 inches to about 26 inches (for the wider ones). Bariatric (or heavy-duty) rollators are usually much wider and can be anywhere from 27 inches to 30 inches wide. Bariatric rollators often also come with a flexible seat width option, where the seat width can be adjusted basis the requirement.
3-Wheeled Rollators
These are surprisingly as wide as 4 wheeled rollators and typically fall in the range of 25 to 27 inches. The reason for their width is to give the rollator stability, as there are only 3 wheels. Without a wider base, their center of gravity may lead them to tip over on the front wheel when a force is applied directly from the top, as when a person leans on the handlebar.
Can I Use Rollator Walkers Over Rough Surfaces?
It is ok to use certain rollator walkers over rough surfaces. If you are using them a lot over rough surfaces, their life will be a bit shorter, as compared to when used exclusively over smooth ground. Rollator walkers for rough surfaces should have larger wheels, a comfortable seat cushion, and a sturdy backrest.   
You may also like All You Need to Know About Walkers
What Is a Walking Frame?
If you are confused between a rollator, wheeled walker, and walking frame- these are all mobile devices with some similarities and some differences.
While all 4 have a frame for providing stability to the user, rollators and wheeled walkers have wheels on them (4 on rollators and 2 on wheeled walkers). Rollators are useful for people who are able to walk but need help with balance and stability or those who may need to rest frequently  (such as patients with recent heart problems).
A walking frame, on the other hand, does not have any wheels on it and is used for people who have very limited mobility and have trouble maintaining their balance, even for a couple of steps. Walkers are intended to offer sturdy support, therefore they don't have wheels that can run away when pushed from the body. Instead, the 4 legs are planted on the ground and do not move until a considerable force is applied.
How to Tighten the Brakes on a Rollator Walker?
Due to regular usage, rollator walkers are susceptible to wear and tear. Over a period of time, you may find that the parts of the device which are used most often, such as the wheels and brakes tend to wear out, and in the case of brakes, they tend to become too loose.
It is also possible that brakes may have come adjusted too tight from the factory, and you need to loosen them up a bit for easy movement.
In either case, there is a simple fix. In most rollator walkers there would be 3 points where you can adjust the brake cable – 1) near the brake handle 2) near the rear wheel (where the brake connects to the wheel and 3) the brake cable might be extending out towards the wheel at the bottom end.
In the 1st and 2nd case, there would be a simple tension adjustment set screw looped around the brake cable. Simply adjust set screw as per your requirement (lefty loosey, righty tighty) after loosening the screw locking nut holding the assembly in place. In the 3rd case, there would be a lack nut holding the fag end of the cable in place. You can loosen the lack nut with a needle nose, pull up/down the cable as per need, and then tighten the lack nut back in place. 
Below is a video by Hugo Mobility on how to tighten the brakes of a rollator walker. 
https://youtube.com/watch?v=DJHg2bX8sa0%3Fstart%3D6
We hope that in this article, we answered some of your questions about rollator walkers. If you are looking to read more about how rollator walkers work, and where they can be used, you can read our article on what rollator walkers are used for.