We have reviewed the best sit-stand desks for the home office. If you are in a hurry, the table given below gives a quick snapshot of the top 5.
You spend most of your time during the day sitting behind a desk slouched over your laptop/phone/computer or any other "gadget" that's supposed to be making your life better but ends up making you miserable all the same. Multiple studies have shown that this cannot be good for you (go ahead, I dare you to go and read those links in the references section, you won't like what you read!)[1][2]
"But it's my job!" you say, "my boss is riding me all day!", "there's nothing I can do about it!" – I hear ya pal. Ah! the refrain of the overworked and underpaid white-collar worker. But hey, while my complete solidarity is with the resistance in the coming revolt, till the time that happens, let's at least try to do something about your health!
So, with that rather droll introduction, let us come to the topic at hand: Sit-Stand desks. So what exactly is this new fangled contraption, you ask? Well, that's what we wrote this article for.
As you may have judged by this rather weird-sounding oxymoron, a sit-stand desk refers to a table (or device, if you will) that promotes the concept of standing up for short durations during the long bouts of sitting that you are so accustomed to during your workaday tribulations.
You may have them in many variations – motorized or mechanical, home-office or gaming table, wood, or metal.
But they all give you a much-needed option of picking up those stooped shoulders and straightening that crooked spine, every so often by simply standing up wherever you are sitting (while continuing to be the dutiful cog in the wheel by having your laptop right in front of you).
Sit-stand desks can typically vary anywhere between a squatting height of 70cm (28in, or about 2.5 feet) to a practically standing height of 128cm (50 in, or 4.2ft).
Ideally, the peak of a standing desk should fit the user's height. It's best to consider what height might be the right fit for you if you are looking to buy one.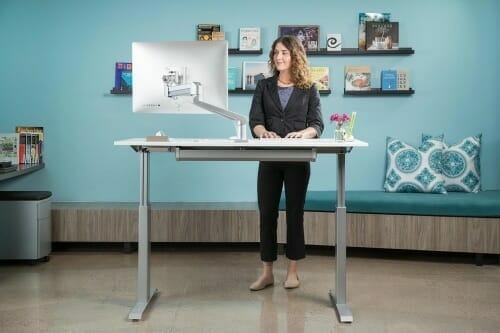 So are these wonder tables all they are cracked up to be?
Or are they just another passing fad in the ever-evolving world of gadgets that claim to make you healthy?
The evidence suggests that sit-stand desks not only reduce sedentary behavior but also reduces muscle pain and back, shoulder, and neck discomfort increases energy and awareness.
And yeah, for those who are ever so loyal to their work, contrary to what you may think- sit-stand desks actually help improve productivity![3] Hallelujah!
You may also like Best Office Chair for Hip Arthritis
What features to look for in the best Sit Stand Desk for Home Office?
Height Adjustability
Well, obviously you want a desk that's suited to your height. Secondly, your standing habits may change as you start getting used to standing at work, and you may want to make adjustments to the height later on.
So make sure that the range of height adjustment is large enough for today – but more importantly tomorrow as well!
Flexibility
Flexible sit-stand desks can keep your screen at the right distance and angle from your eyes. The thumb rule is to keep your monitor about an arm's length away and tilted back slightly (about 10 degrees).
The technical reason for 10-degree tilting is that you want your screen the same distance from your eyes. There's a long distance from your eyes to the bottom of the screen. So tilting it in equalizes the range from your eyes to both points.
The very best Sit-Stand desk converters for your home office, enable you to move your monitor up & down separately from the work surface. The proper ergonomic position is such that your eyes look at the top of the screen straight ahead, at about a 0-degree angle.
Hence, you don't have to raise your monitors as high to reach an ergonomic viewing position. They lean on the back of the work surface, which is several inches above the keyboard tray.
You may also like Best Gaming Chair For Sciatica
High-Quality Materials & Sleek Design
An ideal piece of furniture is one that has a sleek design and perfect material to fit in any office interior. Whether a workstation is robust, sturdy or stable, or flimsy, inferior, and a waste of money. Acquiring a sit-stand desk for any office enhances the look of the workplace and fits perfectly not in your office but home too.
Given that you will be using your workstation daily, a smart and elegant sit-stand solution will leave a positive influence on both your body and mind. The best sit-stand desk units use high-quality materials that offer an inviting or professional look. Others offer neat metal & glass combinations that look great, that is if you can tolerate fingerprints.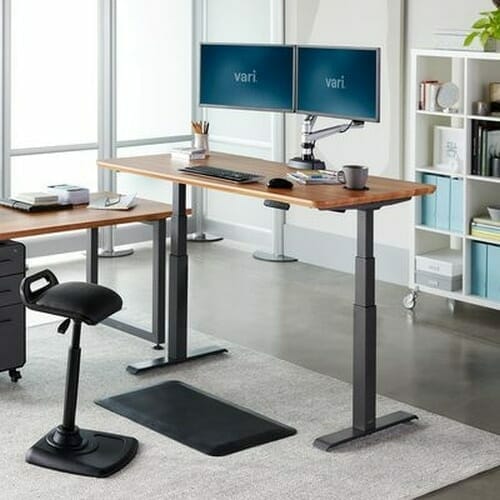 Height-Memory Sync
There are two kinds of sit-stand adjustable desks out there: The hand-crank version and the electrical version. It is always better to spend a little more and get the electrical version for two handy features.
Most electrical standing desks use a LED keypad that allows you to save different height settings and different timeframes for alerting you to change from a sitting to a standing position. It is perfect for multiple people who have to use the office and have their preferences.
You need to be confident that your desk sit-stand memory is right, and the desk doesn't slowly drop across the day! It would be best if you were satisfied that the electronic components consolidated into the workstation are both safe and reliable.
You may also like Stand Assist Devices
Best Sit Stand Desk for Home Office
#1 Flexispot Electric Sit-Stand Home Office Desk
This unit has an ample work surface measuring 48″ x 30″ that is environmentally sourced. It provides adequate space for a variety of monitor or laptop setups and room for ongoing projects and office supplies.
You can adjust your office desk to your height precisely and insert healthy movement into your day. A 5-year warranty also covers this product for the frame, motor, and other mechanisms, along with a 2-year warranty covering the controller, switches, and electronics.
Pros
It has quick & smooth adjustments.
It provides a spacious work area.
It features a two-button controller for shifting from sitting to standing position.
It has a very robust and stable construction.
Easy to assemble within an hour.
Cons
This unit is not flexible by design.
It cannot tilt or move the monitor to suit your visual angle.
It does not feature a height memory sync function.
This unit ships in two packages, which may be delivered separately.
It is cumbersome compared to other units on the market.
You may also like Best Exercise Balls To Sit On At Work
#2 FEZIBO Electric Sit-Stand Desk Workstation
This unit has four preset buttons to customize your desired heights from 27.36″-46.06″. Its spacious work surface measuring 55″x24″ provides ample room for a variety of office tasks, laptop setups, and essential work projects and office supplies. For adjusting the height the steel framework is very useful.
It has an under-desk pull-out drawer that keeps items out of sight, easy to access, & your desk clutter-free. The desk platform comes packaged in two sections for ease of assembly by precise screws and accessories. The full home office table design comes with a 3-year warranty and tech support.
Pros
It comes with a cable management tray & a pair of built-in hooks.
It has programmable memory functions
It has an under-desk pull-out drawer.
It has a steel structure and pneumatic cylinder for smooth height adjustments.
This unit weighs less and can support twice its weight.
Cons
Manual adjustments are not possible with this unit.
The motor is very fragile and can break with ease.
The product's design is not eye-catching.
The customer support is based in China and takes time to respond.
#3 VIVO Black DESK-V000K Sit-Stand Workstation
This product renders on-demand standing throughout the day for the liberty to get out of your office chair and alleviate muscle tension, reduce stress, and increase productivity. This robustly built desktop supports up to 33 lbs, quickly holding multiple monitors or laptops and monitor combinations.
It also features a pneumatic spring lift that allows smooth and straightforward height adjustment (4.5″ to 20″) at the handle's squeeze. The dual-tiered design will enable you to customize your work area to create the workflow you need. The keyboard tray is detachable using the provided hex tool.
The desk riser features a solid steel frame that keeps your devices safe. It also utilizes anti-slip pads to prevent the riser from scratching the desk surface beneath it.
Pros
It has a robust build that can support 33 lbs.
It has a detachable keyboard tray.
It features a solid steel frame.
It is very light, weighing only 32 lbs.
Sleek design that fits your workspace.
Cons
It is not an electrical product.
Easy to pull the desk upwards but trying to push it back down.
It does not have a height-memory sync feature.
You may also like Best Balance Ball Chair For Office
#4 TechOrbits 32″ Sit-Stand Desk OF-S06-1-BL
This unit is the only standing desk converter brand out there that gives a lifetime warranty. This Sit-stand desk is highly adjustable and can withstand weight of different sizes of monitors. It includes enough area to fit in two monitors, speakers, and a keyboard.
Lowering and uplifting the gas spring of the desk requires less effort.  In the office using this desk will help make meetings more interactive. it fits well with the modern workplace environment.
Pros
It is the only product with a lifetime warranty.
It is very light, weighing only 17 lbs.
lowering and lifting the gas spring is effortless.
fits in the modern offices and workplaces.
Cons
This unit is not electrical.
Adjustments have to be made manually.
The keyboard tray is non-adjustable.
Although it has space for dual monitors, it may not be able to support their weight.
#5 UNICOO – Electric Sit-Stand Home Office Sit-Stand Desk
The Industrial-grade steel framework combined with a solid MDF makes the desktop scratch-resistant. Its measurement is 23.6″x46.5″ enables the desk to withstand weight up to 225 lbs. It has a rounded corner and edge design.
A sturdy, quiet motor, it's easy to choose a height between 30.5-48 inches. Has an elegant 7-button programmable controller with four customizable presets for desired desk elevations. This product has a 5-year warranty for the frame, motor, and other mechanisms, and a 2-year warranty for the controller and switch.
Pros
Heavy-duty steel frame.
Can support up to 225 lbs.
This unit is electrical.
It has a powerful but quiet motor.
It has an auto-balance protection function.
It comes with a 7-button programmable controller with four customizable presets.
Cons
This unit is not ideal for large monitors.
The motor may malfunction at times.
It does not have a height-memory sync feature.
This product is not designed to be flexible.
You may also like Best Devices To Help One Stand Up
Conclusion
Sit-stand desks together with an anti-fatigue mat don't just have future benefits, as they're also extremely beneficial within the short term for the body. Keeping your body positioned while you're employed keeps you healthy and injury-free, and more productive.
The essential principle is to stay all parts during a neutral position, without causing strain. Many of us have terrible posture while sitting, hunching our shoulders, or leaning too far forward or back within the office chair.
The advantage of standing desks is that you'll fatigue more quickly, which can encourage you to try something about an un-ergonomic setup, or better yet, take an opportunity and move around.
You'll generally need an opportunity much sooner if you're standing than sitting. If your shoulders aren't comfortable, you won't have the choice of leaning into the seat back and soldiering.
So, while it's perfectly possible to be entirely satisfied at either a sitting or standing desk, the latter could be better for spotting areas of concern.
In this article, we've reviewed some of the best sit-stand desks for home andoffice. In our opinion and research, the  VIVO 32 inch Desk Converter, K Series, Height Adjustable Sit to Stand Riser, Dual Monitor and Laptop Workstation with Wide Keyboard Tray, Black, DESK-V000K is the best choice among the various options that we have considered.
It has everything you need in a sit-stand convertible, all at a reasonable price.
If you are looking for a value for money option, you can also consider the TechOrbits Standing Desk Converter-32-inch Height Adjustable, MDF Wood, Sit Riser-Black, 32" . This product offers the best value at a very reasonable price point.
While we make every effort to provide updated and correct information, the advice given in this article and website should not be construed as "medical advice". Please consult with your physician or medical practitioner before using any sit-stand desk. Each individual may have his or her unique issues and your medical practitioner is the best person to decide the best sit-stand desk for your case.
References:
[1] https://www.betterhealth.vic.gov.au/health/healthyliving/the-dangers-of-sitting#:~:text=Sitting%20or%20lying%20down%20for,physical%20activity%20in%20your%20day.
[2] https://www.mayoclinic.org/healthy-lifestyle/adult-health/expert-answers/sitting/faq-20058005
[3] https://www.emerald.com/insight/content/doi/10.1108/IJWHM-10-2017-0078/full/html