In our society today, poor posture has become ubiquitous, and we can be unaware of it even if we are experiencing it daily. With personal computing and mobile phone use becoming a normality even starting from early childhood, keeping a straight back has gone from our clear natural posture to a position that needs regular reminder for many of us to maintain.
Around 80 percent of all Americans feel the negative effects of slouching during some period of their lives, in the form of back pain, which is a major side effect of bad posture. The back pain accumulates from many years of poor posture, and we will tend to really notice the effects when we reach older age.
Posture correctors are a simple device consisting of straps made of minimal material that can be a great solution to solving these widespread posture issues. What's great is that they are inexpensive, easy to use, and can in many cases be worn underneath clothing so that they are discrete when worn outside. In many cases, they can be worn without external help, or otherwise can be put on quickly after initial adjustment, making them accessible for more elderly folks.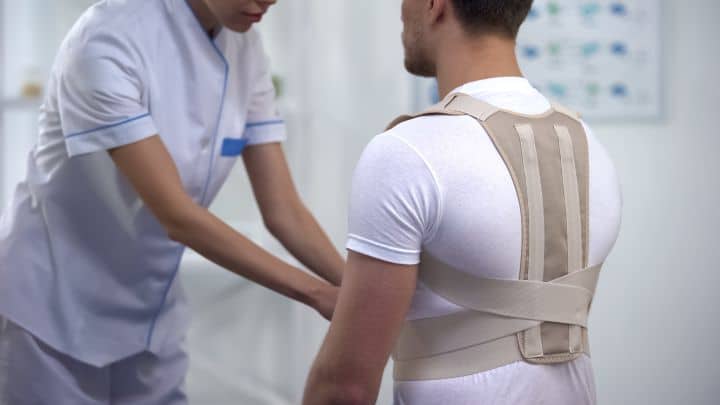 A great assortment of posture correctors have emerged on the market, giving us a great many options to choose from. In this article, we review the best posture correctors for seniors. The table below gives a quick snapshot of our best selections. Scroll down for our detailed product reviews.
Correcting Posture
When you are younger and your bones and joints are more supple, you are better able to correct your posture without any external assistance.
However, when you have aged and your body has lost some of its muscle strength and elasticity and heals slower, it can become significantly more challenging to maintain a posture in your upper torso that is healthy for your musculoskeletal structure. While it is never too late to improve your posture, you may require external assistance to do so. This is where a posture device comes in.
Note that good posture does not necessarily mean to walk or stand with an absolutely straight back with the chin and chest out. While we should keep our backs fairly straight without hunching over like we tend to do when we sit at a desk, the human backbone still has a natural curvature of its own and any posture which maintains this natural curve is a healthy posture because it causes the least strain to the spine and back muscles.
What Causes Poor Posture in Seniors?
Our spine is made up of small bones and discs that are supported by muscles. The normal human aging process has a straining effect on all three components, leading to alteration of the natural spine curvature and stooping in the elderly. The following three reasons may adversely affect your posture in old age:
Loss of calcium in the elderly and consequent loss of bone density shrinks the size of the skeletal structure and spinal bones in particular.
The cartilage or discs in between the spinal bones lose flexibility and harden with age, leading to a condensed spine and a forward stoop, also known as kyphosis.
Loss of muscle and replacement of muscle tissue with fat leads to changes in spine support and the curvature of the spine. In addition, the elderly tend to put on more weight which leads to more strain on the already weakening musculoskeletal structure, further resulting in poor posture.
Apart from the above, lifestyle factors like suboptimal work environments, use of high-heeled shoes, and use of digital devices like computers, phones, and televisions, have increased the prevalence of slouching and poor sitting and standing postures, particularly in the last two decades with the emergence and widespread use of digital technologies.
Having good posture and musculoskeletal health in our older age requires that we maintain fairly good posture throughout most of our life, something that is unfortunately not the case for many of us.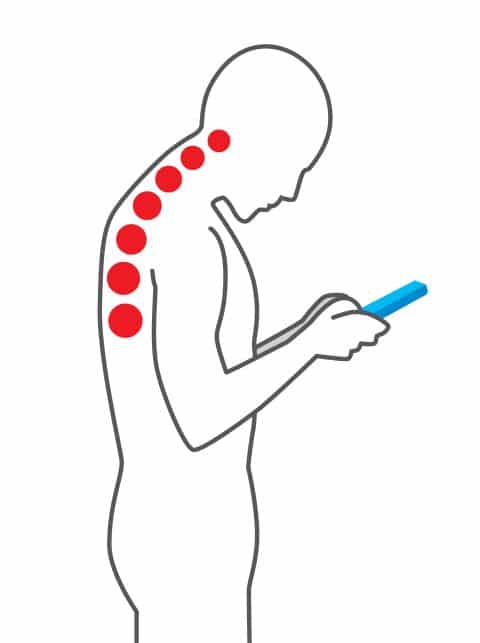 You may also like Best Gait Belts for Elderly
Why Should You Work on Correcting Your Posture?
While the short-term effects of slouching and continued bad posture can be with neck and back pain, as well as headaches in some cases, the longer-term effects can be significantly more detrimental and lead to serious conditions and diseases, especially for seniors. These may further lead to severe restrictions in lifestyle in some cases.
Some of the conditions include sub-optimal respiratory functions, loss of body balance, and severe backache which leads to the inability to perform household tasks and may keep you bound to a mobility device. Headaches generated by upper back tightness and neck pain can be similarly debilitating.
On the other hand, maintaining a good posture can lead to a lot of positive effects. Proper posture enhances respiratory functions and consequently improves blood circulation, which in turn promotes faster healing of injuries. Better blood circulation also helps in enhancing digestive abilities.
What Should You Consider Before Buying a Posture Corrector for Seniors?
A posture corrector is not meant for continuous use, as long-term use can lead to dependency and atrophy of the muscles involved in keeping correct posture. A corrector is intended to help your body learn and adapt to correct posture, so that it can then subconsciously maintain it throughout the day without assistance.
To begin with, use a posture corrector for a short time of around 20 minutes, and gradually increase its use to one to two hours at a time. With regular use, this should be long enough to help your body learn adequate posture and build your muscle memory.
A posture corrector device is not meant to be worn while sleeping. When buying a posture correct, keep in mind the three aspects as follows. Note that price may not be a significant consideration here as most posture correctors are available at under 30 dollars.
The posture corrector should be adjustable at the straps so that it fits a range of chest or waist sizes.
It should be made of a skin-friendly and breathable fabric. It should be lightweight as well so that it is comfortable for wearing outdoors.
The material should be as thin as possible if you wish to wear it underneath clothing, so that it will fit and also remain invisible from outside.
The video below is a quick guide on how to wear a posture corrector correctly:
Below, we look at some of the best posture correctors for seniors that we have selected through market research.
You may also like Best Pilates Spine Corrector
Best Recommended Posture Correctors for Seniors
#1 – Posture Corrector by Selbite
This Selbite posture corrector fits a wide range of chest sizes from 25 – 53 inches. The product is made of soft material with added padding on areas of contact with shoulders and underarms. You can wear and adjust it on your own without external help.
However, the mesh fabric is on the rougher side and may not be suitable for direct contact with skin, though it is made of latex-free material, and we do not recommend wearing it without a layer of clothing below. This makes it a bit difficult to wear it under your clothes, particularly in hotter climates, as perspiration would make it more uncomfortable and you would not have the option to adjust it periodically. Also, if your body type is on the slimmer side, once you adjust and tighten the straps fully, a lot of the strap is left dangling in the front.
If you are the only one who is using this product, you may trim the extra lengths of strap which will help you contain it under your clothes. Having said so, if you have no prior experience of using a posture corrector, you should give yourself some time to get used to wearing this product and start off with just 10 – 15 minutes of use at a stretch.
Pros
Fits a wide range of body sizes, from chest size of 25 – 53 inches
Made of latex-free material
Padding provides for comfortable wear, especially on the shoulders and under your arms
Easy to wear and use
Lightweight and comfortable for longer use
Good value for money
Cons
The straps may slip and require regular adjustment if worn too tight. It may not be convenient to use outside the home.
Not suitable for taller users
#2 – Posture Corrector by Gearari
This Gearari posture corrector is an FDA-approved device that can be used for clavicle support and pain relief for the back, neck, and shoulders. The device straightens your back by pushing your shoulders back and is effective against chronic posture problems in seniors.
Once you become comfortable with wearing it, it can be worn for as long as you want during the day to maintain better posture and a painless back.
However, depending upon your body type, the straps may be uncomfortable and rub against your armpits, especially when worn too long. A workaround to this is to cover the mesh fabric with a layer of thin padding made out of comfortable cloth at home at the points where it is in contact with the skin. This will also help with keeping the corrector odor-free and reduce the frequency of washing it and increasing longevity.
When washing the corrector in a laundry machine, it is best to put the corrector in a washing bag or net bag to protect the Velcro from getting damaged.
Pros
Made of ventilated fabric and is comfortable to wear underneath clothes
Designed to fit chest sizes ranging from 27 – 42 inches
Easy to adjust using the buckles and can be worn or removed without help
Lightweight and easy to wash and dry
Cons
May sit uncomfortably on your armpits if you have a larger frame; requires getting used to it
You may also like Best Posterior Walker or Gait Trainer
#3 – Posture Corrector by Wnieyo
This posture corrector by Wnieyo is designed with clavicle and lumbar support. It is available in sizes of medium and large to fit waistlines ranging from 30 – 43 inches. The belt is made of elastic material which helps with a better fit and more comfortable wear for longer periods of time.
This is a much more discreet product than some of the more popular posture correctors available and can be worn comfortably under office wear. Since it is thinner than most products, it is a lot less likely to cause discomfort under the armpits. However, the flip side to this is that it does not have any padding of its own and you will be better off wearing it so that it does not come in direct contact with your skin.
The back support works well for seniors with nagging back and shoulder pain. However, it may not be suitable for users who have to bend a lot for their work, as frequent bending will unsettle the corrector and push it up against the back of the neck creating discomfort for the user and will require readjustment.
Pros
Easy to wear, adjust and remove quickly
Back support provides for more comfortable wear and support for your spine
Fits waistline range of 30 – 43 inches
Elastic straps provide for a better fit
Comes in two sizes of medium and large, which are adjustable within their size ranges
Good cost-effective option
Cons
May not be comfortable for wearing with direct skin contact, as there is a possibility of the Velcro scratching your skin
#4 – Posture Corrector by FY Posture
This is a lightweight posture corrector, which can be used to relieve back pain in cases of kyphosis and back surgeries. The product has a unisex design and can fit a wide range of body sizes (with chest sizes ranging from 25 – 53 inches).
The thin design allows you to wear it under your clothes, without it being visible externally. If you anticipate using it under your clothes most of the time, you may want to cut the extra straps to size once you find your exact adjustment, as otherwise, the extra straps are harder to conceal under your clothes and may become a cause of discomfort as well. However, this may not be possible if you are co-using the corrector with someone who has a significantly different body type than yours.
A standout positive for this product is that it comes with detachable padding for the armpits which can be really helpful for the elderly with heavier builds. Since they are detachable, the product can also be used by someone in your family for whom the corrector is comfortable without the extra padding.
Pros
Detachable armpit pads for comfortable use over longer periods
Fits wide range chest sizes of 25 – 53 inches
Made of high-quality breathable material
Also beneficial for recovery from back surgeries
Lightweight and easy to use and adjust without any help
Cons
You may require some time to get adjusted to the posture corrector; it is recommended to gradually increase the time for which it is used
May not be suitable for very tall users
You may also like Best Anti Fatigue Mat for Standing Desk
#5 – Unisex Posture Corrector by Truweo
This posture aid by Truweo is an FDA-approved device and is adjustable to fit chest sizes ranging from 30 – 43 inches. It is lightweight and made of quality neoprene for a well-ventilated fabric that is comfortable for long use.
While the product is thin enough to be worn under clothing, you may not be able to do so as some users have complained that it requires regular adjustment, particularly if your work involves a lot of bending and stooping.
While the Velcro straps make it easy to strap on, it is often the point of first damage that may render your corrector unusable. Therefore, you should ensure good practices for Velcro longevity while washing and drying the product, such as washing the corrector within a mesh bag.
Depending on your body type, the corrector may press up against your armpits and be uncomfortable to use for long periods. In this case, you may improvise and add some padding on your own to counter the discomfort caused by the mesh fabric.
Pros
Adjustable and fits chest size range of 30 – 43 inches
Made of breathable, lightweight fabric, making it more comfortable to wear over longer periods of time
Designed for use by both men and women
Easy to machine wash and dryer friendly
Cons
Tightening it for a better fit may make it press against your armpits, causing discomfort if worn for long. How much this affects you will depend on your body type.
#6 – Posture Corrector by Tubnvoot
This is a unisex posture corrector with full back posture support that includes a posture corrector belt. It can be used both for posture correcting and for back pain relief. The corrector comes in three sizes of medium, large, and extra-large to fit a range of waist sizes. You should be careful to order the right size to avoid an uncomfortable fit.
This device is a good choice for seniors who spend a significant amount of time in front of a computer or television or work at a desk job. The corrector, however, is large and thick at places (due to padding which is good for comfortable wear) and it is not possible to wear it discreetly under clothes, especially with bulges in and around the waistline.
The product comes with a one-year warranty. However, you should read the fine print on costs related to shipping the item back to the seller which may sometimes be prohibitive for an under 30-dollar item, depending on your location.
Pros
Fits a large range of waist sizes from 25 – 42 inches, across 3 sizes of medium, large, and XL
Easily adjustable with full back support is very helpful in case of relieving back pain
Easy to machine wash and is dryer-friendly (dry on low heat)
Reinforced stitching makes for a durable posture corrector
Cons
May require continuous adjustment for some body types
Velcro may become less effective after some time of use
You may also like Best Sit Stand Desk for Home Office
Frequently Asked Questions
Q. Aside from wearing a posture corrector, what are some other steps I can take to maintaining good posture throughout the day?
Remember that a posture corrector is only an aid, and should not be depended on as a permanent appendage. To development maintenance of good posture, become mindful of your back posture while doing various activities each day.
Once you're aware of your posture, you're much more likely to adjust. With use of a novel device like a posture corrector that feels unfamiliar and adjusts your posture for you, this can help you develop that awareness of your body posture.
Stay as active as possible and maintain a healthy weight. Various muscles of the torso, including the abdominal muscles, the upper back muscles, and the shoulder muscles are all involved in helping to maintain body posture, so developing and toning these muscles will make it easier to keep the spine straight. Additional weight can weaken and challenge the strength of these muscles.
Make sure your work instruments and electronic devices are at a comfortable height when working with or viewing them. Electronic devices are major culprit, as we tend to hunch over to view our laptop or mobile phone screens, and we're encouraged to relax into a slumped position when watching television. Consider investing in a laptop stand that lifts the height of the screen, or attach an external monitor that is horizontally aligned with the height of your eyes. Take frequent breaks to stand up and walk around when working or relaxing in a seated position.
When standing, stand up straight and tall with your shoulders back and your chest out, your abdomen tucked in, and pull your head back so that your neck is as straight as possible, yet level so that you are looking straight forwards. As posture corrector can help reinforce good stranding posture.
Q. Are posture correctors comfortable to wear?
Posture correctors work by pressing against the front of the shoulders and on the middle of the upper back at the spine. A user who is new to posture correctors will feel more pressure at the places, and it may take some time to adjust to the feeling.
New users should set posture correctors a loose enough that there is no uncomfortable pressure placed on the upper body or shoulder joint, but tight enough that the corrector is pulling spine and shoulders into a more natural position of the spinal curve. With time, wearing the corrector will become more comfortable, and the corrector can be further tightened to suit the user's comfort level.
Posture correctors are generally made from breathable fabric or mesh material. If the material is mesh, it is advisable to wear the corrector over the top of clothing so that it does not chafe the skin and cause scuffs. Higher quality posture correctors will come with better knit material and may be less likely to cause skin discomfort.
Q. How long might it take to correct my posture with a posture corrector?
It is generally advised to wear a posture corrector for 10 to 30 minutes a day, although they can be worn longer for up to a couple hours as long as it is comfortable for the user. Keep in mind that long-term and extended use can lead to dependency on the corrector to maintain good posture, and dependency can lead to atrophy of the muscle we want to develop for keeping posture. As a posture corrector encourages a fixed position and restricts motion, it can significantly restrict important spinal movements as well.
You may also like Best Balance Ball Chair For Office
Parting Words – A Musculoskeletal Aid for Everyday
Regular use of posture correction makes your muscle memory stronger by reminding you to sit and walk with a straighter back. Eventually, your body learns to maintain proper posture throughout the day without need for assistance.
With a relatively small investment, it has the potential to correct your slouching, stooping, and inappropriate sitting styles and has far-reaching positive effects on your health over the long term.
From our selection of the best posture correctors for seniors, the posture corrector by Selbite is our top pick, with comfortable straps and a light weight, all at an affordable price. Do note that the straps are constructed of mesh, and are better worn on top of clothing so that it does not chafe skin. The posture corrector by Wnieyo is another good value for money option that comes in two sizes and flexible elastic straps.
Remember that posture correctors are intended to teach and remind you to sit and stand with correct posture, and are not meant to be used permanently. Long-term use can lead to muscle atrophy as you will come to depend on the device to maintain a straight back, whereas you should be training you muscles to hold position on their own.