Whether it be temporary difficulty in moving about due to an accident or a recent trauma, or a progressive problem caused by increasing fatigue, joint pain, and balance problems, mobility is a significant issue we all want to address.
Walkers are one of the most common walking assistive devices around, only running second to canes, according to a study1.
Maybe you are considering purchasing one for yourself or your loved one and found out that there are various types of walkers and need help in decision-making. You've come to the right place!
This article will discuss what a walker is, its parts, and its typical features. This article will also tell you the different types of walkers and how much they cost.
What is a Walker for the Elderly?
A walker is a type of assistive device or mobility aid used by people who can still walk but need additional support and stability. It is a four-legged frame typically made of lightweight material (typically aluminum).

Things to Take Care of When First Starting to Walk With a Walker
Like any assistive device, starting to walk with a walker takes some getting used to.
According to Dr. Mariusz Fajfer, Doctor of Chiropractic from Neurochangers Durham:
"There are many different types of walkers to choose from. There are standard walkers, rolling walkers with a set of wheels, rollator walkers with 4 wheels, or even folding walkers. These options may make it confusing when purchasing a walker but my best advice is always to go and test one out and see how it feels. In most cases all of the option will be beneficial but comfort and convenience can make the difference in your choice.

Walkers without wheels offer the most support but they can slow you down and can be tiresome as you need to lift them with every step and over uneven surfaces. Therefore, they tend to be used indoors. Rollator walkers are more convenient because you can push them and don't have to lift them like the traditional walker. Rollators should include brakes in order to make slowing down or stopping easier. They also usually have a seat for resting. All these features make them great for outdoor use.

Walkers should always be adjusted to your specific height. When standing straight, the walkers hand grip should be at your wrist level so when you grip the handle you have a slight bend in your elbow (about 15 degrees). Make sure you are wearing shoes when measuring the height. When purchasing a walker it is also important to buy one that can adjust higher and lower after it's already been adjusted to your height. This gives you the option of adjusting it later. The wrist measurement is a guideline but you may find slightly higher or lower more comfortable for yourself.

Another factor worth mentioning is the width of the walker. This is an important factor if you plan on using your walker indoors. Make sure your walker can fit through doorways at home. This allows you to actually use it when you need it and thus preventing falls and providing support.

When using a walker you should first place the walker a step ahead of you. While keeping your back straight, take your next step inside the walker, making sure not to hit the front bar. Next, step forward with your other leg to complete your step. Push the walker forward and follow the previous steps to meet the walker.

There are plenty of options of walkers out there. It would be your best bet to either try some out or consult a therapist such as a physiotherapist, chiropractor, or assistive device professional to help you with your decision."
To walk with a regular walker, make sure the walker itself is firmly set on the ground before making any movement. Stand in the center of the walker with your hands on either side, making sure you are well-positioned.
To start to walk, push your walker forward, leading the movement with your weakest foot. Then, place the walker firmly back on the ground. Next, move your strongest foot up to meet the first one.
This method ensures that your weaker or less balanced foot is not carrying all the weight of your body at any given moment. Make sure that the walker does not move too far away from you during the initial steps.
Features of Walkers
Foldable
Some walkers are collapsible for ease of transport. There is usually a button at the front part of the walker. Once it is pressed, the walker can be collapsed and folded flat.
Height-adjustable
Most walkers can be adjusted to suit the user's height. Each leg has linearly placed holes with a button. To adjust the height, find the button on each leg, press it, and fit it to the appropriate hole. Wait until you hear a "click" to ensure that the button is in place. Make sure to do place the button on the same hole height for all four legs.
Rise-assistance
Some walkers have two handles: one in its usual position and another positioned lower as the walker curves towards the user's end. This provides users the leverage to stand up when they are seated on a chair or a bed.
You may also like Can You Rent An Upright Walker?
Parts of a Walker
Frame
Most walkers are made of 1-inch aluminum tubing. The legs can be adjusted by 5 to 10 inches. Some frames are made up of heavy-duty material to handle heavier individuals.
Grip or Handle
Located on either side of the walker, handles are usually made of foam, gel, or plastic. These can be replaced to better suit the needs of the user. For example, those with limited grip due to joint problems or pain may opt to get larger grips. Foams may be advisable for users with the tendency to sweat to ensure that their grips won't slip.
Wheels
Some types of walkers have wheels, also called casters. However, unlike caster wheels of wheelchairs, these are fixed and do not swivel. They are usually 3 to 5 inches. Wheels can vary in material and in size, depending on the needs of the user. Larger wheels are preferred for outdoors and terrain, than smaller ones.
Brakes
Some brakes have cables inside the frame to ensure that they will not get caught on anything.
You may also like Where Can I Buy An Upright Walker?
Different Types of Walkers and How Much They Cost
Before making a purchase, it is crucial to be aware of the different types of walkers. There are mainly three types of walkers: standard walkers, two-wheel or front-wheel walkers, and rollators.
Standard Walker
A standard walker is the most basic type of walker. It is most suited for people who have weakness in their lower extremities and those with stability problems. Standard walkers can support up to 300 pounds and cost around $30 to $100.
A standard walker requires more upper extremity strength than wheeled types. Since they don't have wheels, users need to lift the entire walker with every step as they walk.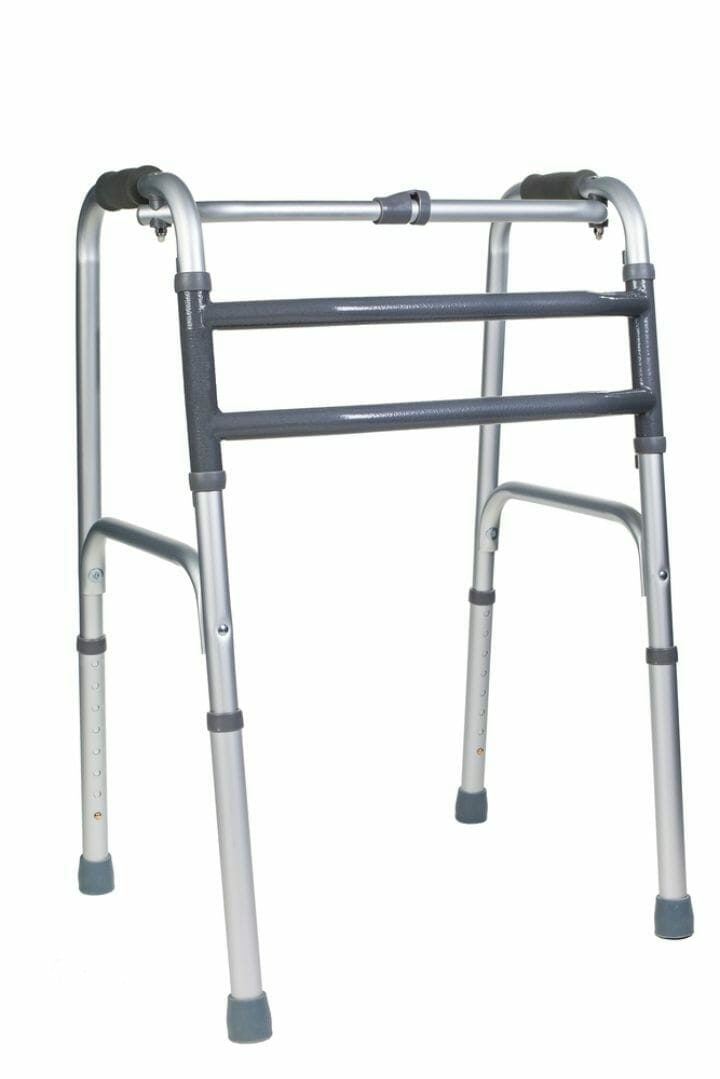 Two-Wheeled Walker
Unlike the standard walker, a front-wheel walker does not have to be picked up by the user to be moved. On the other hand, the user must put weight on the walker while moving for the walker to move. The friction caused by the back legs prevents the walker and the user from rolling forward. This type of walker is suitable for use on flat surfaces but not on rough terrain or surfaces.
This type is suited for individuals with weaker upper extremities and those who need help accelerating their pace. The price of two-wheeled walkers ranges from $50 to $160.
Rollator Walker
A rollator is much like a walker, although it looks quite different due to the add-ons that come with it, like baskets and seats. It can have three- or four- wheels.
A three-wheeled rollator looks like a tricycle and is lighter than its four-wheel counterpart. Since it is slightly more compact, it is also easier to maneuver than a four-wheeled rollator.
Rollator walkers are not necessarily used for individuals who are at a high risk of falling, and are most often used in outdoor scenarios where the presence of wheels allow for an ease of movement for the individual using the walker.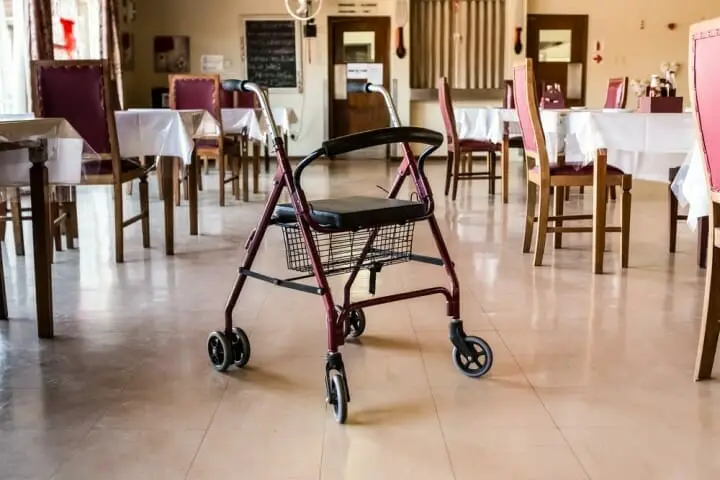 Rollators are bulkier and heavier than standard types due to the materials they are made of. It is important to mention that the weight capacity of a rollator varies per product/model.
Best suited for individuals who need to stop and rest every now and then, a rollator usually comes with a seat. Because of this feature, rollators are usually heavy-duty, making them a lot more expensive than standard walkers.
A rollator is best suited for users who have good enough stability to control the device. While it is easy to propel, users with cognitive impairments and balance issues may roll forward. It is also not suited for individuals who do not have enough grip strength to control the brakes.
You can get a rollator for as low as $60, but its price could go up to $350, depending on factors such as brand, material and component quality, and guarantee.
By the way, we have a separate article on how to use a rolling walker properly where we cover this topic in much greater detail.
Upright Walkers
The newest kid on the block, upright walkers are rollator walkers, designed keeping your posture in mind while using a walker. These are upright walkers on wheels where you do not have to slouch while walking.
With an upright walker, you can keep your back in a natural position while walking. They have raised arm supports where you can rest your forearms.
How to Choose the Right Walker?
Out of all the walkers we have discussed so far, the traditional walker is the easiest to use and most flexible for the average individual.
Made out of lightweight materials, the traditional walker is geared towards providing both balance and forward movement to individuals who are looking for a reliable walking aid that can reduce the risk of falls and bring freedom back to their lives.
Traditional walkers are not ideal for situations that require movement over rough or uneven surfaces and are most often used in indoor situations, such as stores, homes, and hospitals.
A traditional walker is a great starting point to invest in before looking into other, more specialized walking devices, as they can act as a training device for learning how to properly walk with a walker.
Wheeled walkers are a good in-between walker for both home and outdoor situations. They provide support and stability using the back two support poles, while reducing the amount of weight that must be lifted to move forwards using the front two wheels.
Wheeled walkers are ideal for individuals with limited upper body strength, as they take some of the lifting out of walking with a walker. Most wheeled walkers are geared towards being an in-between support device, and as such the front wheels do not swivel or move from side to side, to make sure to provide the most stability possible for the person using the walker.
A good wheeled walker will allow the individual to lock the front wheels for situations where they need some added stability, making it perfect for use indoors and out.
Rollator walkers are useful for people who travel from one kind of location to another, such as indoor/outdoor movement, and are also useful in situations where lifting and moving a walker may be too much strain for the person using the walker.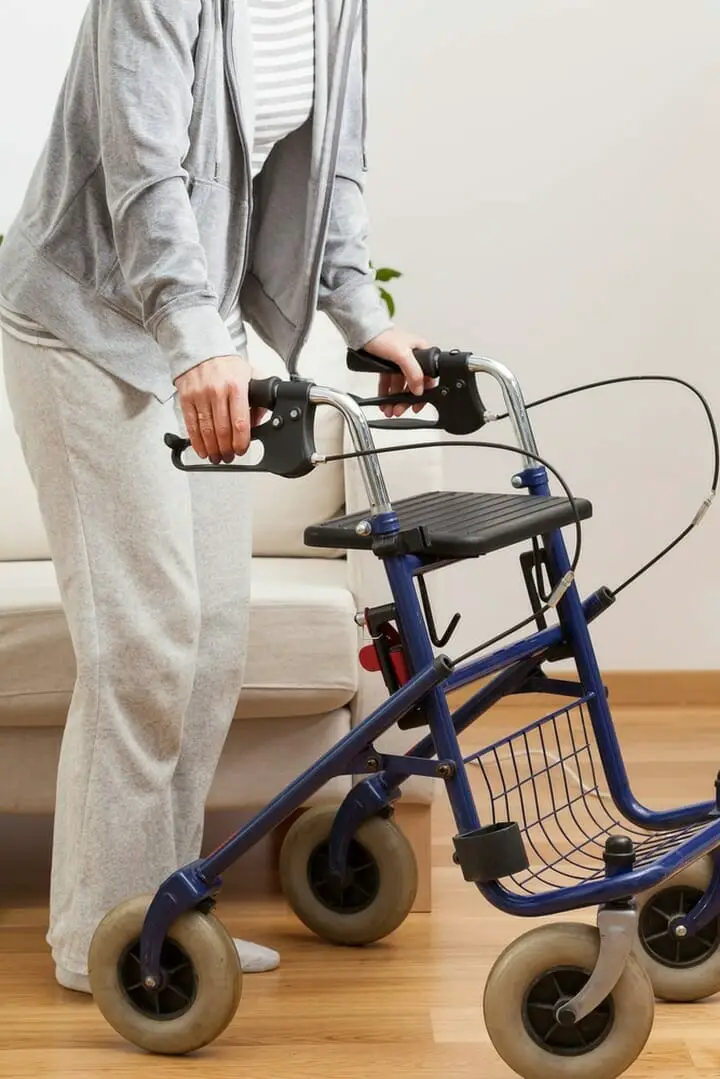 Rollator walkers can also come equipped with other mobility aids, making them a good investment for someone who is looking to use their walker in a wide range of situations and locations.
While a bit more costly than the traditional walker, rollator walkers offer the widest range of movement freedom for people who are looking for assistance moving, without necessarily needing the stability that comes from a traditional walker.
Here is a YouTube video that helps further demonstrate how to properly use a walker:
Finally, if you are quite out and about, you might want to choose an upright walker over a rollator walker.
Upright walkers give you all the features of a rollator walker like a seat, storage basket, brakes etc. And they also help you in maintaining a good posture while walking. They are ideal for people who like being outdoors.
When looking for a walker for you or your loved one, keep in mind the various uses of the different kinds of walkers, as well as the unique needs of the individual looking for a walker.
Other Frequently Asked Questions About Walkers
Do Medicare and Medicaid cover walkers?
Both Medicare2 (Part B) and Medicaid cover walkers and rollators. These are considered durable medical equipment (DME).
However, it should be established that these products are medically necessary to be used in the home for it to be covered by Medicare and Medicaid. They have to be prescribed by a doctor or a health provider enrolled in Medicare and Medicaid for this equipment to be covered. In addition, the supplier of the equipment must also be enrolled in Medicare and Medicaid.
If approved, you will only have to pay 20% of the Medicare-approved amount. Depending on the equipment, you may be asked to rent, buy, or be given the option of whether to rent or buy the equipment.
Why do the prices of walkers vary so much?
Walkers vary in price because of differences in design, components, materials, size, add-on/accessories, weight capacity, brand, and warranty/guarantee.
Upright walkers tend to be the most expensive, with the Upwalker coming in close to $500. A standard walker without wheels can cost as little as $60.
What is the best walker for the elderly?
The most suitable type of walker for the elderly depends on the elderly adult's needs, skills, capacities, and conditions. We discussed this in great detail in our article on the best walkers for seniors.
What is the difference between a rollator and a walker?
A standard walker does not have wheels, while a rollator has three or four wheels. Rollator walkers are more suitable for the outdoors as most of them have a seat that you can sit on when you feel tired. Rollator walkers also have brakes to control their speed.
Many rollator walkers also come with accessories like bags which are not common in standard walkers.
What is the difference between a seated and non-seated walker?
Seated walkers act as a transitional seating area to help with transfers between different locations, while the traditional walker is primarily shaped like an empty three-quarter box to allow for ease of movement within the support area of the walker itself.
Seated walkers are most often used for individuals who have difficulty lifting the walker in order to move it, and as such seated walkers often times have four wheels on the base to act as a forward movement assistance device instead of a stability device.
You may also like Does Medicare Pay For Upright Walker
Conclusion
While the different types of walkers have similar parts and features, each type has its differences. Aside from the price difference, it is essential to consider that each walker is suitable for different kinds of people. These features have to be taken into consideration when thinking of the user's safe and efficient mobility.
References: