The disabled, the elderly, and all those who have any painful or limiting conditions of the legs know how hard it can become to perform even a simple task like using the toilet. It is not only physically problematic but also very distressing, considering that the help of a caregiver is required just to relieve oneself.
However, there can be a simple fix to this problem. If the seat of the toilet is raised temporarily or permanently by a few inches, it becomes so much easier for the patient to use it. This is where toilet seat risers come in.
This article covers all that is needed to know about this assistive device and the considerations that decide whether Medicare will cover the costs of toilet seat risers for a patient. Read on to know more.
What Are Toilet Seat Risers?
Also known as toilet booster seats, elevated toilet seats, and raised toilets
At the first glance, toilet seat risers may seem odd to many people. But they are functionally very useful for the disabled, elderly, or just about anybody who has a hard time getting on and off the toilet seat on their own.
These are oval assistive devices that are placed on the seat of the toilet to raise the height of the commode. This allows for a person to easily get on and off the seat without much trouble, decreasing not only the chances of a fall but also the need for assistance by a caregiver.
Toilet seat risers are made with durable plastic and fit snugly over the toilet seat. The basic models which rest directly on the toilet seat are affordable, easy to install and maintain. There are high-end ones available that can lift the entire toilet seat as well.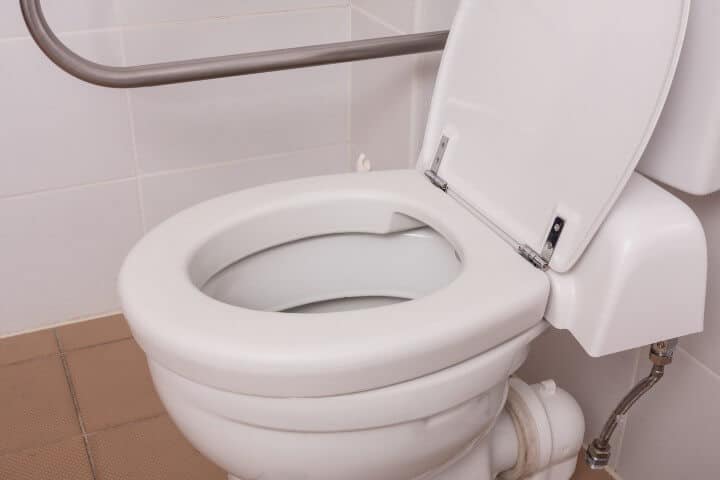 Why Are Toilet Seat Risers Needed?
They allow a person with self-toileting, i.e. they make a patient independent for using the toilet.
They make the height of the seat suited for the person and remove the stress of getting up and sitting down while toileting.
They can be used for temporary conditions such as post-surgery or after certain injuries to the legs.
They can also be used in permanent conditions such as aging, arthritis (swollen painful joints), spastic paraplegia (weakness and stiffness of legs), claudication (painful lower limbs due to decreased blood flow), Buerger's disease (blood clots in arms and legs) and many other illnesses.
They can be used by wheelchair users for transferring weight from their wheelchair to the toilet seat. The risers avoid falls that may happen during these transfers.
You may also like Do I Need a Raised Toilet Seat After Hip Replacement Surgery?
Does Medicare Cover the Cost of Toilet Seat Risers?
Medicare is a state-sponsored health plan which allows all Canadians to get treatment from Medicare-enrolled physicians and specialists, and the government is billed for the same. The cost is borne by the government through the income taxes paid by the people.
However, each province and territory has its own rules and regulations regarding coverage under this health insurance. In the United States, there is no universal health care plan but Medicare applies to all people over 65 years who fulfill certain eligibility criteria.
Medicare Part B is the part of Medicare that covers Durable Medical Equipment (DME). As the name suggests, this is the medical equipment that can be used over and over in homes for an extended period. To be covered by Medicare in DME, an individual will have to,
Get enrollment at Medicare Part B
Get a prescription from the physician who is enrolled in Medicare mentioning that the equipment is medically necessary and required by the person for performing day-to-day activities. it will also have to state that the device is required for obtaining positive treatment outcomes for the patient.
Will have to buy the DME (Durable Medical Equipment) from the Medicare-enrolled supplier.
Such equipment will be covered by Medicare if it is termed as medically essential by the physician. So essentially, Medicare will cover bathroom modification equipment only if,
The equipment is a medically essential item for the individual that would help the patient recover and better the treatment prognosis.
For the equipment to be covered under DME, the material of the equipment should be durable i.e. it should withstand usage over a long period
It is used at home. Home here means the home of the patient, or the family home, or the assisted living home. A nursing home or a hospital does not fit in the definition for home but can be covered in Medicare Part A if essential (since Medicare Part B covers only out-patient equipment whereas in-patient equipment is covered by Medicare Part A).
It should have usage of at least 3 years minimum for the patient.
Toilet seat risers are a big help for those with hip, knee, and other leg issues that make toileting difficult for them. That being said, they are not counted under essential medical items but as assistive devices. Hence, Part B of Medicare lists them as a convenience item and as being primarily non-medical.
Thus Medicare does not cover the costs of the toilet seat risers in general. Medicare will only cover for items that are medically necessary for the patient to perform day-to-day activities, as advised by the physician, while also fulfilling the above-mentioned criteria.
You may also like Best Heavy Duty Toilet Safety Frames or Safety Rails
Other Financing Options to Consider Are As Follows:
State Health Insurance Program (SHIP)
The SHIP provides free guidance regarding Medicare through their counselor. The counselor in the particular state can be reached through their website.
Medicaid
Medicaid is a health care program that is run federally and not by the state. Each state has it's own Medicaid framed under federal laws and hence, their policies also differ from state to state. Medicaid of certain states may allow more waivers on the DME costs, than other states, depending on their policies and eligibility criteria.
In Canada, Medicaid virtually covers all age groups i.e. adults and children as well as women and the disabled. In the United States, Medicaid gives cover to 1 in 5 individuals, which includes the elderly and the disabled and approximately 40% of children.
Department of Veterans Affairs
They have various plans and programs to assist the veterans and their dependents to cover the costs of the DME. There are local offices, clinics, and centers in all states to assist the veterans with financial and other issues.
Charitable Institutes
One can always check the local community charitable institutes as well churches in the area if they are providing any aid for medical devices. Such information can usually be found out by asking around in the community. Also, the internet can be checked for information regarding any free programs being run by any charitable institutions for the same.
You may also like Best Padded Toilet Seats for the Elderly
What Do Toilet Seat Risers Cost?
The toilet seat risers come in so many different variations suited for different needs. They may cost anywhere between CAD 20 to CAD 250 (USD 15 to USD 200).
Though it may seem like a small thing, toilet seat risers greatly help the elderly and the disabled. There are many variations out there in the market which can get confusing.
Therefore, it is best to check in your area, as to which assistive agency will provide the required financial assistance for buying this bathroom modification equipment. Albeit, a small step, but it greatly boosts the morale of those dependent on caregivers for their toileting habits.