Below is a snapshot of the best mobility scooters for outdoors. We also review each of the products in detail below.
Range (flat ground)
9 miles (12 AH), 15 miles (20 AH)
Battery
Two U1 Batteries (Long Range)
Two 12 V Sealed Lead Acid
Two, 12 V, 12 AH (can be extended to 20 AH)
"Being able to walk pain-free is a blessing. Being able to walk without showing it is a skill"
–Kylie Mcpherson
One of the most important yet underrated blessings that humans have been given is the ability to walk. It is one of those things that we all take for granted until approaching old age, injury or disability robs us from this most basic of abilities.
According to the latest disability statistics, nearly 21 million people overall and 23% seniors aged 65 years and over suffer from ambulatory disability. 
The "mobility scooter" or "medical scooter" is a device that offers a solution for people with ambulatory disability so that they can maintain their independence and perform their daily tasks both indoors and outdoors with ease. 
The distinct advantage that mobility scooters have over normal wheelchairs is that they don't require support from another person to push them around. Most mobility scooters are battery operated. Secondly, mobility scooters have several features that offer users a comfortable riding experience.
Another clear advantage is that most mobility scooters are easily foldable, which makes them convenient for carrying them along with you in your car trunk or storing them around the house when not in use.
Lastly, mobility scooters are easy to operate and do not require any effort on the part of the user to push them along (such as with walkers or rollators).
In this article, we will explore various types of mobility scooters for outdoors, and what parameters to see when selecting one for your personal needs. We will then cover our top picks among the mobility scooters that are available in the market.
Do you think a Knee Scooter is Better than Crutches? Check this out.
What Are the Types of Mobility Scooters?
While there is no clear demarcation of scooter types, they can largely be divided into four broad categories:
Lightweight mobility scooters
Lightweight scooters, as the name suggests, are light, compact, easy to fold and designed to be no-nonsense easy to zip through small lanes and busy airports. Some of them are compact enough to travel along with you on the aeroplane you are traveling.
Medium-sized mobility scooters
Medium-sized scooters offer a good compromise between speed and comfort. Many of them have larger wheels and more comfortable seats. They can still be folded, but take up more space. Some of them have a higher weight-bearing capacity as well.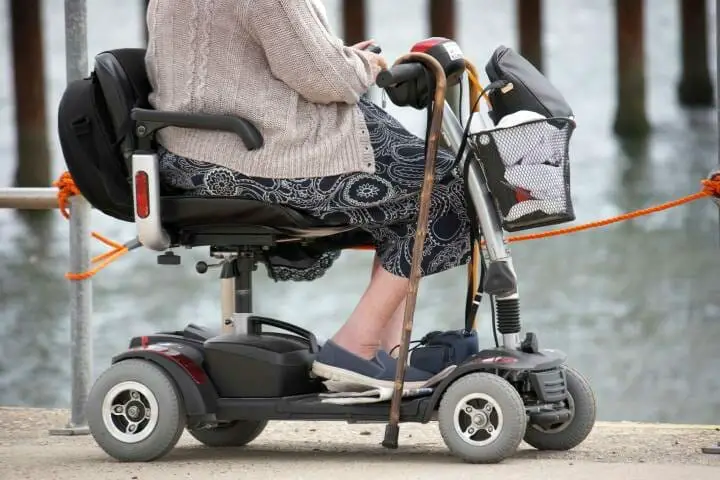 Large-sized mobility scooters
These are typically a lot heavier, have more comfort-related features such as plush seats and better suspension, higher ground clearance and longer driving ranges
Sporting mobility scooters
Sporting scooters are more of collector pieces than actual mobility devices. They are usually slick and stylish, with motorcycle-ish designs and color combinations. They are however made from single pieces and cannot be folded up for travel.
3 Wheel vs 4 Wheel
Another type of categorization for scooters is 3-wheel vs 4-wheel scooters. While a 3 wheel mobility scooter has a shorter turning radius and it weighs a lot less, it is much less stable than the 4 wheel version that is more common.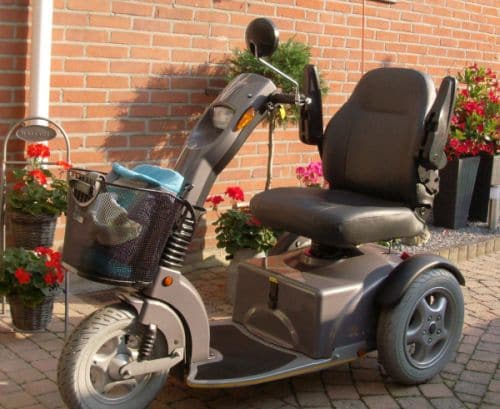 How to Select the Mobility Scooter for the Outdoors?
Speed
Mobility scooters are designed not to have too high a speed. Therefore even a minor difference in the top speeds of one model vs another can create a huge difference. Most mobility scooters tend to slow down on inclined surfaces, therefore it might make sense to prefer one that has a higher top speed.
Range
Losing your batteries when outside your home can be a horrendous experience. Therefore, it makes sense to look for options that have a longer driving range and a better battery performance. 
Secondly, keep in mind that heavier people tend to need more effort to pull and similarly the scooter will drain more battery when going up inclines. If you are faced with either of those conditions, prefer a scooter with a better driving range.
Ease of Transport
The ability to fold and carry your scooter in your car trunk is very important if you want to be able to use your scooter at different places.
Carry on storage
Since you will be using your mobility scooter for carrying out daily tasks like buying groceries, it is important to have ample storage space in the scooter.
Accessories
Rear Basket: An additional space for you to carry things along on your ride

Universal Cup Holder: Useful for holding your coffee or water bottle, especially in the heat.

Scooter Storage Cover: Protects the scooter from the weather and elements
Price
Of course, budgetary conditions will always be an important factor to consider. However, there are circumstances that you can get mobility scooter for free. Learn how.
Weight capacity
The scooter should be able to hold your weight comfortably. Most mobility scooters can carry weights between 250 to 300 pounds.
Warranty
It is very important to have warranty coverage in case of defect or damage.
Safety
While mobility scooters are typically safe, they should have features like anti-tip wheels that don't allow the scooter to top over.
Controls
Controls are a personal thing for most people – your comfort level on the scooter controls is important so that you can use it without a hitch every day.
Material
The build quality and durability of the scooter is also an important parameter
You may also like How to Carry Things in a Wheelchair
Reviews of Best Mobility Scooters for Outdoors
In the next section, we will talk about the best mobility scooters for outdoor usage available in the market.
#1 Drive Medical Spitfire Scout 4 Compact
The Drive Medical Spitfire is our no. 1 choice for mobility scooters for outdoor usage. This is a rugged yet compact machine that will hold you in good stead.
The scooter has a quick and easy way to be disassembled, which makes it a perfect companion to take for outdoor usage. It has interchangeable red and blue colored panels. With an easy to adjust delta tiller.
The throttle wheel is ergonomically designed for free-wheel operation, making it easier on your hands to drive when going outdoors. It also provides for padded armrests, foldable backrest, with an adjustable swivel seat  that makes the ride comfortable to travel for longer distances.
It also has a 12 AH battery which provides for 9 miles of autonomous movement, and 16-inches 2 flat-free tires which make sure that you can go far without having to worry about flats. The wheels are anti-tip, providing safety to the user.
The spitfire has a maximum weight capacity of 300 pounds despite its compact size and a maximum speed of 4.25mph which is about the average. It has a good ground clearance of 2.5 inches and a turning radius of 53.75 inches.
Here we have a video that features Drive Medical Spitfire Scout 4 Compact.
Pros
Compact and lightweight, easy to fold
Ergonomically designed throttle wheel for driving comfort
A swivel seat with an adjustable height.
9-mile drive range
Flat-free and anti-tip tires
Cons
Does not perform well on inclined surfaces
The battery failed for some customers after a few months of usage.
You may also like Best Upright Walkers for Seniors
#2 BUZZAROUND EX Extreme 4-Wheel Mobility Scooter
The Buzzaround EX extreme is a power-packed machine for those who want great performance. It has an 18-mile driving range with a top speed of 5 miles per hour, which is fairly impressive in its size.
The scooter has front and rear wheel suspension for a smooth ride and stadium-style adjustable seating. It has a maximum weight capacity of 330 pounds, which comfortably covers even the biggest of users.
It also features a 4-inch ground clearance, and ultra-bright LED headlight for riding in the dark. The buzzaround comes with two U1 sized batteries and red and blue shroud panels. It also disassembles within a few minutes and easily for portability.
Pros
18-mile drive range at a top speed of 5 mph
Front as well as rear wheel-suspension
Stadium-style seating
330-pound maximum weight capacity
Ultra-bright LED headlights
Cons
Does not have non-tip wheels
No place to add a seat-belt
Some users complained that the batteries gave out very quickly
#3 Go-Go Ultra X 3-Wheel Mobility Scooter
The Go-Go Ultra X is another lightweight category bestseller, with a top speed of 4 mph and a driving range of 6.9 miles. It has a 260-pound maximum weight capacity and auto-latching lockup mechanism allows for easy separation of the frame with just 1 hand.
It has front frame-mounted seats which give it lots of stability and a sturdy frame design which detaches easily into 5 pieces for storage and portability. 
This scooter has a dual voltage charger which can charge the battery both onboard and off-board.
Pros
Off-board dual voltage charger which can charge both on-board and off-board
Easy one-hand disassembly
Sturdy frame design
Front frame-mounted seat for stability
Cons
Some users complained that the battery dies very quickly
Low max weight capacity and top speed
You may also like What is a Rollator Walker Used For?
#4 Drive Medical Scout Compact Travel Power Scooter
The Drive Medical Scout combines convenience with value. It is a lightweight gear with a compact design. it can be disassembled into different pieces that can be assembled with ease. It has a quick-connect battery pack with a uniquely shaped steering handle which makes it easy to operate with limited dexterity. 
It comes with interchangeable color panels, in red and blue and adjustable padded swivel seat, backrest, and armrests for maximum comfort. The tires are 8 x 2 inches flat-free and anti-tip.
Pros
Easily disassembles into 5 pieces
Flat-free and anti-tip tires
Unique triangular-shaped steering which can be operated even by low dexterity users.
Cons
Low maximum weight capacity
Turning radius is low
#5 Pride Go-Go Elite Mobility Scooter
The Go-Go elite traveller is compact, easy to drive around tight spaces and provides good balance and stability in any environment. It is easy to disassemble and can drive up to 12 miles on a single charge, with a maximum speed of 4 mph.
It has a maximum weight capacity of 300 pounds and black, non-scuffing tires with 2 sets of changeable red and blue color panels. 
Pros
Stable and lightweight
The 12 mile range is quite impressive for its price range
Max weight capacity of 300 pounds
Cons
Some users complained of a jerky motion and very hard brakes
You may also like How To Start A Mobility Scooter Without A Key
Conclusion
Mobility scooters are one among a family of "mobility devices" which include walking canes, walkers, knee scooters, rollators, transport wheelchairs, manual and power wheelchairs and other derivatives.
Each type of mobility device has its own unique features and uses. Mobility scooters can be a game-changer for those who want to live independently but are faced with ambulatory disability due to old age or injury.
When buying a mobility scooter, there are several parameters to consider, such as weight capacity, speed, driving range, battery life etc. For more in-depth discussion, read What to Consider When Choosing a Mobility Scooter for the Elderly.

While the ultimate selection depends on personal choice, and some factors might be more important for you as compared to anyone else, we believe that the choices that we have laid out here would suit the majority of our readers.
If you are out and about quite often, you might want to look at our articles on power wheelchairs for outdoor use, rollator walkers for outdoors and all terrain knee scooters.
If you are looking to buy accessibility devices for an elderly parent, you might also be interested in our in depth article on how to make your elderly parents more independent so that you do not constantly feel tired of caring for them.