Life for the approximately 2.7 million people in a wheelchair [1] can be a challenge. Apart from the burden of disability, these individuals may also lose a degree of their independence.
For many everyday activities, people requiring a wheelchair may need the help of another person.
Thankfully, wheelchair designers have designed wheelchairs is such a way to accommodate accessories in order to help wheelchair users be more independent. One of these accessories is a wheelchair umbrella.
Come rain or shine, an umbrella can be an all-weather friend. It can save you from both rain and UV rays.
In this article, we review some of the best umbrellas for wheelchairs. The table below provides a quick snapshot of our top picks, and you can scroll further down for our detailed reviews and discussions.
Materials
Stainless Steel + Plastic
Height adjustable stem and joint
Best Recommended Umbrellas for Wheelchairs
#1 – Sammons Preston Wheelchair Umbrella
The Sammons Preston wheelchair umbrella comes in a vibrant and cool color range. It is a great fit for all weather as it protects its user from both rain and snow. The wheelchair umbrella has a universal fit making it suitable for all types of wheelchairs and strollers. 
The elderly, disabled, and even handicaps can find this umbrella functional and useful when attached to their wheelchairs. It has a highly adjustable clamping system that allows easy installation and provides cover for the wheelchair occupant. The length of the umbrella stem is 36 inches, which increases to 40 inches when fully open. It does not require any assembly and is good to go as it is. 
Pros
The umbrella is collapsible, which makes it easy to store and more portable

It has a universal clamp size suitable to clamp on wheelchairs, strollers, walkers, rollators, prams, and bicycles.

The umbrella is fairly lightweight, with its weight being just 12 ounces.
Cons
The handle of the umbrella is short.

The

stem may get bent with

, so this is not the best

.
Why It's Our Top Choice
The Sport-Brella Versa-Brella SPF 50+ Adjustable Umbrella with Universal Clamp is our top choice for the best umbrellas for wheelchairs. 
This sporty little umbrella is actually meant for golf carts, but its features make it suitable and excellent for wheelchairs too.
It has a non-conventional design that is elongated at one end (instead of circular design). This means the legs and feet of the wheelchair user will also be protected by this umbrella.

The

is lined with

50+ material, which provides

, protecting the user from UVA and UVB rays of

the

.

The

cover is very durable, though may not be the best

.

A universal clamp-on this umbrella allows it to be connected to any surface – square or tubular, which is why this umbrella can also be used on wheelchairs

It also has a 4-way, 360-degree swivel which means that the umbrella can be rotated in any direction the sun is shining from.

It has 2 push button hinges to control the swivel, which are easy to operate by the wheelchair user himself, without needing any help from others.

It weighs on 1.8 pounds and can be carried with you anywhere easily. 

Comes with a 1-year manufacturer warranty.
You may also like to read about Best Wheelchair Arm Rest Covers
#2 – Sport Brella Umbrella With Adjustable Clamp
The Sport Brella umbrella has a stylish and modern design. It has a special coating that protects its users from SPF 50 UV rays. The umbrella blocks 99.5% of UVA and UVB rays. Its clamp is universal and can attach itself to most of the surfaces. The user can freely do their outdoor chores without holding the umbrella.
It has a special four-way swiveling design, which ensures protection from all angles; moreover, it's design is also ultra-aerodynamic which does not hinder the movement of any wheelchair, bicycle, motor, and so on. Its clamp can attach to both squares as well as tubular surfaces. 
Pros
The umbrella has a wide span of 3.4′ length and 3.5′ breadth with 36″ stem length. 

It is very portable and has a compact design, which makes it easy to store and carry around.

The weight of the umbrella is 1.8 pounds, which is lighter than traditional umbrellas.

A solid steel frame provides it with durability and reliability.
Cons
The clamp can get stuck if it is handled roughly.

The length of the stem may be too short for some people.
The video below features the Sport-Brella Versa-Brella.
#3 – GNSDA Clamp-On Shade Umbrella
The GNDDA shade umbrella is a multi-purpose umbrella with a universal clamp. The clamp can latch onto many surfaces such as wheelchair handles, wagons, cart, shopping cart, golf cart, strollers, and so on. It has a special silver line coating, which blocks 99.5% of UVA and UVB rays; moreover, it also prevents damage to the UV rays' eyes and skin. 
It has a very stretchable and durable polyester fabric. The fabric of the umbrella is weatherproof. The umbrella provides a platform for the users to remain outside without fear of sun rays and the heat. The umbrella is fairly portable and lightweight as it's weight is just under 2 pounds.
Pros
The umbrella has a flexible shaft, which makes it difficult to break.

Heavy duty clamp ensures a secure grip on all types of handles and handlebars.

It has a fine solid steel frame of length 65 cm, which reaches the proper height to protect from rain or sun.
Cons
It can be a bit flimsy in harsh conditions.

Only available in a single color option.
You may also like to read about Best Fitness Watch for Wheelchair Users
#4 – SolPro Clamp-On Shade Umbrella
The SolPro clamp umbrella has a sporty looking product. It has a fairly wide coverage area of 30″ ×40″ this allows the umbrella to provide a wider breadth of protection. It has a superior quality fabric, which is suitable for rougher usage. 
The umbrella has a 360° swivel design with two push-button hinges. These hinges help adjust the size of the umbrella. It specializes in providing all-round protection from the harsh weather conditions. The frame of the umbrella is sturdy and firm and is easily able to withstand high wind pressure. 
Pros
Instant shade and protection from all types of weathers.

4-way swiveling design allowing 360° coverage.

Lightweight and portable only weighs about 1.85 pounds.
Cons
Strong winds can cause the umbrella to fall.

Assembling the umbrella can be a little difficult.
#5 – Tanchen Rain Umbrella
This is an elderly-friendly rain umbrella that can easily attach to the scooters, strollers, walkers, and even wheelchairs. The main material for the umbrella is a durable and strong mixture of stainless steel and ABS plastic. Its adjustable height range is between 27-47 cm. It has a flexible joint arm, which allows the user to adjust the positioning.
It has a simple and ergonomic design that is easily accessible to elderly users. The holder umbrella also has a compact design, making it ideal for transporting from one place to another. This feature also helps in solving the storage problem of the bulky traditional umbrellas.
Pros
Universal clamp fits the majority of handles and handlebars.

Ultra UV and SPF protection.

Durable fabric able to withstand a high degree of wear and tear.

No need for any external assembly tools and help.
Cons
The umbrella is a bit heavy with its weight being 280 grams.

Does not include an instruction manual.
While you are indoors, a transport wheelchair will be a good option.
Best Umbrella Holders for Wheelchairs
If you have the perfect umbrella already, but no way to mount it, then worry not! We have you covered there as well! Below, we look at some of the top picks of umbrella holders for wheelchairs.
#6 – Linkertech Holder Umbrella Bar
The Linkertech Holder Umbrella Bar is easily attachable to a bicycle, motorcycle, wheelchair, and golf cart. Its design is very simple and functional; this makes the product great for the elderly. 
The umbrella bar is easy to mount on handles such as bicycle handles, bike handles, and wheelchair handles. 
It has a height-adjustable stem and joint, which allows the user to adjust the umbrella at any angle. This feature makes the umbrella suitable for any time of the day as it can adjust to the sun rays' angle. 
The umbrella holder is very steady and durable, and it can withstand high pressures of wind. The main material in the umbrella is a premium quality ABS and aluminum.
Pros
This umbrella bar is easy to mount on the handlebar of a wheelchair. It has a simple stem and joint design. 

It features a height-adjustable stem and joint system which makes it very easy to adjust the incline of the umbrella in the direction of the sun or rain

The umbrella bar is made of aluminum and ABS material, which means that it will last for a really long time.

It is a steady and durable umbrella bar, which will hold in a fixed position even when the wheelchair is in motion.

The umbrella bar weighs only 200 grams, and does not add much to the weight of the wheelchair.
Cons
It cannot be mounted on a rollator walker.

Attaching and removing the umbrella can be a hassle.

It does not come with any instruction manual.
#7 – Yobee Umbrella Mount Holder
The Yobee Umbrella Mount Holder is a very simple attach/detach clamp for wheelchairs, strollers, bicycles, walkers, rollators, pram, and motorcycles. The design of the umbrella keeps it steady and firm while on a wheelchair or a bicycle. The umbrella quality is very high, and it can last long, even with a lot of wear and tear. It blocks all harmful UV rays from the sun.
The process of setting up the umbrella is very easy and can be done in four simple steps. It is a durable and reliable mixture of stainless steel and ABS plastic.
Pros
No need for extra tools or help to attach or detach the umbrella.

The holder has a special anti-slip rubber which enhances the grip of the holder on to the handlebar.

The holder also has a feature that allows adjusting the height of the umbrella. The user can make the umbrella pole high or short by just pulling the pole.

It is very lightweight with just 180 grams, and it does not exert any extra pressure on the wheelchair user or the bicycle user.
Cons
The height of the umbrella can be a little short for some users.

There are tiny screws in the clamp which might come off if proper care is not taken.
You may also like to read about Best Power Wheelchairs for Outdoor Use.
What should you look for when buying an Umbrella for Wheelchairs?
Universal Clamp
The ideal holder umbrella should have a versatile or universal clamp that is suitable to latch on to all types of handlebars of wheelchairs. It should have a wide mouth so than it can maintain a firm and steady grip on thin and thick bars. The grip of the umbrella plays an important role in ensuring it's durability. A good grip can increase the longevity of the product.
Safety
It should also have a good protection system from all kinds of weather such as snow, ice, hailstorm, sunrays, and so on. There are umbrellas available in the market which have a special UV protection silver lining as they can block up to 99.5% of UV rays. The material of the umbrella should also be heat repellent instead of heat-absorbing. This feature helps to fight the scorching heat of the summer. 
Lightweight portability
Lightweight portability allows the user to store the umbrella easily in tight spaces such as storage cupboards, garage, and car trunks. It is important for the elderly that the umbrellas they are carrying are light and do not exert any unnecessary strain and pressure.
You may also like to read about Best Wheelchair Tire Pump

Frequently Asked Questions
Q. How do I install an umbrella on my wheelchair?
This is an easy process, which can be done in four simple ways: put the holder on the handle or handlebar to clamp the umbrella. Then tighten the screw and press the button to lock the mechanism at that point. Rotate the second bolt to adjust the umbrella height. 
Q. Can we attach the umbrella on wooden chairs, and will it tilt?
Yes, the user can attach the umbrella onto chairs like wooden chairs, beach chairs, benches, and more. No, the umbrella should not tilt from wind if the clamping is done properly. 
Q. Can this work on a walker for an adult?
Yes, this can easily work on a walker for an adult with some minor tweaks and modifications to the clamp size. Apart from this, the same can also work for a rollator, scooter, or stroller.
Q. Do all umbrella block all UV rays?
Umbrellas generally block most but not all UV rays. Any properly functioning umbrella composed of thick enough material should be able to block up to three quarters of UV rays from the sun, while black umbrellas may block up to 90 percent. We recommend still wearing sunscreen when going out in the sun with an umbrella.
Q. Are all umbrellas waterproof?
Essentially all properly-designed umbrellas are waterproof, due to the tight weaving of the fabric. Many umbrellas also have a waterproof layer on top that allows for water to bead off the fabric. Note that this generally also applies to a golf umbrella, beach umbrella, beach tent, and any product that may be termed chair umbrella or sun umbrella.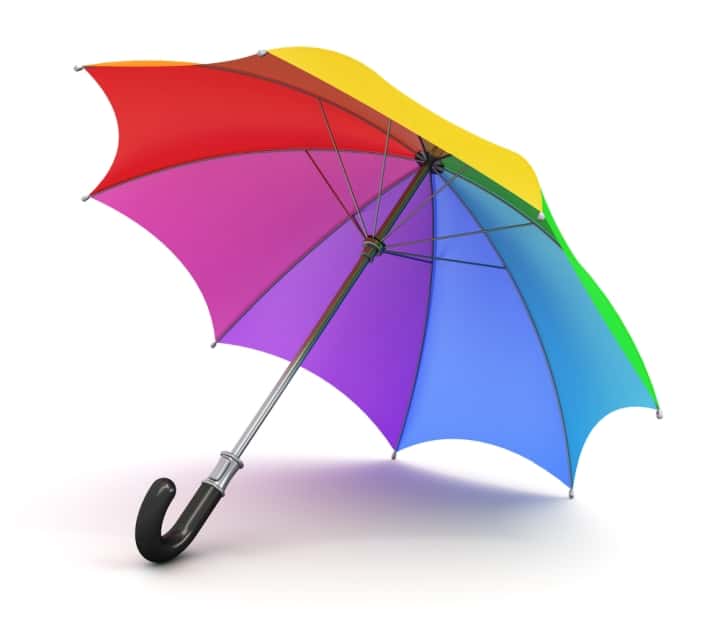 You may also like to read about Best Electric Wheelchair Seat Covers

Parting Words – Reclaim Some Independence With a
A portable umbrella for wheelchairs can can improve the quality of life for a wheelchair laden person immensely. It can protect them on a sunny or rainy day and free up their hands for other things. It can make for a great gift as well.
In this article, we have selected the best umbrellas for wheelchairs based on the features mentioned in our buyer's guide and the ratings and comments mentioned by real users on Amazon. 
In our opinion, the Sport-Brella Versa-Brella SPF 50+ Adjustable Umbrella with Universal Clamp is the best choice among the various options that we have considered because it is perfect for all the wheelchairs, rich in features, and serves its purpose completely.
If you are looking for a value for money option, you can also consider the Nakazawa Baby Stroller Parasol, Clamp-On Shade Umbrella, with Umbrella Clip Fixing Device, for Baby Beach Chairs, Bleachers, Strollers (blue, small), which offers great value and features at a very reasonable price point. 
If you live in winter climates, then you may also need good gloves to remain warm. Apart from umbrellas, you may also want to considering using raincovers for electric wheelchairs.
You may also like to read about other accessories for wheelchairs, such as the best bags for wheelchairs and walkers or, if you are uncomfortable in your wheelchair and are looking for a good cushion you can read our review of the best wheelchair cushions.
References: