In this article, we have reviewed some of our favorite rollator walker accessories. If you are in a hurry, the table below gives a quick snapshot of the top 6.
Special feature
Insert tray and cup holder
6 strap with durable metal snap
Strong hooks hold upto 6lbs
Strap adjustable cane holder
Design
360 degree silicon rubber mount
Replacement fabric basket
Handy hooks and lose straps
Assembly
Easy to use attachment strap
Install with hook , straps
Seven loops for easy attachment
This article gives you a quick view of some of the best rollator accessories. Many seniors use rollators for balance, independence, and having a place to rest when tired while walking. 
Rollators come with many accessories, and a good bunch of accessories can add a lot of functionality, panache, and style to your rollator.
In this article, we have collected our favorite rollator walker accessories in one place.
Our top Choice – Think King Soft Buggy Cup For Stroller
The Think King Soft Buggy Cup for Stroller, Wheelchair, Rollator, Walker, Black/Silver is our top choice for rollator walker accessories. 
While most rollators come with in-built bags and storage places for carrying things, you may have felt the need for a small pocket to carry the little things – a key chain, your wallet, maybe your mobile phone.
On the other hand, you may also like to have a place to put your coffee, and there are separate cup holders for that purpose.
Or is it? Can't you have a single pocket for both purposes? After all, you're not always carrying around a cup, most of the time you don't need a cup holder. Why clutter your rollator with two different holders?
Turns out this sweet little soft cup holder can do both things for you, and in style too! It is designed to fit easily onto most rollators, wheelchairs, and even canes. Some other nice features:
It is a soft cup, so when you fold your rollator, it folds along as well. You don't have to keep putting it back on and removing it all the time

It's roomy enough for a 32 ounce/1 liter bottle, it's almost like a 3rd hand to hold drinks, snacks, keys, and more. 

It attaches in seconds with hook & loop straps and does not tip over, shake loose or break off easily.

It has a nice drawstring that helps to keep its contents inside. Much better than clumsy cupholders which are open-ended and tend to spill over things at the slightest excuse
Our Favorite Rollator Walker Accessories
#1 Think King Soft Buggy Cup For Stroller
Think King Soft Buggy Cup for Stroller is the originally invented buggy hook. The hook is perfect for holding any bag on any stroller.
The hook is made specially to attach on any rollator walker or wheelchair. You can also use these hooks in your cars, trucks, and boats in an easy way.
This soft buggy cup is useful for everything's pocket. The stroller is fit for parents or child's use.
You can easily hold your drinks, keys, snacks, and other things in it. The straps are specially made for this purpose. The straps are made of Velcro material and have a wide range of adjustability.
This cup is handy and sturdy. The strong material lets you attach to strollers or walkers. Just place it on the top handle or hold it by the seat and feel comfortable and secure.
Pros
Soft cup holder designed to fit most strollers.

Large enough to hold a 32oz bottle or fountain cup.

It has a useful drawstring to keep the mouth closed and protect the contents

It can hold weight up to 20lbs.

Perfect for multiple bags.

Smooth and sturdy clips won't pinch your fingers.

The weight of this product is 2.46 ounces.
Cons
Does not hold bottles that have tight caps.

The fabric may make it difficult to hold hot beverages.
The video below shows how to attach Think King Soft Buggy Cup For Stroller.
You may also like Lightest Weight Rollator Walker
#2 Life Mounts LED for Wheelchair/Walker
Life mount LED wheelchair and walker cane light gives a hand-free lighting facility to keep you and your loved one safe at night. The light is specially designed for your convenience and security. Walker light features a powerful 300-lumen flashlight that works perfectly on an AA battery.
This LED light works on three modes: high, low, and safety strobe. Moreover, it let you see for over 1000 feet.
Thus helps you to increase your visibility at night. The mount of this light is made of durable silicon rubber. This light has a multi-position swivel and secure Velcro straps that adapt to any mounting location.
The light is easy and convenient for hand-free lighting. It works with full accuracy in day or night.
Pros
This LED light is designed for 360-degree rotation and full visibility even at nighttime

It features three modes: high, low, and strobe lighting.

It has silicon rubber mounts with easy to attach straps.

Powered by a single AA battery

Velcro strap can attach to any mounting location.

The weight of this product is 3.4 ounces.
Cons
The backrest tube is too narrow for the light.

The on/off button is not very friendly.
#3 CELEISITE Under Seat Rollator Bag
This under-seat rollator bag is an ideal accessory for your wheelchairs or rollators. The tote is a perfect accessory for a four-wheel rollator.
It is the best storage aid for people to serve their multiple storage needs. This high-quality rollator accessory is best under-seat basket.
The lightweight removable under-seat basket is your ideal choice for wheelchairs or walkers. You can easily attach this bag with your rollator walker with seat. The bag comes with six straps, making it easier for you to attach it with your walker.
The width and length of this bag are designed to fit in with most of the rollator walkers. The replacement basket is very convenient. Moreover, you don't have to remove it when you fold your rollator. 
You can store almost anything in this bag and effectively do your work. The walker basket aids in preventing your items from falling off the basket. 
You may also be interested in a more detailed article on bags best bags for wheelchairs and walkers.
Pros
A perfect storage bag, which is easy to attach with your rollator.

Four extra pockets give ease to hold small items.

Six straps with a durable metal snap are easy to install and remove.

High-quality lightweight removable and foldable basket.

The weight of this bag is 6.4 ounces.
Cons
The mesh is tight, which may cause inconvenience.

You need to measure your rollator's basket size before purchase.
You may also like Best Upright Walkers for Seniors
#4 Top Glides Walker Rollator Hooks
These multi-purpose hooks are an add-on accessory for your walker rollator. It offers the best storage option for people. These hooks are quite handy for the convenience of people. These hooks are a perfect alternative to your bulky baskets or totes. 
You can easily install these hooks in seconds as there are no additional tools required. These hooks are good to hand items on your walker. Moreover, it is much easier for you to hand your needy items on your walker. 
The best thing about these hooks is that they are sturdy and strong. You can hold a cane securely with this walker or rollator. It is also useful for walking long distances easily. 
Pros
These hooks rotate 360 degrees for maximum convenience.

Hooks are strong to hold weight up to 6 lbs.

Must accessory for your walker or crutches.

These multi-purpose hooks are useful for traveling purposes.

Good enough for people to store their needy items.

The weight of this product is 2.4 ounces.
Cons
The strap is not long enough to go around the armrest.

Velcro wrap often slides around the mount.
#5 CaneTube Store Cane Holder
The CaneTube store cane holder is an ideal accessory to assist people in better mobility. These versatile cane tubes are not only used on walkers or wheelchairs.
But they are also useful to use for umbrellas. The holder comprises of ABS plastic, which makes it lightweight. 
The tube fits ideally to a variety of mobility devices. This Canetube cane holder is for anyone who needs both a cane and a mobility device to roam around independently. You can attach them to your scooters and power chairs. The steel gripper clips do not damage the body of the walker as it is coated with vinyl. 
It is highly portable, and the strap is also included in it. It is designed for the full comfort and support of older people.
The lightweight design hence serves this purpose. It also comes in a double tube version for people who use two canes.
Pros
It fits ideally to power chairs, scooters, wheelchairs, or tractors.

The rigid tube cane holder makes transfer easy.

The hook and loop strap makes it more portable.

Fits a variety of mobility devices.

Steel gripper clips don't scratch.

The weight of this product is 5.6 ounces.
Cons
The tube is fragile so that it may break off.

Clips can easily break off.
The video below shows how to attach CaneTube Cane Holder.
You may also like All You Need to Know About Walkers
#6 Uncle Yang Hand Free Storage Bag
Uncle Yang walker bag is a suitable accessory for any rollator or walker. This bag fits all walkers. The bag includes multiple pockets that are specially designed to fill your multiple needs. 
The bag includes seven individual loops. These are reinforced in a way to attach to any walker easily.
The walker bag gives convenience to people to carry your essential daily items in your bag. The bags can easily fit into the walkers of any size. These bags are perfect for elder and obese people.
The bag is made with multiple pockets. These pockets are designed to satisfy your multiple needs. Three front exterior mesh pockets allow you to have quickly assessed your items whenever you need them.
Pros
The accessory bag is attachable to any walker.

Mesh pockets to store needy items.

Two roomy back pockets to store your small items.

Perfect fit bag for elder or obese people.

Durable and washable machine bag.

A multi-purpose bag is easy to carry.

The weight of this walker bag is 10.4 ounces.
Cons
The Velcro may skid often.
#7 Duro Med Store Walker Storage Basket
This Duro Med Store basket comes with an insert tray and cup holder. This rollator basket gives full convenience to people.
This basket is perfect for carrying small items. As it offers a cup holder as well as a good space for your food or cell phones. 
This lightweight basket is compact and easy to carry. The plastic tray insert is removable and can be cleaned easily.
You can keep your small items in it with full security. This basket's plastic liner is perfect for holding small items such as books, cell phones, glasses, and other important things.
Basket is easy to set up as there are no additional tools required. You can securely mount with an adjustable hook and loop strap in the front of your walker.
The white vinyl coating on this basket gives you a nice look and is rust-free. Thus making it a must accessory for your rollator walker. 
Pros
Perfect basket to carry your essential items.

Easy assembly of this basket on your walker.

The rust-resistant design gives it a more durable look.

Basket conveniently holds all your personal belongings.

Adjustable hooks and loose straps for your comfort.

The weight of this basket is 12.8 ounces.
Cons
Removing this basket is a complex task.

Cup holders are somewhat heavy.
You may also like Does Medicare Pay For Upright Walker
What Should You Look For Before Buying Rollator Walker Accessories?
Better Mobility:
These accessories are an add-on advantage to your rollator walkers. These accessories are specially designed to give mobility benefits to older people. Just like cane baskets or cane tube helps to give better mobility assistance to older adults.
Walker Trays:
The walker trays are handy for carrying your food or other items. They are highly portable and can easily be attached to your walker. Thus giving you the option to carry your necessary items.
You may also like Where Can I Buy An Upright Walker?
Walker Bags:
These bags let you carry your essential belongings. These come in different sizes and can be easily attached to your rollators. The bag comes with ample storage to fulfill your storage needs in a better way. You may also like to read a more detailed article on Trays and Baskets for Walkers
Add on Hooks:
The add on hooks is a convenient accessory for people. These hooks are quite handy for the convenience of people.
Therefore, they are perfect substitutes for your bulky baskets or totes. These hooks let you hold your items conveniently on your walkers.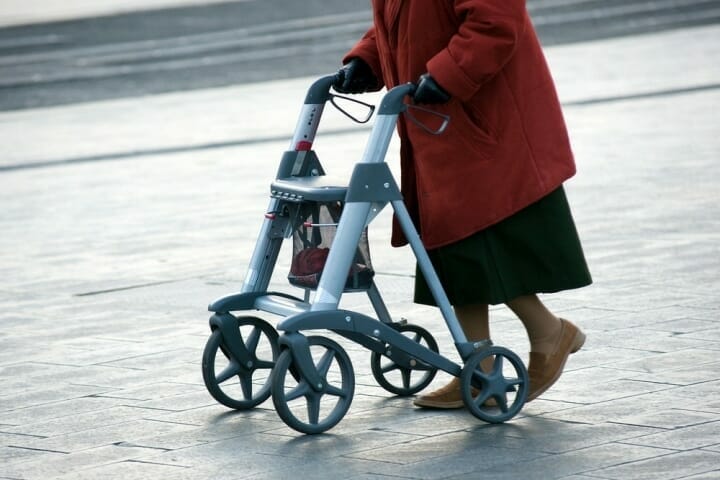 Frequently Asked Questions:
How Do You Carry Things With a Walker?
The accessories let you carry things easily with walkers. Walking trays or baskets let you carry small items with ease.
The trays or baskets are good for people to hold their necessary items in them. These are specially designed to attach with your folding walkers or wheelchairs.
How to Attach These Accessories to Your Walkers?
Attaching these rollator walker accessories is quite easy. Attaching baskets, trays, or hooks with your rollator walker is easy.
The assembly of these accessories takes less time. They come with loose straps. Thus making it easy to attach these accessories with your walker or wheelchair.
You may also like Can You Rent An Upright Walker?
Are Rollator Bags Large Enough to Carry Big Items?
The walker bags come in various sizes. Most of them are designed to carry your essential items. These bags are, however, large enough to carry big items like laptops. The bags have Velcro ties that are wide and long enough to support such big items' weight. 
What Are Some of the Other Rollator Walker Accessories?
While we have tried to cover a wide selection of accessories, you might also be interested in rollator walker trays for carrying your food or other things, rain covers for keeping your rollator dry, a cell phone holder with a flexible clamp for holding up the phone while walking, optional back support in case your rollator does not have it, and finally an accessory pack for holding all these accessories when you fold the rollator!
You may also like Upright Walker vs Rollator
Conclusion
Accessories for rollator walkers add comfort and style. These accessories help to give add-on benefits to its users. So these accessories are a must to add with your rollator walker or wheelchair. 
In this article, we have selected the best rollator accessories based on the features mentioned in our buyer's guide and the ratings and comments mentioned by actual users on Amazon. 
In our opinion, the Think King Soft Buggy Cup for Stroller, Wheelchair, Rollator, Walker, Black/Silver  is the best choice among the various options that we have considered because it has great features and serves the purpose.
If you are looking for a value for money option, you can also consider the Under Seat Rollator Bag or Tote for Four Wheel Rollator, Rollator Walker Replacement Medical Basket, Rollator Basket & Accessory Organizer Storage Ipad, Books, Shopping and Essentials(Black), which offers great value and features at a very reasonable price point. 
If you are interested in a rollator walker, you might also like to read on how to use a rollator walker properly and what are the best rollator walker for rough surfaces, for tall people, and for bariatric patients.
For a comprehensive set of FAQ's on rollator walkers, do please visit our page: Will Medicare Pay for Rollator Walker and Other Rollator Walker FAQs.