The choice of correct devices can help you to maintain a healthy life. This article is an Up walker and Up walker Lite review 
If you are above 65 years old, your likelihood of suffering from joint pain in various body parts increases significantly. You might find it challenging to do simple daily tasks because of regular pain in the various joints and muscles, especially in the back and the legs. 
There are various mobility devices to help you with this: canes, crutches, walkers, rollators, and wheelchairs. Among these, walkers and rollators are an excellent option if you don't need help to get up or hold yourself up, but what you are looking for is a bit of stability while walking.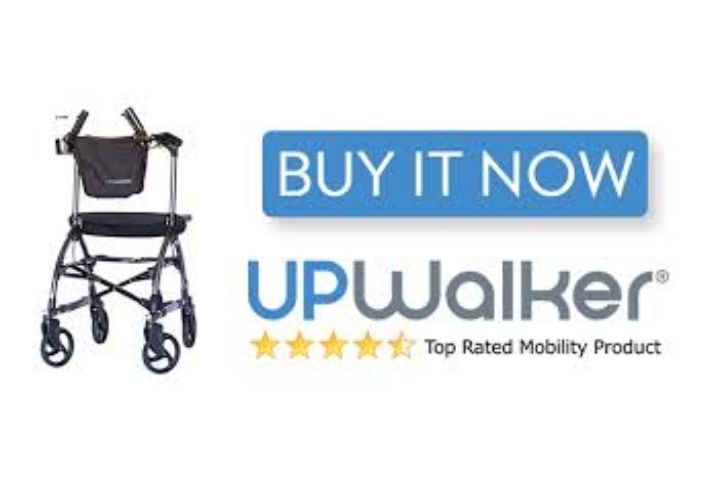 However, one problem that people face with rollators and walkers is that they are often too low, and while they help give you stability while walking, they may end up causing stress in the back, wrists, shoulder, and neck region.
This article focuses on a wonderful product that claims to solve this problem: the Upright Walker as seen on TV. Yes, I am talking about the original Stand up Walker with seat, the Up Walker, and it's the lighter cousin, the Up Walker Lite. 
We will review these products extensively and help you understand whether there is real substance behind the hype or not.
You might like to read: Elenker Upright Walker Vs Upwalker – Which One Is The Winner
What Is An Upright Walker?
The Upright Walker for the elderly is different from a conventional walker or rollator. In an Upright Walker, you can stand in an upright position while pushing the Walker forward by placing your arms on a stand specially attached to the Walker for this purpose. You can watch the Upright Walker in action in the video below.
As you can see, the product is aptly named the upright posture walker. You don't have to hunch forward to walk. There is support for your forearms, so it also helps your hands feel support, especially if you have joint pain in the elbows and shoulders.
Benefits Of Upright Walkers
With an upright posture walker, you can greet your friends when you pass them by while walking on the road. 
You get the freedom and mobility to do things like going to the park to watch your grandchildren play and shopping alone from the neighborhood grocery store. 
These walkers are portable as well; you can fold them up and put them in the trunk of your car in case you are going someplace far. That's why they are also called the fold up walkers. 
With an Upright Walker, you can look up and ahead to see any obstacles on the road. So, you are less likely to fall if you use an Upright Walker.
However, like any other product, there are many stand up straight walkers available on the market, some are cheap knockoffs, and others are genuinely useful. This is why many people still prefer to go with the original Stand up Walker as seen on TV, to make sure that quality is not compromised.
But is the additional expense for the brand name really worth it? Let's find out.
The Original Upright Walker
The original Upright Walker as seen on TV, was designed by a company called Lifewalker Mobility. They wanted to design a walker that would give better posture in older adults and lessen pain in the wrist, hand, legs, back, and shoulder joints on the body. 
The Original UpWalker is available in three sizes: Small, Standard, And Large, meant for people of different heights and weights. It comes with a large storage bag to carry essential items, a comfortable seat with a backrest so that the older person can sit comfortably, and a cup holder.
#1. Product Weight 
The weight of the product is 21 pounds for the small, 23 pounds for the standard size, and 25.5 pounds for the large one. It is a bit heavy that older adults may find challenging to lift up and place in their car or carry outside the home. 
It can be foldable up to 10.5 inches wide, but the length and height are large, making it difficult to transport. But one advantage of this up Walker is that it puts all its weight towards the downside, which makes this up walker stable compared to other up walkers.
| | | | |
| --- | --- | --- | --- |
| Size | Product Weight | Suited For Height | Weight Capacity |
| Small | 21 lbs | 4′ 4″ to 5′ 5″ | Upto 150 lbs |
| Standard | 23.5 lbs | 4′ 7″ to 5′ 10″ | Upto 270 lbs |
| Large | 25.5 lbs | 5′ 11″ to 6′ 4″ | Upto 350 lbs |
#2. Padded Seat
The original Upright Walker has a padded seat that consists of durable mesh material. It also has a comfortable backrest, but the seat is positioned slightly low on the Walker, so we found it a bit difficult to get in and out of the seat. In terms of size, the seats are fairly comfortable if you want to rest for a little while.
| | |
| --- | --- |
| Size | Seat Dimensions |
| Small | 16'' × 10'' × 20'' |
| Standard | 18'' × 11'' × 20'' |
| Large | 20'' x 13'' × 21'' |
#3. Wheels
The UpWalker original Upright Walker has large 8-inch wheels on both the front and back, which are wrapped with rubber to provide grip on most surfaces, including rough as well as slippery and wet roads.
#4.Brakes
We found the brakes of the Walker to be very light. You can bring it to a stop almost instantly without having to put much effort, which is an excellent feature for patients with arthritis or other diseases which weaken the grip. 
You might like to read: How Safe Are Upright Walkers?
The best part is that you can bring the Walker to a stop both while sitting and standing. The cables of the brake are hidden in the metal tubing, so there is no risk of you tripping over tangled brake wires.
#5.Storage
Another nice touch is the small personal item bag to store essential items that can be hung on the handlebars. The good thing is that you don't have to bend down to open it, which is the problem with the storage space provided on most normal rollator walkers. 
Pros
Extremely stable. So the older adults can feel confident while walking.
The large 8-inch wheels help in smoothly moving the up Walker on the road.
It arrives in fully assembled condition. So you can use them immediately.
Multiple sizes are available.
Cons
It is a bit expensive in comparison to other options
Large size. So people find it challenging to maneuver in enclosed spaces.
Who Should Use The Original Upright Walker?
People who have a neurological problem, orthopedic problem, or the one who have mobility problems should use the original Upright Walker. They have a sturdy frame, large rubber wheels, and good construction makes them suitable for outdoor use. 
But using the Original Upwalker indoors can be a bit difficult. It has a fairly large footprint, so if your home has narrow doors and corridors, you might want to measure them carefully to make sure you can navigate the device in your house. 
You may have to rearrange the furniture of your house to use the original Upright Walker at home. Apart from that, the Walker is expensive (you can check the latest price with the little button at the bottom).
To summarize: if you are ok with the weight, width, and price of the Walker, it's the perfect device to enjoy a stroll out in the garden or walk down to the grocery store. Your back will thank you for making the switch.
Up walker Lite
If you like the features of the original Upright Walker but are looking for something lighter and more maneuverable, then you should consider the Up Walker Lite instead. 
This Upwalker Posture Walker is 34 percent lighter in comparison to the original Upright Walker. If your arm strength is no longer what it used to be, this 15.5-pound walker is just what the doctor ordered!
You might like to read: Best Lightweight Rollator Walker – With and Without Seat
#1. Weight
Its weight is just 15.5 pounds. So older adults can easily lift it, take it outside, put it in the car, and so on. It is also foldable like an original Upright Walker. 
When you fold the Up Walker Lite, it measures 29″' × 8.5″ ×40″. Its smaller dimensions make it easier to fit inside the trunk of the car.
| | | | |
| --- | --- | --- | --- |
| Size | Product Weight | Suited For Height | Weight Capacity |
| One Size | 15.5 lbs | 4′ 7″ to 5′ 10″ | Upto 240 lbs |
#2.Seat
It has a padded seat that consists of durable mesh material. The seat, along with the backrest, folds with the unit. So the older adults don't have to carry the seat separately. 
| | |
| --- | --- |
| Size | Seat Dimensions |
| One size | 18×10×21.5 inches |
#3.Wheel 
The Up Walker Lite has 8-inch wheels on the front and 6-inch wheels on the rear. The larger front wheel lets you negotiate obstacles and rough surfaces while having a smaller rear wheel lets the Walker have a smaller weight and size.
#4. Brakes
The Up walker lite has similar lockable hand brakes to the original UpWalker, which can lock the wheels just by slight touch.
#5. Storage
Another thing common between the Up Walker Lite and UpWalker is the storage bag to keep all personal items like a wallet, cell phone, and others.
Pros
Better posture
Lower back pain
Lightweight
Maintain stability
Easy to maneuver
Cons
Price
Only one size is available
Who Should Use Up Walker Lite?
If you are looking for a lighter, maneuverable, and cheaper upright walker, then the Upwalker Lite is perfect for you. It's got all the great features of the Original UpWalker, but none of the extra weight and bulk.
However, the UpWalker Lite only comes in one size, so if you are above 5'10" and 240 pounds, there is, unfortunately, no way for you to opt for the Lite version.
You might like to read: How to Protect Hardwood Floors From Walkers
Answers To Other Commonly Asked Questions About Upright Walkers
#1. Does Medicare cover Upright Walker?
Nowadays, an upright posture walker has become a necessity for aged people. It's sad to say that Medicare does not cover the Upright Walker. Any medical equipment should cover the four conditions to be covered by Medicare. They are as follows
The upright posture walker should cure the illness of a person
You need a prescription to claim Medicare.
The supplier and the doctor who prescribes the Upright Walker to the patient must have enrolled in Medicare.
The Upright Walker should be cost-effective.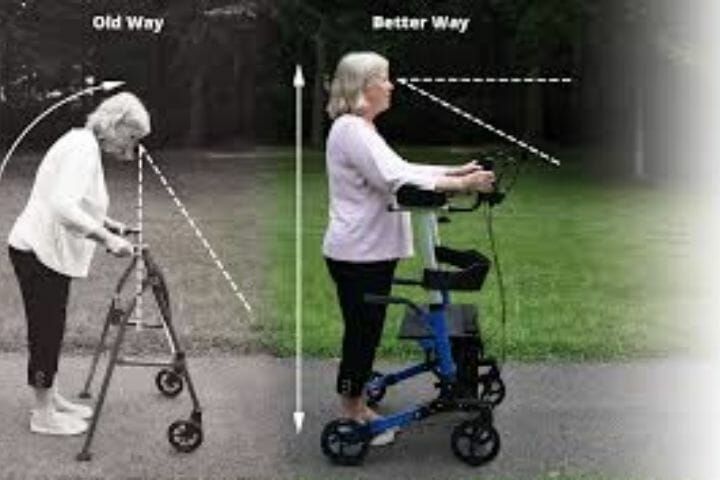 The first two conditions are not an issue because a person needs an Upright Walker only if he is suffering from an ailment like neurological disorder, has recovered from severe illness, or has a joint problem mainly seen in older adults. 
The person must have consulted a doctor for the ailment. So it's pretty obvious that the person has a prescription to claim the Medicare insurance program.
Unfortunately, the last two conditions create a problem for the Upright Walker users. Till now, suppliers who deal in Up Walkers in the United States have not enrolled in Medicare. Lastly, the Upright Walkers are not cost-effective, so Medicare fails to cover Upright Walker. 
You might like to read: All You Need to Know About Walkers: Parts, Features, Types and Cost
Wrap Up
No one wants to be confined in the four walls of the house. Everyone wants to go to their favorite location, gossip with friends or near and dear ones, and do their own shopping. 
Older adults who have arthritis or joint problems find it challenging to perform these basic tasks. Mobility devices have made their life a lot easier, and the Up Walker is the latest idea in a long line of devices designed to make their lives even better. 
After thoroughly examining the Upright Walker and Up Walker Lite, we can confidently say that these products are genuinely useful; they have true substance and are not mere hype.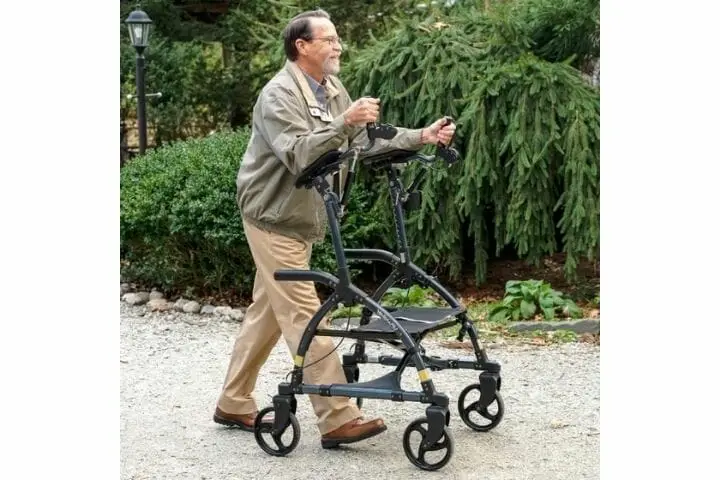 I will strongly recommend you to buy the Up Walker or Up Walker Lite. Both are 100 percent safe and help the user to walk in the upright position. If you have been facing back, wrist, or shoulder problems due to your normal Walker or rollator, you will thank me for this advice!
I hope you liked this article and didn't forget to share any suggestions for this article. I would love to read your suggestions, comments, and further questions.