Powered or electric wheelchairs are extremely convenient devices if you like being outdoors. With growing awareness about wheelchair-friendly construction and facilities, a good electric wheelchair goes a long way towards restoring most, if not all, accessibility for users who like to be out and about.
We have reviewed 12 of the best power wheelchairs for outdoor use below. If you are in a hurry, you can refer to the quick snapshot below for the top 4 that we love.
Net Weight (without batteries)
Overall Width (to navigate tight spaces like plane aisles)
Max Angle Climbing (more is better)
Turning Radius (less is better)
Power Wheelchairs for Outdoor Use
There are many factors that go into choosing a good mobility device. But if you only want the absolute best power wheelchair for outdoor use, you need to make sure that the chosen product ticks as many boxes as possible.
If you want to know our top choice, we found the Porto Mobility Ranger D09 as the best power wheelchair for outdoor use, given its weight capacity, range, and overall dimensions to navigate tight spaces like airplane aisles and crowded tourist spots.
But the Porto Mobility Ranger D09 is towards the more expensive end of the spectrum. If you are looking for a budget option, the Drive Medical Cirrus Plus will fit your bill.
The video below shows how to use a power wheelchair.
Below, we outline things to consider before selecting a power wheelchair for the outdoors, followed by actual product reviews, user benefits, and pros and cons. We hope that this article gives you all the information you need to make a good choice.
You may also like The Best Rollator Walker for a Tall Person
Things You Should Consider Before Buying a Power Wheelchair
While you can choose from many power wheelchairs, a few basic points should be kept in mind while selecting the final product. While most people look for an FDA approved product, some things that can be missed out are how convenient is the wheelchair for air travel or how long does it take for it to charge fully.
If you are out and about, you would like to have a wheelchair that is easy to carry on airplanes. Similarly, you'd want the wheelchair batteries to charge fast so that it is available for use when you need it.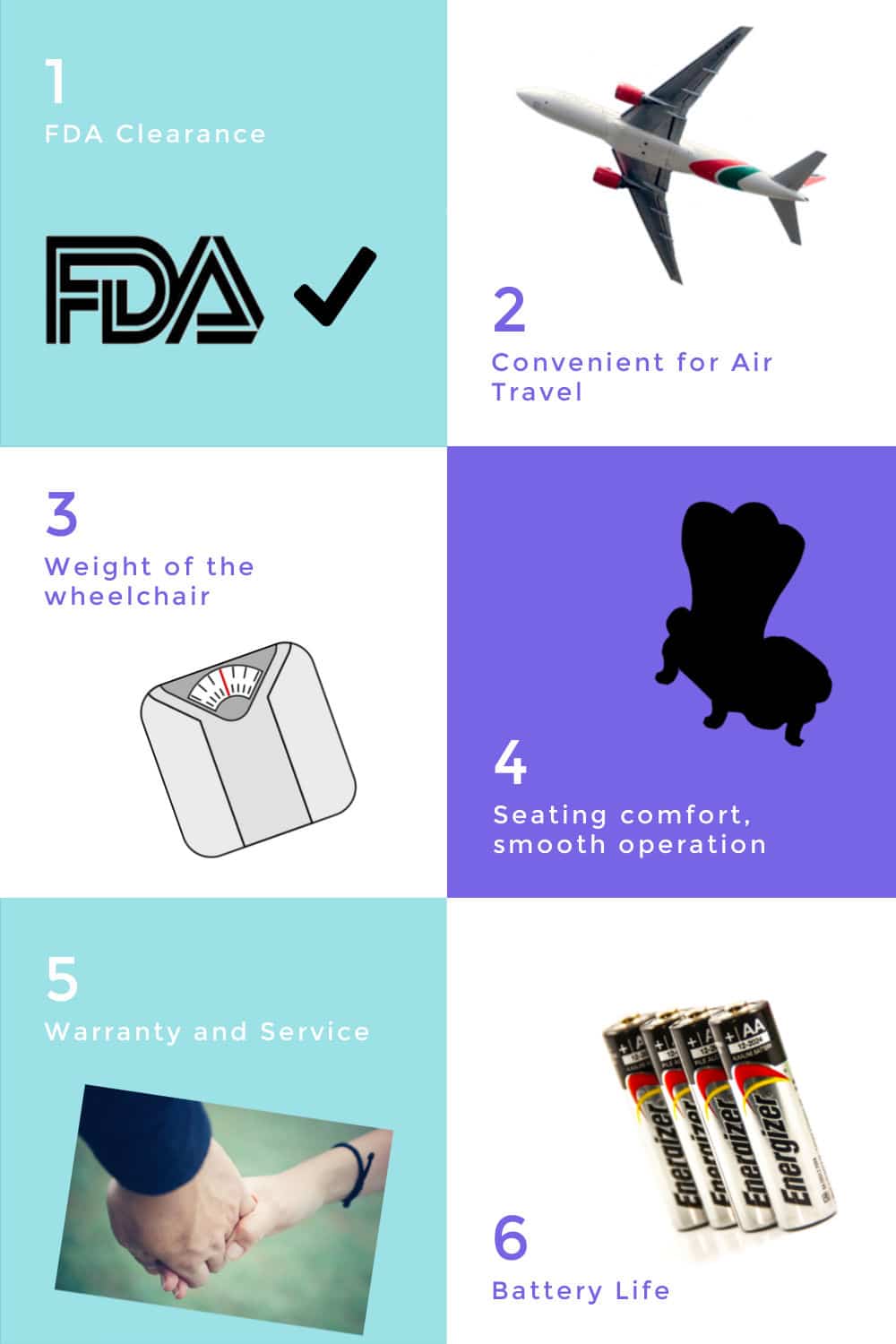 The priority of the following points would differ from user to user and is best left to the individual usage of the potential user. However, the buyer should ideally vet her buying decision against all of the below-mentioned points.
FDA Clearance
It is absolutely essential to ensure that your potential buy is FDA cleared. The FDA is the US authority which is responsible for stipulating minimum standards that medical supplies and devices have to adhere to. This clearance will automatically mean that your wheelchair adheres to the minimum safety standards. In fact, there have been stray cases of wheelchairs not being allowed on flights, due to the product not having an FDA approval.
Convenience for air travel
A power wheelchair that is suitable for air travel should be lightweight and easy to fold and stow away (when on the airplane). Having a long battery life is an added bonus as you may have to travel through some pretty big terminals to get to your destination.
Seating comfort and smooth operation
If you have to use your wheelchair for extended time periods, which is likely, it is better to have adjustable armrests and back support to support different seating postures.
Adjustable armrests are also very helpful in easier access to the seat. You can also go for reclining wheelchairs. Do watch out for the general seating comfort and seat quality of the power wheelchair.
The operating and maneuverability features of a wheelchair add a lot to your user experience. You should be looking for a smooth operation and braking system. The wheelchair should be stable at higher speeds.
Since you are looking for a power wheelchair for outdoor use, it should be easy to maneuver too. You should carefully read product instructions and reviews to get a good sense of the device that you are interested in before you invest in a power wheelchair.
Weight of the product
You should try and select a product with optimal weight. Too heavy a wheelchair may lead to reduced battery life along with being inconvenient to maneuver. If your power wheelchair is too light it may lead to reduced stability at higher speeds.
Most power wheelchairs for outdoor use weigh between 60 and 100 pounds with the battery. The newer device models come in at the lower end of this range. Most newer model power wheelchairs are made up of airplane grade aluminum alloy nowadays, which contributes to sturdiness and lower weight.
You may also like Best Rollator Walkers for Rough Surfaces
Warranty and service quality
This can be one of the most overlooked aspects of wheelchair selection for many users. But insufficient warranty or poor after-sales service quality can really be hard on your wallet. It is imperative that your power wheelchair has as comprehensive a warranty as possible and service is available widely, at least in and around your location.
Distance covered on full charge or range of the power wheelchair
Depending on your usage pattern, you may want to check the maximum distance your wheelchair will travel on a full battery. Most good wheelchairs would have ranges of 10-15 miles on a full battery, however, it is advisable to not stretch travel on a single charge. Most power wheelchairs do have a slot to add an additional battery to extend the range.
Time taken by the batteries to fully charge
Last on our list but by no means the least is the time taken to fully charge your power wheelchair's batteries. Some power wheelchairs take a bit of time to fully charge and are recommended to be charged during night time and immediately after every use. Good products take anywhere between 6-8 hours to fully charge, with new batteries taking a bit longer.
It is important to remember that some of the above features come at a cost. You may have to balance out some of these features with your budget. Continue reading for brief reviews about some of the best available power wheelchairs. All of the below options are FDA cleared.
#1 Porto Mobility Power Wheelchair D09S
This power wheelchair meant for outdoor use weighs only 48 pounds, with a battery. This device is best for lighter passengers with a maximum weight capacity being 265 pounds.
The seat size is comfortable at 20 inches and the wheelchair is powered by a dual-motor system. This power wheelchair folds up within 5 seconds. It is an easy-to-use wheelchair and has an expertly designed and extremely well-crafted frame for comfortable riding.
The rear wheels are made of solid rubber which helps to create traction when operating on smoother surfaces. Though, the rear wheels are smaller than the competing products with a diameter of only 9 inches. This may mean a slightly reduced distance covered on one full charge.
Another thing to consider is that the list price only includes a single battery whereas the wheelchair has a provision to run with two batteries. If you want the second battery for added range, you will have to spend extra.
Pros
Comfortable ride quality
Good suspension mechanism for shock absorption
Comes with a travel bag for ease of carry when folded
The wheelchair arrives assembled, one just needs to install the joystick to be able to start using it
With a slope climbing ability of up to 25 degrees, maximum speed of 5 mph and travel distance up to 16 miles on full charge, this is an extremely good option for high outdoor usage.
Due to the tight turning radius of 33 inches, the chair can navigate tight spaces very well.
Approved for air travel and easily foldable in 5 seconds, the 19†seat width provides it the compact design to fit through narrow spaces like air planes, boats, trains, elevators, etc.
This wheelchair is designed for comfort appropriately so that it can handle all kinds of terrain, from gravel to grass and even snow.
The built-in shock absorber in the wheelchair allows for a smoother, more comfortable ride.
The frame of Porto Mobility Ranger is made of silver aluminium aircraft alloy, and it offers high durability.
There is a battery-life indicator which quite reliably and accurately lets the user know when they have to recharge the battery.
Dual 500 watt motor system provides for better power and stability
Good customer service
Cons
Though the wheelchair can run either on single or 2 batteries, only 1 is included in the list price. You have to pay extra for the second battery.
May not be suitable for heavy users
You may also like Best Umbrellas For Wheelchairs
#2 Innuovo Intelligent Electric Wheelchair
This is the lightest weight electric wheelchair for outdoor use on our list coming in at 43 pounds without the batteries. It can be folded in as little as 3 seconds. It is also extremely compact to fit in small spaces like most small car trunks.
Its small footprint when folded makes it an ideal power wheelchair for air travel. It is great for both indoor and outdoor usage. However, with just a single battery it can be a bit of a constraint if you have heavy daily usage. To get around that you can invest in a second battery, which will augment its range.
Pros
Weight of the chair is only 43 pounds and it is extremely easy to fold fast.
The appropriate design and shock absorber for ride comfort make this wheelchair an outstanding option for all rugged terrain, such as grass, gravel, or snow.
7.5 cm thick seat cushion is quite comfortable
Easy to steer and maneuver
Cons
Highest turning radius of 35.4″ among the top wheelchairs for outdoors
Furthermore, its maximum range on full charge is 12.5 miles (both batteries), which can be a problem if you want to use it outdoors extensively.
#3 Drive Medical Cirrus Power Wheelchair
This is a heavy-duty power wheelchair that has high durability and can be used for a long time. It has an attractive steel cross-brace frame, which is easy to maintain and comfortable to port from one place to another.
Drive Medical Cirrus Plus Folding Power Wheelchair is one of the heaviest among the ones we've reviewed. Hence, it may not be very comfortable for air travel. But it is quite durable and sturdy making it a great option for daily moderate to heavy use or use over rugged terrain.
Pros
It has a generous ground clearance of 4 inches and can climb at a 6-degree incline.
It has adjustable and removable armrests, along with swing away footrests with calf straps and heel loops
I also has seat cushion with pouch for easy storage, an adjustable tension, and a padded back upholstery, all of which add significantly to your convenience, safety, and comfort.
It has a weight capacity of 300 lbs which and maximum speed of 5.5 mph. It is well suited for bigger users.
This is a brilliant choice if you're going to use it extensively outdoors on a difficult terrain.
Cons
This wheelchair weighs 146 lbs with batteries, which is a significantly heavy weight compared to other options in this category. This could pose a hindrance in regular vehicular travel as well as air travel, particularly if the user does not have a strong upper body.
Assembly of the wheelchair is not very easy as the instruction manual is not elaborate and easy to understand.
You may also like How to Get a Wheelchair Up and Down Stairs
#4 Alton Medical Electric Wheelchair
This power wheelchair is easy to handle, durable, and provides smooth operation. It comes with anti-leaning rear for stability. It can go 13 miles on a single charge when using both batteries.
Otherwise, it has a range of just 6.5 miles on a single charge. It operates on powerful 250 watt dual motors. It wins hands down among all the options here in terms of price. It is one of the most value for money power wheelchairs for air travel out there. It can be a good power wheelchair for air travelers who have limited mobility needs at their destination.
Pros
This is a very lightweight wheelchair which folds up in less than 5 seconds, and it can easily fit into trunks of most cars.
You can control this chair with smooth, one-handed operation and quick stopping due to the 360-degree waterproof joystick. The anti-leaning rear makes this chair stable.
This wheelchair can travel up to 13 miles on a single charge if you use both its batteries, and the dual 250W motors allow for powerful operation.
It has a tight turning radius of 33 inches, which ensures you can navigate through tight spaces without much difficulty.
This is one of the least expensive wheelchairs among the ones we've reviewed, and it provides excellent value for money for the users.
Cons
The maximum travel range for this chair is among the lowest, with 6.5 miles on full charge of one battery, which can increase up to 13 miles when two batteries are used.
#5 Pride Mobility GO CHAIR Electric Wheelchair
This is another electric wheelchair suitable for outdoor use. It has one of the most compact turning radius, when it comes to wheelchairs for the outdoors. It just takes 25.4″ (just over 2 feet) to turn. This can very handy while navigating crowded spaces like museums.
The wheelchair weighs around 66 pounds without batteries. It has a lower range of about 8.7 miles as compared to its peers. It comes in 8 different color trims and has 2 well thought and handy storage spaces right beneath the chair.
Pros
Value for money model with all essential features
Remote control access
Wheelchair has a variant for plus size users
Cons
The warranty is not the most comprehensive in the industry
Inflatable rear wheels require regular checks for optimal air pressure
You may also like Best Dogs for Someone in a Wheelchair
#6 Porto Mobility Reclining Electric Wheelchair
Once again, Porto Mobility excels when it comes to wheelchairs for the outdoors. Porto Mobility Reclining Electric Wheelchair can recline all the way back, almost giving you the flatbed feel. Although to enjoy its reclining comforts, you will have to get the extra headrest and leg extension.
What we really loved about this wheelchair was that unlike many of its counterparts, it comes with 2 batteries from the manufacturer, giving you a long range of 18 miles. Not the smallest, but it has a reasonable turning radius of 31″ (just over 2 and a half feet).
This air travel approved wheelchair comes with a smart joystick that can be mounted on either the left or the right arm. If it were not for its price tag, this wheelchair would have found itself much higher on our list of the best wheelchairs for outdoor use.
Pros
Weighs only 52 pounds and has a maximum weight capacity of 350 pounds.
The chair has a small turning radius of only 31 inches, so it can gets around indoor tight areas easily.
Comes with both batteries from the manufacturer
It folds up in seconds and is very compact to fit in most small trunks. Has a handle under the seat for easy lifting.
being appropriately designed for comfort, it can also be operated in grass, gravel, or snow because of its long lasting battery life and can provide comfortable ride acting as shock absorbent.
It is very convenient for storage and transport due to easy foldability and light-weight design for easy carrying.
Cons
While we loved everything about the wheelchair, we think the manufacturer missed a trick by selling the headrest and leg extension as optional features. We think, what is the point of a reclining power wheelchair if the headrest and leg extension has to be bought separately?
#7 Innuovo EAONE 7001 PLUS Electric Wheelchair
The latest version of EAONE power wheelchair combines a lightweight, strong, and durable model in one. It is very convenient for both storage and air travel. Featuring new technology of aircraft grade aluminium alloy frame, the chair is lighter and more durable than most in its category. This can be a great option for for a power wheelchair for air travel.
Pros
This power wheelchair weighs just 50 pounds even with the battery. It allows for easy foldability and hence, it is easy to take in the trunk of your car as well as for air travel.
Its unique seat cushion design effectively protects the caudal vertebra, lumbar vertebra, and neck vertebra from twist. This feature gives this wheelchair a definite edge in comfort.
The chair has a dual mode control of manual and electric, allows free switching between the controls.
It is equipped with seat belt and anti-tipping control, ensuring that you never become unstable on the chair.
Its large rear tires with a 360-degree rotation allow for maximum maneuverability on all terrains.
Cons
It can only support up to 265 pounds safely, meaning, users above this weight will find it difficult to use this chair safely and effectively.
The double batteries allow for a maximum distance of 12 miles on full charge, so the chair may not be the best for extensive outdoor usage.
You may also like Best Wheelchairs for Stroke Patients
#8. Golden Technologies Power Wheelchair
This power wheelchair provides a lot of customizability. You can choose from 17 inch, 20 inch and 20 inch upgraded seat options. There are also 5 different colors to choose from.
With its 2 batteries that come in pack, it has a range of 15 miles. Completely assembled with the batteries, the chair weighs 123 lbs. This power wheelchair can support users up to 275 lbs. It has a short turning radius of 26″ and a top speed of 3.5 mph.
Pros
The dual motors give it a long driving range of 15 miles
We loved to customizability with the different seat and color options
Tight turning radius of 26″
Cons
Top speed is only 3.5 mph
#9. EZ Lite Cruiser Power Wheelchair
This is a small, lightweight and foldable electric wheelchair that can be easily folded and stored in the trunk of a compact car or while travelling by air. It has a range of 20 miles on a full charge.
No products found.
This is among the highest in this category, giving you a lot of time to explore the outdoors while travelling. On the downside, there have been complaints about its suspension not being the best.
Pros
Weighs only 62 pounds and has a maximum weight capacity of 305 pounds.
The chair has a small turning radius of only 33 inches, so it can gets around indoor tight areas easily.
It has Adjustable arm rests and Removable seat and seat covering.
With dual Lithium batteries, this chair can easily go up to 20 miles before requiring a recharge of batteries, making this one of the best extensive outdoor usage option.
Cons
Crossing obstacles can be a problem as the suspension on the chair is not too great.
Driving the wheelchair in rain is almost impossible, making its outdoor usage restricted
No products found.
You may also like Best Hiking Sticks for Seniors
#10. Bangeran Remote Electric Wheelchair D09
This is a dual motor powered electric wheelchair. It comes with a blue-tooth enabled remote control. With larger rear wheels, it provides good ride comfort. It is definitely a power wheelchair built for outdoor use.
It has a single 13Ah (bigger size) lithium ion battery with a maximum range of 13 miles on one full charge at top speed of 4 miles per hour. The total weight of this power wheelchair is 69 pounds with battery. This is towards the higher end of the spectrum.
The XL version of this power wheelchair has a 19.5 inch wide seat. The product is easy to fold with a one-step action and can stand upright by itself when folded. This wheelchair can support a maximum weight of 360 pounds.
Pros
Larger rear wheels (13 inches diameter) adding to ride comfort
Bluetooth remote controller for remote access
Reasonably priced at the mid two thousand range
Cons
Shock absorbing mechanism on front wheels can do with some improvement for a smoother ride
Rear wheels are inflatable and require regular checking for optimal air pressure
#11. EBEI Electric Wheelchair EBD09
This light weight electric wheelchair weighs about 52 pounds excluding battery weight. Its weight comes in at 58 pounds if the batteries are included. It is a value for money power wheelchair for outdoor use and has all the essential features one needs.
No products found.
The wheelchair is powered by dual motor technology (two 250W motors) and runs on two 6 Ah batteries for up to 15-mile riding distance on a full charge. Its seat width is about 18 inches and it can support weight up to 360 pounds.
The wheelchair can be made to stand upright while folded, and does not require constant holding or support. The joystick can be mounted on both armrests depending on user preferences.
Pros
Light weight and easy to handle when folded
5 position adjustable recliner
Good shock absorbing mechanism on front and rear tires
Product comes with a 2 year warranty
Good customer service
Cons
There is no model which comes with extra seat width for plus size users
No remote control access
No products found.
You may also like Best Mobility Scooters for Outdoors
#12 Forcemech Voyager R2 Power Wheelchair
This ultra-lightweight (45 pounds) and easily foldable power wheelchair is one of the best options for transport and air travel. It is also FDA certified as "Airplane Travel Approved & Cruise Trip Readyâ€.
Because of its weight and dimensions, it is dubbed as an ultra-portable power wheelchair. In a nutshell, this power wheelchair is a great option if you are travelling by air frequently or using it in tight spaces. But it may not work too well for heavier users or those using a vehicle with higher ground clearance.
Pros
Because of its ultra-lightweight and easy foldability, this is one of the best power wheelchairs  for outdoor use available in the market
The chair has sleek dimensions, which when folded makes it easy to carry even in smaller aircraft
It is appropriately designed for maximum comfort and shock-absorption springs in the front add to a smooth riding experience.
The dual batteries and dual motors provide a maximum travel distance of up to 16 miles. It has a small turning radius of 32 inches, so it's great for using indoors or in tight spaces.
Voyager R2 is undeniably the best looking power wheelchair among the 10 that we reviewed, thanks to its bright yellow color and sleek design.
The wheelchair also has rear reflective lights, providing extra visibility in addition to the highly visible yellow color of the wheelchair.
Cons
This power wheelchair has a low weight capacity of 265 lbs, making it difficult for users above 265 lbs to derive best comfort out of it.
The maximum travel speed is relatively low at 4 mph – not a great option if you've to use it extensively outdoors.
The chair height is low at 18-19 inches from ground, sometimes making it difficult to transfer from chair to vehicle.
Our Verdict on the Best Power Wheelchairs for Outdoor Use
Most power wheelchairs will have the basic features that are required for everyday use. However, if you are specifically looking for a power wheelchair for outdoor use, you will have to give certain features more importance than others.
The top features to consider for using a power wheelchair outdoors are safety features, comfort, range and sturdiness. All things considered, our favorites are Porto Mobility Ranger Portable Power Wheelchair D09S for its features and the Drive Medical Cirrus Plus for being value for money.
In this article we reviewed the top power wheelchairs for outdoors. But if you spend a fair bit of time indoors, you will need a power wheelchair with very different characteristics and features. Power wheelchairs meant to be used indoors have a tight turning radius and are generally narrow to pass through doorways and passages.
If you are looking for a wheelchair with a small turning radius, you need a mid wheel drive wheelchair. These wheelchairs have their drive wheels in the middle and can almost turn in place. We have also reviewed the best narrow electric wheelchairs to help you make your decision better.
It is always advisable to speak to your health care practitioner (doctor, therapist etc) and your near and dear ones, before making a purchase. Also, after buying a power wheelchair, it is always a good idea to thoroughly acquaint yourself with its features and read up on how to use an electric wheelchair correctly. Happy mobility!