How safe are upright walkers? Let's take a look.
Many readers have asked me: how safe are upright walkers? So, I decided to investigate this question in detail.
When you reach old age, your muscles get tight, and your joints get stiff. The resilience of your wrists, ankles, knees, and other joints weakens over time. Arthritis or joint pain is common in different parts of your body. You start to need support while walking or standing. 
It's not always possible for others to help you in your daily tasks. That's why you should consider various walking mobility devices which will act as support while walking.
You should choose a good walker which can help you to maintain a healthy lifestyle. An upright walker will help you in maintaining an active life both in indoor and outdoor conditions. But a lot of people are unsure about how safe upright walkers are. Well, it's an important question, and I am going to discuss it in detail.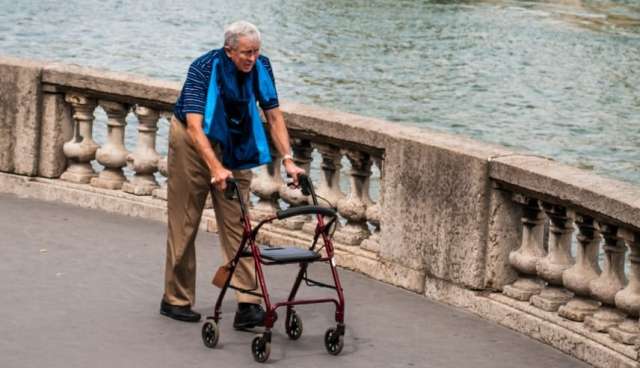 Normal Walkers
Mobility devices are devices that help people who cannot independently walk or stand-alone. People who are physically disabled or adults above 65 years old and have high chances of falling use such devices. You will find various mobility devices in the market like a walking stick or canes, rollator, crutches, wheelchair, upright walker, and numerous others, out of which walker is quite common.
Walkers are mobility aids or devices built for those who cannot move around independently and enjoy their freedom. In the United States, approximately 4.6 percent of people who are above 65 years old take the help of a walker.
The walker frame usually consists of metal, and it has four legs to provide support to the body. In a basic walker, you will find three frames that will surround you, and each time, you need to lift the walker to step forward.
People found it difficult to lift each time. Again each time, you have to hunch while walking, which affects your body posture. Your body should remain straight while walking or standing.
But when you walk with the help of walkers, then your body remains in a hump position which can cause severe back pain. So, in my opinion, a basic walker can never give you a healthy lifestyle.
You may also like Best Narrow Walkers for Seniors
How Are Upright Walkers Different From Basic Walkers?
Over 6 million people in the United States depend on mobility devices for walking. Older adults have severe arthritis or joint problems and cannot walk alone. So, they need support while walking. Even the young and middle-aged people sometimes suffer from various health issues like sclerosis, fibromyalgia, and numerous others, by which they find it difficult to walk alone. 
Thanks to modern technology, we now have upright walkers. An upright walker is a mobility aid by which you can walk upright while moving on the road. The upright walkers are different from your basic walker. It is similar to a rollator with four wheels, but here, you don't have to lean forward while walking. 
Your spine is straight, and your forearms have support while walking. That's why you don't get tired after walking. You feel relaxed and healthy. You can greet your passerby with a smile.
The upright walkers allow you to watch your grandchildren playing in the park. You can make friends and gossip for a while when you have an upright walker. So, the upright walkers will help you in maintaining an active lifestyle without depending on others.
It is a device that is relatively easy to use and portable. You can easily carry these devices while traveling. The best part is that these upright walkers will improve your posture and give you complete freedom.
We have a detailed review of the difference between an upright walker and a rollator walker.
You may also like Our Favorite Rollator Walker Accessories
How Safe Are Upright Walkers?
If you have already brought an up walker or intend to buy an up walker, you must consider how safe is up walkers. But let me tell you that the up walkers are 100 percent safe to use and reliable.
First, I want to talk about the framework. The framework in an up walker surrounds you from all the sides so that if you stumble on the road, you have a support that will protect you and don't let you fall on the road.
Again roads are not always smooth. You may come across humps somewhere. The upright walkers are just like a minibike. They have handlebars and brakes, and when you come across a hump, you can slow down your walker by hand. It is pretty easy and will protect you from not falling on uneven surfaces. The rubber wheels smoothly glide on bumps and rough surfaces. So, you will not face any problem with uneven pavement.
You can even elevate your handles to such a height where you can feel comfortable while walking. In up walkers, you can see straight on the pavement than down. So you can better see the obstacles and protect yourself. Again by walking in an upright position, your spinal cord will remain straight. As a result, you will not suffer from back pain or any other joint pain. Another thing I want to say is that you consume less oxygen while walking through your walker.
But please make sure that you need to choose the correct handle height for your upright walker, and while setting your adjustment tube, make sure that your forearms will have complete support while walking.
Anyways, I will say the upright walkers are safe, secure, reliable, and can boost your confidence back. You can lead a normal and independent life.
In the next section, let me talk about some of the benefits of an Upright Walker.
You may also like Best Bariatric Rollator Walkers
Benefits Of An Upwwalker
There are a lot of benefits of an Upright walker. So, I am going to list some of the benefits for you.
#1. Helps In Improving Your Posture
When you walk with an up walker, it does force you to lean forward and walk on pavements. The unique design allows you to walk straight, thus helping in improving posture.
#2. Keeps You Physically Fit
The Up walker allows stepping more distance. So, you will less likely have any joint pain or muscle tension whenever you walk more distance. Your joints will relax. You will be healthy within less time. By walking more distance, it allows you to lose extra fat. It indirectly slows down your aging process.
#3. Keeps you Fit Mentally
The upright walkers are suitable for both indoor and outdoor use. You can comfortably move around on four walls of your home and spend time with your siblings or grandchildren.
You can even go outside and spend time with your friends in the park or watch your grandchildren playing in the park. You can go to malls and shops with an upright walker which will surely keep your mind relaxed, and you will feel better.
#4. Durable
The materials of the up walker are of good quality and are durable. But, you should maintain the components of an up walker within a fixed interval.
You may also like How To Use A Rolling Walker Properly
#5. Reduces Pain
The upright walker allows you to walk in the upright position. So, it doesn't exert pressure on the wrist, joints, muscles, and spine. An upright walker reduces the pain in your body.
#6. Adjustable Features
The upright walker has various adjustable features by which you can adjust according to your preferences. These features increase the safety of the user.
#7. Increases Stability
In a basic walker, you usually lean forward while walking. So, there is a high chance of becoming unstable while moving on pavements. You may even accidentally fall on the road. But in an upright walker, you are in an upright position while moving on pavements. So, it is increasing the stability of the user.
#8. Light weight
The upright walkers are light in weight. So you can easily handle them.
#9. Foldable
You can easily fold your Up Walkers just by dropping the arms of the upright walker and grab the seat up and then close the clip-on front side. It will just take a few seconds.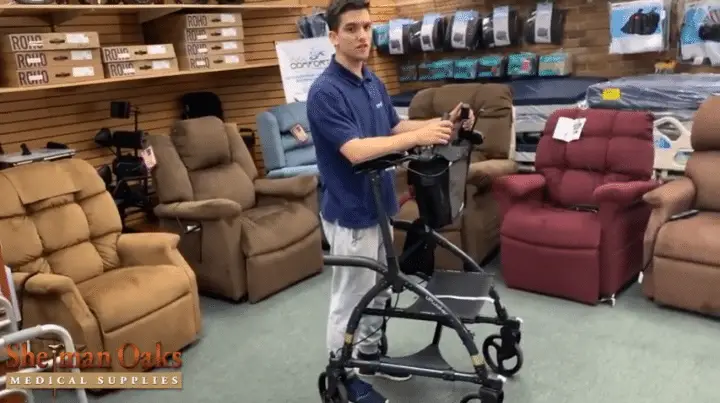 You may also like All You Need to Know About Walkers
Handle Height Of An Up walker
The Up walkers are available in three sizes.
| | |
| --- | --- |
| Size Of Up Walker | Handle height Range |
| Small size | 4'4'' to 5'5'' |
| Medium size | 4'7'' to 5'5'' |
| Large size | 5' to 6'4'' |
How To Determine The Right Handle Height Of An Up walker?
To determine the correct handle height of an up walker, you have to stand straight, allowing both your hands naturally at their sides. 
Now ask a friend to measure the length from the crease of the wrist to the ground. This number will tell you the right height to which you should set your handles.
Once you know the right height, follow the instructions of the manufacturer to adjust your Upright Walker correctly. 
Components Of Upright Walkers
There are various components of an upright walker. I want to discuss a few important features which play an essential role in walking. They are as follows.
#1. Brake
In upright walkers, you will find brakes with the help of which you can lock your upright walker to sit down and rest for a while.
#2. Handlebars
The upright walkers have padded handlebars that help the user in sitting to standing transition. The unique design reduces the chances of accidents.
#3. Wheels
The upright walkers have 8-inch wheels which can smoothly glide over any surface road.
#4. Height adjustment Tube
You will find a height adjustment tube on the up walker by which you adjust the height according to your choice. A good and correct setting of height helps the user to keep his forearms while walking correctly.
#5. Beverage Holder
You may feel thirsty while walking alone on the road. So, the upright walker has a beverage holder. You can keep a bottle containing water and carry it with you while walking on the road.
#6. Movable Seat
The upright walker has a movable seat. You have to lock your wheels and then pull the seat in the forward direction. After that, you can turn around and sit on your up-walker. Even while sitting, your back gets support. So, you will not have back pain after using this device.
You may also like Where Can I Buy An Upright Walker?
FAQs
What is the cost of an Up walker?
There are many websites from where you can purchase an excellent Up Walker like valleymedicalsupplies.com. The Up walkers are a bit costly compared to traditional walkers. 
You need to spend $500 to $700, including shipping and handling charges for a medium-size Up walker. If you want to buy a large size-up walker, you need to spend $695.
I do admit the price is a bit high, but after all, health is wealth. You cannot compromise your health for the sake of money. But yes, so many older adults cannot afford the price of an up walker.
But you should not feel sad about it. You can rent an up walker from different websites like family rentals.com,dmes.com and various others. There you do not have a hefty price at one time.
You can pay in install laments either every week or monthly basis. Again, you can take advantage of some insurance policy covering the up walker you intend to purchase.
Is Upright Walker Durable Medical equipment?
To be classified under durable medical equipment, the device should pass the following conditions
Durable:

The device has to be durable. It should work properly for at least three years, in good condition.
Medical:

People should use the device for a medical reason
Home:

People should be able to use this device comfortably on the four walls of their building.
The Upright walker satisfies all the above criteria, so yes, it is classified under durable medical equipment.
Is Upright Walker covered under Medicare?
Unfortunately, despite being a DME, upright walkers are not currently covered under Medicare, simply because there are no vendors right now who are registered with Medicare who sell these devices.
You may also like What is the Lightest Weight Rollator Walker?
Wrap Up
Upright walkers have immense benefits. If you need a mobility device, then I would suggest you purchase an Up walker. If you are thinking about safety, then the 100 percent safe will improve your health within less time.