In this article, we have reviewed the best rollator walker transport chair combo. If you are in a hurry, the table below gives a quick snapshot of the top 5.
Rollator Transport Chair Combo
Size
23.6 x 22.8 x 17.6 inches
Additional accessories
Cup holder, storage bag, zipper case
Storage pouch, under carriage
Detachable travel bag, Footrests
Cane holder and a detachable shopping bag
Detachable storage bag and umbrella bag
Wheel Size
8 inches front wheels and 6 inches back
Over 6.8mn community residents in America use mobility devices[1]. Nearly 29.2% of women and 22.7% of men[2] in America suffer from arthritis. Limited Mobility is a very real and painful experience that many of us are going through.
A rollator walker transport chair combo is used by people who are trying to walk independently (hence the walker) but are not able to do so continuously (hence the transport chair). Combining a rollator and a transport chair makes it cost-efficient for such patients. 
If you are unfamiliar with rollators, you might like to read: What is a rollator walker used for?
So without much ado, let us take you to Best Rollator Walker Transport Chair Combo.
Our Top Choice- Medline Combination Rollator And Transport Chair
The Medline Red Combination Rollator and Transport Chair, Desk-Length Arms, Swing Away Footrests, Red Frame is our top choice for the best rollator walker transport chair combo because this product effortlessly combines features of both the rollator and the transport chair. Below are some more reasons why we think this is the best
Conversion to and from a transport chair to a rollator walker is a breeze with this product. It's a single click option and doesn't need more than your finger to get it done

The accessories on this product are awesome! There is a cup holder,  a side carrying case, another (bigger) under the seat carrying case, and even an oversized backrest!

On the subject of the backrest – it is a contoured one and is designed to hold your back comfortably when in sitting position.

The handgrips are height-adjustable, important for people who are either too tall or too short

It features 6-inch front wheels and 8 inch back wheels, making it a stable and comfortable mobility aid for even rough surfaces.

Larger seat size – 19 inch wide and 16 inches deep, comfortable for sitting, unlike many others which have a cramped seat.

It has ergonomic hand brakes for both the walker and the transport chair.

It weighs a mere 18 pounds, making it easy to carry around wherever you go and fits in the trunk of most cars

It can carry a weight of up to 250 pounds, which is sufficient for most average-sized patients

It has push-button footrests, so that you can comfortably rest your feet after walking with the rollator.
Best Rollator Walker Transport Chair Combo
#1 Medline Combination Rollator And Transport Chair
The Medline combo chair is a two in one product with the benefits of both a rollator and a transport chair. The chair easily fulfills the three necessities of a person.
It allows the person to walk, rest as well as ride. The chair's backrest flips and converts it into a walker, allowing the user to rest or ride as they see fit.
The combo chair also eliminates the need to carry to medical aids every time to perform multiple functions efficiently. The chair has two six-inch front wheels and two eight-inch rear wheels, providing sturdiness and stability over different terrains.
Its wheels are suitable for different terrains such as grass, gravel, rough terrain, or uneven flooring.
Pros
The combo chair has an additional cup holder to keep necessities such as water, juice, coffee, tea, and so on.

It also has an under-seat storage basket to store essential items while walking or standing.

Ergonomic handbrakes to ensure safety and to prevent any possibility of a mishap.

The chair has a good load capacity of around 250 pounds, and it weighs just 18 pounds, which is very lightweight.

The chair also has a detachable, swinging leg rest which gives the user more space to move.

It is extremely easy to convert this device from a transport chair to a rollator walker

8-inch back wheels make this a comfortable transport device even for rough surfaces
Cons
The wheel is not very wide, so they might get stuck in huge curbs or potholes on the roads.

It isn't easy to reach the brakes and the handle while sitting on the chair.
The video below shows how to assemble Medline Combination Rollator And Transport Chair.
You may also like Where Can I Buy An Upright Walker?
#2 Graham-Field Rollator And Transport Wheelchair
The Graham-Field combo wheelchair is not only a support product for the elderly, but it is also famous for its specialty healthcare services.
This chair is an innovative mixture of a functional rollator and a transport chair in a lightweight design. It only weighs about 25 pounds, and its design has the user's comfort and freedom in mind. 
The rollator and transport wheelchair has height adjustable handle grips, which aids the person pushing the wheelchair.
It also has a wide seat and backrest to provide the user or the patient with the utmost comfort and quality. Its dimensions are 26 inches length, 37 inches width, and 37 inches height. 
Pros
Users can use it primarily as a rollator while easily transforming it into a transport chair.

It is made of a lightweight, and durable aluminum frame.

It is easy to assemble without the need for tools and folds effortlessly for transport or storage.

The handbrakes are easy to use that grants safety.

Soft polyester backrest provides comfort and support.

It comes with a pouch where the users can store their personal items.

It moves effortlessly on uneven terrain.

The wide seat provides a convenient place to rest.

The footrest can be easily attached or detached without the help of tools.
Cons
It has better mobility on smooth surfaces and not so smooth on irregular surfaces.

The wheelchair is difficult to move for heavy individuals.

It would have been better if the removable footrests could be swung to the side
#3 Vive Rollator Wheelchair Transport Wheelchair
Vive rollator chair and transport chair is a hybrid between the two medical aid products. It performs both of its tasks effectively as it provides the user with stability and ample support as a rollator and provides quality comfort and rest as a transport chair.
It has an ergonomic folding design that completely folds in just two folds. This makes the process to use and store the chair very simple. 
The combo chair has large 8-inch wheels to provide maximum stability on any surface. These wheels are also slid proof so that they do not slide on wet or slippery surfaces.
The chair has a dual braking system to provide apex safety and security to the user. Its dimensions are 23 inches in length, 20 inches in width, and 13 inches in height.
Pros
The chair has a storage bag to store essential items like phones, wallets, water, drinks, and so on.

Comfortable and wide mesh seating with an 18-inch seat. It is of premium quality.

The breathable fabric along with a light padding backrest to give a pleasant experience.

A highly adjustable footrest allows the users to customize its length according to their height and the legroom they want.

The chair also has a detachable seat which is storable on a travel bag.
Cons
The wheelchair cum rollator does not have a safety belt.

There are safety armrests either, it's more a rollator than a chair

Sometimes it can be difficult to maneuver on irregular surfaces.
You may also like How Safe Are Upright Walkers?
#4 Health Line 2 In One Rollator Transport Chair
Health line two in one chair is one of the simplest combinations of the chair. It changes from a rollator to a transport chair in two simple steps: to flip the backrest and attach the footrest.
Older adults or patients suffering from injuries find the chair very functional and easy to use. The chair has a corrosion-free and rust-free, durable aluminum frame. The sturdy frame provides the main steadiness to the chair.
The chair frame can easily carry a heavy load up to 300 pounds of weight without compromising its mobility. The assembling and installation process of the chair is very straightforward and does not require any external tools.
Even older adults can assemble it on their own. Its dimensions are 23.6 inches in length, 22.8 inches wide, and 17.6 inches high.
Pros
It has ergonomic handles and dual braking systems for fatigue reduction and to provide the user with proper rest.

Available in four colors, red, blue, white, and grey.

The chair has some additional features such as a came holder for the elderly and a detachable shopping bag to store items.

Extra-large PVC wheels along with highly adjustable handlebars.
Cons
The chair is a bit heavier than the traditional combo chair with its weight of around 25 pounds.

Maneuverability can be difficult when climbing up or down on slopes and ramps.
#5 Goplus 2 In One Rollator Walker
The Goplus rollator walker certainly improves an older adult's quality of life or for someone suffering from injuries. Its design has intimate detailing, which takes care of all the basic needs of a rollator walker.
It has an 'X' shape frame that enhances the load-bearing capacity and the chair's stability. 
The chair is foldable in a few simple steps due to its ultra-compact design. This design makes the chair easy to store and easy to transport from one place to another.
The chair has the latest shock absorbing front wheels, which protects its user from any unnecessary strain.
Pros
It is available in three colors which are red, black, and blue.

The chair also has an umbrella holder along with a storage bag.

Its pedals have extra grip and are nonslip to prevent any mishap and to ensure safety.

Highly adjustable handlebars that have six different adjusting values.
Cons
The chair may tend to be not very sturdy on even ground.

Sometimes, it may also be difficult to push the chair as a wheelchair.
You may also like Can You Rent An Upright Walker?
Rollator Walkers With Comfortable Seats
If your loved ones just need a place to rest for a while walking, you don't need to buy a combination product. A rollator walker with a comfortable seat is good enough for that purpose.
#6 Oasisspace Heavy Duty Rollator Walker
The Oasisspace combo chair is a very heavy duty and a reliable rollator and transport chair. It easily supports a maximum weight load of 450 pounds without compromising for any of its mobility.
The chair's ergonomic design fills the user with dignity and confidence while walking rather than making them look helpless. 
The rollator heavily reduces stress and strain on joints such as writs, knee joints, and calves, severely reducing joint pains. It also enables the user to maintain a straight back while walking or sitting, which prevents any back problems. Its dimensions are 33.7 inches length, 16.5 inches wide, and 9.6 inches high.
Pros
It has large 10 inch front wheels and a 360° swivel design, which helps in the mobility of the chair.

Height adjustable armrest along with an adjustable backrest, which makes the chair more versatile.

Simple assembly process without the need for any external tools or assistance.
Cons
It can be too wide to pass through some doors.

Can be a bit heavy with its weight around 25 pounds.
#7 Comodità Prime Heavy Duty Roller Walker
The Comodità roller walker has a very modern design along with a sturdy and durable configuration. Its design is elegant, and it is also capable of lifting heavy loads.
The maximum weight capacity of the roller walker is 400 pounds. It has a signature 'S' shape design and wheel support, which provides the user with more walking space. 
Its design helps the user to avoid tripping and falling even on irregular surfaces. Weight distribution is also a unique feature of this chair as it has weight distribution directly above the wheels, whereas the traditional models have it on their side.
This often leads to the bending of the wheels. The dimensions of the chair are 28 inches in length, 25 inches wide, and 35 inches high.
If you are looking for a rollator walker with a higher weight capacity, you should also read the best bariatric rollator walkers.
Pros
8″ wide tires with additional rubber provide superior grip even on wet and slippery surfaces.

The combo chair also has a cup holder and a storage bag to fulfill se additional needs of the user.

An almost 15″ deep seating surface makes the whole sitting experience more relaxing and comforting.

Adjustable handle height from 5'4″ to 6'4″ covering a huge range of people's height.
Cons
The brake cable may snap if handled roughly.

Can be too heavy for older adults to lift.
You may also like Best Rollator Walker for a Tall Person
What Should You Look For Before Buying a Rollator Walker Cum Transport Chair?
Mobility
An ideal rollator and a transport chair must have optimum mobility. The greater the mobility and maneuverability of the wheelchair, the more is its appeal. The ideal combo chair must also have a short turnaround radius to fit into tight spaces easily.
Quick conversion
The main use of this device is that it converts into a transport chair when needed. The user will have to do this conversion themselves, most of the time.
Therefore it is of the utmost importance that the device should be easily convertible with a single push or a button. It should also be lightweight so that the user can carry it around with them in their car.
Comfort
A high level of comfort is one of the major features which a good combo chair must possess. It should have wide enough seats so that the user can sit without any discomfort; moreover, the seat's material and the backrest must be of premium quality. 
Durability
A sturdy and durable frame is a must to ensure the proper safety of the user. Most of the combo chairs have a solid aluminum frame.
Aluminum is very popular for making frames due to its durability and reliability. It also increases the maximum load capacity of the chair massively.
Frequently Asked Questions
Q: What is the main difference between a rollator and a walker?
The main difference between a rollator and a walker is that the user must loft the walker to move ahead, whereas, in the case of a rollator, they need to push forward.
A walker does not have wheels, and a rollator does have wheels. Rollators typically also have a seat and other accessories like a carry bag and tray. 
If you want more comparison, we have an article on upright walker vs rollator.
Q: Can the user operate the transport chair themselves?
No, a transport chair requires assistance to move ahead because of its wheels' small size, whereas a wheelchair has big wheels that the user can operate themselves.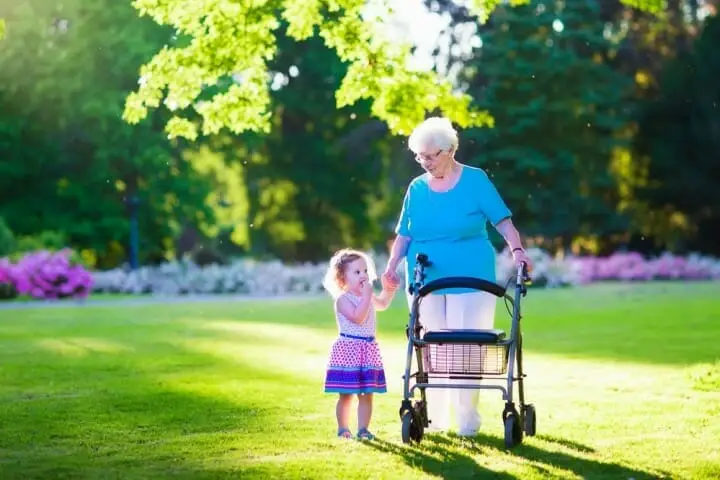 Conclusion
A rollator walker can be a boon for our loved ones with limited mobility. It can make their life lively again full of hopes and positivity.
Hence, buy them today if you wish to give them a new life. In this article, we have selected the best rollator walker transport chair combo based on the features mentioned in our buyer's guide and the ratings and comments mentioned by actual users on Amazon. 
In our opinion, the Medline Red Combination Rollator and Transport Chair, Desk-Length Arms, Swing Away Footrests, Red Frame  is the best choice among the various options that we have considered because it is perfect for our loved ones, rich in features, and serves the purpose.
If you are looking for a value for money option, you can also consider the GOPLUS 2 in 1 Rollator Walkers for Seniors, Folding Rollator Walker with Seat, 8-inch Wheel Medical Drive Walker Wheelchair Combo with Backrest, Adjustable Handle for Adults, Aluminium Frame, which offers great value and features at a very reasonable price point. 
While we make every effort to provide updated and correct information, the advice given in this article and website should not be construed as "medical advice". Please consult with your physician or medical practitioner before using any rollator walker.
Each individual may have his or her unique issues and your medical practitioner is the best person to decide the best rollator walker transport chair combo for your case.
If you are looking for a light transport chair instead, please go through our article here.
For light rollator walkers, you should also read What is the Lightest Weight Rollator Walker?
References:
[1] https://www.disabled-world.com/disability/statistics/mobility-stats.php