From 2013–2015, on average, 54.4 million US adults (22.7%) annually were diagnosed with arthritis, rheumatoid arthritis, gout, lupus, or fibromyalgia[1]. Each of these diseases can lead to joint pain and muscle stiffness, specifically in the hip. 
Hip surgery is a procedure in which a painful hip joint is replaced by an artificial one, usually as a last recourse for debilitating hip pain. 
For people recovering from hip surgery, even sitting down can be a real struggle. But don't worry! There are special hip chairs designed to reduce the pain and help in recovery. 
This article will guide you in finding the best chair for hip replacement patients. We will look at some of the best chairs for hip replacement patients and provide some tips for what to look for in a chair for post-surgery. The table below shows our top picks, and we go into more details further down. Let's get started!
Size
17.28 x 16.81 x 7.99 inches
24.5 x 20.5 x 28.75 inches
Special Feature
Seat angle adjustable hip chair
Ideal for arthritis or knee surgery
Design
Upholstered seat and back
Strong molded plastic seat
Material
Vein frame with brown Naugahyde
Best Recommended Chairs for Hip Replacement Patients
#1 – Platinum Health Hip Chair
The Platinum Health Hip Chair is specially designed for people recovering from post hip surgery. This chair is also suitable for post knee surgery patients. It allows for sitting and resting without excessive, contraindicated hip or knee flexing.
The unique height-adjustable seat of the chair allows for a taller seat which provides you with full comfort and does not allow your hip to flex immediately post-surgery.
You may also like Best Chair After Knee Replacement
The soft padding of the chair prevents skin tears and gives comfort to your skin. It is made of non–absorbent padding and lightweight material.
The tilted angle of this hip chair makes seat entry fast. You can use this chair in your bedroom or shower. Patient-specific seat heights are ideal for proper healing and injury prevention. 
The height adjustment feature allows for better positioning of the chair as you can adjust it as per your needs.
Pros
2 in 1 chair for hip replacement patients.

It further aids in preventing problems faced by hip replacement patients.

Weight-bearing armrest for safe entry.

Patient-specific seat height for full healing.

Padded seat and back for optimal comfort.

Seat surface adjusts from 0 degrees to 13 degrees.

The weight of it is 11.97 pounds.
Cons
Not useful as a dining seat.

Lowering this chair can be difficult.
Why It's Our Top Choice
The Platinum Health Hip Chair, APEX(tm) Premium, Padded, Height Adjustable, SEAT-Angle Adjustable Hip Chair. Doctor and Rehab Specialist Recommended is our top choice for the best chair for hip replacement patients. This is why we think so:
Height adjustability is the most important criteria for a hip chair. This seat adjusts incrementally between 27 inches and to 23.5 inches, gradually increasing flexion as the hip recuperates.

The Chair has a unique angle adjustment option, where you can seat the operated side on a higher angle, making it easier to get up or sit down on the chair.

It has a padded seat, padded armrests, and padded backrest. Everything is optimized for patient comfort. Polyurethane foam is used everywhere which can be cleaned easily. 

It has an all-aluminum chassis making it completely rust free and lightweight (only 12 pounds)

The armrests are removable for easy transition from wheelchair or bed onto the chair.

It is extremely easy to assemble this chair, it can be done within minutes

There are rubber tips on the bottom for extra grip. When combined with the all-aluminum rust proof body, this chair can actually also be used as a shower chair!
#2 – GRAHAM Field Hip Chair
This is another great hip chair for people after their hip replacement surgeries. These chairs are best for those having arthritis and have undergone knee or hip surgery. 
The seat is at a 27-degree height seat that helps people to reduce stress on the hip and aid in comfort post-surgery.
The chair's footrest height can securely be adjusted by two spring-loaded adjustment knobs. These knobs are located on either side of the frame.
The seat is made of high-density foam. The upholstered seat and back make the sitting more comfortable for a longer period. This sitting is designed for people's comfort and convenience and to recover from hip surgeries.
Pros
Padded full-length arms for comfortable sitting.

The anti-slip strip on the footrest gives extra security.

The padded seat and back can be cleaned easily.

It is sturdy, so it does not tip over.

Safer chair to assist mobility.

The weight of this chair is 44.8 pounds.
Cons
The chair may have a smell when first received.
You may also like to read about Do I Need a Raised Toilet Seat After Hip Replacement Surgery?

#3 – Drive Medical Store Hip High Chair
This hip chair is a high chair (at a height of 27 inches), especially made for the comfort of people who have undergone knee or hip surgery. The chair comes with a padded seat that allows the users to sit without bending at the hip.
It is designed to recover from the post-hip surgeries, and patients won't need to bend at the hips with this chair.
This Drive Medical chair provides comfortable sitting with its soft seat. It features a contoured armrest which is covered in the same soft, attractive vinyl material. The seat and backrest allow the user to sit and stand safely. 
This chair is constructed with strong and durable steel with an attractive brown vein finish, providing a great aesthetic. 
Pros
Hip high chair with a comfortable padded seat.

Contoured armrest with soft padded seat.

Attractive vinyl seat and backrest.

No need to bend over to sit.

Strong and durable steel material.

Fine cushioning bottom and sturdy look.

The weight of this chair is 7.03 pounds.
Cons
The assembly of this chair can be a bit complicated.

Instructions may be confusing and vague.
#4 – Complete Medical Hip chair
The Complete Medical hip chair caters to your health and safety needs. This chair is perfect for those having undergone hip surgery since it is at a height of 26 inches. The chair has cushions with thick padding and a brown frame. 
It also has a plastic armrest and a footrest. It is an excellent chair for you to recover from your surgery. This chair's qualities ensure the hips are positioned well above the knees without necessarily bending at the hip. 
This ultimately lets you recover easily from your hip injuries. It is an attractive chair that can also add to your collection of furniture. The adjustable footrest gives convenience to people to adjust the height as per their convenience. 
The seat height makes it easy to enter and exit from the chair. The chair has a design which will beneficial to those who have taken total or partial hip replacement. The hip chair combines features to adjust according to your needs.
Pros
The sturdy padded armrest of this hip chair.

Cushions with thick padding cushions and footrest.

Minimizes need to move knees and hips.

Washable seat with the great back cover.

Cleaning of this hip chair is easy.
Cons
This is not the lightest option, with the weight of the chair being 40 lbs.
You may also like to read about When Can I Sit On A Normal Chair After Hip Replacement?

#5 – Eagle Health Hip Chair
This hip chair by Eagle Health is another one of the best everyday chairs to use for bathrooms or showers. The height of the hip chair is adjustable between 25.5 and 29.5 inches, making it a perfect chair for reducing hip flexion.
This hip chair's extra-long legs provide stability and help the people who are recovering from hip surgery or hip pain. You can use this chair for bathing or showering.
This chair is compact and can be easily placed inside your bathroom. The modern design of this chair makes it a perfect fit for your daily use.
Chair is made of a rust-free, high strength aluminum frame which gives high durability. The chair has a high weight capacity.
The strong blow-molded plastic seat and back are made of a textured finish. The solid build of the chair prevents slipping.
Pros
A versatile chair for older adults.

Aids in getting in and out of showers easily.

Comfortable seat and back.

Large rubber anti-slip tips included.

Its high weight capacity makes it ideal for people.

The weight of this shower chair is only 13.1 pounds, significantly lighter than the previous option.
Cons
Chair is fairly tall, which may cause inconvenience.
#6 – Lumex Hip Chair
The Lumex hip chair is a great multi-purpose hip chair for people undergoing hip replacement recovery. This chair is also suitable for those with arthritis or who have undergone knee surgery. 
The seat is a 27-inch tall seat that helps people to reduce stress on the hip joint post-surgery. While sitting on this chair, your entire body will feel comfort and pain relief.
The footrest height of this Lumex chair is highly adjustable and can be securely adjusted with two spring-loaded adjustment knobs. These knobs are made especially on either side of the frame. Moreover, this Lumex chair is a specially approved chair by licensed doctors.
The seat is made of high-density foam. The upholstered seat and back make the sitting more comfortable for a longer period. This sitting of the hip chair is designed for comfort and convenience and recovery from hip surgeries.
Pros
Padded full-length armrests for comfortable sitting.

Ideal chair after hip or knee surgery.

The anti-slip strip on the footrest gives security to people.

The padded seat and back can be cleaned easily.

Chair is sturdy, so it does not tip over.

Safer chair to assist mobility.
Cons
Depth from the front of the seat to the back is short.
You may also like to read about Lifetime Precautions After Hip Replacement

What Should You Look for When Buying a Chair for Hip Replacement Patients?
Multi-Function Mechanism
Hip chairs are versatile enough to support the multiple needs of patients. These chairs give full assistance to people so that they can recover from their surgeries comfortably. They have height adjustment features, comfortable seats, and other mechanisms to fit the needs of the individual who is recovering.
Adjustable Height and Seat Angle
Hip chairs are specifically designed to reduce stress on the hip joint. Therefore, these chairs are fairly tall by nature.
However, it is good to have an adjustable height feature so that once the pain starts to subside and the hip joint has begun to recover, you can lower the height.
Similarly, an angled seat is also a useful feature to have because it reduces stress during sitting down and getting up on the hip joint that has undergone surgery.
Seat Width
The seat width of hip chairs should be wider than the hip breadth of the users. These chairs are designed in a way with good seat width. This allows for free movement and more roominess for the user.
Material
These chairs are made with high-quality aluminum materials. The seats of hip chairs are well-padded.
The aluminum material should be rust-free. Some chairs are made with maple hardwood. The solid construction improves safety and durability of the product.
Portability
Hip chairs are lightweight and highly portable. These lightweight chairs are easier to carry around if their location needs to be adjusted.
You can fix these chairs in your bedroom or kitchens. Moreover, these chairs are perfect shower chairs and can be brought into the washroom with relative ease.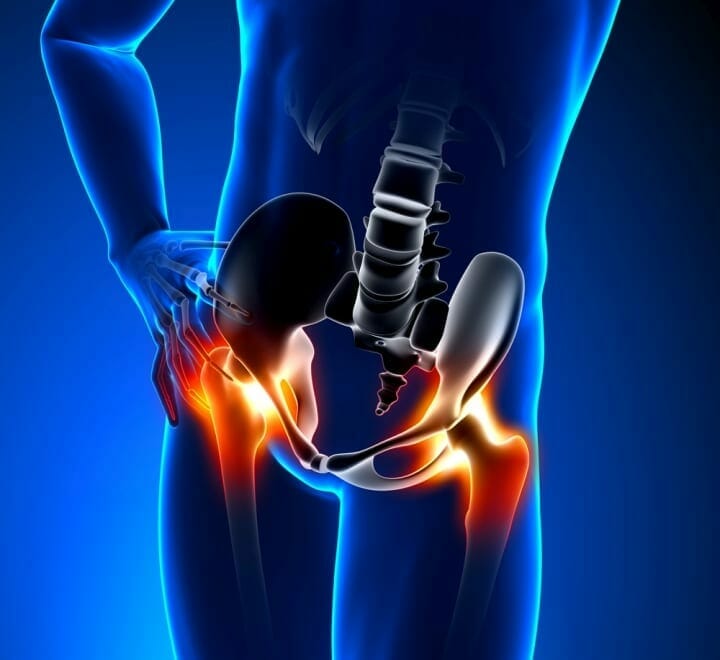 You may also like to read about Best Shiatsu Massage Chair Pad

Frequently Asked Questions
Q. What cases may require a hip replacement surgery?
Conditions that can damage the hip and may require total hip replacement surgery include:
Osteoarthritis: Damage to cartilage over the ends of bones at joints, helping joints to move smoothly. Also known as wear-and-tear arthritis.
Rheumatoid arthritis: Erosion of cartilage and sometimes underlying bone due to inflammation from an overactive immune system.
Osteonecrosis: Collapse or deformation of bone due to deficient blood supply to a joint after a dislocation or fracture.
Hip pain that persists despite pain relievers, worsens when walking, or interferes with sleep and other daily activities.
Q. What does a hip replacement surgery typically involve?
When you check in for your hip replacement surgery, you'll be asked to put on a hospital gown. You'll be given a spinal block or anesthetic prior to surgery.
The surgery will take a few hours, during which your doctor will make an incision over the front or side of your hip and remove diseased or damaged cartilage or bone. After this, prosthetics will be implanted to replaced any damaged socket or ball at the top of your femur.
After your surgery, you will be relocated for recovery to allow your anesthetic to wear off. During recovery, your blood pressure and other measurements and requirements will be monitored. Many patients can go home the day of their surgery, though this may vary depending on individual need.
You'll have a follow-up appointment 6 to 12 weeks after your surgery, during which your doctor will ensure your hip is healing properly and may recommend physical therapy. If it is hip is recovering as it should, you will be able to resume some of your regular activities while the rest of your recovery occurs over the next 6 to 12 months.
Q. After hip surgery, how much time does a patient take to walk normally?
After hip surgery, you will need some time to get back to your normal walking. However, it may take 6 to 12 weeks for initial recovery from hip replacement surgery and additional physical therapy. Hence, a hip replacement chair can assist people in better mobility after hip surgery.
Q. What problems do hip replacement patients face?
After a total hip replacement surgery, patients are advised to take utmost care and rest in the hip region. Some possible risks and complications that may happen post surgery include: fracture, weakness, stiffness, instability of the joint, or even dislocation of the operated leg. 
To make sure that the joint remains protected at all times, patients need to sit properly and on soft and comfortable chairs with a tall and correct-positioning backrest and armrest to give them maximum support and comfort. 
Patients are also advised to follow certain precautions. Your physical therapist will instruct you regarding hip movement and limitations you may have for a range of motions.
There are several basic rules about positioning. So while sitting on chairs, make sure you use straight back chairs with armrests.
Q. What is the best chair to sit in after hip replacement?
After hip replacement surgery, choose a sturdy hip replacement chair that has a raised height which is adjustable in graded increments.
Hip flexion is recommended to be kept at a minimum, so a taller chair is advised immediately post-surgery. As the hip joint improves, the chair can slowly be brought down.
Some chairs also have angle adjustable seats, which is useful for sitting down and standing up from the chair. 
Above all, the chair should have comfortable and padded seating, armrests, and back support to minimize discomfort to the patient.
Q. Are the arms of these chairs padded?
The arms of these chairs are created to improve convenience. The arms are padded and highly adjustable. Thus makes it easy for people to assist their better recovery.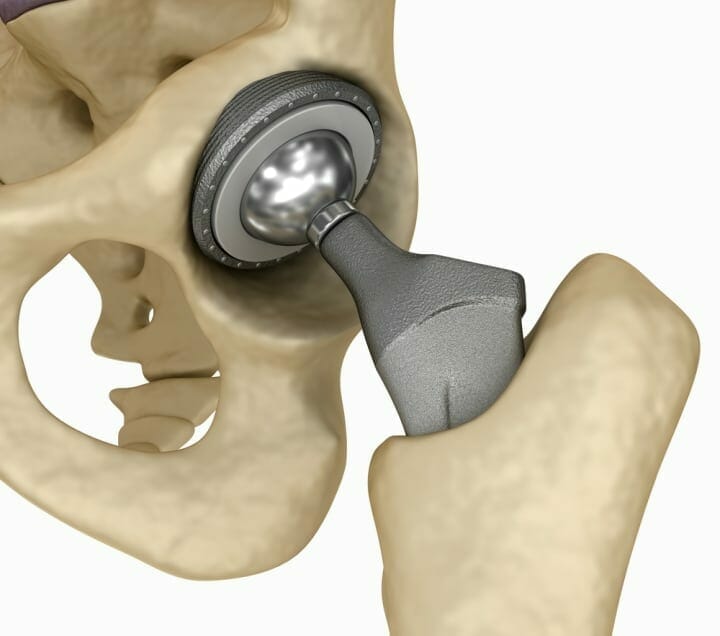 You may also like to read about Best Bariatric Shower Chair

Parting Words – The Perfect Seat to Relax in During Your Recovery
Hip surgery leaves some potential for hip pain during the immediate recovery period. During the recovery, it is important that we not put too much stress on the operated joint after joint replacement.
Hip chairs are designed specifically with a taller seat so that the user does not have to move his hip much in order to sit down. This is also useful for caregivers because they do not have to put too much effort into sitting down the patient.
In this article, we have selected the best chair for hip replacement patients based on the features mentioned in our buyer's guide and the ratings and comments mentioned by real users on Amazon. 
In our opinion, the Platinum Health Hip Chair, APEX(tm) Premium, Padded, Height Adjustable, SEAT-Angle Adjustable Hip Chair. Doctor and Rehab Specialist Recommended  is the best choice among the various options that we have considered. It has incremental height adjustments between 27.5 and 23 inches, so as to increase hip flexion gradually. You can adjust the seat angle to ease entry and exit from the seat for the patient. It has comfortable padded seats and is overall durable, safe and comfortable. 
If you are looking for a value for money option, you can also consider the Eagle Health Supplies Hip Chair 73231 - Rustproof, Tool-Less Assembly, Height Adustable, which offers great value and features at a very reasonable price point. Apart from angle adjustability and padded seats, it has most of the features of other hip chairs.
While we make every effort to provide updated and correct information, the advice given in this article and website should not be construed as "medical advice". Please consult with your physician or medical practitioner before using any hip chair. Each individual may have his or her unique issues and your medical practitioner is the best person to give advice on what will be the best chair for hip replacement patients.
If you are suffering from hip pain, you can also read our article on Best Shoe for Hip Pain.
Seniors are especially susceptible to hip-related discomfort. If you or your loved one is a senior, learn how to protect yourself from hip joint problems. You can read about Hip Protectors For Seniors.
Sciatica can also be a culprit behind hip pain. Do go through our coverage on sciatica related treatments as well:
References:
[1] https://www.cdc.gov/arthritis/data_statistics/arthritis-related-stats.htm