In this article, we have reviewed the best flashlights for seniors. If you are in a hurry, the table below gives a quick snapshot or you can scroll down for the detailed reviews.
Best Flashlight for Seniors
For a lot of people, flashlights seem like a thing of the past. With the torch option readily available in our smartphones, buying a flashlight doesn't really cross our minds often.
However, flashlights can be an essential tool around the house for the elderly. Many senior citizens deal with issues like failing eyesight. The extra light provided by the flashlight helps them in performing routine tasks.
And in case of an emergency, knowing where the flashlight is and being able to access it can make all the difference between safety and bodily harm for the elderly.
Why Should an Elderly Person Always Have a Flashlight Handy?
Convenience: Flashlights are quite useful for the elderly especially in case of emergencies. If the lights suddenly go out, or in the situation of a natural disaster, the elderly prefer to have a flashlight to get around.
For seniors, it becomes even more important to carry a flashlight, as studies show that the eyesight diminishes as we age, and nobody would like to stumble around in the dark.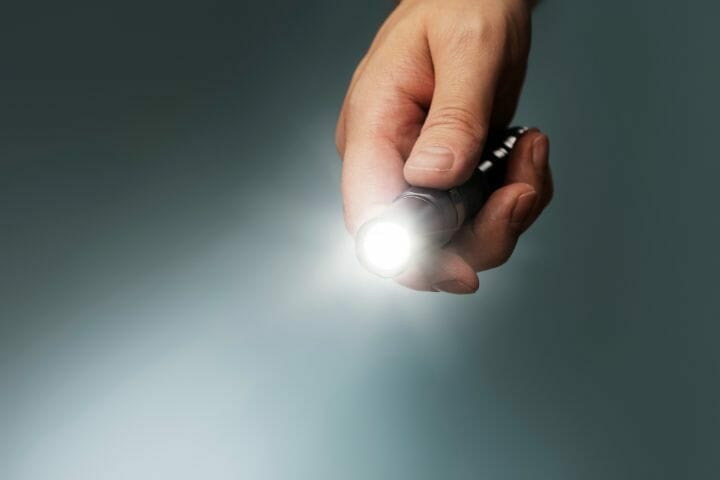 Self Defense and Safety: The elderly also require a flashlight for self-defense purposes. While they can use it as a striking tool, it would also be needed to move towards a safe zone especially when prowlers cut the power to the house, thereby making it quite difficult for the elderly to move from one part of the house to another.
Having a flashlight enables them to avoid getting harmed during instances of a home invasion.
Source of Outdoor Lighting: A flashlight also enables senior citizens to assist them wherever and whenever they need portable light. For those who walk early in the morning or at dusk, a flashlight provides them with a little extra light. It not only lights up their path but also allows them to identify potential obstacles that would have been masked by poor or dim lighting.
Flashlights are not just meant for morning or evening walks but they can be used for any outdoor activity where the elderly do not seem to have adequate lighting.
You may also like Best Light Therapy Lamps To Buy Online In Canada
What To Consider When Looking for a Flashlight for Seniors?
When looking for a flashlight for the elderly, you should look at something reliable and easy to use.
Reliable: In terms of reliability, you prefer something that will work whenever you need to use it. You would want a flashlight that will be able to provide light until the batteries are dead. You would want to avoid one that will work only on some specific occasions or provide light halfway.
Ease of Use: Ease of usage is something that should be an important consideration when you are buying for the elderly. A flashlight with a single button or switch for control would be useful in these situations.
You would want one that requires minimal effort to operate- something that has the least number of switches and brightness settings. One to three brightness modes are an ideal choice.
User-friendly interface: The flashlight should provide a user-friendly interface wherein light can be provided with a mere touch of a button. It should not require any additional maneuvering to switch between brightness modes.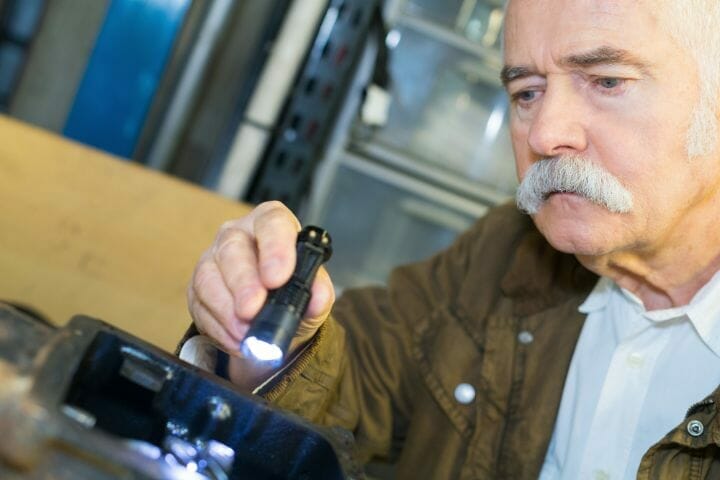 Durability: Another important factor that you should consider is durability. You should look for a flashlight that is durable enough to withstand drops from two to three feet high or approximately hip level heights.
Battery options: Although rechargeable flashlights seem fancy and easy to use, they are sometimes a hassle for the elderly. They might seem too complicated to operate for them. It is better to opt for something that relies on the traditional alkaline batteries that are easy to find and replace.
What Factors Should Be Avoided While Purchasing A Flashlight For The Elderly?
You should avoid flashlights with extremely bright lights. The brighter the light, the hotter the flashlight body would get. This increasing the risk of burns, especially if the light becomes too hot to hold.
You should also avoid heavy and bulky flashlights. The easier they are to carry around, the greater the likelihood of the elderly person using them when needed.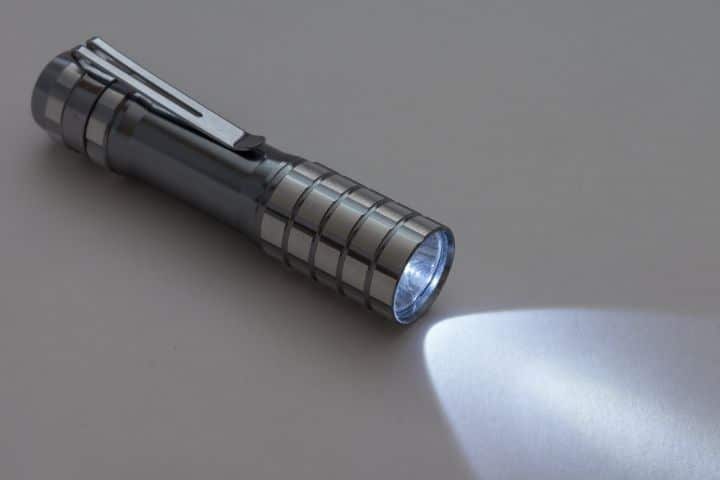 Some flashlights come with electronic lockout mode which should be avoided as a feature in these cases. There might be instances where the elderly may accidentally activate the electronic lockout mode and end up in the dark not knowing how to turn the feature off in the flashlight.
We have identified some of the best flashlights suitable for the elderly.
#1 
Vont 'Blaze' Tactical Flashlight (2 Pack) LED Flashlights
The Vont 'Blaze' Tactical Flashlight is extraordinarily bright and virtually indestructible. With an incredible battery life of 20,000+ hours of LED life span, these proprietary LEDs can vividly light up an entire mountain or road during the darkest of hours.
The flashlight is made from military-grade materials that have passed international pressure, drop, and water resistance evaluations. It can survive extreme abuse which includes freezing and underwater submersion as well as running it over with a full-sized truck.
Having used it personally, we came out very impressed by the build quality and the brightness of the beam. We also loved the feature of being able to focus the beam to a single point, if needed. The Vont Blaze makes for an excellent outdoors flashlight for seniors.
With a gentle tap of the button, you can choose between three brightness modes, SOS and strobe. The latter two should be very useful in case of emergencies, to draw attention. In fact, these are the same set of five tactical light settings that are used by the US Special Forces – Low, Medium, High, SOS, and Strobe.
Given that for the price, you get two flashlights, in our opinion, the Vont Blaze is the best value-for-money flashlight on our list.
Owing to its ultra-light and ultra-portable features, it can be carried around quite easily.
The Vont Blaze Flashlight comes with a backing of a lifetime warranty that covers defects while the flashlight ensures to offer, brightness, quality, durability, performance, and battery life to its users.
Both the batteries come in a convenient pouch with a velcro-close flap. The pouch can be slipped around your belt to be carried on your waist when you are out and about.
Pros
Super-bright so excellent for both outdoors and indoors
The ability to focus the beam helps illuminate a smaller area very brightly
Strobe and SOS modes are brilliant safety features if you need to attract attention
The flashlight has a solid and durable design and can survive extreme usage
Comes with a lifetime warranty
Cons
None that we could think of
You may also like Best Gardening Tools For Seniors
#2 
Coleman Battery Guard LED Flashlight
The Coleman Battery Guard LED Flashlight is highly recommended for the elderly considering its durability and ease of usage. The styles available allow for multiple lumen choices, battery requirements, beam distance, and total runtime.
The shape and size of the light also vary with other versions of the flashlight, giving you options with body design to choose depending on what works best for your requirements.
The Coleman Battery Guard is powered with three AAA batteries. On a high mode, the light emits 350 lumens for a duration of up to three hours along with a maximum beam distance of 300 meters. On the low setting, it emits 10 lumens of light for close to 200 hours and a maximum beam distance of 75 meters.
The flashlight body is durable and offers a lightweight design along with a rubber-edged bezel that protects the flashlight against accidental drops. The Coleman Battery Guard system is designed in a way to reduce corrosion and assist in preserving battery life. It claims to provide a battery life that is 25% longer than other lights available in the market.
The large side switch in this flashlight is quite easy to find and allows the users to turn the light off and on and makes them able to select between the high and low modes easily.
Pros
The flashlight is simple to use
It is durable and has a solid design
Cons
The flashlight is a bit heavy weighing around 15.68 oz without batteries.
#3 
Energizer HC-300 LED Flashlight
The Energizer HC-300 flashlight is tough and durable. It works with 2 Energizer MAX AA batteries that are included with the initial product. The flashlight delivers up to 300 lumens of light catering to a beam distance of close to 115 meters.
Its durable body can withstand multiple drops from a distance of up to 7 meters high (almost equivalent to two storeys). The customized light modes provide a run time of up to 6.5 hours on the high mode and up to 65 hours on the low mode so that the elderly are not caught in the dark.
The pocket-sized handheld flashlight is certified for IPX4 water resistance which means that it can withstand splashing and is ideal for using both indoors and outside.
It also features a smart dimming feature that controls the intensity of light for power-saving abilities. The user just needs to hold down the power button so as to adjust the beam to cater to the desired intensity.
The flashlight has a 175° pivoting head that gives a directional light bean which helps in covering all angles. It has an ergonomic handle and a large button that make it easy to operate even while the elderly are wearing gloves.
Pros
The flashlight is durable
Easy to operate
Cons
Some users may find it to be too small for their usage
You may also like How to Make Stairs Safer for Elderly
#4 
Olight I3T EOS 180 Lumens Dual-Output Slim EDC Flashlight
The Olight I3T EOS Flashlight is a slim tail switch flashlight that is powered by one AAA battery. It has a maximum lumen output of 180 lumens and comes with a high-performance CW LED paired with a TIR optic lens that helps in producing a balanced and soft beam of light.
It also comes with a lightweight dual-direction pocket clip with a slender form factor and that has multiple carrying options like a pocket or getting attached to a hat or a backpack strap. The tail switch can operate momentary on and the shifting through quick mode (5 and 180 lumens).
This flashlight is a convenient illumination experience made of aluminum alloy and can survive accidental drops. Its double-helix body knurls for providing a unique style and a very solid grip for its users. It is IPX8- rated water-resistant and designed to be used in heavy rain.
Pros
The flashlight comes with a dual direction pocket clip
Easy to use and operate
Comes with two brightness modes
Cons
The pocket clip is a bit weak
#5 
EdisonBright Nitecore MT06MD 180 Lumen Pen-Type LED Flashlight
The Nitecore MT06MD is an improved version of its predecessor and is a great product for seniors owing to its ease of use. It includes the Nichia 219B LED which is one of its main features considering that this LED can deliver a high CRI rating.
Because of the high CRI rating, the light can show colors as they are, thereby making it the perfect light for those who suffer from poor vision and have to do up-close tasks.
The flashlight is powered by two AAA batteries which are easy to procure from all stores. It offers only three modes of brightness and always starts up in the lowest of the modes. It is therefore perfect for those who are prone to accidentally shine the light towards them while turning the flashlight on.
This pen-style flashlight is lightweight and can be conveniently used with one hand. It is controlled entirely by a reverse click tail switch and is very easy to use.
Pros
The flashlight always turns on in the low mode
It has multiple brightness levels
Offers easy one-handed operation
Cons
The clip is a bit weak and could have been made a little stronger
You may also like Best Grabber Tools for the Elderly
#6 
Maglite ST3D016 ML51080 3D Cell LED Flashlight
The Maglite ST3D016 LED Flashlight offers superior quality craftsmanship along with weather-resistant seals. It is anodized inside and out to provide improved corrosion resistance.
The flashlight is drop resistant and water-resistant making it reliable, and durable. It includes a diamond knurled design on its smooth aluminum body and a very powerful beam making it suitable to be conveniently used in darker locations. The beam can be suitably adjusted from a spot beam to a flood beam by changing the focus through the head of the flashlight.
It is powered by three D-cell alkaline batteries and can emit a maximum of 168 lumens for a duration of up to 80 hours.
It can withstand impacts and is IPX4 water-resistant. It also comes with a limited lifetime warranty
Pros
The flashlight is easy to use, is durable and reliable
Cons
It is a bit heavy weighing around 30 oz with batteries
Conclusion
So, if you are out to buy the best flashlight for seniors, hands down we recommend the Vont Blaze for its durability, brightness, and lightweight. And it does not hurt when you get two flashlights for the price of one!
Every home should have at least one flashlight on hand. This is especially required for seniors as it not only provides light but also a sense of safety.
Flashlights provide light in case of no electricity and provide better light in poor lighting conditions. One should always look for a flashlight that is reliable and durable making the usage convenient for the elders.