We are often asked: How to cut a bedridden person's hair? We have put together a comprehensive guide for our readers below.
Nearly 4.5mn people in the US use home healthcare services[1]. Many of them are confined to bed and cannot perform daily activities of living.
Most of us have at least one elderly bedridden person in our home. Besides, persons with broken bones or post-surgical issues also need long-terminal bed rest. One of the most common issues caregivers face is cutting a bedridden person's hair to give them a pleasant hairstyle.
Haircare has an essential role to play in upgrading a patient's hygiene. It not only helps their well-being but also improves their self-esteem. Therefore, I have some quick solutions that will help you relieve your dear one quickly.
Most people suffer frictional issues between the bed and their hair. To prevent this scenario, you can shorten the hair, especially from the back of the head. You can also give them a bob-cut to make them look stylish and well-maintained.
Types of Hair Cutting
'Swing' hairstyle is also suitable for a bedridden person. In this hairstyle, the front hair is long, and the back is sharply cut up to the neck's nape. It would be best to focus on the self-requirement and face shape of those bedridden patients when doing the hairstyle.
Hair Cutting Tools
Whatever hairstyle you choose, you need to cut the hair to obtain the exact style. When you get a bedridden patient's haircut, you must have some of the necessary tools to make your job easy.
Some of those handy tools are below mentioned-
Spray water container

Scissor

Comb

Hair clips to fix the hair when cutting

Haircutting cape

Hand towel

Portable vacuum unit

Talcum powder

Lint roller
Sale
Sale
You may also like Best Nail Clippers for the Elderly
How To Cut A Bedridden Person's Hair: Step-by-Step
First, you need to plan the process of cutting the hair of the bedridden patient. If the patient is lying in an adjustable bed, check the space that you will have around the head of the bed.

Also, notice whether you can position yourself behind or both sides to do the job. But if you do not set yourself, you again need to plan to do the haircutting.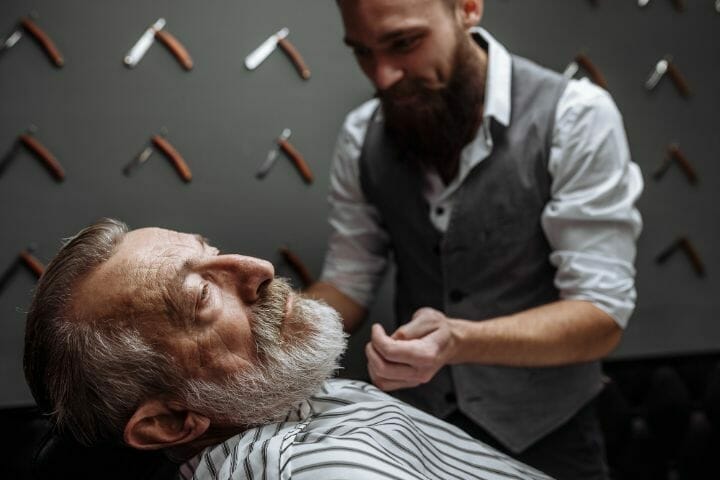 Comb the hair thoroughly to remove all the tangles and separate the hair into multiple sections before starting the haircut. Also, spray some water using your spray container to mist the hair.

Now, start the haircut that you have chosen. Try to follow the guidelines that will help you to reach that specific style.

After you finish the haircutting, remove the towel and cape and use talcum powder to remove the hair particles. It will also help the patient to relieve skin irritation due to those hairs.

Last, you can use the vacuum to suck any further hair that may escape. If you find hair in the bedding, use your lint roller to remove every hair to make the bedding and cloth clean and fresh.

Some Precautions To Follow.
When you are cutting the hair of a bedridden patient, you must control the falling hair as much as possible to make the bedding and clothing clean. If you fail to maintain the hair falling, it may cause skin irritation or itchiness.
Moreover, it would help if you gave more time to cut a bedridden person's hair than you might spend on a regular person. Try to avoid the rush to help both yourself and the bedridden person.
You may also like No Rinse Body Wash for the Elderly
How To Maintain Hair Hygiene
Apart from haircutting, a bedridden patient needs to maintain hair hygiene also. Dry shampoo or no-rinse shampoo is best for the bedridden patient. Alcohol and some of the leave-in conditioners are present in this shampoo to enhance your hair hygiene.
You can spray the shampoo directly on the head to reduce excess oil. Therefore, these no-rinse shampoos are best for temporary solutions. If your patient is too weak to reach the shower, you can use these shampoos.
But remember, they are not suitable for the long-term. Overuse of these shampoos can cause dandruff or overproduction of oil.
Shampooing a Bedridden Patient
Shampooing is another essential task to clean the hair of a bedridden patient. It will give a soft and silky touch to your damp hair.
You cannot always take a bedridden patient to a sink or shower to shampoo their hair. Therefore, you need some towels, a hair cape, a few hair clips, and two spray containers to do the task.
First, fill one spray container to rinse the hair. It would be best if you used a hair comb depending on the hairstyle of the patient. Comb the hair thoroughly to detangle it. Then place the towel between the neck and cape of the patient to make them remain dry.
This is where you can use an inflatable basin that comes in a compact size to help a bedridden patient.
Sale
Now, comb your hair to not only divide them into multiple sections but also to avoid tangles. After that, fill the other spray container with shampoo and warm water to make the procedure more comfortable.
You can spray the shampoo to your scalp and rub gently with your hand to produce a lather. After you finish the process, blot it with a towel thoroughly to make the hair dry completely. This procedure will prevent the bedding and the clothes from getting drenched.
Now, you can apply a leave-in conditioner to make the hair smooth and silky. After finishing the entire procedure, comb the hair to pamper your dear one.
You may also like Best Gifts For Bedridden Person
Tips To Take Care of the Hair of a Bedridden Patient
It is a challenging task to care for an elderly bedridden person. Below are the following tips that you can follow to make your job easy-
Never try to use a heated curling brush to treat an elderly patient. It may sometimes get badly tangled with the hair. Instead, you can use a soft barrelled curling iron to detangle the hair.

Most older women may lose hair after menopause. Therefore, you need to choose a haircut that will match the hair texture to give a bedridden person a realistic and straightforward look.

You must not force a bedridden person to wash or shampoo the hair. Leave it on them and try to prioritize their personal opinion. It will help them to enjoy having their shower and hair care.
When you cut or wash a bedridden person's hair, you must check the room and water temperature to make them feel comfortable. Before applying directly to an elderly, check the temperature with your hand or foot.

Simple and safe hair care products are always preferable. You can choose baby shampoo to avoid burn if it goes in the eyes of the patients. Moreover, a detangling spray or a leave-in conditioner is also a must-have hair care product. In case the bedridden patient is young and wants to look stylish, try to choose gentle products to avoid any convenience.
Try to haircut your loved one whenever he/she feels pleasant and calm. You can play soft music or show some old captured moments to soothe their mood. If he is in anxiety or frustration, try to avoid hair care for those specific moments.

Try to appoint a professional hairstylist to help the bedridden patient with bathing, hair care, or haircut.

Regular washing of hair is not necessary. Frequent washing is okay with bedridden patients. You can use dry shampoo that is available in powder or foam form. It would be best if you massaged them thoroughly in your scalp to make the hair smooth. There are hair deodorizers that you can apply to make the hair smell fresh. Avoid such products that do not require rinsing with water. A good scalp massage can even make them feel relaxed.
Your approach to taking care of your dear one should be different each day. Indeed, perfection is not possible in your every attempt. You can also ask your physician to get more innovative ideas.

Finally, you can often give a fun-loving treat to pamper your elderly patient. You can take her in front of the mirror to see her haircut. She may feel happy to see her groomed hair done. You can also compliment her by saying that she is looking beautiful.
You may also like Best Mattress For Bedridden Patients
In-Bed Washing Procedure
If the patient needs to be confined in bed for a prolonged period, you can use an in-bed washing system to make your job comfortable and easy. It is an intelligent way to make the patient's hair clean and fresh.
You may also like Best Pillow For Bedridden Patients
Final Words
This article comes with complete guidelines on treating a bedridden person to help with the hairstyle. It is not expected that a bedridden patient sits all day with messy hair.
Please go through the entire article thoroughly to get an idea of making your loved one look pleasant and beautiful. We hope these tips and tricks on how to cut a bedridden person's hair will give you the confidence to go ahead and do it.
[1] FastStats – Home Health Care (cdc.gov)
[2] Activities of Daily Living – StatPearls – NCBI Bookshelf (nih.gov)