For most of us, bathing is an essential daily activity that we are so used to that it is second nature for us. We never stop to think about it.
However, for the elderly bathing can be a complicated chore that they might find progressively more difficult with age, as their mind and body both become less adept at managing such daily tasks.
If you have wondered how to bathe an elderly person in bed, let us help you with a few strategies.
Depending on their current level of mobility, there can be different options for a senior's bath. If they are still able to get up and move around, it might be perfectly fine to take a shower once or twice a week.
In such a case, you might want to use a shower chair or a shower transfer bench for ease of bathing.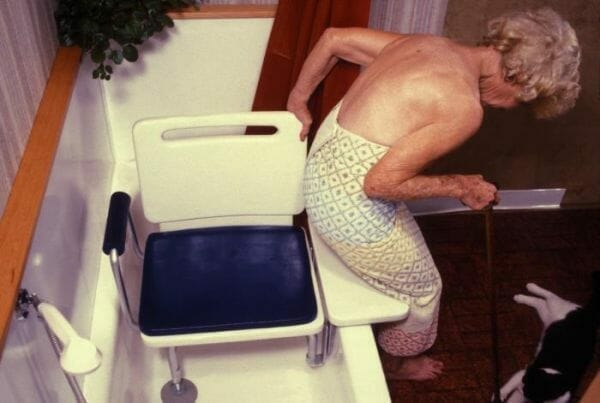 However, for those among them whose mobility is severely restricted, bed baths come to the rescue. With age, mobility reduces and many people lose the will to take a shower or bath. In such situations, bed baths may be a solution.
What Is a Bed Bath?
A bed bath is the process of cleaning a person in bed using water, soap or other cleaning and soothing agents such as gelatin or starch (as recommended by a physician). Depending on the patient's willingness, you may want to give them a bath on bed 2-3 times a week. A bed bath can be interspersed with periodic sponging down for good hygiene.
Bathing is important from the perspective of health and wellness. It keeps the body fresh and healthy. It helps prevent infections and gives a chance to inspect the body for bed sores or other problems. And most importantly it helps a person feel clean and well kept.
How to Bathe an Elderly Person in Bed – Starting Point
When you start to consider bathing an elderly person in bed, first take the time to discuss it thoroughly with them.
Chances are they may have misgivings about it. It would be much better to discuss it upfront before starting off something as intimate as a bath. Patiently hear out any misgivings they may have, address them through dialogue and arrive at the best possible solution.
It is important to approach the bed bath like any other activity of daily living.
If the elderly person under your care is unwilling to have a bed bath, there might be a variety of reasons for it.. Perhaps the loss of a sense of smell or memory has dulled their awareness of the necessity to bathe.
Sometimes, they might increasingly be feeling a loss of control over their lives and want to hold on to this most intimate thing against better judgement, just to have a sense of control.
Some more rational objections elderly people might have against help for a bath might be around the fear of getting chilled or scalded. It can be easily be addressed by using devices like anti-scald valves. Another fear might be that of embarrassment – especially with respect to private parts. In such a case, having a privacy towel may help.
As a last resort, continued strong resistance might be overcome by asking their physician to order a bath, one or two times a week.
During the bath, act natural and make them feel comfortable. In case the person is of the opposite sex, it becomes even more critical that they should feel absolutely at ease with your touch.
At the same time, it is important to try and give them the chance to do as much as possible on their own. They should also feel at ease with the products that you are using.
The body wash, moisturizers, towels and sponges etc. should all meet their approval if they are to accept it as a part of their daily routine rather than a fait accompli.
You may also like Causes of Agitation in Elderly
Giving Bed Bath
Preparation
Put in place a calendar for the baths. Discuss appropriate times and days of the week that your elderly are comfortable with. Make it a regular activity, so that there are minimal surprises for them. Choose days when there are lesser disturbances around the house and budget for at least twice as much time as you think is needed for the bath.
Remove all jewelry. The skin becomes very sensitive with age, any jewelry might end up causing cuts and bruises. Some people also have allergic reactions to certain kinds of jewelry.
Make the room warm. Close all windows in the room to avoid a draft. Set the temperature to normal room temperature or slightly higher. Check with the senior if they are feeling cold. If so increase the temperature further.
Consider purchasing an adjustable bed. This will help you bring the bed up to the right height for a comfortable bath. Purchasing an adjustable bed is a good investment even otherwise if your parents are confined to a bed or have limited mobility.
Inflatable bath basins. Inflatable bath basins allow the patient to have a bath in bed without the discomfort of having to change sheets. It also gives the experience of a proper bathtub.
Place waterproof protection on the bed. Using waterproof mattress pads will help in keeping the bed sheets and the mattress dry after the bath.
Close all doors and curtains. It is very important for your elderly to be able to to take a bath with dignity. Ensure that their privacy is not compromised.
Make sure you can roll them over by yourself. If you can't, bring in one more person before the bath is about to start.
Consider installing bed assist rails. These will ensure that the person will not fall out of the bed during the bath.
Protect yourself. Consider wearing rubber or latex gloves for hygiene, especially if your loved ones have been recently unwell.
Essential products
Below are some essentials that you will need while bathing an elderly person.
Bath towels and sponges (at least 4)
Washcloth (at least 2)
Thermometer to measure the water temperature
Measuring jug
Container for the hot towels
Towel lotion
Soap (mild liquid)
Dry shampoo
Unscented body lotion
Waterproof sheets
A stand to place these items
At least 2 water containers
You may also like Bed Restraint For Elderly
Getting Ready
Check with the senior whether the room's temperature is comfortable for them.
Ensure that the bed is at a comfortable height. If not, you can place your knee on the bed to reach over to the person who is being bathed. Please make sure that everyone is safe at all times.
Put a waterproof mat on the bed to soak up excess water from the bath. It also protects the bed sheets underneath.
Fold towels and place them on top of the stand
Place washcloths above the towels
Add about 2 litres of water to the measuring jug, at a temperature comfortable for the person getting a bath.
Add towel lotion over the towels
Bathing
Ask the person to be bathed to undress. They can put on a privacy towel if needed.
To the extent possible, let the senior bathe on their own first. This helps instill confidence and also makes them comfortable with the whole process. Once they have reached their limit, you can step in to complete the bath.
Wipe them with washcloth and soap, and rinse using a different washcloth and clean water.
Follow a set process of washing. Always start with clean parts and end with the dirtier ones. Keep speaking to the person being washed, explaining to them what you are about to do next so that there are no surprises

Start out with the eyelids, with proper safety.
Then clean the face, neck and ears.
Take the arms one at a time, and next comes the hands
Wash their chest next, then belly and the belly button.
Then wash both the legs one after other.
Next giving proper attention between the toes, wash their feet.
After one side is completed, help the senior to roll over onto their side so that you can clean their other side. In case you can't do this yourself, have someone help you.
Pour the water out (which might be cold by now). Replace it with warm, fresh water.
After this, roll the person over onto their back.
Lastly, using a fresh washcloth, clean their genital area and the anal part.

After this, you may take off your gloves.
Refill the water again and start the process of cleaning their hair
Use dry shampoo and water. Inspect the scalp for any rashes or redness.
After this, apply lotion on the body to protect their skin from dryness. Avoid using lotion over skin folds that may become moist later.
Finish up by helping the person dress and put away all your equipment. Drain out the dirty water and throw away any disposable items.
Check with the bathed loved one if they are feeling comfortable and satisfied with the wash. Make sure to discuss any redness or rashes on the body with them, and find a good medicine or balm to apply on the skin accordingly.
You may also like Best Elderly Care Companies
Final Word
Bathing someone else can be an awkward task because it is such an intimate activity. However, if it is done properly by involving the person to be bathed on each step of the way, it can be a refreshing and comforting feeling for the elderly.
Always keep in mind that the person being bathed needs to be comfortable with everything that you are doing, so that they can enjoy the experience, instead of thinking of it as a chore.
We hope that through this article, we have been able to answer your question about how to bathe an elderly person in bed.
Here we have a Youtube video that demonstrates how to give a bed bath.