Being bedridden is one of the most challenging phases of many seniors' lives. As difficult it is for the patient, as challenging it is for the families-cum-caregivers. As a caregiver, you keep struggling to care for your loved ones while taking care of your worldly responsibilities.
However, there are things you can do to make things a little easier:
Be empathetic
follow a 10-points guideline, and
take benefit of commercial off the shelf (COTS) products
Let's drill down and understand how these things can help both you as a caregiver and the patients go through this challenging time.
The Difficulty of Being Bedridden
She had just turned seventy. Always very active and host to many family events, she has always been a favorite aunt among her extended family, friends, and community.
However, it was catastrophic when she slipped on a concrete surface and broken her hipbone. The doctor declares that she may have to remain in bed for the near future. As bad it sounded, it was the ultimate disaster for a person who had hardly sit in her life.
Being bedridden is one of the most challenging phases of many seniors' lives. It becomes even more challenging if one must spend that time in a hospital.
A state of being bedridden is devastating not only for the patients but also for their friends, families, caregivers, and other loved ones. As time passes, many patients bedridden in hospitals start fearing that it might be a prelude to them being abandoned by their families.
So, many families try to find a way to balance both – caring for their loved ones at home without getting overwhelmed and losing their ways of life altogether.
By having access to the right information, tips, and methods to provide at-home elderly care, families can see that their bedridden loved ones receive the personal care and attention they regularly need.
Also, if families can afford to have equipment such as a special-purpose bed, a portable commode or toilet seat, and oxygen machines, they should avail of them. These sets of equipment may make the life of both patients and caregivers much more comfortable.
Regardless of the bedridden senior's underlying condition, this article shares a few key aspects and a few practical tips that you can consider when caring for a bedridden patient.
Why is Caring Important?
Whether they are constrained to bed temporarily or for a longer-term period, bedridden seniors can benefit from the kind of care they get at home. As more and more seniors want to live in their homes until they die, at-home care gains more popularity and becomes even more critical.
By staying at home, patients can manage to live their challenging days in their private setting – familiar and comfortable home environments.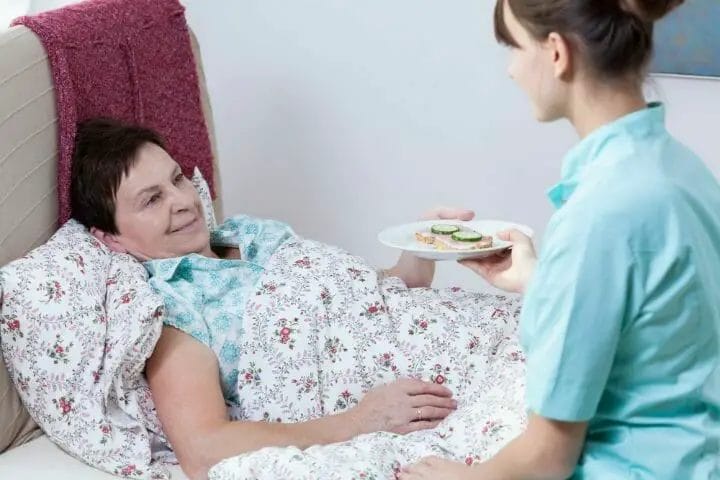 What All Things Are Part of Elderly Care?
Now, when we know caring for those who cared for us throughout our lives is so important, let's look at few basic guidelines that we employ at home while caring for our loved ones confined to their beds.
This 10-point guide will help the at-home caregivers and family members structure the caring routine to help alleviate a lot of their and patient's worries over time.
1. Maintaining proper hygiene
As a caregiver, if you could do only one thing for a bedridden patient, it would be this. Like all of us, bedridden seniors also need bathing and oral care. In addition to that, trimmed nails and hair will give our loved ones a sense of life. It also ensures that they do not inadvertently scratch their skin.
Focus on proper hygiene is a great way to boost the bedridden patient's self-esteem and minimize bedbugs' infestations in the patient's bed. Let's try to go through each of these activities in little more detail:
2. Grooming
The second important aspect of caring for a bedridden senior at home is setting up a grooming schedule. As it is widely known – looking good helps people feel better about themselves. Therefore, grooming is an excellent booster of a patient's self-esteem, self-worth, and self-confidence.
We should also help the bedridden patients shave as per their needs and provide them haircuts regularly. It is because messy and long hairs can become home to lice and other parasites. So, trimmed and brushed hair, beards, and mustaches can prove to be a great way to avoid infestation.
On top of that, a groomed face makes them feel good about themselves.
3. Preventing bedsores
It is another side-effect of being bedridden that the patient may also develop bedsores. Also known as pressure sores, these are skin injuries resulting from prolonged sitting or lying in a single position. A few body parts such as the buttocks, legs, and thighs are significantly more susceptible to develop bedsores. These may also cause the skin to breakdown and break apart.
While in the short-term, these bedsores can be painful and uncomfortable, in the worst-case scenario, if infected, they can develop in major life-threatening complications. To prevent bedsores, one may follow these tips:
Check the most common areas for bedsores – the heels, ankles, hips, and tailbone, and take a corrective step as soon as you find them.
Reposition the patient every few hours, particularly if they are confined to the bed for long continuous hours.
If not sure how to reposition the patient, ask a medical professional. It is crucial because you must avoid injuring the patient or yourself when performing the repositioning routine.
4. Change bed linens regularly
Since bedridden individuals spend almost all of their time in bed than most of us, caregivers should change their bed linens more often. Also, for bedridden patients, bedding can get soiled from food, bed baths, dirt, skin particles, and other debris. Therefore, bedsheets, pillow covers, and blankets must be changed every three days, at least.
While it may sound straightforward, it is critical for a patient's physical and psychological health. So, for health as well as hygiene reasons, keep in mind the following things when changing linens:
A new set of linens should be cleaned appropriately and laundered before use.
Check the fabric for its softness and warmness.
Also, change and wash blankets and comforters as often as bedsheets.
5. Manage nutrition – Diet, hydration, and medication
We may often think that we can give a blended diet without thinking about its nutrition content because the patient is bedridden. That may not be the best approach because even though there is no physical activity, the patient's diet must meet his health requirements.
Let's look at the three most important aspects of nutrition management:
Balanced diet: Speak to the patient's doctor to understand what a well-balanced diet would be. Also, keep a simple record of the meals on your phone so that you can share them with the doctor if any unexpected happens. A well-balanced diet should contain nutrients and calories suggested by the doctor to ensure your loved one remains healthy.
Hydration: To ensure that the patient remains hydrated throughout the day, make adequate water and healthy, non-sugary drinks part of their meal.
Proper medication: As most bedridden patients are also on a cocktail of prescription drugs, following a drug delivery routine is very important. You may want to understand from the doctor how these medicines will work with different food items. However healthy a food item maybe for the rest of us, we must avoid any food item which doesn't go well with the prescribed medicines.
It may not be a rocket science concept, and I may not need to mention it explicitly, but we must follow the doctor's instructions about a bedridden patient's diet in letter and spirit.
6. Create a Comfortable Environment for the patient
With adequate natural light and proper ventilation, comfortable surroundings will play a massive role in the patient's emotional well-being. Sunlight is a natural disinfectant, and therefore, a room filled with natural light will be best for a bedridden patient. Also, having a room exhaust or a room freshener can help circulate fresh air in the room.
Besides, an ergonomic setting of the room will reduce the patient's dependence on the caregiver up to some extent. For example, placing the bed within reach of a nightstand with easy access to an alarm, phone, book, food, and water may help the patient do many things on her own if she is physically capable.
Besides, if the patient can get up from the bed and move around, caregivers must keep passages in and around the room clutter-free.
7. Employ Patience and Empathy
All of us, young or adult, an healthy professional, or a bedridden athlete, are social animals. A good conversation can elevate our moods. We all want a patient ear and empathetic person to hear us and talk to us when we are very feeling very low. The same happens with the bedridden seniors.
The emotional health of a patient is as important as her physical health. Therefore, in addition to arranging for the physical comforts, you should take some time each day to chat with your bedridden loved one.
Nevertheless, we know that caring for somebody can be very difficult. Sometimes, we may feel overwhelmed, lose patience, or feel unappreciated. Those times, we must understand that being bedridden may cause a great deal of anxiety, especially for people who were independent until yesterday.
Prepare yourself mentally for a long haul as it may not pass very quickly. Also, take a few moments for yourself to avoid a potential altercation. Easier said than done, make empathy and patience integral parts of your caregiving experience.
8. Create a schedule and follow it
When your loved one is bedridden, you may not be able to keep track of time while performing many time-consuming tasks. So, keeping to a schedule helps alleviate a lot of future anxieties. While following a routine saves a lot of mental exhaustion and stress, it also helps keep you on track with medications, hydration, eating, and sleep patterns.
These schedules give caregivers time to care for themselves. Also, a routine, proven over time, will increase a sense of safety. Especially for dementia patients, repeatable tasks are very beneficial.
9. Entertainment and activities
If you are reading this article up to this point, I am sure you know that caring for a bedridden senior is an enervating task for you as well as for the senior. Therefore, we must strive to make the "fun" part of the caring routine.
You may already know the type of activities your loved one enjoys. You can fix the time of those tasks in the schedule, so both you and the patient look forward to that time every day. It will give both of you a sense of purpose. These tasks can be, but not limited to:
Reading books or listening to audiobooks
Television and movies
Games – solo or with you
Some artistic activities such as coloring books
10. Physical movement of some kind
If the patient can do physical activities of some kind on his own, he will get a sense of normalcy, even if it is for a small duration. These physical activities may include movements of any body part, as recommended by her physiotherapist or the doctor. To emphasize the point once more, please consult the doctor before you do any exercise with a bedridden person.
Seek Help When You Need It
We may often think we are the only ones who can provide personal care for the person we love. It may also be correct, but it should not stop you from seeking out external help. If you can afford, hire a medical professional to help you with your caregiving duties, even if it is part-time only.
You may join a support group where other caregivers share ideas, tips, and stories about their own caregiving experiences. As you learn from their experiences, you become a better caregiver without going through the same ordeal yourself.
Also, as a caregiver, you may not feel that you have time to take care of yourself. However, please do remind yourself that you are also a human being, not a machine. It would be best if you also had rest and time to rejuvenate yourself.
Therefore, when you are too busy caring for your loved one in her difficult time, you should also seek professional help to take care of yourself if you need it.
Commercial products that may help in caring for a bedridden
While caring for a bedridden senior is a big responsibility, a few off the self-products may ease that burden. A few of these most popular products that you may purchase online are: