Women of all ages deserve to look just as beautiful and strong as they feel. When it comes to their hair, modern mature women are looking for convenience as well as elegance.
If 2020 and the global COVID pandemic has taught us anything as we have been stuck at home, it's how to DIY. After a few months of not being able to go to the salon, people noticed their dead and split ends.
So whether you are an elderly woman looking to cut your own hair or a caregiver looking to cut the hair of a senior, we have you covered.
If you have never cut your own or someone else's hair, it can seem a little daunting at first. This is especially true for those who have been dedicated to their hairdresser for years or even decades.
Rest assured, with some help from a friend or family member, you can easily and safely cut an elderly woman's hair at home.
No matter how mature a woman is, a short hairstyle can provide the elegance and fresh look that a woman deserves.
Benefits of Short Hairstyles for Elderly Women
A short haircut on an older woman not only helps make her look younger and more energized but also brings out her strength. There is nowhere to hide with a short cut and a good short hairstyle can make all the confidence in the world.
Short hair not only opens up a woman's face but also accentuates facial features, such as cheekbones, giving an instant facelift. A mature woman with a softer jawline may look weighed down with a long hairstyle, pulling the face downwards.
Shorter hair expands at the ends, which makes it not only easier to style but opens up the face.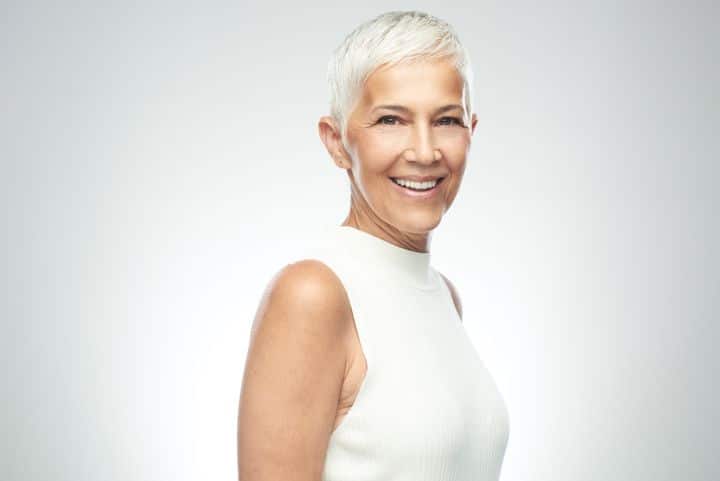 Additionally, short hair can be played with and ruffled, allowing it to appear fuller. For older women feeling self-conscious about thinning spots, a short haircut allows the hair to bounce up (instead of being weighed down), making it appear more voluminous.
Long hair often feels very heavy on the neck, and pulling your hair up away from your face can literally give you headaches. Not to mention it is much more convenient for sleeping on.
Short hair is also more easily managed. Unlike longer locks, short hair is much quicker to air-dry, which also limits the need to harm your hair with heat from a blow-dryer.
Short hair also tends to take longer to get greasy or have oil build-up since you aren't constantly adjusting your hair. Though it might not seem like a lot, the skin of your hands has natural oils that get built up on hair whenever you touch it.
Every time you tuck your hair behind your ear or pull it up into a ponytail or finger-brush the tangles out of your hair, you add oil to your hair. Shorter hair is less frequently touched. This allows women to wash their hair less often, which in turn actually makes it healthier.
You may also like Best Nail Clippers for Elderly
Cutting an Elderly Women's Hair at Home
To keep looking fresh, regular monthly trims help maintain a clean look. Shorter hair has less room to hide, making it more obvious when it is overgrown. Have a friend or family member assist you to make sure everything looks good from every angle.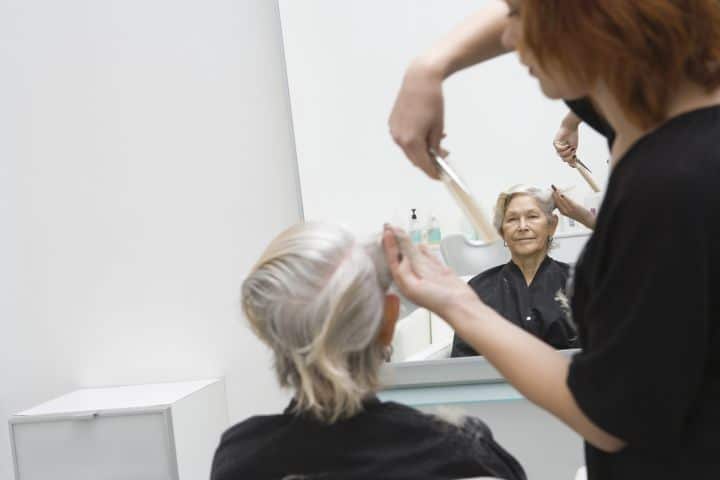 Try to take the same amount of hair off the ends all over, using the general shape of the hairstyle as a reference. It may be easier to first wash your hair or dampen the hair and brush how the hair naturally parts or is worn.
Remember, more hair can always be cut off but it can't be added back. Always err on the side of caution, and take your time.
When cutting someone else's hair, make sure they feel comfortable. Give them a chair that they can sit on for a long period of time. Having them seated also allows you to be able to look at the hair from all angles, including from above.
This helps to not only make sure the hair is cut symmetrically but also allows you to take control.
Drape a towel or bedsheet over the client, tied snuggly around the neck, to prevent hair from getting all over the place. As you make cuts, the hair will drop and slide easily on the sheet and onto the floor to be swept up after the work is done.
Giving the floor an occasional sweep can also help keep the hair contained so you aren't trailing it everywhere you walk.
You may also like No Rinse Body Wash for Elderly
Use Your Fingers
Sectioning hair out with your fingers not only lets you pull the hair taut, but also acts as a barrier between the head and the scissors. Pull a section of hair out taut and look at the angle of the ends. Trim the hair following that angle.
Using your fingers also allows you to have more control. If you are not as confident with clippers and combs, using your fingers to section works just as well for cutting your hair at home.
Using your fingers also allows you to physically feel what you are doing with tools you are comfortable with, giving you better control and better results.
If you are feeling more confident, you can use a comb to help control the hair by using it to pull the hair out taut.
Using a comb to control the hair also brushes the hair as you work, which keeps the hair untangled and giving you a more even haircut with more accuracy than your fingers.
You may also like our article on cream for old stretch marks.
Don't Use Kitchen Scissors to Cut Hair
Invest in some proper hairstylist scissors. Proper scissors are also not hard to find. They can easily be purchased online on Amazon, or in-store at your local Walmart or beauty supply shop.
There is a huge variety and different brands, but buy whatever you feel comfortable using. It doesn't matter how expensive they are if you feel too intimidated to use them properly.
Though everyone wants to grab the scissors that are within reach (usually kitchen scissors), avoid this urge. No matter how much you sharpen them, kitchen scissors are simply not up to par with how precise and thin you need for a clean cut.
You don't have to spend a fortune, but make sure to invest in some well-reviewed scissors that are both sharp and thin.
Thinning shears not only help thin out the ends of thick hair, but also provides texture and volume to short hair. Thinning shears look very similar to regular scissors, only one side has a blade while the other has teeth.
Just like other proper haircutting scissors, these can also be found online or in local stores. The best part about these scissors is that they are forgiving.
You don't have to be as worried about making perfect cuts or precise lines. These scissors give the hair more texture and purposefully cuts the hair unevenly in precise sections, allowing for more depth and lift in short hair.
You may also like our article on Electric Razors for an Elderly Man
Take Your Time
The key to a good haircut at home is patience. Understand that you won't have the flair with the scissors-like your hairstylist and your fingers may feel a little clumsy at times. Just like anything in life, it takes time and practice to get better.
Often if the environment is more laid back, you will feel more at ease to take this task on for the first time. Try not to take it too seriously, understanding that the first time or two you may make mistakes.
Something small like music playing in the background or having chit-chat as you work will help take off some of the pressure.
Remember, it will grow back. It's okay to make some mistakes. You may have to learn which angle works best to pull the hair taut for the hairstyle or how aggressive of angles to make your cuts. Taking pictures as references on where you started and the goal look will help keep you on track.
Short Hair for All Ages
Not only is short hair great at keeping a mature woman looking fresh, but it is also on-trend. Many younger women are also going for a short cut, getting rid of their long locks and completely transforming their face.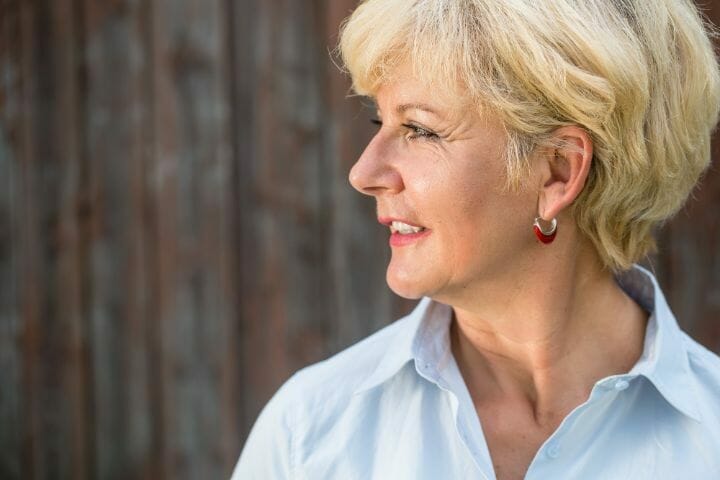 Since short hair is more versatile, there are also more options of hairstyles to choose from.
Understanding your face shape and jaw tautness can often help determine just which short haircut to try. For a rounder face, longer bangs will help narrow the face shape, making it appear thinner.
For those with more of a square or triangular face shape, having choppy layers helps to give the face more depth and softness.
In a world-embracing gender fluidity and reverse roles, hairstyles seem to be embracing the idea that you can be whatever you want to be.
Years ago, women were shamed into feeling masculine with a short hairstyle, and men were shamed into feeling feminine if they grew out their hair. Put on some eyeliner for the elderly to experience the full glam.
Nowadays, men sporting long locks and women making bold cuts seem to be on-trend. The modern world welcomes women to experiment with their hair.
Short hair is also more easily managed, which is an important feature in the modern world where women are taking control and bringing home bacon. The modern professional woman is confident and bold, and often needs a hairstyle that suits the suit.
You may also like Best Laser Hair Growth Device
Find Your Style
Short hair is very adaptable and forgiving. You may cut some layers too short, or need to work on getting the look symmetrical. People often tend to make the mistake of cutting the hair shorter and shorter to try to make it symmetrical.
Little tricks like ruffling up their hair with a pea-sized amount of hair paste will help hide any unsatisfactory sections that you can't seem to control.
This will also help give your hair more of a personality. Some people like their short haircut more spiked and edgy, whereas others may prefer their layers to be more sleek and elegant.
If you are just getting a short haircut or thinking about changing your current short hairstyle, using your hands to mess up the hair really showcases your personality. Take your time and try out different ways to style your short haircut.
No matter if you are looking for a bold and powerful hairstyle or an easily managed 'do', make sure you are happy with it. Get creative, have some fun, and play with the kind of short hairstyle really suits your personality and your style.
For more fun, girly articles for senior women, read how to paint nails with shaky hands, best eyeliner color for older eyes, and how to apply under eye concealer for mature skin.