We have reviewed the best no rinse shampoos for the elderly. If you are in a hurry, the table below gives a quick snapshot. Or you can scroll down for detailed product reviews.
Washing hair may be a problematic exercise for the elderly, especially if your loved one is suffering from a physical or cognitive disability.
Reasons ranging from being afraid of water, not being comfortable with the feeling of water hitting the scalp, or just being unable to take a head shower due to disability, the elderly often find themselves going days without a head wash.
This is where a no-rinse shampoo comes in very handy. In this article, we will be discussing the benefits of no-rinse shampoo, how to use it, and review some of the best no-rinse shampoos for the elderly.
No Rinse Shampoos for Elderly
As a caregiver or a loved one, you should aim to reduce the period between two consecutive head showers of your elderly, as much as possible. There is nothing better than shampoo and water for a great hair wash.
However, to keep your hair looking fresh and smelling nice in between two hair washes, you should explore the use of no-rinse or dry shampoo. Just a word of caution, though – this should only be a stop-gap solution and not a replacement for a full bath or hair wash, as no-rinse shampoos are not able to fully clean your hair of dirt and grease.
Here we have a video featuring the No Rinse product.
What are the Benefits of No Rinse Shampoo?
A no-rinse shampoo is a liquid that typically comes in a foam or pump bottle and is administered to the scalp and hair as a wet foam. The content of the solution ensures that the liquid part evaporates away in some time and leaves a shiny feeling to your hair with a good fragrance.
Needless to say, the most tangible benefit of a no-rinse shampoo is that it can be used without water, and therefore, quite convenient to apply. Further, sometimes you may not be comfortable with the water quality or have no access to a shower, and a no-rinse shampoo will help you skip a couple of full baths or head washes on these occasions
No-rinse shampoos are generally milder, and you can use them on your hair, even when you have sensitive scalp skin. It also prevents dryness of the scalp by acting as a moisturizer for the scalp.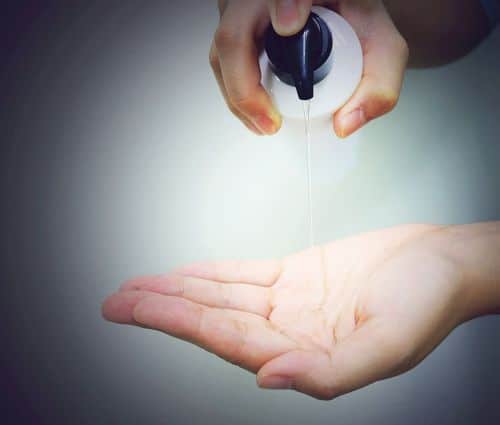 You may also like Best Laser Hair Growth Devices
How to Use No Rinse Shampoo for Elderly?
Being a caregiver or a family member of the elderly person, you should first make sure that the person is upright and in a comfortable position on her chair or on the bed.
There is typically no chance of liquid spilling, however, still, you may want to wrap a towel around the shoulder to avoid soiling of the bed sheet or cloths. It is a good idea to use a comb to disentangle the hair and release any possible knots.
The shampoo can then be directly applied to the hair and scalp – generously enough to cover all the hair. You may also want to spray the shampoo onto your palm and then apply it to the hair.
Ensure to massage the shampoo into the hair roots and scalp evenly and cover the entire length of the hair for the best results. Feel free to use more of the shampoo if needed.
Once done, you should comb out the hair to evenly distribute the shampoo, after which you must gently wipe away the excess foam with the towel. Wait for the hair to dry out. Most no-rinse shampoos will have a mild floral fragrance – this exercise will leave you with nice smelling clean and fresh-looking hair.
What is the Best No Rinse Shampoo?
There are many no-rinse shampoos available in the market and the best one for you depends on your hair type, your lifestyle, and usage patterns. We have reviewed a few of the best no-rinse shampoos below and we hope they will help you choose the correct product for your use.
You may also like How To Cut A Bedridden Person's Hair
#1 No Rinse Shampoo by No-Rinse
The no-rinse shampoo by No-Rinse is a good product for the disabled and mobility challenged and the solution is pH balanced so that it can be applied safely to the sensitive scalp skin. It has a very mild odor and leaves a fresh-looking and soft feeling to your hair after applying. The pack of 2 is slightly more economical than buying a single bottle.
It is claimed by the company that NASA astronauts use this product on space shuttle, where they cannot take showers. The shampoo is alcohol free and moisturizes your scalp which is helpful if you have a dry scalp and dandruff problems. The shampoo has less density than normal shampoo and can be used on your hair along with your hair color without any adverse effect on the color or hair.
While the shampoo does not come with a spray bottle, you can pour out the contents in a bottle of your choice with a good spraying nozzle which will let you more closely control the usage volumes.
Pros
Alcohol free and helps to prevent dryness of scalp
Compatible with hair color and does not lighten color
pH balance makes it non-irritable on sensitive skin
Mild and pleasant fragrance
Cons
On the expensive side, when compared to normal shampoo
Does not come in a spray bottle
You may also like Best Eyeliner For Seniors
#2 No Rinse Shampoo by Rinseless
The no-rinse shampoo from Rinseless is a convenient product for the elderly with mobility challenges and who cannot follow a full-fledged grooming routine.
The lightweight solution does a good job in dissolving and taking out the oil, salt, and grease from your hair and is a good stop-gap arrangement between full-body baths or head showers. The shampoo dries out fast on your head – in less than 10 – 20 minutes, depending on your hair volume and the weather. You may also blow dry your hair and get it dried in much less time – 1 to 2 minutes.
The shampoo does not leave any residue and the fragrance is mild and the elderly will not find the odor aggressive. The shampoo, however, does not come with a convenient foam or liquid dispenser nozzle and you may want to pour out the solution in a convenient bottle for better control on dispensing.
Pros
Effective in taking out grease and dirt from hair
Mild and unobtrusive fragrance
Dries out quickly to give your hair a fresh and clean feeling
Cons
May not have the same effect of clean and fresh-looking hair after couple of consecutive uses
Will not be able to clean out all the oil, if you have an oily scalp
#3 Medline No Rinse Shampoo
The no-rinse shampoo from popular assisted living equipment and product manufacturer, Medline, is a sulfate free solution that can be used both as a shampoo and a body wash. The product is gentle on your hair and has a hydrating effect on your scalp and hair as it is pH and moisture balanced.
The shampoo is free from a lot of potentially harmful ingredients that are there in regular shampoos – like parabens, sulfates, aloe, phthalates, and chemical fragrances – and presents a lower chance of reacting with sensitive skin. This makes this product particularly suitable for the elderly with limited mobility and rarer full baths. The solution also comes in a bottle with a convenient foaming nozzle which helps you use an optimal quantity of the shampoo and makes the bottle last longer.
Pros
Comes in a bottle with a convenient foaming nozzle
Free from parabens, sulfates, and dyes which are harmful for sensitive scalp – less chance of adverse skin reactions
Moisturizes your dry scalp and prevents itching
Good value for money
Cons
Some users have found the odor of the shampoo unpleasant
You may also like Best Electric Razor for an Elderly Man
#4 Welmedix No-Rinse Cleansing Foam
The no-rinse cleansing foam from Welmedix is a gentle and balanced solution that effectively removes oil on your hair, odor-causing germs and bacteria and leaves you feeling fresh and clean for a long. The solution is great for your hair, as well as for full-body cleaning needs like incontinence cleansing, perineal cleansing, and fragile skincare and is a good replacement for a full shower.
The product can be bought as a pack of 3 or a single bottle, with the pack-of-3 being considerably more cost-effective than the single bottle. So, if you like the product and anticipate regular use, we recommend you go for the more cost-effective pack of 3 the next time you place an order. The cleansing foam comes in a bottle with a convenient foaming nozzle that helps you to dispense only the amount which is necessary, and the 150 ml bottle lasts for about 300 pumps. The solution is mild and can be used by caregivers daily to maintain good hair and personal hygiene between showers.
Pros
Can be applied to hair as well as full body
Will not cause irritation to scalp
Effectively removes oil and keeps your hair looking dry and fresh
Comes with a convenient foaming nozzle
Cost-effective when bought as a pack of 3
Cons
Some users have complained about the strong unpleasant odor of the product
#5 No Rinse Shampoo by Nurture
The no-rinse shampoo and body wash from Nurture comes in a bottle with a foaming nozzle and is a shower-free alternative to hair care and personal hygiene. It is good for a sensitive and dry scalp – which is often the case in the elderly – as the shampoo is enriched with aloe vera and vitamin E that moisturizes, repairs, and protects the skin.
It leaves a clean, fresh, and nourished feeling on your scalp and skin after the excess is wiped off with a towel. Due to its mild nature, the product can be used for perineal wash as well without any irritability.
The product has a mild tangerine smell which is sufficient to keep your hair smelling good and mask scalp and body odor. The shampoo comes in a pack of 3 bottles. The bottles have foaming nozzles which makes it really easy to dispense the solution directly from the bottle to your hand or your hair or a washcloth and prevent pouring excess of the solution.
Pros
The foaming nozzle makes it easier to dispense. Makes bottles last longer with the same cleaning effect
Non-sensitizing and can be used for the sensitive scalp as well
Aloe vera gives a lingering feeling of freshness and cleanliness
Can be used for full-body cleansing needs
Good customer service
Cons
On the expensive side – more expensive than normal shampoo
Some users have found the fragrance aggressive
You may also like Best Nail Clippers for the Elderly
Conclusion
No-rinse shampoos are meant to keep your hair fresh and healthy between hair washes and are not a replacement for a good water and shampoo wash. At best it can lengthen the periods between your hair washes.
Nevertheless, once you select your shampoo basis your usage pattern, and lifestyle, you will quickly realize the convenience that it lends you, not having to use water and saving time, while still being able to maintain your hair hygiene between showers.
We also have curated a list of no-rinse body wash for the elderly. Please, visit our page if you find it interesting.