If you have been a power wheelchair user for some time, you would already know that your batteries are the heart of your wheelchair. The heart stops beating and your power wheelchair is just a heavier manual wheelchair. In this article, we will talk about some of the best power wheelchair batteries available in the market.
We will also discuss which aspects to consider while buying a battery for your wheelchair. If you are in a hurry, you can look at the snapshot below for our selection of best power wheelchair batteries.
The Best Power Wheelchair Batteries Reviewed
Depending on your situation, it may not be possible for you to self-propel a manual wheelchair. Also, you may not want to be in a position where you do not have an attendant or caregiver around and your power wheelchair's batteries have died in the middle of nowhere. That would be scary, to say the least.
So, it not only matters a lot to consider battery prowess while buying a wheelchair, but it also matters a lot to know which battery to buy once your initial battery has run its life.
Or, if your wheelchair has come with a single battery, you may want to buy one as a backup (in this case, it is best to buy one that has the same characteristics as your existing wheelchair battery).
Here we have a video tutorial to give you a general idea of how to replace a power wheelchair battery.
Specifications of Batteries in a New Power Wheelchair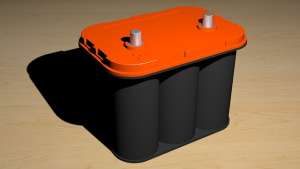 Batteries generally come in 2 configurations: 6 Ah and 10 – 15 Ah. Voltage is 12V. AH stands for ampere hours. It refers to the amount of energy your battery can store. Higher Ah rated batteries will give your power wheelchair a longer range on a full charge.
Wheelchairs which pack 6 AH (12 V) batteries, generally come with 2 batteries, connected in series to produce a 12 Ah (24 V) effect. While the ones with 10 – 15 AH battery come with a single battery, and it is advisable to buy a back up battery to increase the maximum distance that can be covered on single full charge.
What to Consider Before Buying Wheelchair Batteries
Even though your new wheelchair comes with batteries of ranging from 6 to 15 AH, when you are buying a replacement battery you may buy one with a higher configuration of 30 AH – 60 AH to increase the performance of your wheelchair. This will greatly increase the maximum travel distance of your wheelchair.
You have to consider the total charging time for your battery. Obviously, it cannot be taking more than 6-9 hours to fully charge. Otherwise, charging for one full night also would not be sufficient to fully charge your power wheelchair's battery.
Warranty: You should keep an eye on the length of the warranty period for the battery and should ideally avoid buying a battery with less than 1 year of warranty. Also, you may come across some batteries (and battery companies) where you will have to bear the shipping costs if you are invoking a warranty. Shipping costs to avail of warranty may be prohibitive depending on your location.
Weight: The weight of the battery should not bother you till it's is less than 10 pounds. However, for larger configurations of battery, the weight of the battery exceeds 25 pounds and that adds to the weight of your wheelchair. If you have to fold your wheelchair and lift it to the back of your car, this extra weight may be a hindrance.
Dimensions of the battery: You should obviously buy a battery that will fit inside the battery box of your power wheelchair. For the most part, this should not bother you unless you are planning to buy an extra-large battery.
You may also like How to Carry Things in a Wheelchair
#1 Universal Power Group Wheelchair Battery 12 V 35 AH
This pack of 2 batteries are made from absorbent glass mat (AGM) technology that can be used across a wide variety of electric devices. Do check the dimensions of the battery and see if it fits inside your wheelchair battery box.
Pros
One fully charged battery will last for over 20 miles
Warranty of 1 year
Good customer service
Value for money if you have 2 electric devices at home which can run on each of these batteries
Cons
Each battery weighs 23 pounds roughly,both put together, 46 pounds, which will add to your wheelchair weight and reduce range and ease of carriage
#2 12 V 55 AH Wheelchair Batteries by Powerstar
This pack of 2 batteries together weighs 38 pounds and is good for power wheelchairs. They are fairly easy to install and set up. Being leak proof means they can be set up in any direction. While this is an expensive product in its category, users have nothing but positive reviews for it.
Pros
Long range on full range
2 year free replacement warranty
These are anti-leak batteries that can be installed in any position
Cons
A top rated product, just be careful to see if this battery will fit into your wheelchair battery box. Dimensions are 9.02 x 5.43 x 9.13 inches
You may also like How to Keep Elderly from Falling Out From a Wheelchair
#3 Mighty Max Battery ML35-12 – 12 V 35 AH Battery
These are rechargeable AGM batteries (pack of 2) which are anti-spill and hence can be mounted in any position. The batteries will come with only screws, you will have to use your existing connectors and cables. Do check the compatibility of your connectors with those of this power wheelchair battery.
Pros
Battery is able to perform optimally within a wide range of temperatures. Low discharge rate in cold weather
Readily recovers from deep discharge. But you are not advised to regularly let it discharge beyond 20 per cent
Cons
Invoking warranty may be a problem depending on your location. There is a drop off option available at authorized centers which may not be very convenient for you.
#4 Powersonic PS-12120F2 – 12 V 12 AH Battery
This is a single battery with 12 AH capacity that can power your wheelchair for 8-10 miles on full charge. Built on AGM technology, this battery will fit in most wheelchairs and two batteries can be connected in series for 24 V 24 AH output.
Pros
Charges fully within 6-7 hours, even when deeply discharged
Light battery at only 8 pounds
1 year warranty
Cons
Bit expensive product in its category of batteries (12 AH)
You may also like Best Wheelchair Seat Belts
#5
VMAX MB96-60 12 Volt 60 AH AGM Deep Cycle Wheelchair Battery
This is a pack of 2 batteries, built on absorbent glass mat technology. Both the batteries can be connected in series to deliver power at 24 V. Each battery weighs 44 pounds (about 20 kgs). Their combined weight of 88 pounds comes in at the higher end. They are fairly maintenance free, requiring just periodical cleaning of their terminals.
Pros
60 Ah as compared to 55 Ah for other batteries gives a longer range.
Anti-leak batteries and so you can install them in any position
Cons
Given their weight, make sure that the shipping costs are not prohibitive depending on your location
#6 Mighty Max Battery 12 V 12 AH Wheelchair Battery
This battery (pack of 2) is meant for smaller electric wheelchairs with 12 AH capacity and operates at 12 volt (24 volt with both batteries connected in series). Apart from lighter electric wheelchairs, you will find these batteries to be appropriate for powering golf carts, emergency lighting systems and home security systems.
Pros
Weighs only 8.4 pounds and still lets your wheelchair be easy to handle when folded
Smaller and manageable size: dimensions are 6 x 4 x 4 inches
1 year warranty
Good value for money
Cons
You may not be able to revive it if is deeply discharged frequently.
You may also like Best Power Wheelchairs for Outdoor Use
Pulse Chargers
Finally, this article will be incomplete if we do not briefly discuss pulse chargers. You may invest in a pulse charger or a desulfator charger that has the capability to extend the useful life of your battery or charge even presumably dead batteries.
The formation of lead sulphate on the electrodes is the principal reason for dead batteries. Pulse chargers can reduce the size of sulphate crystals formed on the electrodes or thin out sulphate layers on them. Pulse chargers are generally able to work with a wide range of batteries and fully automatic ones are easy to operate.
However, this can be a significant investment as compared to the price of a battery. It should be balanced against the idea of buying new batteries. A pulse charger will set you back by about a hundred dollars. But you will be able to quickly get good returns from it if you have multiple battery-operated devices at your home. You can read more about pulse chargers in our article about how to charge a dead wheelchair battery.
Best Practices for Good Battery Care
It is important to note that wheelchair batteries will mostly have a shorter warranty period than your wheelchair motors or body. Therefore, it is all the more important to care for them and use them properly to max out their longevity. Even then, you must have noticed that batteries hardly last more than 2 – 3 years. The following are some of the best practices you may follow to squeeze out the best performance and life from your batteries:
I know that once you receive your wheelchair, you would be very impatient to get your hands on it and go on a ride. However, for the sake of your new batteries, hold on for a little while to charge them up fully. It may take up to ten to twelve hours for your power wheelchair batteries to fully charge the initial few times.
In the initial two weeks of usage, you should take care to not discharge your batteries by more than thirty percent. This may restrict your activities, especially if you are using your wheelchair for your daily commute to work and do not have a car. However, you may have to take a call vis-a-vis securing a long battery life
It is better to charge batteries every night for long periods (6 hours at least), even if they have not been used much during the day
It is advisable to always use the charger which has come with your device. Using compatible but different chargers may reduce battery life
You should not deplete your batteries by more than eighty percent.
You may also like How to Clean a Power Wheelchair?
Conclusion
Your choice of batteries should mainly be driven by your wheelchair model and the maximum distance that you are generally required to travel. But once you have bought one, make sure to take good care of it, to get as much out of it as possible.