In this article, we have reviewed the best wheelchairs for stroke patients. If you are in a hurry, the table below gives a quick snapshot. Or you can scroll down for detailed product reviews.
If you have been unfortunate to have had a stroke, it is likely that you would be using a wheelchair for some time to come.
Depending on the severity of your stroke and post-intensive-care condition, this period of wheelchair use can extend from a week to several months. It also depends on how well you are responding to various treatments and physiotherapy.
If you are to use a wheelchair for only about a few weeks, it is best that you rent a wheelchair. In case, your doctor has advised you to be on assisted mobility for a while, you may decide to buy a wheelchair for increased mobility.
In any case, this article aims to discuss the key considerations to keep in mind before selecting a wheelchair. We also review the best wheelchairs for stroke patients.
Stroke Afterlife
Your ability to fully recover from a stroke depends on a variety of factors. Some of them are how severe your stroke was and how quickly you received medical attention.
Paralysis or sub-optimal muscle responses, caused because of a stroke, commonly restrict stroke patients to a wheelchair for, sometimes, long periods of time.
However, if you are diligently continuing your physiotherapy (and sometimes occupational therapy) sessions, you are likely to bounce back sooner than later.
You have to remain optimistic during the process and a good wheelchair goes a long way in giving you freedom and helping you recover.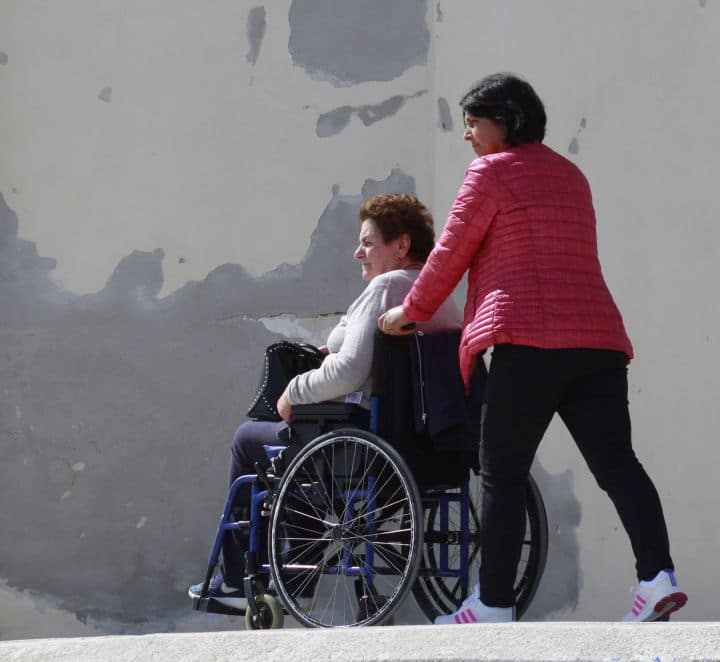 Key Things to Consider in a Wheelchair for a Stroke Patient
Manual or power wheelchair – It is difficult to exert yourself or expend much energy in the recovery period of a stroke. Therefore, you are well-advised to either arrange for an attendant for operating your manual wheelchair or choose a power wheelchair if your budget permits and you can safely operate one. But, unfortunately, you are likely to be not able to self propel yourself on a manual wheelchair. You should discuss your wheelchair options with your physician.
Seating comfort – Seating posture is very important in the period after stroke when you are trying to get back your muscle movements and strength. An ergonomically designed wheelchair with good back support is thus very important for you to be able to get back to your pre-stroke self.
Cushions, leg rest, armrest and calf rest – The presence or absence of wheelchair cushions, foot rests, armrests and calf rests can mean the difference between a comfortable time and a nightmare on the wheelchair. Depending on your post-stroke disability or impaired ability, you may want to specifically scrutinize these aspects of a wheelchair, in order to be more comfortable during periods of longer usage
#1 Medline Transport Wheelchair
This is an extremely popular wheelchair model and comes at a very affordable price point. Very lightweight at only 25 lbs, this model makes it mandatory to have an attendant
Having an attendant is recommended during your post-stroke recuperating period. Unlike self-propelled wheelchairs, transport wheelchairs need an attendant.
Pros
Hand brakes are a boon for the attendant as stopping the wheelchair requires less strength.
Easy to fold and easy to carry when folded.
Made of durable material and can carry up to 300 lbs
Wheelchair dimensions are small enough to go through the standard doors at home
Large rear wheels give better stability to the wheelchair
Cons
Backrest and seat cushions are thin. You may have to invest more in these areas for better comfort.
Requires constant presence of attendant to operate
#2 Karman Ergonomic Lightweight Wheelchair
This self propelled model of wheelchair is extremely light at slightly under 20 lbs and has a maximum weight carrying capacity of 220 lbs. The model comes with hand brakes for the companion and its ergonomic design is expected to reduce the chances of pressure sores from long use.
Pros
Attendant brakes make it easier for the caregiver to stop the chair
Ergonomically designed seat and backrest for greater comfort
Easy to fold and carry around as also to store in the back of a car
Comes fully assembled and you just have to install the footrests
Cons
No model available for seat width of more than 18 inches. You may want to get in touch with customer care to find out whether they can get you a larger model
Not suitable for heavy users
You may also like our article on steps to choosing a wheelchair
#3 Nova Lightweight Transport Chair Model: 349B
This wheelchair is an attendant-mandatory model with smaller front and rear wheels. You may use your legs to self propel yourself (after removing the leg rest), however, this is not advisable for stroke patients. The wheelchair weighs 23 lbs and the maximum carrying capacity is 300 lbs.
Pros
Made of durable material and lightweight
Side arm rest flip back up for easier access to the seat
Anti-tipper wheels included in the price (this prevents the wheelchair from tipping backward when you do not have an attendant)
Good value for money
Cons
No handbrakes for the attendant. Requires greater effort to stop the wheelchair
No cushioning on the seat may not be very comfortable for long periods of use
The wheelchair is a bit difficult to push on carpets and terrain with more friction, due to its smaller rear rubber wheels
Here we have a Youtube video that shows how to assemble Nova Transport Chair.
#4 Drive Medical Self-propelled Wheelchair (Model: Cruiser III)
This manual wheelchair comes with adjustable arm rests for easy access to the seat and swing-away footrests for greater freedom. If you are over 6ft in height and weight anywhere over 250 lbs, you may want to order the mode with the 20 inch seating capacity. The maximum weight capacity is 350 lbs.
Pros
Carbon steel frame adds a lot to the durability and stability of the chair
Lightweight model just under 38 lbs, makes it easy for manual use
Adjustable seat depth will allow addition of extra seat cushioning and still maintain comfortable height for armrests
Available options for seating capacity of 16, 18 and 20 inches to exactly suit your needs. You should take the perfect size for you for the best experience.
Good value for money
Wheelchair allows for back inserts for better back support
Comes with a calf muscle support in higher-end models, for better leg support
FDA cleared safe wheelchair
Cons
Built-in seat cushioning may not be sufficient for long-ride comfort.
You may also like our article on Choosing Furniture for Wheelchair Users
#5 Porto Mobility Ranger Portable Power Wheelchair (Model: D09S)
This product weighs only 48 lbs with battery and is meant for lighter passengers with maximum weight capacity being 265 lbs. The seat size is comfortable at 20 inches and the product is powered by a dual motor system.
The rear wheels are made of solid rubber which help to create traction with smoother surfaces and are smaller than the competing products with a diameter of only 9 inches. The smaller rear wheel may reduce distance covered on one full charge.
Pros
Comfortable ride quality
Good suspension mechanism for shock absorption
Also comes with a travel bag for ease of carry when folded
The wheelchair arrives assembled. One just needs to install the joystick to be able to start using it
A dual 500 W motor system provides for better power and stability
Good customer service
Cons
1 battery is included in the price, though wheelchair has provision to run either on single or 2 batteries. An extra battery will cost an additional couple of hundred dollars
May not be suitable for heavy users
#6 Bangeran Electric Wheelchair (Model: D09 Remote)
The product is dual motor powered and comes with a blue-tooth enabled remote control. It has a single 13AH (bigger size) lithium ion battery with a maximum range of 13 miles on one full charge at top speed of 4 miles per hour. The total weight of the wheelchair is 69 lbs with battery.
The XL version of the wheelchair has a 19.5 inch wide seat. The product is easy to fold with a one-step action and can stand upright by itself when folded. Maximum weight that can be supported by the wheelchair is 360 lbs.
Pros
Larger rear wheels (13 inches diameter) adding to ride comfort
Bluetooth remote controller for remote access
Reasonably priced at the mid two thousand range
Cons
Shock absorbing mechanism on front wheels need improvement as it ride quality becomes bumpy on uneven surfaces
Rear wheels are inflatable and requires regular checking for optimal air pressure
You may also like our Guide on Getting a Discount on a Wheelchair (even getting it for free)
#7 Bangeran Folding Lightweight Electric Wheelchair
This is an extremely lightweight mobility device with a total weight of 40 lbs and is a good option for you if you are a relatively lightweight user. Maximum carrying capacity is 265 lbs and seat width is 18 inches in the standard model.
Pros
The wheelchair is narrow and compact and will go through most of your doors at home. This will eventually save you a lot of money which would have been otherwise spent in modifying your house for wheelchair access.
Easy to fold and carry when folded (you can handle it with minimum stress if you do not have an attendant present)
Very lightweight and easy to maneuver with the joystick
Remote control access to bring around wheelchair from a distance
Good value for money
Cons
Only one wheelchair battery is included in the price, which will give you maximum mileage of 12 miles on full charge. This may not be very important to consider as stroke patients are not expected to drive for long distances
Seating comfort could have been better. Wheelchair uses very thinly cushioned seats
#8 Sentire Med Forza Power Wheelchair (Model: FCX Deluxe)
This model comes with dual motor powered technology (2 x 250 W). The chair weighs 67 lbs with batteries (60 lbs without batteries) and has a maximum carrying capacity of 350 lbs. Default model comes with a seat width of 18 inches.
Pros
Good suspension mechanism on wheels allows for better comfort during rides. You will be able identify the difference on rough terrains
Height of back rest is adjustable according to your height
Price includes 2 batteries which will give you mileage of over 20 miles (You will hardly need this much mileage. Your physician would not recommend travelling long distances)
5-speed option on the joystick panel allows for easy control on speed
24 inch overall chair width with seat width of 18 inches lets you pass through standard sized doors
Dual motor technology for more stability
Easy to fold and move along while traveling. Comes with a carrying bag
Cons
Joystick cannot be automatically shifted for left handed use. You will have to contact the help desk in advance if you want a left handed device. Otherwise, by default, the device will be configured for right handed use.
You may also like our article on choosing comfortable wheelchairs
Conclusion
All the above wheelchairs are FDA compliant and cleared for safety standards. Since attendant is mandatory in your post stroke recovery period, you may do better to get a manual wheelchair if your budget is limited.
In case your mobility has not been severely challenged due to the episode, a good power wheelchair will also serve your purpose really well.