Considering getting a power wheelchair for yourself or your elderly loved one? You've probably browsed the Internet and found yourself overwhelmed with too many choices and options available.
Were here to help! This comprehensive guide on choosing an electric wheelchair will run you through essential questions to ask and things to consider, such as design, activity needs, and even insurance coverage before you purchase a power wheelchair.
Freedom to go wherever we want to is one of our basic needs. Sometimes, we may take this freedom for granted until we don't have it anymore. Americans got a glimpse of that with travel restrictions post the tragic events of September 11, 2001 and more recently, the COVID pandemic.
Many elderly people and people with chronic health conditions like spine injury, Multiple Sclerosis, etc. may experience this lack of freedom, day in and day out. This is where a good power wheelchair can transform the lives of your family and friends with limited or no mobility, and in turn make the lives of their near and dear ones a tad easier. In this article, we answer the question, how to choose a power wheelchair?
Power Wheelchair or Manual Wheelchair
When starting out, you have to decide whether you want to buy a manual wheelchair or invest in a power wheelchair. Using a good manual wheelchair gives you freedom in mobility to a certain degree. But it will still keep you dependent on a companion or caregiver to a large extent, especially if you've low upper body strength.
How Do I Know if I Need a Power Wheelchair?
A powered wheelchair, also called a motorized or electric-assisted wheelchair, is a form of a power mobility device to help individuals keep their independence in mobility.
Here are some questions to ask to know if a powered wheelchair is suitable for the user:
Is the older adult unable to propel a manual wheelchair using his or her hands or feet?
Is propelling a wheelchair or walking not advisable for the elderly adult?
Does the senior have musculoskeletal complications like arthritis or are prone to having injuries to body parts due to stress after repetitive movement (such as carpal tunnel syndrome)?
Does the elderly have low endurance and the functional ability to propel a manual wheelchair independently?
Does the elderly adult show a progressive functional loss, making powered mobility an excellent energy-saving option and the right choice in the long run?
Will a power wheelchair improve the older person's independence and participation at home, work, or the community?
Does the senior have enough cognitive and perceptual ability to operate the device safely?
Does the elderly or the caregiver show responsibility for the care and maintenance of the equipment?
Is the senior's home accessible for the use of a power wheelchair?
If you answered yes to most, if not all, of these questions for yourself or a senior, then it is likely that getting a powered wheelchair is recommended for you or your loved one. But it is still crucial to ask your general practitioner or an expert such as an occupational therapist (OT) or physical therapist (PT) before purchasing.
These professionals evaluate the user's medical needs, goals, routines, and their environment. These are then matched with the most appropriate wheelchair type, control mechanism, features, and accessories. A good fit is determined to enable the user's optimal participation in day-to-day activities.

A power wheelchair allows you to travel without putting a lot of effort and provide you with various power options for seating like recline, tilt, stand, etc.  It also gives the user a feeling of driving and maneuvering an automobile, albeit at a much less speed.
Moreover, if you like to be out and about, a power wheelchair will help you navigate ramps and other difficult terrain with relative ease as compared to a manual wheelchair.
In a nutshell, you should get a power wheelchair if your condition can be described by the following:
You need help in getting your standard wheelchair pushed
You need assistance with your wheelchair from a caregiver when traveling
You have a frequent air travel itinerary and find it difficult to use a manual wheelchair
You have a need to go long distances locally in your wheelchair on a regular basis
If you have a mobility condition that prohibits you to use a standard manual wheelchair or to use a manual wheelchair safely, a power chair can help increase your mobility while reducing risk of injury. Your decision of buying a power wheelchair will be influenced majorly by your doctor's and healthcare therapist's recommendation.
You may also like Best Power Wheelchair Batteries
8 Important Considerations When Choosing a Power Wheelchair
Powered wheelchairs come in several designs and allow for varying degrees of programming and customization.
#1. Design
Older, traditional power wheelchairs look like standard wheelchairs that look bulkier due to the motor, control systems, and batteries. Newer designs have a power-base where the wheels are separate from the seating components. These platform-model power wheelchairs look like seats atop a power base.
These types are sturdy, making them a good option for full-time wheelchair users, both for indoor and outdoor use. These designs also offer ease in customization to accommodate the changing needs of the user. There are three types of power-base designs:
Rear-wheel drive
These have four wheels, with two drive wheels at the back and two caster wheels in front. This type offers better traction since all the power comes from the back. This allows the wheelchair to propel better over rough surfaces while providing great stability and easy maneuverability.
They also have good shock absorption, which provides users a smooth driving experience. On the other hand, having smaller wheels in front make it hard for this type to go over obstacles and curbs. At the same time, rear-wheel drives require a much larger turning radius than the two types.
Front-wheel drive
Like the rear-wheel drive, these types have four wheels. However, the two drive wheels are situated at the front while two smaller caster wheels are at the back. This arrangement gives these types an advantage in climbing heights compared to rear-wheel drives. These wheelchairs can climb up easily in curbs and bumps that are up to 2 inches high.
Also, having the drive wheels situated in front makes this type useful for different kinds of terrain. However, one downside of this arrangement is that it makes it a little tricky to learn to drive at the start. Front-wheel drives also have a larger turning radius than mid-wheel drives. Despite that, having the drive wheels in front makes it easy for this wheelchair to navigate tight spaces.
Mid Wheel Drive Electric Wheelchairs
Mid-wheel drive power wheelchairs are also known as "center drives." Mid-wheel drives have six wheels, with two drive wheels at the middle and two pairs of caster wheels on either end. This design places the user's center of gravity is directly over the drive wheels making it the most stable and the most comfortable type to maneuver.
It also requires the least turning radius of the three types, making it suitable for small houses and apartments.
The downside to having 6 wheels is that the user feels more bumps due to more wheels in contact with the surface. Also, it works best on flat surfaces and doesn't maneuver well over soft and rough terrains.
Mid-wheel drive power wheelchairs aren't easily transportable, and a vehicle lift or an accessible van may be needed to transport the device from one location to another.
#2. Terrain
Electric wheelchairs that are equipped with large strong tires can go easily on uneven terrains like grass, dirt, or sand. There are others with smaller wheels that can go nicely indoors or on pavements, with a small turning radius.
Indoor
These are usually easy to fold and fits in the trunk of a car. They are used in the home or places with smooth flooring.
Outdoor
Since these types are for outdoor use, they have larger wheels and a suspension system for a comfortable drive. They may also be used indoors but may be too bulky to fit hallways and doorways. We have a separated review on best power wheelchair for outdoor use.
Indoor/Outdoor
Some types can be utilized for both indoor and outdoor use.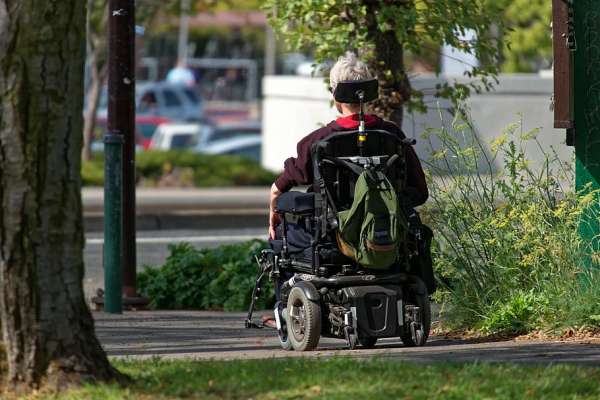 You may also like Best Wheelchair for Scoliosis
#3. Activity Needs
Power Wheelchairs Meant for Travel
Power wheelchairs meant for travel are portable and compact, making them good options for those who are on the go. Their size also allows easy maneuverability allowing easy navigation in small spaces.
Folding Electric Wheelchairs
Folding electric wheelchairs are mostly rear-wheel drive that have sling seats. This allows for easy storage and transport.
Standing Power Wheelchairs
Standing electric wheelchairs allow the user to stand while being fully supported. It offers pressure relief and benefits physiological processes such as circulation, breathing, and digestion. It also allows face-to-face interactions, providing the user with a natural experience during social interactions.
Lightweight Electric Wheelchairs
Some power wheelchairs are lightweight. These types are usually made of light materials like aluminum. They are portable, easy to lift and maneuver. Some lightweight wheelchairs are designed to be disassembled for automobile transport.
Heavy-duty Power Wheelchair
These types are designed to carry larger and heavier individuals. They could carry up to 650 pounds. For tall people, height adjustment options, as well as options to adjust the wheelchair arms and footrests, are also crucial to ensure safety and comfort while traveling on the wheelchair.
Recline and Tilt Power Wheelchairs
These types are for those who need assistance in repositioning themselves, need pressure management, or get fatigued with prolonged sitting. Wheelchairs with this feature are most suited for those who spend much of their time in a wheelchair.
Reclining types allow seat-to-back angle changes to more than 90 degrees. A reclining wheelchair's backrest can be adjusted backward and can extend close to a fully flat surface. This allows users to adjust their position without having to leave their wheelchairs.
Tilting types have fixed seat-to-back angles but the seating system can be tilted up to 45 degrees. This allows the chair to change its orientation in space, but not the position. This feature enables a reduction in pressure in the buttocks and prevents friction and shear.
Recline and tilt. Some wheelchairs have a combination of both functions.
#4. Drive control
Power wheelchairs are usually driven using one of these two options:
Proportional
A joystick is most commonly used for this type of control. Here, the direction and speed of the wheelchair are linked to the magnitude and angle of the displacement of the joystick. Proximity sensing devices that detect head movement can also be utilized where head movement serves as a joystick. Here, the user's head displacement determines the speed and direction of the wheelchair.
Discrete control
For this type of control, microswitches are utilized, where each switch activation triggers a preset or programmed direction and speed. While these micro-switch systems require less skilled movement compared to proportional control, they are also less precise.
It might also take a while to learn to navigate using this control compared to the more intuitive proportional control. This control utilizes body parts such as the hand, arm, chin, mouth, lips, tongue, and even breath (sip-and-puff) to activate a microswitch to move the power wheelchair.
You may also like How to Get a Wheelchair Up and Down Stairs
#5. Batteries
Power wheelchairs utilize 24 volts deep cycle batteries, which discharge power over long periods. You need to know how fast the wheelchair battery charges and how long does the battery hold its charge in idle condition. You also need to understand what is the maximum distance that the wheelchair can travel on full charge of the battery.
There are some options where a wheelchair can use two batteries that can increase the maximum travel range significantly.
There are three types of batteries when it comes to electric wheelchairs:
Lead-acid
These types are cheap but require special handling, especially for airline transportations.
Gel
Compared to lead-acid, this battery does not have liquid and is more expensive than lead-acid types. They are, however, more preferred for air transportations and have longer life cycles.
Absorbent glass mat (AGM)
This type is the most expensive of the three since they last longer and are also safe for airline travel.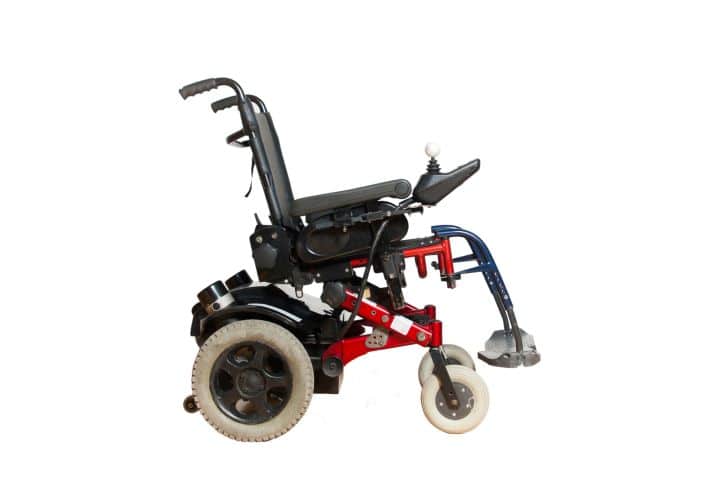 #6. Warranty and after-sales service
When it comes to a power wheelchair, there are many moving parts, literally. And as time progresses, they tend to break down with wear. We always recommend going with brands that have a generous warranty and good after sales service, specifically in your area.
#7. Any optional accessories available
Since you will spend a lot of time the wheelchair, few accessories given below can make your life more comfortable:
Joystick with waterproof cover
Holder for cups
You may also like Best Electric Wheelchair Seat Covers
#8. Classifications for Insurance (Medicare)
Power wheelchairs are also classified into groups or levels depending on the features they offer, such as stability, speed, terrain capabilities, seat functions, etc. Medicare and other private insurances utilize these classifications for wheelchair coverage. Medicare covers up to Group 3 categories; however, some private insurances cover up to Group 4.  
 Tip: If you are planning to get a high-end wheelchair and want to have it covered by insurance, it is necessary to:
look for a DME vendor who is enrolled in Medicare, and can provide a higher level wheelchair
secure documentation from a "licensed mobility practitioner" such as a physician with an appropriate specialization, a physical therapist, or an occupational therapist
ensure that the DME has a certified Assistive Technology Practitioner (ATP) onboard
While it is the expert's role to do an assessment of your loved one's condition, being mindful of their condition will help you plan and make proper decisions regarding the purchase, whether or not you are eligible for coverage. Included in this section are the features that each group offers and the essential things to consider with regard to your loved one's condition:
Group/Level 1
The most basic model of wheelchair
Offers a small turning radius, making it suitable for use in the home
has the lowest battery life of all the groups, making it suitable for use in short to moderate distances
Does not offer powered seat functions like tilt and recline and alternative drive control system
Offers basic seating; no add-ons for extra stability
portable and can be assembled and disassembled
Things to consider:
Not for clients who require aid in postural stability or pressure relief
Only a standard joystick control is available. Thus, the user must have the capacity to maneuver the device
 Group/Level 2
Has a strong battery life and can drive longer distances at increased speeds (~4mph)
has stronger power bases than devices in group 1 and are more durable
Usually available in front or mid-wheel drive options, which offer better navigation, maneuverability, and stability.
Can manage uneven terrain and some obstacles
No alternative control system features; however, joysticks can have limited programming capabilities
Usually offers captain style seating designs
Seating design does not offer positioning (tilt and recline) and skin protection features
Things to consider:
This equipment is not considered complex rehab technology (CRT) and does not require evaluation/justification from a physical or occupational therapist. A written order or justification from a physician and purchasing from a durable medical equipment (DME) supplier and both enrolled with Medicare would suffice.
Not suitable for clients who require more significant support, pressure relief and have no capacity controlling a standard joystick
Group/Level 3
its batteries last all day and offer higher speeds (~6mph), allowing trips with longer distances, such as navigating in the community
has a good suspension system, allowing for smoother drives both in indoor and outdoor use. Smooth rides also cause less fatigue and cause fewer vibrations, which may trigger spasticity
Offers a better climbing capability than groups 1 and 2
Offers power seating functions such as powered tilt and recline, elevating leg rests, and adjustable seat height
Allows use of alternative control system
Available in front-, mid-, and rear- drive options
Things to consider:
Based on Medicare guidelines, to qualify for group 3 power wheelchairs, clients must have a: neurological diagnosis, myopathy, or a congenital skull deformity. Common diagnoses include: Stroke with hemiplegia, Spinal Cord Injury (SCI), Traumatic Brain Injury (TBI), Multiple Sclerosis (MS), progressed Parkinson's Disease (PD), Amyotrophic Lateral Sclerosis (ALS), Cerebral Palsy (CP), Osteogenesis Imperfecta, and Muscular Dystrophies
Despite having strict Medicare guideline, practitioners (GP, PT, and OT) can still try to provide proper justification and documentation if it meets the users' needs or if it is medically necessary. This may result in approval by Medicare or other private insurance companies
Requires an assessment from a PT/OT and a certified ATP in addition to documentation or written order from a GP
Group/Level 4
Improved suspension systems that offer safer rides across all terrains
Most suited for users with active lifestyles
All power functions are available, such as power tilt, recline, seat height elevation (up to 14"), leg rest elevation
In addition to the features of group 3 devices, a standing feature is available
Offers functional benefits such as improved participation in daily tasks such as toileting, self-care, meal preparation, etc.
Offers medical benefits in physiological function such as bladder control, breathing, range of motion, spasticity, pain, and pressure management.
Offers psychological benefits of meeting people face-to-face
Things to Consider:
Medicare does not cover these types. However, clients may choose to pay the difference not covered by the insurance out of their own pockets if they feel that the device best meets their needs.
You may also like Rain Covers for Electric Wheelchairs to Keep Them Dry
Using and Taking Care of your Power Wheelchair
Power wheelchairs are significant investments in terms of money. When you get one, please do spend the time learning how to use it well. It will help you get the most out of your power wheelchair and make your life much more easy.
If they are taken care of well, you can extend your power wheelchair's life by a couple of years and save yourself a lot of maintenance headaches. Simple steps like regular cleaning of your power wheelchair and timely preventive maintenance can go a long way in extending its life.
Our Conclusion on How to Choose a Power Wheelchair
When it comes to choosing a power wheelchair, there are a plethora of options available out there. The final product that you choose really depends on your usage, specific needs and tastes.
Make a list of the criteria most important to you, go through the options and take the time to discuss it with your doctor or therapist and your near and dear ones before making the final decision.
Happy mobility!