Smart speakers like Amazon Alexa or Amazon Echo (or just Alexa) and Google Home have become extremely popular in the last 5 years. In the US alone, over 110 million smart speakers were in use in 2019 beginning1 and Amazon had sold more than 100 million such devices worldwide2.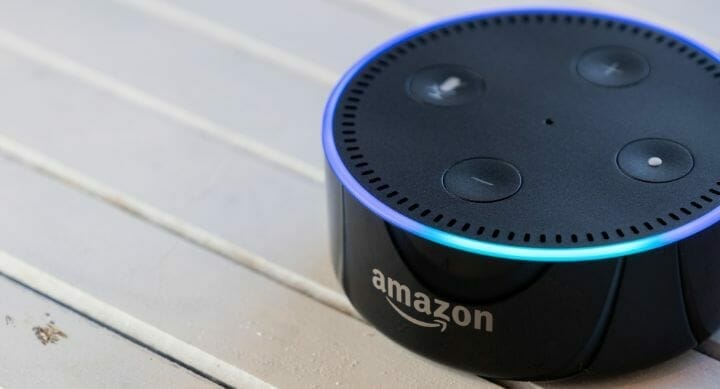 The reason for the popularity of smart speakers is that the voice control platforms are incredibly easy to interact with, once you have set up the device in your home. Particularly for the elderly, Alexa can turn out to be a really helpful and convenient assistant with its high repertoire of skills.
Is Alexa Good for the Elderly?
Without a doubt, Alexa enables unparalleled convenience in the life of the elderly. This article will discuss how to set up Amazon Alexa and about the benefits of Alexa for the elderly.
It basically acts as a voice interactive system and can take human voice instructions to execute simple orders, which adds to your convenience in daily activities. It can also serve as a hub for a variety of IoT devices like smart lights, smart locks, smart heating systems to name a few.
What is Amazon Alexa or Amazon Echo?
Alexa is an artificial intelligence-powered virtual assistant, developed by Amazon Inc, and the technology was first incorporated in the Amazon Echo smart speakers.
While these speakers are primarily music-playing devices, their abilities have been greatly expanded by the skills that Alexa has gradually acquired over the last few years (meaning the technology is evolving and adding to Alexa's capabilities). Just under 70 percent of smartphone users in the US own Amazon Echo3.
You may also like How to Keep Seniors Safe on the Internet
Do You Need a Smartphone and Wi-Fi to Use Alexa?
The short answer is yes for both. Though smartphone can also be replaced by a tablet device. The first time you had be setting up the device for your elderly parent, you would mandatorily need a smartphone or tablet, but can do without them once the system is configured and Alexa is connected to the Wi-Fi.
However, every time that you would want to enable an Alexa skill, you would need the smartphone to make the required configuration adjustments. It is to be remembered that for Alexa to be able to interpret your instructions it must be connected to the internet through the Wi-Fi at all time.
The device is smart enough to automatically check for updates over the worldwide web and upgrade itself to add to its list of skills (as per new capabilities added by the technology team at Amazon Labs).
How to Set Up Alexa for the Elderly and How Does it Work?
Setting up Amazon Alexa is fairly easy and Alexa is smart enough to guide you through the process. You would need a smartphone or tablet to complete the process. Follow the steps below:
The first step obviously is to download the Alexa app (compatible with both iOS and Android) on your smartphone and open it. At the same time plug in you Amazon Echo device and wait for the blue light on the device to stabilize and turn yellowish orange to indicate your device is in set up mode
On the app, to add new device, select devices and click on the 'plus' sign on the top right corner. Select 'Add Device' and select your device type: 'Echo', 'Echo Dot', 'Echo Plus' etc. Depending on your device there may be one or two further prompts to update the device recency.
Once your device is plugged in and echo appears on your phone, you will be prompted to go to your Wi-Fi settings. You should select the network called Amazon followed by 3 alphanumeric characters.
The next step is to use the Wi-Fi network that Echo will connect to. Once you have done that, you will also be prompted to select the type of room that you are setting Alexa up in. This should be the last step and your Alexa is set up!
Throughout the process, Alexa will guide you with voice instructions.
The trigger word is 'Alexa'. Upon hearing this word, the device gets activated and listens to the instructions that follow the trigger word. There are a plethora of skills that Alexa is capable of. However, in order to enable these skills, the app has to be correctly configured and the correct permissions will have to be set up.
Here we have a video that demonstrates how to set up your Amazon Echo.
How is Amazon Echo as a Speaker?
The Echo speaker has enough power to fill even your larger rooms with the music that you love. It is sufficiently powerful for most indoor uses and music types. The speakers have 350 Watt power and a sub-woofer that is very effective when compared to this range of speakers.
The speakers also have the capability to listen to the music that it generates and adjusts itself to fit the surroundings and the type of room that it is placed in. Newer models of Echo, like the Echo Studio have better speakers which makes it suitable to play 3D audio content like Dolby Atmos.
To access the music content that you already have access to – for example, your phone music content, playlists and libraries on Pandora and Spotify – you just need to setup Alexa as a Bluetooth speaker, and pair it with your phone.
You may also like Best Intercoms for the Elderly
How is Alexa Helpful for Seniors?
Alexa can be enabled to work with few skills and depending upon the skill, this may require you to link other accounts or apps.
Find Your Phone
This is one of the most useful features for the elderly – they may often forget where they have kept their phones. You need to identify the correct skill by searching in 'skills and games' for Find Your Phone skill and enable it.
You also need to link your amazon account with the app. The first time that you would ask Alexa to find your phone, Alexa will ask for your phone number. For security reasons, you will be sent a 4-digit code at your number.
You have to read it out to Alexa, and she will authenticate the code. Once authenticated and set up, when you say 'Alexa, find my phone', Alexa will call on that number so that you can locate your phone.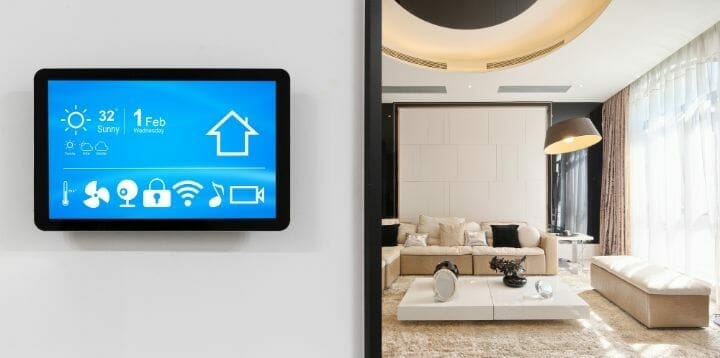 Control Room Temperature
If you have installed a smart heating system, most likely it can be integrated with Alexa. You should look for instructions on the app of the heating system and Alexa will have to have permission to this app. Once it is set up controlling the temperature of your room will be as easy as saying "Alexa, reduce the temperature by 5 degrees" or "Alexa, maintain the temperature at 75 degrees Fahrenheit".
Identifying Groceries for Visually Challenged
One of the latest additions to Alexa's skillsets, the Show and Tell feature is specifically designed for people with blindness or low vision. The elderly often have low eyesight and are expected to benefit from this feature.
Using a combination of computer vision and machine learning, Alexa is able to identify cans, boxes or in general, packaged items, when they are held in front of the camera of a display unit, with which Alexa needs to be integrated.
Alexa also guides you to place the item correctly in front of the camera if the label of the packaging is not visible in the position that you are holding it in.
You may also like Apps To Check On Elderly Parents
Control Your Lights
This is a high utility feature for the elderly. If your home is enabled with smart lights, Alexa can be integrated with the smart light app. Once done, you can just tell Alexa to switch off the light in the kitchen or upstairs, without having to physically go and switch it off. If your smart light has different intensities or hues, you can use Alexa to change these aspects as well.
Calling a Cab
Once you have integrated Alexa app with Uber, and allowed Alexa the required permissions, you can just place your request as "Alexa, book an Uber". Just check Uber app for a confirmation of the ride.
Find a Handyman
TaskRabbit is an app that allows to book handyman for different household repair jobs. Once you have integrated TaskRabbit app with Alexa, you can just ask Alexa to use TaskRabbit to book a carpenter or plumber for the coming Monday. This is really useful for the elderly, particularly if they are staying alone, and as a caregiver or family member, you should integrate the two apps as one of the first priorities.
You may also like Best Android Launcher For Elderly
Make Phone Calls
Making phone calls was one of the earlier skills that Alexa acquired, and this lends a new level of convenience for the elderly to make calls just by giving Alexa instructions. When you allow Alexa permission to look through your contacts, you just have to tell Alexa which number to dial. You won't even have to pick up your phone and talk on the speaker once the call gets connected.
Reminders
This is a great skill to explore, particularly for the elderly who may have difficulty in remembering to take their medicines or otherwise, other routine activities. You can set a reminder by just saying "Alexa, remind me to call the doctor at 12 noon" or "Alexa, remind me take my medicines at 10:00am".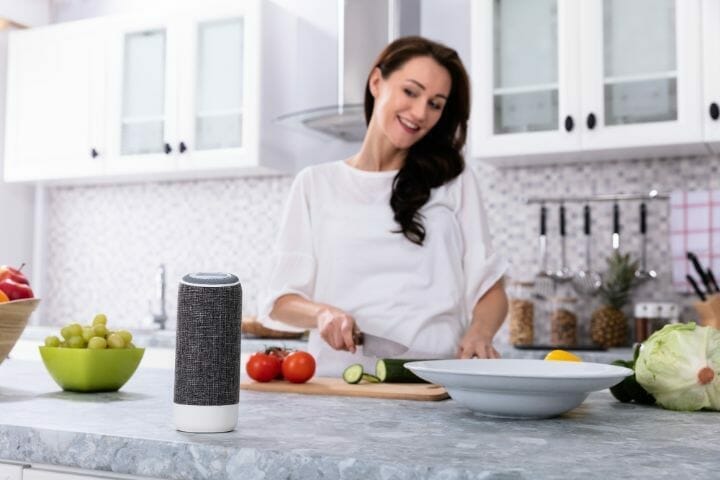 Cooking Help
You can ask Alexa to help with cuisines or with ingredient measurements like step by step instructions for preparing a meal or how many spoonfuls of sugar will be equivalent to 25 gm.
You may also like Best Laptops for the Elderly
News
You can use Alexa to listen to the latest news and happenings – both globally and in your local area. Also called Flash Briefing, the Alexa app can be used to customize the sources of the news. By default, it has sources like the BBC, NBC and CNN added.
You can go ahead and add your local news sources and remove any of the existing that you wouldn't find relevant. Once set up, you can simply say "Alexa, what is in the news?" or "Alexa, what's in sports news?" to make Alexa read up the main news headlines for you.
This is particularly helpful for the elderly with vision challenges, who find it difficult to read the small fonts of the physical newspaper or on the internet.
Locking Doors
If your doors are equipped with smart locks, it is likely that you can integrate the app with Alexa and lock your doors by giving Alexa voice commands.
Find a Skill
Finally, if you are not sure what you are looking for, you can search through Alexa's skill sets to find the right skill or related skill. You can simply say "Alexa, ask Skill Finder to find skills in weather category" to find skills in the weather category. There may be more than one skill in popular categories, and you can expect Alexa to rattle out a list for you.
You may also like Best Device for the Elderly to Listen to Audiobooks
Play Music
Well, we often forget the main utility of Alexa, that before everything else it is a speaker and plays music. Alexa has taken the activity of playing music to a whole new level of convenience, you no longer need to search for your favourite music on the internet or rummage through your disc collection.
You simply tell Alexa which song to play. If you want to experiment with a genre or type, just say something like "Alexa, play rhythm & blues music" or "Alexa, play jazz!" or "Alexa, play slow music". You can set Alexa to multilingual mode as well through the app.
Food Orders
You can use Alexa to order food as well – both delivery and take out. The Alexa app is compatible with a lot of food ordering apps, like KFC and Grubhub for example.
You can just tell Alexa to repeat your last order as "Alexa, request Grubhub to repeat my last order." This is a nice skill to have, though it is not super useful for the elderly, assuming the elderly do not order in much.
Fitness watch
Fitbit smartwatches are Alexa enabled. Once you have set up both the apps on your smartphone, just give the requisite permissions and access to Alexa, for her to rattle off your fitness statistics any time you ask for. For example, you can ask "Alexa, how many calories did I burn today" and she will be able to access the Fitbit app to let you know the same.
In general, when you are asking Alexa to perform any action through another app, it is required that you name that application. Otherwise Alexa will not understand which skill to use to perform the action.
You may also like Best TV For Elderly
Echo v/s Echo Dot
The Echo Dot is a smaller version of the Echo – the Echo Dot being just 1.7 inches tall and weighing 0.65 lbs and the Echo standing at 5.8 inches tall and weighing 1.7 pounds.
While the Echo Dot is much more portable, the speaker, understandably, is bigger in Echo and therefore, will give you a better music experience.
The devices, first launched in and around 2015, have also evolved over time across first, second and third generations, with the most notable difference across the generations being sound quality of the speakers (stronger bass and crisper tones in recent generations) and the listening radii of Alexa.
With the recent generation (3rd), Alexa's hearing radius has improved significantly over the second generation. However, most of the skills that Alexa is capable of will remain unaffected if you are buying an older generation Echo.
Therefore, if you are somebody who is not hung up on music quality too much, you may go with the earlier generation speakers and are likely to save some money, about 30 – 40 dollars on average, without significant compromise on performance.
There are more advanced models like the Echo Plus and Echo Show with added functionalities. However, all basic features that are likely to be useful, are available with the Echo or Echo Dot.
Disadvantages of Alexa
One of the major disadvantages of Alexa is that it must be always connected to a power source and it does not have a battery backup of its own. This, along with the fact that it runs on Wi-Fi and does not have an offline mode of working, makes for downtime during power and internet outages.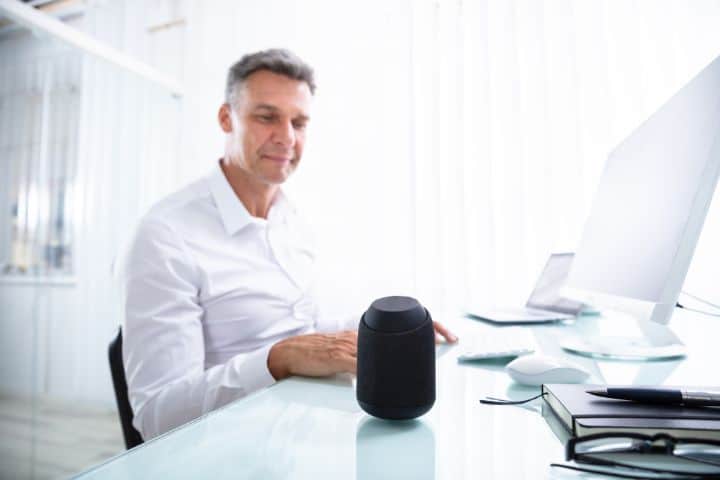 Privacy Concerns: While Amazon says that the Echo is only triggered when it hears the trigger word 'Alexa' and listens to instructions that follow, technically Alexa has to keep on listening to identify the trigger word and this may give rise to privacy concerns. Technically, the device will have access to private conversations at every home.
Also, theoretically, it has the ability to understand who is currently at home and who is not, by listening to and interpreting verbal and non-verbal sounds. Echo also stores past instructions and voice recordings to improve future responses and listening abilities.
In case you want to delete this store, you may do it from the app. However, this may deteriorate Alexa's performance and ability to respond optimally.
Does Alexa Require You to Pay a Monthly Subscription Fee?
No subscription fee is required to access the basic features of Amazon Echo. You just need to download the free app on your device and set up Alexa as described above.
However, you get a lot more out of Alexa if you have an Amazon Prime subscription which is currently available for 119 $ per year. Apart from other benefits, Prime members are entitled to free music.
If you are not a prime member, you need to save your music to the Amazon cloud to access it via Alexa or use the Bluetooth streaming feature as described above.
However, if you are accessing Alexa skills to interact with other apps, your success will depend on the subscription status of the other app. For example, Alexa will not be able to stream music from Spotify if you do not have a subscription to Spotify.
You may also like Best Free Game Apps For Seniors
Conclusion
Conversational assistants like Alexa add a generous dose of convenience to the elderly's life, particularly true, if they are staying alone or along with their elderly spouse.
The advantages are many and spread across all aspects of life – especially for seniors with mobility and vision challenges. However, as a caregiver or family member of the elderly, you should help her to set up the device for the very first time and to enable new skills.
References