In this article, we have reviewed the best night lights for the elderly. If you are in a hurry, the table below gives a quick snapshot of the top 6.
The CDC estimates that every 19 minutes, an elderly person in the US dies because of a fall-related injury[1]
Did we get your attention? Good.
If you have ever got up in the night to get a drink of water or just visit the washroom, you know that it can be very difficult sometimes without the lights on. The first instinct for anyone in this situation is to reach the nearest light. You fumble around the room, looking for the light switch, as you make your way through the dark, hoping to avoid hitting that chair or desk or cupboard along the way.
While for most of us this seems like a harmless, albeit irritating, scenario. For the elderly, stumbling around the house without being able to see can actually be fatal, because it could easily lead to a fall and accidental injury on the head.
As serious as all this may sound, there is a simple solution – the humble nightlight can show you the way, without disturbing your sleep.
I'll Just Go Out and Get Some Night Lights!
Well, not so fast. You need a light for every room, because elders do tend to be forgetful about turning the lights on, and they also tend to have weaker bladders, so a nighttime visit to the washroom is a usual affair for many of them.
Sometimes they might be getting up to get a cup of water – so you might need a bit in the kitchen as well. And while you're at it, they are bound to use the hallways to get there, so why not have some there as well.
Each place in the house needs its own night light, and that's where we come in- we will guide you on which type of night lights are the best for each room.
Best Night Light for Elderly for the Bedroom 
Bedroom night lights should be easy to install, not too bright to make sure that they don't hurt your sleep, and ideally should have dusk to dawn sensors so that they are activated automatically when the room is dark enough and shut down when there is enough light (because seniors tend to be forgetful as well). Below we discuss some options for you:
#1.1 VONT's Aura Night Light
If we have to recommend one night light for the elderly in their bedroom, it will be the Aura series of night lights from the upcoming lighting brand VONT.
VONT sells a pack of 4 night lights at a very reasonable price. You can make sure none of your bedrooms are left pitch dark at night.
The night lights are just the perfect brightness for nighttime. You can make your way to the toilet or wherever you want to get to without rousing yourself.
Having used them ourselves, we found that the soft, white light is very akin to moonlight. The sensor is quite sensitive as compared to other night lights that we have used. If minimal light falls on it, the night light does not switch on, which is a nice little energy-saving measure.
The VONT night light is thoughtfully designed. They do not block the other socket, leaving you the option of charging your phone or laptop if you have to.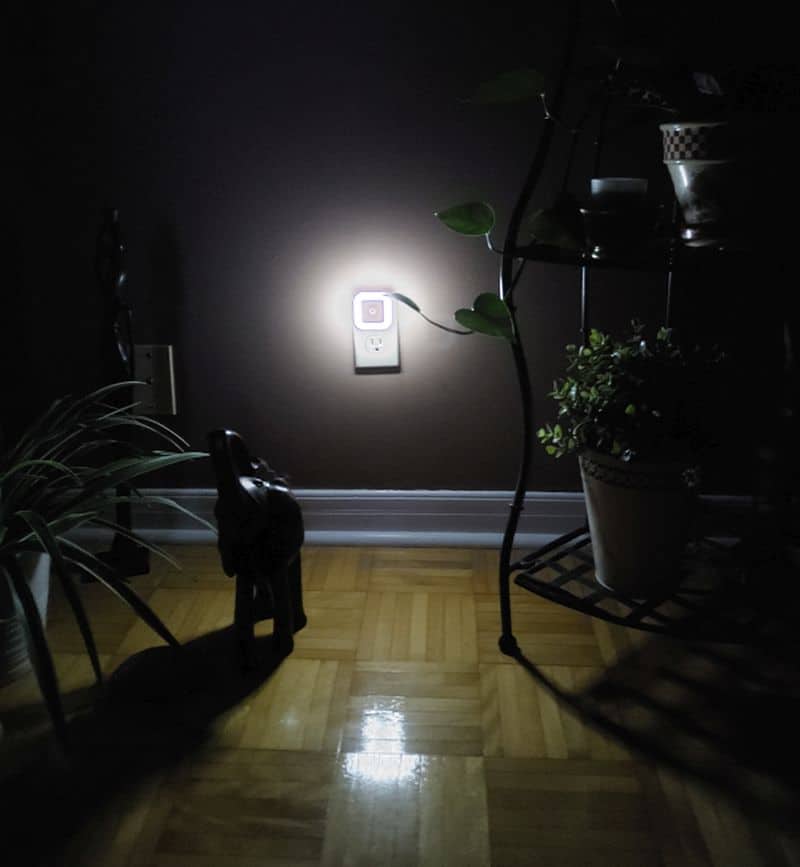 For the more numbers-oriented people, the lights measure 6 cm by 6 cm (square) and are aesthetically pleasing to the eye. You would find they only add to the decor of your bedroom.
The smart sensor makes sure that the night lights come on automatically when it is too dark. And do not worry, you will not run up a huge electricity bill using this night light. It costs less than 30 cents a year to run one night light. Sweet, eh!
And if this is the first time that you are hearing of the brand VONT, don't fret. They provide a lifetime warranty on their product. It takes confidence for a company to back their product with such an extensive warranty!
So, in our opinion, VONT LED Night Light is the best night light for the elderly in the bedroom.
Why we love it?
Just the perfect brightness for nighttime
Smartly designed so that it does not block the second outlet
Aesthetically pleasing
Very low power consumption
Lifetime warranty
You may also like Best Bed Frames For Seniors
#1.2 AUVON LED Motion Sensor Night Light
If you are looking for the best motion sensor night light, Auvon should be your brand of choice.
What we really liked about Auvon was the fact that you can have a fair degree of control over how you want your bedroom and hallway lit up at night.
You can choose the light intensity to be low or high and the light to be either in the always-on mode, motion sensor mode, or always off mode. This gives you five different options to choose from (off; high brightness and always on; low brightness and always on; high brightness and motion sensor; low brightness and motion sensor). And once you have set it up, it is all smooth sailing from that point onwards.
The motion sensor means that it lights up when you pass it and turns off after 60 seconds. You can try this feature and see if it is for you, otherwise, you can just have it always on.
Personally, with both an elderly couple in our house and two kids, we like our night lights to be always on. For us, the motion sensor feature was an unneeded extra, given the extremely low power consumption of LED bulbs. And that feature does add a few dollars to the cost of the product.
Having said that, Auvon night lights are extremely convenient to have in a house with seniors. The soft yellow light is pleasing to the eye and given just enough light at night so that you can see but do not rouse yourself.
#1.3 Sycees Plug-in LED Night Light 
There are plenty of good things to be said about the Sycees Plug-in lights, one of the highest selling products in the night lights category on Amazon.
The first important thing is that while the lights are bright, they are not bright enough to disturb you during your sleep. If your loved ones do get up in the night, they will be able to see their path clearly, but the light will not be harsh on their irises.
Secondly, they solve a common complaint that people have about the plug-in night light, that it blocks the socket completely. These night lights use offset plugs and are very compact in size (2.17 x 2.17 x 1.61 inches), which means that the second plug remains available to use for charging your mobile or any other use.
The dusk to dawn sensor for this night light automatically turns on when the room is dim enough, so your loved ones won't have to remember to turn them on or off all the time.
Lastly, another common complaint with night lights is that they run up the electricity bill (because they are on for the entire night). These babies use long-life LED's, which are really energy efficient and will cost you less than $0.20 per year (assuming 11 cents/kWh).
Why we love it?
Bright, but not too much so. Perfect for nighttime

Small in size, don't block the other socket

Dusk to dawn sensor, no more forgetting about turning them on or off

Costs next to nothing to operate them

One of the highest-rated  night lights on Amazon
#1.4 GE LED Night Light
The GE night light is another great product for your bedside night light. It also uses a dusk to dawn sensor, and is compact enough to use only one out of the two sockets.
The most attractive feature of this night light is that it looks pretty stylish. While functionally we prefer the Sycees light which is slightly brighter and therefore more to our taste, this one lights up in a glossy white finish that adds elegance to your room.
The product is from GE, so you can rest assured about the quality. They also use LED bulbs for lighting, which are both energy-efficient and long-lasting. Plus, the light remains cool to touch as compared to a bulb based night light.
Why we love it?
Glossy white light, perfect ambiance for your room

Does not take up the second socket space

Dusk to dawn sensor, no more forgetting about turning them on or off

LED lights do not need to be replaced often, and are very energy efficient

Does not get hot to touch

GE product – a quality brand
You may also like Best Light Therapy Lamps for Sleep
Here we have video that shows where you can use night lights.
You may also like Best Adjustable Beds for Elderly
Best Night Light for Elderly for the Hallway
While bedroom lights should ideally be on the entire time, for the hallway you need lights that turn on based on motion detection technology.
The best strategy is to line the hallways and all corridors leading up to the bathroom and kitchen with motion sensor-based plug in lights, that turn on as the person walks along the hallway and turns off when they walk away. Below are some examples.
#2.1 MAZ-TEK Plug in Motion Sensor Lights with Adjustable Brightness
The MAZ-TEK night lights are one of the most popular motion sensor-enabled night lights. One of their most valuable feature is that you can adjust the brightness on these lights with a simple slide switch on them, and set the lumen anywhere between 0 to 25. Very few night lights are customizable in that way, and we find this to be an awesome feature.
Another reason why these lights are so popular is the 3 modes in which the light can operate: always-on, always-off (where you have to turn it on like a normal bulb), and motion enabled (light turns on for 20s if motion is detected in a range of 4.5 meters). For our purpose, the motion enabled use makes the most sense, but its always good to have the option in case you are using this light for some other purpose.
These are small plug and play devices, which don't block the second outlet. They have 4 LED bulbs, which are energy-efficient and long-lasting.
Why we love it?
Adjustable brightness

3 modes: always-on, always-off, motion-based

Costs next to nothing to operate them

Plug and play, dont use up the second socket
You may also like Best Massage Mat for Bed
#2.2 Mr. Beams MB723 Battery-Powered Motion
The Mr. Beams MB723 is our first stick on night light in this article. These are battery operated and can be "stuck on" to any surface such as a wall or a closet.
These night lights give you a fairly bright 20 lumens of light and can be installed anywhere in minutes without having to worry about wiring or putting sockets in place.
The lights are motion-activated and can detect movement from as far as 15 ft. away. After the user has passed further, the light will shut down in 30 seconds automatically, conserving battery life.
The design focuses the beam downwards, making them light up the floor for possible objects that you can bump into, without shining a glare in your eyes. These night lights have a light sensor in-built so that they do not get activated during the daytime.
Why we love it?
Easy stick-on installation, no wiring or sockets required

Bright 20 lumens of light shone for 10 sq.ft near the light

The motion sensor can detect movement from 15 ft. away

Intelligent design shines the light beam downward to avoid putting a glare in the user's eye while lighting up the floor.

Auto shutoff in 30s

In-built light sensor to avoid accidentally turning on during day time
You may also like Best Light Therapy Lamps in Canada
Best Night Light for Elderly for the Bathroom
While motion detection lights are great for the hallway, once you end up in the bathroom you have to turn on the light, because you cant really install those stick on night lights inside the toilet bowl, right?
Well, the answer may pleasantly surprise you, read on.
#3.1 Toilet Night Light by Ailun Motion Activated LED
The Ailun Motion-activated LED lights are is an interesting innovation in night lighting, that focuses on the washroom. It is fairly simple to install – you hang the arm of the lightbulb over the rim of the toilet, and when the washroom is dark, this night light will detect motion and light up the toilet bowl when someone comes near it.
The motion detection lights stay on for 2 minutes after the last usage, allowing your loved ones ample time to move out of the washroom.
If you are wondering about cleanliness, this night light is very easy to remove and clean with a washcloth. There is a choice of 8 colors or even a color cycle, in case someone in the family has a whimsical side (the lights are originally designed for children).
The device operates on three AAA batteries, and the construction is based on a soft PVC neck that can be bent to any shape, regardless of the bowl type
Why we love it?
Adjusts to any type of toilet bowl

Motion detection – stays on for 2 minutes after the last motion detected, giving your loved ones enough time to move out of the washroom.

Easy to install and clean

Multiple colors for more fun loving people
You may also like Bedroom Aids for the Elderly
#3.2 LumiLux Toilet Light Motion Detection
LumiLux is another very popular toilet night light. The most important aspect of LumiLux's product is the quality – they use only the best motion sensors and high-quality suction cups. 
LumiLux toilet light has a brightness adjustment feature, which you may use to adjust the lighting as per your loved one's comfort level.
It has one of the better motion sensors in the business, that can track movement from even 18 ft away. The luminosity is high enough to fill the entire room, not just the toilet bowl. 
The night light is easy to install and uses less power, which means the batteries will last much longer. The light even has a low battery indicator. There are 16 color options in this night light
Why we love it?
High-quality motion detection (can detect movement even 18 ft away)

Brightness adjustment feature

16 color options

Easy to install and clean

Uses less power – 3 AAA batteries will last for more than 6 months

The product has a lifetime replacement warranty on it
You may also like Light Therapy and Mental Health
Best Night Light for Elderly for the Kitchen
While it is usually best to turn on the actual lights in the kitchen, it might make sense to have extra lighting under the cabinets for certain areas where the overhead light is unable to reach. We have suggested a few such lights for your benefit:
#4.1 LEPOTEC LED Motion Sensor Cabinet Light
The Lepotec motion sensor under cabinet LED lights has a brightness of upto 300 lumens, to light up the darker areas in your kitchen, though it is not glaring light. The lights are usb rechargeable and made of aluminum alloy.
The lights have a magnetic strip at their back, which can stick to any iron surface. There is also an adhesive tape included for sticking it to other surfaces.
There are 3 modes in which these lights can work: always on, always off, or motion sensor-based. The motion sensor can work in a range of 10ft and an arc of 120 degrees around its location. It is calibrated to shut off automatically 20 seconds after the last motion detection.
These lights also have 2500mAh high-capacity rechargeable battery included as part of the package, which can be charged using the USB cable easily The lights can last for upto 3 hours full time. It can work for upto 2 to 4 weeks in motion detection mode.
Why we love it?
The brightness of the lights is 300 lumens, but not glaring to the eyes

Motion detection – stays on for 20 seconds after the last motion detected

3 Modes available – Always on, always off and motion sensor-based

Easy to install with a magnetic strip and adhesive tape included

Rechargeable battery also included
You may also like 5 Best Flashlights for Seniors – Simple and Sturdy
#4.2 Otinlai Under Cabinet Lights
Otinlai brand has several international patents under its name and is a trusted brand in the market for LED lights. The lights are made with aluminum alloy shell and anodizing process which makes them extremely light and thin.
No products found.
The lights have easy to stick on magnets under them, and a double-sided 3M tape is also provided along with the lights to make sure that you can stick them on to any surface that you want.
The lights have 3 modes: Always on, always-on, and motion sensor. The motion sensor has an auto-off in 20 seconds. The lights are easily rechargeable and come with a high volume lithium battery. They are also rechargeable using a USB adapter provided.
Why we love it?
3 modes: always on, always off, and motion sensor-based

Easy to stick onto any surface using a magnet and 3M double-sided tape

Long-lasting battery, rechargeable using a USB charger

Easy to install under cupboards and places where the overhead light does not shine brightly
No products found.
You may also like Best Reading Lamp For Elderly
Night Lights for the Elderly – Final Word
People often think that night lights are meant for children, but they play a very important role in the safety of adults also, especially seniors. Night lights come in different types, and each type has an application and a specific purpose, Bathrooms, kitchens, hallways, and bedrooms all need to be well lit to avoid accidents and fall-related injuries
In this article, we have hopefully been able to cover the various types of night lights, and which rooms they are suitable for. Each of these products is good for the specific purpose for which it is recommended, and can be installed without a need for wiring or tools.
References:
[1] https://www.ncoa.org/news/resources-for-reporters/get-the-facts/falls-prevention-facts/