Have doctors recommended a specific type of diet for your loved ones, and you are not able to cook it for them? Meal delivery service for Seniors seems like a great idea for you.
According to a study, 37.5% of people aging 51-60 years and 46.2% of adults over age 70 cannot meet daily protein requirements.
With old age, the body's ability to absorb nutrients declines, which increases nutrient needs. Choosing an age-appropriate diet with enough nutrients is necessary for them. Other than that, seniors have a lot of difficulties doing even the simplest of tasks like cooking. This lack of mobility is why having their meals delivered to their doorstep would be beneficial for them.
With so many different types and options available, it becomes overwhelming to decide on a single meal service provider. In this article, we discuss several meal delivery services for seniors best suited according to their needs.
Pre-cooked Meal Delivery Service For Seniors
Mom's Meals
Mom's Meals is one of the best meal delivery service for seniors.
Founders of Mom's meal started it as a way to help their moms. It has now grown to deliver easy to heat meals nationwide. Professional dieticians designed the meals with chefs spending hours to make the meals flavorful. They offer nine menus for various health conditions like kidney issues and cancer.
Mom's meals offer a balanced nutrition diet for seniors. They provide a protein source, grain, and vegetables in every meal with calories ranging from 400-700 per meal. With over 60 breakfast, lunch, and dinner menus to choose from, you never get bored of your food. Mom's meal delivers a fresh meal that needs two minutes to heat in the microwave.
Each regular meal costs $6.99, and gluten-free, pureed, and kidney health meals cost $7.99. Eligible seniors with Medicaid or Medicare nutrition programs may get home-delivered meal benefits.
Meals On Wheels
With being the oldest, Meals on Wheels is one of the most popular meal delivery programs for seniors in the United States. Meals on Wheels work with 5,000 community-based senior nutrition programs to deliver proper nutrition to seniors. They provide cooked meals to 2.4 million seniors 60 years old and over and disabled adults with disabilities who cannot prepare their meals.
Meals on Wheels offer a high-protein meal with fruits, vegetables, an entrée, milk, bread, and dessert. They also have specific diets for diabetic people and low-cholesterol and low-sodium meals. The average cost per meal is $6 to $7. Seniors need to pay a minimal amount of $3, but some of them get free meals. That is why it is considered as one of the best meal delivery service for seniors.
Homestyle Direct
Medicaid covers Homestyle Direct healthy food delivered for seniors living in 20 states. They have a wide menu selection of low-fat, low-carb meals certified and approved by a licensed dietician. Their expanding menu allows you to choose something different every time you order.
All the meals, including breakfast, lunch, and dinner, have a calorie range of 350 to 550. Homestyle offers complete meals with chicken, fish, turkey, pork, and beef with complementary sides. Other than that, they also have several vegetables, fruits, and a variety of sides.
They even offer a specific menu for kidney health, vegetarian, and other special meals for different health issues. For ordering free of cost meals from Homestyle direct, you need to get authorized by Medicaid. For non-Medicaid recipients, Homestyle direct charges $6.95 for each meal with shipping and handling charges. It is perhaps one of the best meal delivery service for seniors
You may also like Best Dry Fruits for Seniors
Silver Cuisine
Silver Cuisine delivers pre-cooked doctor-designed, healthy and delicious meals for seniors. It has a large variety of breakfast, lunch, and dinner options with a menu of more than 150 meals. They have different menus based on the type of dietary needs like diabetic, low-sodium, and heart-healthy.
The Silver Cuisine allows you to select your choices of meals with no least order value. The prices of meals vary according to the dish you choose with an extra shipping fee.
Real Eats
Real eats is a meal delivery service that offers nutritious meals for seniors living alone. Real Eats' meals come in vacuum-packed sous vide bags, which you have to boil in hot water for three to five minutes. You can also remove the food from the bag and heat it in a microwave. All meals are made by professional chefs and approved by dieticians.
Real Eats offers several breakfasts and dinner options enough for a single person. You have the choice to add on optional smoothies, soups, sides, snacks, and proteins. You can change the subscription at any time with the option to skip, change or altogether cancel it. Real Eats doesn't offer customized delivery dates and only delivers to individual states.
You have the option to create a meal plan with the least order of 4 or a maximum of 12 dinners, or a meal plan having 4 to 12 breakfasts and dinners. The price of a meal plan varies from $7.99 to–13.99 per meal.
Snap Kitchen
Snap Kitchen offers pre-cooked meals made by dieticians according to the nutritional needs of seniors. With the varieties of breakfast, lunch, and dinner options, you can create a complete nutrition menu of your choice. It also gives you a choice to add extras like sides, soups, oatmeal, hard-boiled eggs for extra protein.
Meals will last up to 6 days in the refrigerator with an option to freeze it long term use. Snap Kitchen meals are suitable for seniors as they are gluten-free, low carb, and high in protein. You can choose a six meal plan with an $11.67 per meal cost or a 12 meal plan with $9.58 per meal.
You can choose a local plan if you live in a radius of 10 miles to a Snap kitchen store, allowing you to pick up your 3, 5, or 7 days meal plan. But, Snap kitchen only delivers in few US states. The customizable options make it one of the best meal delivery service for seniors
You may also like Best Protein Shakes For Seniors
Freshly
For seniors living alone, Freshly meal delivery is the right choice. It delivers meals packaged with a portion size enough to feed a single person. You can subscribe to as low as four meals per week or high as a 12 meals plan. It is ideal for seniors who want hassle-free dinner a few times a week.
All the meals offered by Freshly are gluten-free. They have different menu options for other common allergies like dairy and peanuts. With over 30 meals, you have the opportunity to choose your weekly meal plan and schedule a delivery date. The cost of meal plans ranges from $8.50 to $11.50.
Grocery Delivery
Some seniors can cook their food but are not confident enough to drive to a store. Also, kids who want to help their parents with their groceries and expenses are too far to help them. Delivery of groceries at their doorstep would be an excellent choice. The one crucial thing to consider while ordering groceries online is to keep track of proper nutrition requirements.
Amazon Fresh
Amazon is the largest online shopping platform with easy navigation suitable even for seniors. With its nationwide presence, Amazon is one of the best grocery delivery services. Amazon fresh offers to schedule the delivery time of your order. You can get the groceries delivered the same day, the next day, or set it according to your comfort.
With a monthly subscription of $12.99 or a yearly subscription of $119, you get prime benefits. Prime members don't have to pay extra delivery charges, and Amazon prioritizes their deliveries. With an easy to replace or return policy, Amazon fresh assures a high-quality product.
You may also like The Ultimate Guide to Aging Well: Diet, Exercise and Health Tips for Seniors
Instacart
Seniors can be particular about the shop from where they buy their groceries. Instacart is a grocery delivery service that allows you to shop from your local grocery store. With more than 300 retailers and grocers tie-ups, it offers an extensive range of options. You get a personal shopper who is in charge of picking up your order and delivering it to your doorstep.
Deliveries can be on the same day if a personal shopper is available at your choice of store. Instacart provides a special helpline for seniors doing their grocery shopping. One year membership of Instacart costs $99, and one month costs $9.99, which makes deliveries above $35 free. Otherwise, it has a delivery charge of $3.99, which may increase in peak times.
Shipt
It is like Instacart in the sense that you can shop from your local grocery store. It offers a wide selection of stores to choose from and is available in 200 major cities. You can place an order even at midnight as long as the store is open. You can also order from specialty stores like Target and Petco.
A one-year member subscription is available at $99 a year or $14 per month. Orders above $35 have no extra delivery charge. But, Shipt applies a delivery charge of $7 for any order less than $35. It offers same-day delivery and delivery within an hour option.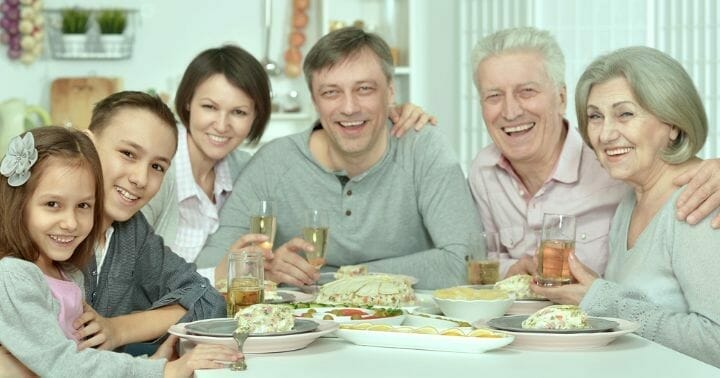 Meal Kit Delivery
Some seniors enjoy cooking but don't want the extra work to measure and chop different ingredients. A premeasured meal kit delivery seems like the best option for them. It allows a senior to enjoy the process of cooking without the hassle of prep.
You may also like How Long Can You Live Without Food and Water With Dementia
Sunbasket
Sunbasket is a meal kit delivery platform that offers organic meal kits. It is incredibly beneficial for seniors with several health issues. It offers breakfast, lunch, and dinner recipes, which take about 30 minutes to prepare. Sunbasket offers different meal kits for several health issues in the seniors.
Seniors can customize the meal frequency and the portions per meal. Sunbasket is organic and thus costlier. It cost about $12 per two-person serving meal with a delivery charge of $7.
What a Crock
Slow cooker meals are easy to make without much work. What a Crock is a meal kit delivery service that delivers slow cooker meals. They also provide a slow cooker if you don't have one. With varieties of meal options suitable for a senior's health needs, What a Crock helps them have home-cooked meals with less hassle.
One serving of meal plan costs about $9.16 with extra shipping cost. Selecting a single dish cost will vary according to the dish.
You may also like What Causes High Potassium Levels In Elderly?
Buyers Guide
Type
The type of meal delivery depends on the factor of how able-bodied a senior is. Some seniors can cook a proper meal by themselves but don't want to go shopping to eat a meal. The delivery of groceries would be enough for them. Some seniors like to cook but don't want the hassle of chopping and measuring the ingredients. Meal kits would be the ideal choice for them.
As with much older people, there are several impairments. Cooking unattended is risky and may result in some mishaps. Pre-cooked ready-to-eat meals are the better suitable option for them.
Cost
Most seniors don't have an income source, and they don't want to spend much on food. Cost is an essential factor to consider while selecting a meal delivery service for seniors. Preparing special needs food for seniors and delivering them costs a lot for the companies, resulting in high meal costs.
Many meal delivery services are in government-run health programs Medicare and Medicaid. Some charities offer free-of-cost or low-cost meal delivery services so that no senior has to sleep hungry.
Availability
Availability of the meal delivery service in your area is essential for getting your meal delivered. Many of these services are location-specific, with delivery in few states. Before selecting a meal delivery service, make sure to check if or not the company delivers in your area.
Specific Diet
Old age results in several health issues like kidney failure, digestion issues, and heart problems. Seniors suffering from a particular health issue will need a specific diet. Choosing a meal delivery service that offers a special diet menu is extremely important. Several meal delivery services provide different menu range related to various health problems.
You may also like Best Protein Bars For Seniors
Frequently Asked Questions
How can seniors get meals delivered?
Cooking a proper meal in old age seems like a task. Seniors can get their healthy pre-cooked meals delivered to them by several meals delivering companies. The use of meal delivery services for seniors is rising. With the option of getting specific meals according to several health issues, many seniors rely on meal delivery services.
Is meal delivery cheaper than grocery shopping?
Buying a pre-cooked meal would never be cheaper than shopping for groceries and then cooking your meals. Cooking meals is time-consuming and tiring for seniors. Even though purchasing groceries is less expensive than meal delivery, it is not worth all the risk in a senior living alone cooking their food.
Are Meals on Wheels covered by Medicare?
The original Medicare plan does not cover the Meals on Wheels meal cost. But some private insurance plans of Medicare include meal delivery services.