Are you suffering from Arthritis and have difficulty doing daily life activities, like bathing? We will show you how to get out of bath with arthritis. 
There are around 54.4 million people in the US who are suffering from arthritis. It is estimated that by 2040, nearly 78 million people will have arthritis.
Many people who have arthritis face mobility issues, which hampers their ability to perform daily tasks like climbing stairs, cooking for a long time, taking baths, etc. Not being able to properly take a bath can be irritating, and being an arthritis patient, it is certainly a painful process.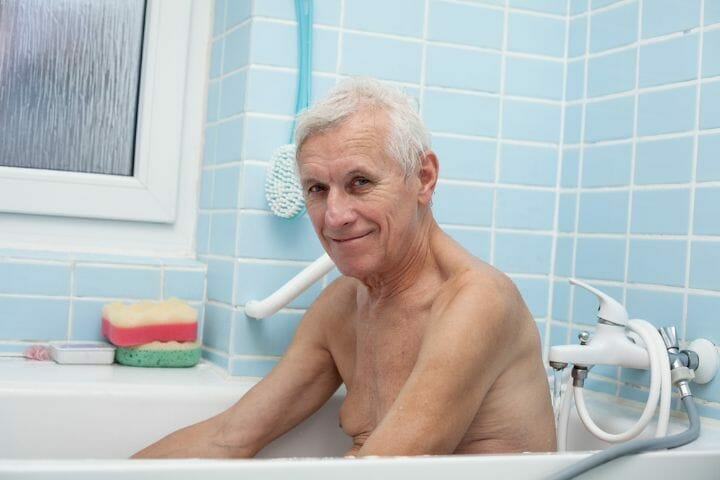 Through this segment, you can learn how to get out of the bath with Arthritis. You can also read about various tools which can make your bathing simpler.
Four Steps You Can Follow To Get Out Of The Bathtub Safely
Get inside the bathtub safely by grabbing the tub for taking a bath. While bathing ensures you leave a portion of the tub's edge dry, which will later help you come out of the tub safely. After you have taken the bath follow these simple steps to come out safely.
Step 1: After completing the bath, grab on the tub's dry edges firmly with both your hands.
Step 2: Using the feet, and hands, try to turn down on your knees. The tub's bottom will be in front of you now. Now hold the dry corners of the bathtub using both hands and get on your knees. 
Step 3: Keep holding the edges of the tub and lift yourself up. Don't leave the tub's edge even when both of your legs are raised. 
Step 4: Now, take out your dominant leg and put it on a dry surface. Keep the leg firmly on the floor and make a good grip with it. Then bring your other leg out, keeping a firm grip on the bathtub all the time.
This is the simplest way you can exit a bathtub even while having arthritis. You can, however, follow these steps if you don't have very excruciating pain. If your pain is unbearable you can use other tools, like grab bars, handles, etc. to come out of the tub.
You might also like
Some Bathroom Services Which The Arthritis Patient Can Consider To Make Bathing Easy
You might also like Best Hand Warmer For Arthritis
Tools That Can Be Used To Help The Arthritis Patient To Take A Bath
Few Alternatives Which Will Make Bathing Easy For Arthritis Patients
You might also like What Essential Oils Are Good For Rheumatoid Arthritis?
Frequently Asked Questions
Whether to take a bath using cold water or hot water for Arthritis?
There is a mixed view regarding this issue. Hot water relaxes muscles and helps to lubricate the joints. It also loosens the stiff joint and eases the stressful muscles.
In comparison, cold water reduces the inflammation and swelling from the body and decreases the joints' pain. In many cases, cold therapy is recommended and, in some, hot water therapy. So, it is advisable to ask the doctor and then go for the option.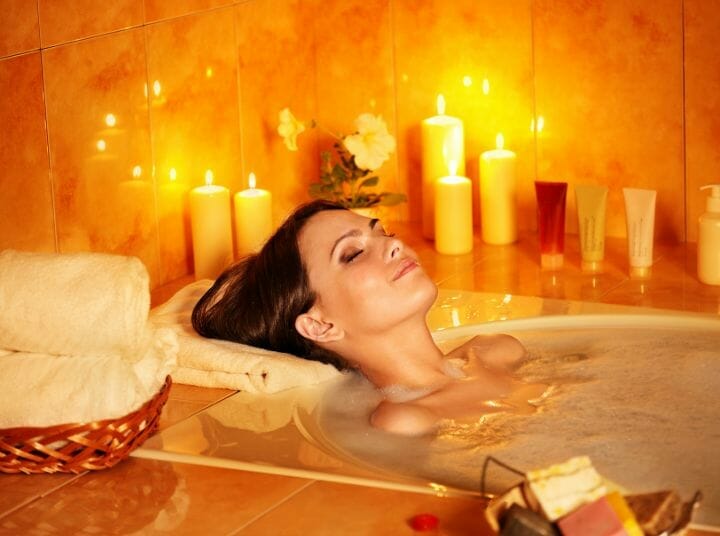 How to make an Epsom salt bath?
It depends on the person how much Epsom concentrated bat they want. Ideally, it is suggested to add two cups of Epsom salt per gallon of warm water. If you add more, it can make the water slippery and may cause some accidents.
It may also dry out your skin and give skin irritation to the user. You should soak the body for fifteen minutes minimum. You can also make an Epsom detox foot bath water to soak the tensed legs and relax the muscle. It will cure the pain and will loosen up the tight muscles of the calf and ankle. 
How to cure Rheumatoid arthritis pain in the morning?
A warm water shower or bath is the best way to cure Rheumatoid arthritis pain in the morning. It will help to relieve the morning stiffness of the muscle. The heat from the warm water will improve blood circulation and enable the blood to move to the skin's surface.
Try to move your body parts slowly and exercise the joints. You can also massage the joint using a washcloth. Also, if you have access to the showerhead, direct the spray to massage the stressed joints. Try to be in warm water for a longer time as it will heal the pain.
You might also like Best Foot Spa For Arthritis
Conclusion
Patients with Arthritis suffer from swelling, joint pains and this results in muscle stiffness. Taking a long bath will relax the body and will loosen up the stiff muscles. It helps the muscle to restore strength and support to alleviate the pain. It will also help to decrease inflammation and to increase blood circulation. You can either go for a bathtub session or submerge in hot water, allowing the patient to reduce the pain. 
The arthritis pain, if increased, can also lead to physical disabilities, which is a worse situation. To avoid such a case, try to cure it as quickly as possible. We have suggested a few guidelines and steps, follow them to prevent any accidents and unwanted situations. 
Do leave us your comments, suggestions and feedback, and if you tried our ideas, please leave your experiences too!