In this article, we have reviewed some of the best safe bathtubs for elderly. If you are in a hurry, the table below gives a quick snapshot of the top 5.
1 out of 4 elderly people falls every year in the US. 1 in 5 of those falls are serious and may include fractures or head injuries.[1]
Bathrooms are perhaps the most frequent places of such fall-related injuries, with the bathtub being the major culprit. The archaic design of a regular bathtub was never updated taking into consideration the needs of the elderly and the metaphorical chickens have come to roost.
In this article, we will discuss one of the latest innovations in bathtub design that finally addresses the need for a safe and easy-to-use bathtub meant for the elderly: the walk-in tub.
We will discuss what this beautiful innovation is and how it is useful for elders.
Sadly, every good idea also has its flaws, and we will also discuss some of the things that a walk-in tub can't do or some things that aren't as suited for the elderly as you would like them to be.
Finally, we will be giving you our recommendations based on our careful research, analysis, and review of the products available in the market, and we hope this article will serve its purpose in helping anyone who is looking for safe tubs for elderly people.
What is a Walk-in Bathtub?
A walk-in bathtub is a great way to upgrade your home for a safer and more comfortable bathing experience. These bathtubs are very different from conventional bathtubs. 
They have an inward-opening or cap-like fitted doors, enabling your loved ones to get in without climbing over its side. The doors of these bathtubs are self-sealing and hence do not let water spill out. 
They also have a chair-height seat where your elder family member can easily sit and bathe. They take a similar amount of space in a bathroom as a traditional bathtub and are quick to install and align with the water drains. 
Walk-in tubs are safe tubs for elderly, people with limited mobility and those who are unable to climb over a conventional tubs' side due to an injury. 
They come with additional grab bars and hand grips to ensure their safety. Some bathtubs also come with hydrotherapy or whirlpool features that enhance the overall bathing experience.
Safe Tubs For Elderly
#1 American Standard Gelcoat Value Whirlpool Walk-In Bath Tub
The American standard walk-in bathtub is available with a right-hand orientation. With a width of 32 inches and 52 inches, the bathtub is perfect for elders. 
The best thing about the bathtub is that one can conveniently sit and have a bath without worrying about slipping on the bathroom floor. 
Even though the bathtub is smaller than a regular bathtub, there is an extender kit available with this product that can make it fit inside a regular bathtub's space.
With an inbuilt whirlpool heater, the tub is designed to control temperatures according to one's requirement. The tub is available with six water jets that help to give a therapeutic experience while bathing. 
Patented innovation helps to pump out water in less than 2 minutes after the bath, which means that your elderly don't have to sit around in cold water, waiting for it to pump out. 
White fiberglass finish makes the bathtub look elegant when placed in the bathroom. It is also available in an off-white like shade called "Linen".
Pros
Quick drain technology clears the water in 2 minutes after the bath.

The walk-in tub is built to make going into and coming out convenient for elderly people.

The deck mount fills the tub with 16 gallons of water per minute.

A low threshold and grip bar helps the bather steady oneself.

Fits perfectly in the bathroom as it is the same size as a bathtub.

The tub comes with a minimum warranty of 10 years and its components are available with a warranty of 5 years.

Available in 2 colors – white and linen.

Includes a tub extender kit, which allows it to fit into a standard bathtubs space even though it is only 52 inches long.
Cons
The white color of the tub generally gets dirty, and this needs extra maintenance.

It is quite tricky to install the tub oneself.

The back jets are not very effective.
You may also like Best Bariatric Shower Chair
#2 Ella's Bubbles Hydro Massage Acrylic Walk-in Bathtub 
Ella's bubble hydro massage bathtub is a very safe and useful tub for your elderly. The white acrylic fiberglass interiors with gel coating are very convenient to clean. With a rustproof stainless steel door frame, the bathtub is perfect for elders, as they will not hurt themselves when they enter and exit from the tub. 
The steel framework of the door provides a firm coating to it, making it reliable and tough. 12 jet hydrotherapy systems in the tub are perfect for curing body pain and improving blood circulation. 
There is an in-line water heater built into the tub, which helps to keep the water temperature constant when the hydro jets are in use. There is an ozone sterilization technology as well, which helps prevent the growth of microbes, mildew, and mold.
There is a five-piece brass faucet to control the water pressure. The faucet is chrome plated. There is a 5ft long flexible hose as well, with a handheld showerhead which can be used for cleaning oneself more thoroughly. 
With a low 22 inch seat, the bathtub is just perfect for the aged. There are three air massage therapies in the tub along with a bubble effect.
Pros
Dual drain system allowing water to drain quickly.

The textured floor prevents falls from slipping.

Brass handles provide a perfect grip and make the bathing very safe.

A fast-fill faucet and a convenient shower head make the bathtub a piece of luxury.

Strategically placed jetting helps to give the maximum amount of therapeutic relief. 

Convenient to operate with large multi-functional buttons. 

5 piece chrome plated brass faucet.

5 feet long handheld shower head for better cleansing.
Cons
More expensive than other bathtubs due to its powerful features.

The inward swing door is not ideal for emergencies.
#3 Aqua Acrylic Walk-in Tub with Fast Fill Faucet
This cast acrylic glossy finish tub is coated with fiber gel that makes the tub look classy and elegant. The walk-in tub is equipped with 2 ADA bars that offer a perfect grip while bathing. 
With a stainless steel framework, the tub is extremely durable and reliable for long term use. The user's weight gets distributed equally over nine adjustable leveling legs. 
The gravity drain is 2 inches deep with a pull-up chain that helps drain the water quickly. The seat is 21 inches wide and is perfect for adults. Its fast-fill faucet makes it unique from other bathing tubs.
There is an optional facility to add jetting and heated seating as well. The typical drainage time of 80 seconds is very quick, aided by 2-inch drainage attached to a pull-up chin. The drain is gravity driven and does not require a pump as well.
There is a 5 piece faucet set with broad supply lines, making it quick to fill up the tub for your loved ones.
Pros
The S-shape of the door gives a modern look to the tub.

The textured, slip-resistant floor makes the tub perfect for elders.

In just 80 to 90 seconds, the water gets drained out.

5 piece faucet connected to broader pipes for quickly filling up the tub.

Stainless steel framework, very durable and reliable.

2 ADA grab bars.

Optional jetting and seat heating facility.
Cons
The inward swing door is not ideal for emergencies.

The seat is not wide enough for obese people.
You may also like Best Bath Lifts For The Elderly and the Disabled
#4 Ariel SOAKER Walk-in Bathtub
With heavy-duty stainless steel, the framework has adjustable feet that make the tub's placement very convenient. The left-hand door makes the walk-in effortless. 
The tub has a heavy-duty fiberglass resin coated triple gel coat, which makes it shiny-as-new at all times. The tub can hold 89 gallons at a time.
This tub has several safety features like a textured floor and the holding bars. The built-in seat is 17 inches long and 23 inches wide, making it comfortable for one to sit on and have a relaxing bath. 
The door is tight enough and does not open while bathing. The tub is of the standard size as bathtubs. Its sleek design makes it fit for any bathroom. 
Pros
Excellent tub for those people who have mobility issues.

With an appropriate size, the tub fits in any bathroom of any size.

Affordable tub as compared to other tubs available in the market.

The tub can hold up to 89 gallons of water at a time.

60 inch size, fits easily into a normal bathtub space.
Cons
The left door can be a bit difficult for those with mobility issues.

You will need an expert's help to install it.
#5 Empava Acrylic Whirlpool Walk-in Tub 
Installing an Empava Acrylic walk-in bathtub is very convenient. Ten pieces of hydrotherapy massage jets and six large water jets in the back region take bathing to the next level. The therapy helps to make one feel relaxed. 
A 1.0HP water pump provides a soothing effect on the whole body. Made with fiberglass, the tub is supported by a stainless steel framework that makes the tub reliable. It can easily withstand weight up to 400 lbs.
The outside of the bathtub has a handrail built all around it. Another grab bar is available inside as well, making it very safe.
A low step walk in the tub is convenient for old age people and people with short height. The parts of the tub are pre-installed to make the installation more convenient. 
The capacity of the tub is 94 gallons and it is 53 inches long and 27 inches wide. With a 120 voltage inbuilt power cord, the tub is durable and long-lasting.
Pros
Despite its low height, water doesn't spill over in the bathroom.

A convenient sized tub that can hold up to 94 gallons of water at a time.

The outside and the inside of the bathtub have bars installed that give an extra grip while bathing.

A perfect spa-like feeling can be experienced with the bathtub at home.
Cons
The parts have a three-year warranty only.

Only available in white color.
You may also like Best Shower Gurney Beds for Elderly
Why are Walk-In Bathtubs Necessary For Elders?
The elderly have a greater risk of falling and hurting themselves, as we have already pointed out. They have limited mobility and often find it very difficult to negotiate the steep climb required to get into a conventional tub.
Of course, bathing is a necessity for everyone, including seniors. Hence, walk-in bathtubs are the best solution for avoiding injuries and supporting elders to bathe independently without fear. 
A nice bath not only relaxes the mind but keeps our bodies free from germs, microbes, and other pollutants that can cause sickness. 
Another important aspect is the built-in chair. Most conventional bathtubs do not have a built-in chair. While there are transfer benches and swivel seats available in the market, you need to buy and install them in place and many times they would still be an inconvenience unless there is someone to hold your loved ones when transferring them across the side of the tub.
Not so with a walk-in bathtub! All your loved ones need to do is to open the sealed door, walk in gracefully, use the grab bars to sit down in the pre-installed chair, and voila, get ready for a nice comfortable bath!

Some Advantages Of Walk-In Bathtubs
A walk-in tub makes your elderly family member independent. They can take a bath without anyone else's help and that is really a boon, especially given the fact that most seniors prefer to age in place.

For people who have had medical issues or have had surgery and cannot stand for a bath, a walk-in bathtub is helpful.

Some walk-in tubs are available with jacuzzi or other relaxing features. These are very useful for seniors to get rid of body pain and stress. Moreover, taking a bath in a tub with bubble massages, hydrotherapy massage jets and heat therapy also enhances blood circulation. 

Walk-in tubs are very safe for elders. The design and textured flooring are much safer for a bath than a bathroom floor. Few tubs have safety switches that make the tub perfect for elders of the house.

Most walk-in tubs have a modern design. They enhance the beauty of a bathroom and make it look smart, elegant, and modern.
You may also like Adaptive Bathroom Equipment
Things To Consider Before Buying Bathtubs For Elders
Spacious
Large size bathtubs are better for elders. Bathing inside a bathtub is very relaxing; therefore, one should look for a tub with adequate space to sit in.   
Lower Threshold
A lower tub is always better for elderly people. The lower base makes it easier to move in and out, especially for those elders who have mobility issues.
Hydro-therapeutic
Some tubs come with hydro-therapeutic features that help to revitalize, maintain, and restore health. This therapy helps relieve body pain as well. Therefore, a tub that provides this feature can be very relaxing for your loved ones.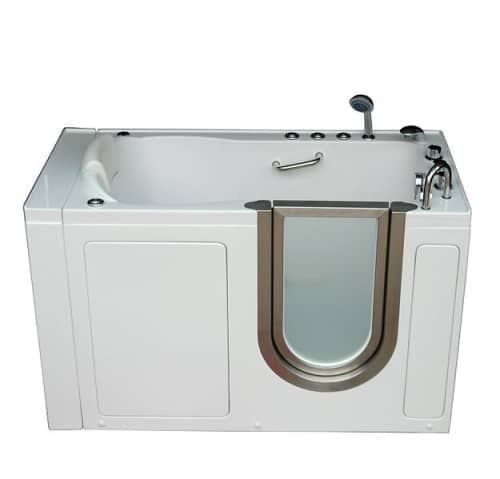 You may also like
Affordable
Anything that is fancy looking is not always fair and reasonable. Go for a tub in the budget you have set. You will find walk in bath tubs for all budgets in the market.  
No Extra Plumbing for Water Exits
Tubs with automatic drainage systems are suitable for elders. They do not require any additional cost and time for plumbing. Some walk-in tubs are available with two drain outlets that clear out the water in 80 seconds to 1 minute. 
Fully Equipped
A bathtub that is fully equipped is better as this makes installation very convenient. Furthermore, a fully equipped bathtub does not incur any extra cost while installing.
Stainless Steel Framework 
A strong stainless steel body will help the tub sustain itself, even if the person using the bathtub is heavy. This kind of framework makes a tub more durable, strong, and sturdy.
Suit Your Need
Purchase the tub according to the loved one for whom you are buying. Understanding their needs is very important. In-built jets, hydrotherapy massagers and heaters are options one can go for, depending upon the need of the user.
You may also like Bathroom Alterations for the Elderly
Conclusion
The elderly are at a higher risk of falling and hurting themselves, especially more so in the bathroom, where they have to risk climbing over the side of the bathtub nearly on a daily basis. Even if you install grab bars and transfer benches, the risk of falling over still remains.
Instead, by installing a simple walk-in tub, you can easily solve this problem. With open and close doors and in-built seating, walk-in tubs are perfect for your seniors to be safe while bathing.
In this article, we have selected the best tubs for elderly based on the features mentioned in our buyer's guide and the ratings and comments mentioned by actual users on Amazon. 
In our opinion, the American Standard Gelcoat Value Whirlpool 32"x52" Right Side Outward Door Walk-In Bathtub in White  is the best choice among the various options that we have considered because it is made keeping in mind American standards, is rich in features, and serves the purpose perfectly.
If you are looking for a value for money option, you can also consider the ARIEL Bath EZWT-3060- SOAKER-R 60" x 30" x inch White Walk In Bathtub Right Side Drain, which offers great value and features at a very reasonable price point. 
References:
[1] https://www.cdc.gov/homeandrecreationalsafety/falls/adultfalls.html