Rheumatoid arthritis is a chronic auto-immune condition that takes over your body and life in a progressive manner.
Though it's most prevalent between ages 40 and 70, it is not entirely rare among younger people. Your own antibodies destroy your tissues and joints gradually, resulting in pain and weakness in any of your main body joints like hips, knees, wrists, shoulders, and so on.
Walkers and canes help patients to some extent but they are not sustainable in the long run since they can put pressure on fragile joints like the wrists and shoulders.
On the other hand, a wheelchair can provide you with relief from pain, as well as help you move about your daily life instead of getting stuck in your bedroom.
In this article we have reviewed the best power wheelchairs for rheumatoid arthritis. If you are in a hurry, the table below gives a quick snapshot. Or you can scroll down for detailed reviews.
Range
Two 240V batteries, 20 miles
Range
Two 240V batteries, 20 miles
How a Wheelchair May Help in Rheumatoid Arthritis?
If your rheumatoid arthritis is holding you back from enjoying things you used to do, a wheelchair might help in giving a significant portion of that life back to you. Do not look at a wheelchair as a confinement device, it can allow you to do things that you can't otherwise do with severe arthritis.
There are many different kinds and styles of wheelchairs available with specific features for patients suffering from arthritis. The kind of wheelchair that should be chosen is dependent on which joints are affected and how severe the arthritis is.
You can add some accessories to the wheelchair to make it more useful. A basket on the side or in front when seated will help in carrying items at home or outside. When you are suffering from pain in the hip known as arthritic back or hip, to address this pain get a custom cushion. If you are a person who will be able to walk or stand for short distances, get a walking cane holder to help you.
Most importantly, you should not think of having to use a wheelchair as a negative thing, rather think of it as using a device to help you keep active.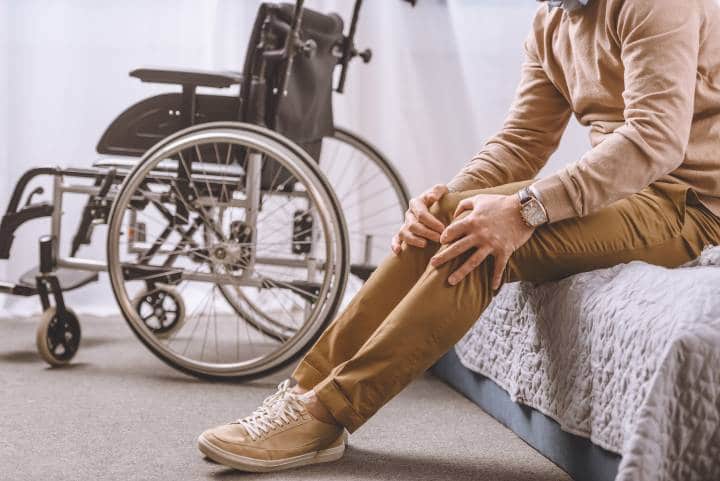 Should I Choose a Power Wheelchair or a Manual One for Rheumatoid Arthritis?
Manual wheelchairs are user-propelled. To use a manual wheelchair well, you need a fair amount of strength in your arms and upper body. On the other hand, power or electric wheelchairs are, as the name suggests, battery-powered and much easier to use as compared to manual wheelchairs. We have seen that arthritis sufferers are most happy with power wheelchairs.
While power wheelchairs are convenient – you can move about with just the touch of a joystick, they are much more expensive as compared to manual wheelchairs. You should consult your medical practitioner before making the final choice.
You may also like Best Adaptive Utensils for Arthritis
Best Power Wheelchairs for Rheumatoid Arthritis
We have reviewed 4 power wheelchairs suitable for those suffering from rheumatoid arthritis. These products should satisfy most use cases. So without further ado, let us get to the list.
#1 Porto Mobility Ranger D09S Power Wheelchair
Porto Mobility Ranger D09 is a lightweight, but heavy-duty portable electric wheelchair that folds up within 5 seconds. The chair is easy to use and has an expertly designed and extremely well-crafted frame for comfortable riding.
Pros
With a weight of just 52 lbs, it is extremely easy to fold, lift in to vehicles and unfold whenever required.
It offers a weight capacity of 350 lbs, which is one of the best in this category. As a result, it can accommodate even the heavy users quite easily.
With a slope climbing ability of up to 25 degrees, maximum speed of 5 mph and travel distance up to 16 miles on full charge, this is an extremely good option for high outdoor usage.
Due to the low turning radius of 33 inches, the chair can navigate tight spaces very well.
This wheelchair is ergonomically designed for comfort, and can handle all kinds of terrain, from gravel to grass and even snow.
The built-in shock absorber in the wheelchair allows for a smoother, more comfortable ride.
The frame of Porto Mobility Ranger is made of silver aluminium aircraft alloy, and it offers high durability.
There is a battery-life indicator which quite reliably and accurately lets the user know when they have to recharge the battery.
The wheelchair uses two batteries safe to be carried on airplane. Together, they provide the maximum travel range of 16 miles.
Cons
Only disadvantage of this wheelchair is that for tall users who are over 6 feet height, it can become little uncomfortable and they may not be able to get enough leg room.
Here we have a video that features Porto Mobility Ranger D09S Power Wheelchair.
#2 Sentire Med Foldable Power Mobility Wheelchair
Power wheelchairs are typically large, bulky things. Neither are they easy to store, nor can you conveniently carry them along on a trip. Sentire Med has turned the concept of a power wheelchair on its head by creating a 67-pound product (13 x 33 inches) that you can easily fit in the trunk of your car or even carry lug around with you with its convenient handle. 
But despite its lightweight and small frame, don't for a second think that this wheelchair does not pack a punch. With its two 250W batteries, you can get a pretty mean ride that can travel upto 15-20 miles on a single charge. 
Another thing that I loved about the wheelchair was that they took care of every little detail: from cup holders for your morning coffee to a convenient travel bag on the side that can carry your essentials, a battery bag to protect the precious batteries, and a travel bag in which you can carry your wheelchair – everything has been taken care of.
This power wheelchair is very versatile. Some machines work well on gravel, others on smooth surfaces. But the Sentire Med works equally well on gravel, tile, or grass. With a ground clearance of nearly five inches, you don't have to worry about bumps on the road either.
Pros:
It has large rear wheels which can easily negotiate any terrain.

With a 31.5-inch turning radius, it can rotate in even the sharpest corners of your home, including the bathroom.

A removable seat and seat cover, easy to clean.

Two 250 watts motors with a driving range of 20 miles.

The wheelchair lasts long. It has a strong aluminum frame, which makes it very sturdy. The batteries are also fairly durable

The joystick works well for both left-handed and right-handed people 

You can carry around the wheelchair easily, owing to its lightweight of just 67 pounds.
Cons:
It is a little expensive, but it is a value for the additional features.

Getting a hang of the joystick might take you some time. 

The wheelchair seat is a bit small (18 x 17.5 inches). If you are a big guy, the chair might be uncomfortable.
You may also like Best Knee Warmers for Arthritis
#3 EZ Lite Cruiser Power Wheelchair
EZ Lite Cruiser  is a small, lightweight foldable, electric wheelchair that can be easily folded and stored in the trunk of a compact car. Due to its lightweight and easy manoeuvrability, it is a good option for patients of rheumatoid arthritis.
No products found.
Pros
Weighs only 62 lbs and has a maximum weight capacity of 305 lbs.
The chair has a small turning radius of only 33 inches, so it can gets around indoor tight areas easily.
It has adjustable arm rests and removable seat covers.
With dual Lithium batteries, this chair can easily go up to 20 miles before requiring a recharge of batteries, making this one of the best extensive outdoor usage option.
Cons
Crossing obstacles can be a problem as the suspension on the chair is not too great.
Driving the wheelchair in rain is almost impossible, making its outdoor usage restricted.
No products found.
#4 Golden Technologies Powered-Wheelchair GP162
GP162 Literider is a cosy power wheelchair, which is compact but still has a good weight capacity. It can be disassembled into 3 parts, making it suitable for travel.
Pros
It is extremely light, with the lightest version at 35 lbs, making it very convenient to use by patients of rheumatoid arthritis.
The wheelchair has a weight capacity of 300 lbs, making it usable for a wide range of users.
As it can be disassembled into 3 parts easily, this wheelchair is very convenient to be taken in a car or on a trip.
It has a maximum range of 15 miles on a full recharge of the battery
It has an excellent turning radius of 26 inches, making this a great option for indoor usage.
Cons
The maximum rated speed of the chair is 4mph, making it slower than most of the other options available in this category.
You may also like Best Gifts For Someone With Rheumatoid Arthritis
Conclusion
For a patient of rheumatoid arthritis, getting a wheelchair is a major life-altering decision. The psychological aspect of this decision is immense and should only be taken after at-length consultation with your doctor and other caregivers.
Choosing between a manual or power wheelchair is also another key decision where you need to balance your budget, needs, and availability of an attendant or companion.
We hope that this article helps you analyse the various factors associated with buying a wheelchair for rheumatoid arthritis and shows you the pros and cons of the best ones that you can consider.