We have reviewed the best narrow width self propelled wheelchairs for you. If you are in a hurry, the table below provides a quick snapshot. Or you can scroll down for detailed reviews.
If you have used a wheelchair ever, you must have come across the annoying scenario of not being able to pass through a narrow doorway or passage. Sometimes, trying to pass narrow passages might end up bruising your knuckles.
Thus, it is very relevant to consider the overall width of the wheelchair that you have decided to buy and how it will fit through doorways at your home. To make it easier, we have reviewed the best narrow width self propelled wheelchairs.
Choosing a Narrow Width Self-Propelled Wheelchair
Not everybody can, of course, rework or expand their doorways. It may cost a lot of money and/or time to do that. Your average doorways are normally around 30 inches wide which would leave little room for you to wiggle through if your wheelchair is anything above 27 – 28 inches wide at its widest part.
Remember, the wheelchair has to pass with the occupant seated in it while accounting for your knuckles. You would want at least an inch of clearance on either side while passing a doorway.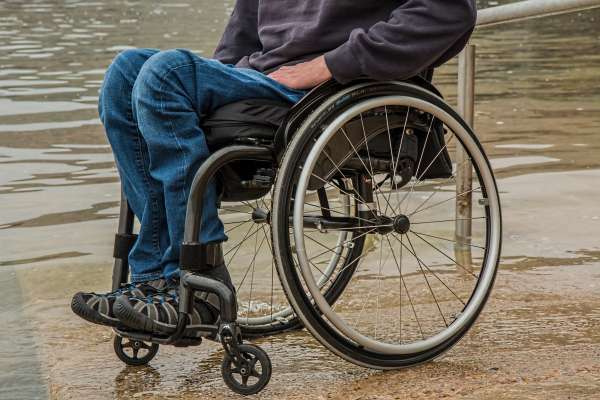 For bigger users, this is really problematic. You will have to select a wheelchair with a wide enough seat for your comfort. And this may increase the total width of the wheelchair beyond the width of your doorways.
While, in this case, some portions of your home may become inaccessible to you, it is always a good idea to consider the width before buying and plan for this lack of accessibility.
You may also like A Guide on How to Get a Wheelchair for Free
Consider the Total Width of a Wheelchair
While purchasing a wheelchair, the consideration is often the seat width of the chair rather than the total width of the device. The total width is generally 5 to 8 inches more than the seat width and depends on the thickness of the arm rest, the thickness of the wheels etc.
Having said that, on top of the total width of the wheelchair, you should budget another 2 inches for accommodating your hands which would be on the wheels if you are self propelling your manual wheelchair.
Often, you could end up with knuckle bruises if you do not budget for this much extra space. In fact, new wheelchair users often brush their knuckles against walls and doorways, as they take some time to get used to the width of the wheelchair.
Of course, if you have a full-time attendant or are using a power wheelchair, you do not have to budget space for your hands.
Let us now look at the best narrow width self-propelled wheelchairs that are available in the market.
#1 Drive Medical Silver Sport 1 Wheelchair
This is a basic wheelchair model with total weight of 38 pounds and maximum carrying capacity of 250 pounds. The model which has seat width of 18 inches, has a total width of 24 inches. The wheelchair has push-to-lock feature on wheels for added safety.
Pros
Extremely efficient wheelchair for lighter to moderately heavy users
Comes completely assembled and you need to only install the foot rests
Lightweight and durable and easy to operate for both self and attendant
Easy to fold and store as well as to carry along while travelling
Good value for money
Cons
Seat depth is less at 15.75 inches and therefore, the wheelchair is not suitable for taller users
You may also like How Wide is a Wheelchair Ramp?
#2 Karman Ergonomic Ultra Lightweight Wheelchair
This self propelled wheelchair is extremely light at slightly under 20 pounds. It has a maximum weight carrying capacity of 220 pounds.
The model comes with hand brakes for the companion and its ergonomic design is expected to reduce the chances of pressure sores from long use. The model with seat width of 18 inches measures 24.75 inches from side to side.
Here we have a video featuring Karman Ergonomic Ultra Lightweight Wheelchair.
Pros
Attendant brakes make it easier for care giver to stop the chair
Ergonomically designed seat and backrest for greater comfort
Easy to fold and carry around as also to store in the back of a car
Comes fully assembled and you just have to install the foot rests
Cons
No model available for seat width of more than 18 inches. You may want to get in touch with customer care to find out whether they can get you a larger model
Not suitable for heavy user
#3 Drive Medical Self-propelled Wheelchair Cruiser III
This manual wheelchair comes with adjustable arm rests for easy access to the seat and swing-away footrests for greater freedom. If you are over 6 feet in height and weight anywhere over 250 pounds, you may want to order the mode with the 20 inch seating capacity (total width of 28 inches, just sufficient to squeeze you through standard doorways). The maximum weight capacity is 350 pounds.
Pros
Carbon steel frame adds lot to durability and stability of the chair
Lightweight model just under 38 pounds, makes it easy for manual use
Adjustable seat depth will allow addition of extra seat cushioning and still maintain comfortable height for armrests
Available options for seating capacity of 16, 18 and 20 inches to exactly suit your needs. You should take the perfect size for you, otherwise, on longer trips, you may find it uncomfortable
Good value for money
Wheelchair allows for back inserts for better back support
Comes with a calf muscle support in higher end models, for better leg support
Cons
Built in seat cushioning may not be sufficient for long ride comfort. You may think of buying additional cushions for your use.
You may also like Best Wheelchairs for Stroke Patients
#4 Drive Medical Full Reclining Wheelchair Viper Plus
This wheelchair weighs under 49 pounds and has seating capacity of 300 pounds. The product has hand brakes for attendants. This is a full reclining self propelled device which is high end in terms of price.
The seat depth can be adjusted up to 2 inches to make room for taller users. The back height is also adjustable from 17 inches to 19 inches at 1 inch interval. The model with 19 inch seat width measures 26.5 inches from side to side.
Pros
Taller users can extend the seat depth by 2 inches to get a better fit on the wheelchair. Alternatively, if you do not need extension you can still use the extra depth for some extra cushioning
The arm rests can be flipped back for easier access to the seat
Durable upholstery and wheelchair material
Hand brake gives greater control to care giver or attendant
The 17 inch seat model has total width of 24 inches, which makes it a good candidate to go through standard doors
Wheel locks are conveniently located, so that you may reach them easily from your seat
Height adjustable feature of back rest is beneficial if the wheelchair is being used by two people in the same household.
Cons
Seat cushioning could have been thicker for greater comfort. You may want to add separate cushioning
Foot rests are not fully adjustable, may cause discomfort at some degrees of incline
#5 Medline Lightweight Wheelchair MDS806550E
This is a lightweight wheelchair at around 34 pounds with a maximum carrying capacity of 300 pounds. The model with 18 inches seat width has an overall wheelchair width of 25.5 inches making it a good candidate to easily pass through all kinds of narrow doorways. There is a model with 16 inch seat width, which has an overall width of 23.5 inches, but is only suitable for smaller users.
Pros
Adjustable seat height makes it more comfortable for slightly taller users
Flip back arms give easy access to the seat
Available in multiple seat widths of 16 / 18 / 20 inches. Please check if the 20 inch model (roughly 28 inches in total width) will pass through your doorways
Adjustable back rest also adds to comfort and prevents skin sores
Has leg supports for calf muscle
Cons
You may find the arm rests smaller than what is required, at least the padded part of it.
You may have to invest in extra cushioning for the seat
You may also like Best Narrow Walkers for Seniors
#6 Invacare Tracer Manual Wheelchair SX5
This self propelled wheelchair is one of the lightest at around 34 pounds with carrying capacity of 250 pound. There are versions with up to 22 inch seating capacity, however, use should know that these models (20 and 22 inch seat, with total widths of 30 inches) will not go through standard bathroom doorways.
Pros
Strong and durable
Easy to fold and unfold and lightweight
Adjustable seat depth will allow addition of extra back rest cushioning or will be helpful in maintaining proper posture if you are taller than six feet
More expensive models have calf muscle supports
Cons
Seating may not be comfortable for long use. You may budget for extra cushions
Ride quality may not be great on very rough surfaces, due to lack of good suspension
Conclusion
As a good practice, you will do well to measure the open spaces between the doorways in your house and then take an informed call as to which wheelchair to buy. However, it absolutely does not make sense to buy a wheelchair in which you can barely fit, in order to fit your wheelchair through doorways.
Even if some spaces in your home become inaccessible to you when you are on your wheelchair, the world will open up for you.
If you want to know more about lightweight wheelchairs, read our article on transport wheelchairs.
For other options on narrow wheelchairs, you can read about narrow electric wheelchairs.