Quick Snapshot:
In this article, we review the best bbl pillows for you. The table below provides a snapshot of our top picks, and you can scroll further down for our full discussions and reviews.
Foam Type
50D Foam Top + 100D Memory Foam Bottom
In this world dominated by millennial choices, the desire to have the perfect curvy bottom has been on trend for quite some time now. As per the American Society of Plastic Surgeons, there were 28,076 buttock augmentation surgeries in 2019, up 17% from 2018.[1]
Brazilian Butt Lift (BBL) surgery is booming these days more than ever. However, this fat transfer cosmetic surgery does have its share of ups and downs.
One of the most crucial recovery tips after a brazillian butt lift surgery is to not sit directly on your hips for at least eight months after the fat transfer procedure. Well, that sounds quite demanding!
How can one recover after bbl surgery without having to long for a comfortable seat? Is there a way out?
Yes, there is and we have got your butt covered here!
Use a BBL Pillow for Sitting
BBL recovery pillows are specifically crafted to help you sit comfortably during the recovery period after a Brazilian butt lift surgery.
These pillows reduce the pressure off your buttocks area so that less stress is placed on the newly transferred tissue. All you need to do is position the pillows under your thighs while you sit and you are all set.
Tips for Sitting After BBL
Use a bbl pillow to sit on your thighs. This will remove the pressure on your butt and reduce stress on the newly transferred fat tissue
If using a bbl recovery pillow causes any tingling sensation or numbness, stop its use immediately.
After your bbl surgery, avoid sitting for long periods of time (even with a bbl pillow). Stand up and walk around for better circulation.
Sit with your feet positioned flat on the ground. This will make sitting more comfortable and help reduce pressure on your buttocks.
Use a bbl inflatable bed and compression garments to heal faster after your bbl procedure.
Best Pillows for Brazilian Butt Lift Recovery
To answer the question, "What is the best bbl pillow?" if you are going to rely on Google, good luck!
A search for BBL Pillow on Google gets you almost 2 million results! So how do you select which bbl pillow is the best for you?
Well, we have done the heavy lifting here.
We tested dozens of bbl post-op pillows, spoke with real users, got on calls with the manufacturers of bbl products, scoured Facebook groups and came up with a list of the best ones. We even had our resident doctor review this list for medical correctness!
So without further ado, let us look at our top recommendations and why we consider them among the best bbl pillows.
#1 – YesIndeed Brazilian Butt Lift Pillow – Best BBL Pillow
YesIndeed's bbl pillow is far ahead of the pack and is the best bbl pillow overall.
They have designed this bbl pillow to allow you to rest comfortably without any pressure on the backside. This off-loading cushion accommodates the contours of your body, so you can sit peacefully with all the pressure directed towards your thighs.
This bbl pillow supports up to 100 kilograms or 220 pounds of weight. Measuring 16.4″ x 7.5″ x 5″, this pillow will fit on most chairs easily. The ribbed bottom makes sure that the pillow does not move when you are sitting on it.
The YesIndeed BBL pillow is topped with memory foam and comes with a velvet cover. These two combined give proper comfort and support to your thighs while sitting.
YesIndeed also provides a pillow carry case that is durable enough to bring anywhere. This makes the pillow a perfect travel companion.
Pros
Supports up to 220 pounds.

Memory foam topper and velvet cover make it a very comfortable bbl pillow.

At under 2 lbs, it is lightweight and easily washable.

You have peace of mind with YesIndeed's lifetime guarantee on its product. 
Cons
Not the most sturdy.

The velvet cover can get dirty fairly easily.
What makes the YesIndeed Brazilian Butt Lift Pillow the best BBL Pillow?
The YESINDEED The Original Brazilian Butt Lift Pillow – Dr. Approved for Post Surgery Recovery Seat – BBL Foam Pillow + Cover Bag Firm Support Cushion Butt Support Technology… is our top choice for the best BBL Pillow for the following reasons:
Puts user comfort first, with a generous layer of memory foam that molds to the shape of the user, and velvet covering that is gentle and soft to the touch.
A high weight capacity relative to other pillows in this category with its ability to support users up to 220 pounds in weight.
Wide compatibility and portability, with its compact size and weight, as well as provided carrying bag.
A lifetime manufacturer warranty and considerable positive user reviews indicate the pillow to be one of the most reliable options available.
#2 – Bootylicious BBL Pillow –
Best for Driving
The Bootylicious BBL pillow is an excellent option for people who want to buy a BBL cushion on a budget. This is one of the best bbl pillows for the money.
The pillow will be reliable from the time right after your Brazilian butt lift procedure to the point when you have completely recovered.
Measuring 15.5″ x 7.5″ x 3.5″, this pillow is slightly smaller than its counterparts on this list but it is still big enough to comfortably support most body types. It is extremely lightweight and weighs just 0.7 lbs.
With lightweight and eco-friendly materials, it increases the chances of recovering quickly. It is made of a firm and comfortable foam that will let you sit on your back with ease. 
The contoured pillow is of an ideal shape and size for travel and can be used in most sitting situations such as while driving your car, sitting on your office chair, or even while traveling by train or plane.
Pros
Great option at a very affordable price.

Multipurpose and widely compatible.

High-quality and eco-friendly materials are used.

Firm and stable to avoid sinking.
Cons
No memory foam option – can be uncomfortable for very sensitive cases

Can be a little too stiff to sit on for some individuals.
What makes the Bootylicious BBL Pillow the best BBL pillow for driving?
Firm support so that the cushion stays supportive for longer and frequent car trips. Traffic jams can become a bit more comfortable with a comfy cushion like this.
Lightweight design so that it is not a hassle to carry it to and from your car.
Affordable price tag so that you can commute in comfort on a budget.
You might be interested in reading: Best Foot Elevation Pillow
#3 – Good Boy BBL Pillow – Best for when Flying
The Good Boy BBL Pillow is the best choice if you are choosing a bbl pillow for flying.
All pillows are designed with the intention to provide comfort upon initial sitting. But many pillows can bottom or flatten out after a while due to sustained weight.
The firmness and stability of Good Boy bbl pillow give it the ability to hold its shape and provide support for long sitting sessions often experienced on long plane rides. You will be fine using it for long sitting sessions on a flight.
But do remember to take breaks every couple of hours by getting up and stretching yourself when flying.
This bbl pillow is ergonomically designed to provide constant support and comfort protecting your buttocks from any harm. The surgery pillow is durable and firm no matter how much you use it.
The post-operative memory foam helps you use it at any place of your choice: on car seats, office chairs, or even on long-distance plane trips. Although this bbl pillow is best used in short and long haul flights.
The rubber bottom and built-in handle allow the surgery pillow to stay firm in all conditions.
The quality foam used in making these pillows is high density, which is why the pillow does not flatten easily. It has 4 inches of recycled foam on the bottom and 1.5 inches top layer of memory foam that makes sure that your bottom never touches the surface.
Pros
High-density memory foam.

Non-slippery bottom.

Ergonomically designed to provide support.

Can carry anywhere, anytime.

100% money-back guarantee.
Cons
There's a slight chance that the material might shed.
What makes the Good Boy Brand BBL Pillow the best bbl pillow for flying?
High density foam means it does not flatten easily and can be used for long periods of sitting experienced during flying.
The reliable construction will allow you to bring this pillow with you for many consecutive plane rides if you travel frequently.
Non-slip bottom so the pillow stays in position on plane seats.
Compact enough to bring along for travel.
#4 – Bootyful Curves BBL Pillow – Best BBL Pillow with Back Support
Some people like bbl pillows with back support. Bootyful Curves is the best bbl pillow for back support.
With a wide opening where the back support and the pillow meet, there is enough room for your butt to stay in the air. And your body weight is also well distributed to avoid pressure ulcers from long usage.
Don't ruin your BBL results anymore. Use the Bootyful Curves BBL Pillow with Back Support for the ultimate comfort after your BBL surgery.
You can use this pillow conveniently on any surface, and it is designed to provide the ultimate comfort to not only your rear but also your back.
This model is designed to ensure that your back does not hurt in the process of supporting your butt after the surgery. The entire pillow unit provides a body contouring effect that delivers good comfort while sitting or lying down.
You can attach the back pillow at two positions on the butt pillow and use it according to what fits your sitting posture.
The 50D memory foam on top and the 100D foam at the base provide good support. The back pillow is of 100% polyester fiber.
The velvety black look, along with the drawstring bag, makes it a classy choice. You can carry this pillow around with fair ease. 
Pros
Comfort is the main feature that the manufacturer focuses on. It comes with a 2-way attachable back pillow which you can attach as you like.

The 50D memory foam top layer and the 100 D recycled foam bottom layer ensure the optimized

and hence the best comfort at all times, especially after a

. It assists in a speedy

process.

The belt attachment of the back cushion makes sure that you can conveniently strap it around for better positioning of the pillow. 

The polyester material provides greater comfort than most other materials used for BBL pillows these days.
Cons
It is a little pricey.

If you wish to have something soft, this pillow might not be a great buy. The materials are on the stiffer side.
What makes the Bootyful Curves BBL Pillow the best BBL pillow with back support?
This is the one

with back support that has made it onto our list of top pillow choices!

With top-quality memory foam and standard foam materials, this is one of the best constructed BBL pillow options that come with back support.
The opening where the back and bottom cushioning meet is wide and contoured to allow for most of the pressure to be directed towards only the thighs and back.
You might be interested in reading: Best Bed Pillow For Elderly
#5 – AHMPost Butt Lift Recovery BBL Pillow – Best for Sitting
AHMPost has crafted this BBL procedure pillow to assist you with faster recovery from butt lift surgery. This cushion is constructed of high-quality materials for maximal comfort.
It is made of a unique three-layered design and premium bamboo fabric to provide the utmost comfort for faster recovery. They are easy to wash and have a non-slippery rubber bottom.
These pillows have wide compatibility and are versatile enough to use anywhere. It fits into any chair or seats providing unmatched comfort for just about anywhere you go. 
Pros
As a

in recovery, helps you speed up the recovery process.

Non-slippery rubber bottom.

Unique three-layer design.

Made with high-quality bamboo fabric.

Includes a pillow handle and drawstring travel bag.
Cons
What makes the AHMPost BBL Pillow the best BBL pillow for sitting?
A softer foam for immediate comfort the moment you sit.
Compatible with any chair or seat, so that you can bring it with you anywhere you plan to sit.
A comfortable, high-quality bamboo fabric that covers the pillow.
#6 – Royal Comfort BBL Pillow
The Royal Comfort BBL Pillow provides three-layer of protection to ensure you are comfortable using it and has been found to be one of the most reliable pillows to use after your surgical procedure.
It is a premium quality product that has a unique three layers design that protects your buttocks sensitivity after the surgical procedure.
The first layer, which is grey, is for maximum support. The second white layer curves perfectly around each thigh. The third layer, which is pink in color, is added for maximum comfort.
It provides a high level of protection and supports each thigh and your legs, reducing all pressure from the buttocks.
Pros
Premium quality material is used.

Unique three-layer design to ensure safety.

Ultra-comfort.

Known for its versatility.

Supports up to 250lbs without sinking.

Approved by surgeons in LA and Miami.
Cons
May not be firm enough.

May not be the most versatile option.
You might be interested in reading: Best Coccyx Cushions for Tailbone Pain
Buyer's Guide: Features to Consider When Buying a BBL Pillow
Material
The material used in the making of the pillow can help you understand if the product is good or not. Always make sure the material is comfortable and soft when using. It should be of premium quality to ensure it can help make your recovery process easier and faster.
Wide Compatibility
The pillow should be of ideal shape so that you can carry it anywhere, anytime. It should be light to lift and should fit on any type of chair.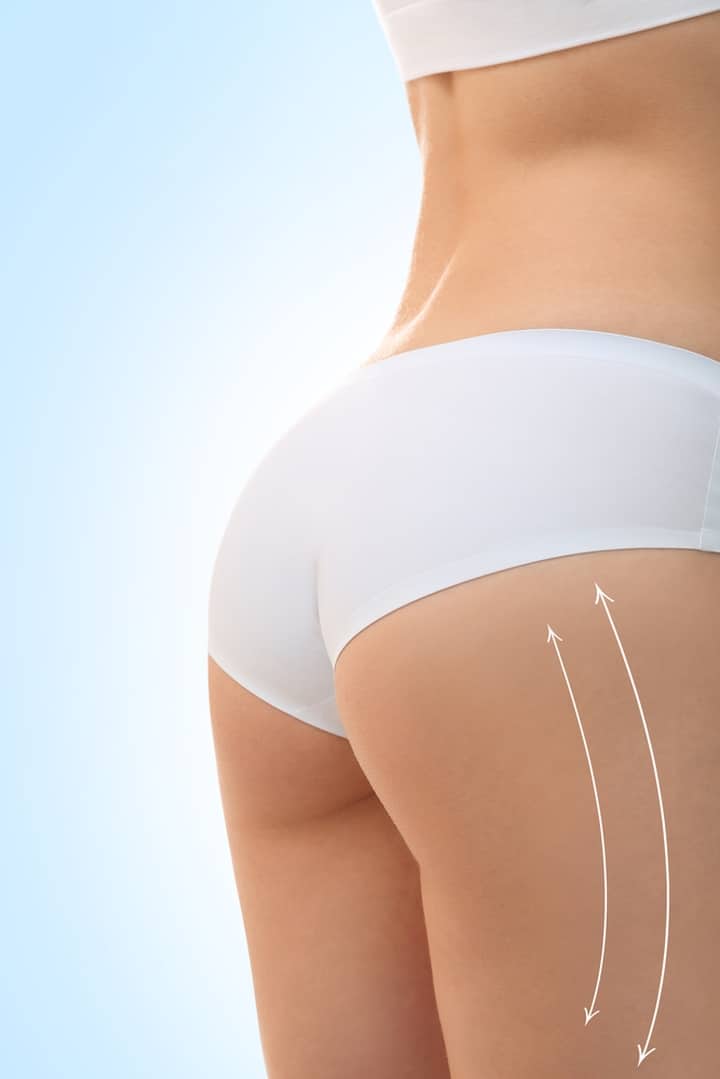 Firm and Sturdy
Ensure the pillow is firm and sturdy while using. It should withstand a bodyweight up to 250lbs without sinking. Don't let your butt touch the surface of the chair. Make sure there is a safe distance between the surface and your bottom.
Shape
When you are preparing to buy a BBL Pillow, look for a shape that will suit your bottom comfortably. These pillows come in various shapes and sizes, so it is essential to choose one that is ergonomic so that it is more likely to accommodate your body shape and prevent pressure areas that may be more noticeable during longer periods of sitting.
You might be interested in reading: Best Coccyx Cushion For Heavy Person
Frequently Asked Questions 
Q. What is a BBL pillow?
Brazilian butt lift (BBL) pillows are seat cushion pillows that are specially designed in such a way to help lessen pressure on the buttocks when sitting. This is accomplished with their ergonomic design that encourages sitting on your thighs, so that the pressure is redirected to your thighs instead.
As a result, the buttocks are fully elevated and not in contact with the seat, which allows the sensitive fat cells transferred during BBL surgery to recover during the months after the operation.
Q. Is a BBL pillow necessary?
According to sources, during the first 6 weeks of the butt augmentation recovery time, the body will generate a blood supply around the new fat cells. If you must sit during these first weeks, do it only when absolutely necessary and always use a BBL pillow.
Q. How do I sit on a BBL pillow?
BBL pillows are designed to be sat on with your thighs rather than your buttocks.
Place the BBL pillow on top of the seat on which you will sit, and position it closer to the front of the seat away from the seat's backrest. This should be about the correct position so that your thighs can rest on top.
Sit down on the BBL pillow, resting your thighs on the pillow, while leaving your buttocks off the surface of the seat. If your seat has a backrest, it will be easy to balance on top of the cushion without having to sit on your rear.
Q. Can you drive with a BBL pillow?
Sitting directly on your butt should be avoided. You can sit in your car to drive with the help of your BBL pillow.
Make sure your lower thighs are sitting on your BBL pillow, and not your buttocks. Avoid any sort of excessive pressure on the butt area to recover safely. 
Q. Is driving after BBL surgery advisable?
Driving after BBL surgery is not advisable if you intend to sit directly on the driver's seat. Especially with longer trips, this can place a lot of pressure on your buttocks while it is recovering.
To avoid this excessive pressure, place a BBL pillow in position on your driver's seat so that you can sit with only your thighs, leaving your buttocks elevated.
Q. How can I sit on an airplane after BBL?
Good question! With this, we revisit our explanation about driving after BBL.
Airplane seats and car seats are very similar. However, flights tend to be significantly longer than car rides, so it is even more important here to stress that you bring a BBL pillow with you on a flight.
The process of placing a BBL in position on an airplane seat is identical to the setup for a car seat.
Q. When can I stop using a BBL pillow?
You can stop using the BBL Pillow when you have completely recovered. Consulting a doctor before ceasing to use the pillow is necessary.
Parting Words – Best BBL Pillows for Different Uses
After a Brazilian Butt Lift surgery, your surgeon will advise you that the tissue on your new buttocks will be sensitive to pressure and will require a few weeks to a few months to recover. During this time, it is not advisable to sit directly on your buttocks.
However, we can't expect to just stand all the time! Thankfully, BBL pillows are here to rescue.
In this article, we reviewed some of the best bbl pillows on the market. Here is a quick recap for you:
Best BBL Pillow Overall – YesIndeed Brazilian Butt Lift Pillow
In our opinion, the YESINDEED The Original Brazilian Butt Lift Pillow – Dr. Approved for Post Surgery Recovery Seat – BBL Foam Pillow + Cover Bag Firm Support Cushion Butt Support Technology… is the best product in our selection. It has a fair weight capacity at 220 pounds. The memory foam topper, velvet cover, and a lifetime guarantee make it the perfect product after your BBL surgery.
Best BBL Pillow for Car Seats – Bootylicious BBL Pillow
As we discussed, you may continue to drive after a BBL surgery if you modify your car seat with a suitable BBL pillow. The Brazilian Butt Lift Recovery Pillow, BBL Recovery Pillow, Butt Pillow, Butt Augmentation Recovery Pillow, Post Recovery Brazilian Butt Lift Pillow'… fits the bill here, as it is lightweight and portable, firm enough to support you during longer car trips, and is a great overall budget buy.
Best BBL Pillow for Planes – Good Boy Brand BBL Pillow
As with driving, plane rides are possible after your surgery as well, so long as you prepare a BBL pillow that will hold its shape and target support at your thighs. The Good Boy Brand BBL Pillow does exactly this, with a durable and firm construction, a compact travel size, and a non-slip bottom so that it doesn't shift in your plane seat during longer distance flights.
Best BBL Pillow with Back Support Combo – Bootyful Curves BBL Pillow
Get your lumbar support and post-BBL surgery support in one package with the comprehensive Bootyful Curves BBL Pillow. As the best BBL pillow and back support combo we have found, this unit has a long-lasting memory foam layer and an opening wide enough for most any size of buttocks.
Best BBL Pillow for General Seating – AHMPost Butt Lift Recovery BBL Pillow
Lastly, we highlight the AHMPost Butt Lift Recovery BBL Pillow as another reliable option. This versatile offering uses a softer foam compound that will be comfortable right from your first sit with no break-in time required. Additionally, its soft bamboo covering is machine washable and will feel gentle against your skin.
While we make every effort to provide updated and correct information, the advice given in this article and website should not be construed as "medical advice". Please consult with your physician or medical practitioner before using any bbl pillow. Each patient may have his or her unique issues and your medical practitioner is the best person to give advice on the best bbl pillow for your case
If you are looking for other types of pain relief pillows as well, we have you covered:
References: