One of the biggest health concerns for seniors, especially those who live alone or far away from their support system, is ensuring they get adequate nutrition.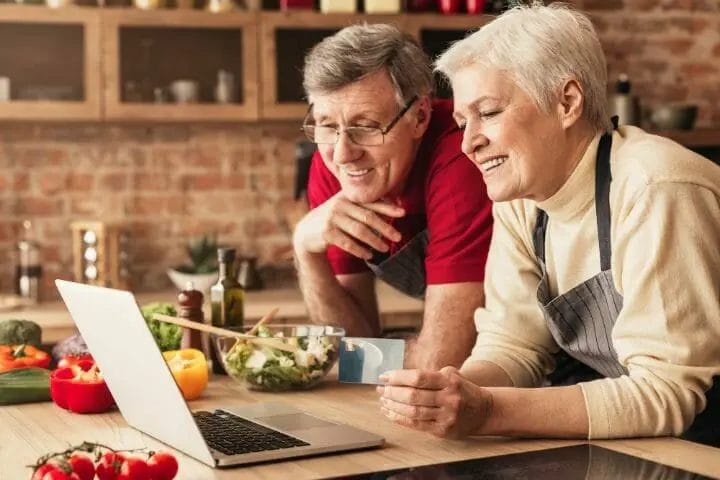 When you don't have easy access to transportation, or you have increasing mobility issues, it can be very difficult to get to the grocery store or even out to a restaurant to make sure you have the nutritious meals you need to stay healthy.
Although it wasn't as popular before COVID-19 hit, grocery delivery services have been available to almost everyone for quite some time. These services can make it easier to ensure seniors have nutritious foods in their fridge that they can eat when they're hungry.
These kind of services can give loved ones assurance their family member will not have to venture out to the grocery store on their own when they need to eat, especially if they are vulnerable to COVID or have mobility issues.
Since no one can opt out of eating when it gets difficult to obtain groceries, the need for grocery delivery is serious among seniors, so it's important to know what the options are and how you can easily get groceries delivered.
Individual Grocery Stores
Depending on the area you live in and what your city offers, the grocery stores local to you may have delivery options to help you out. You will likely need access to a computer (or ask a loved one to do it) to order the items you want, but many grocery stores are offering a delivery service now to help those who are unable to easily leave their house or have mobility issues.
You might like to read Clothing for Seniors With Limited Mobility

 
Amazon
We all know that Amazon has almost anything we could ever need – so why not groceries? Now you might not be able to get fresh produce off of Amazon (or you may not want to), but you will be able to get pantry items to keep on hand and also those items you'll need to cook meals for yourself.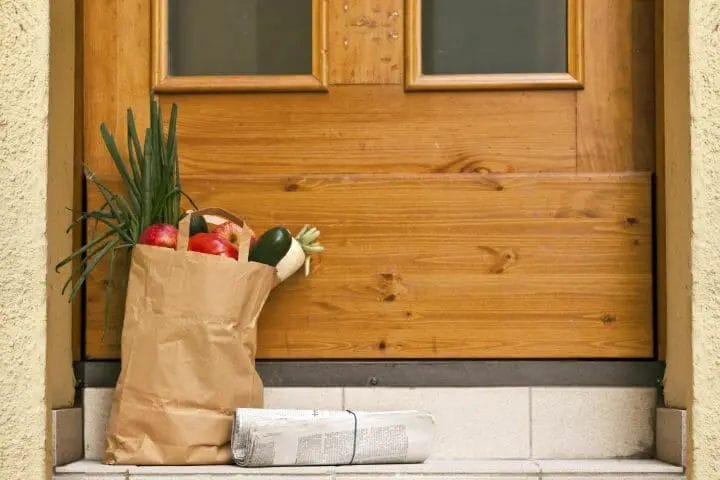 Amazon offers a prime membership where delivery is always free, and often items are delivered the very next day. On top of that, Amazon also offers a subscription service where you can indicate that you would like a certain item shipped every so often without having to go back in and order it again.
The downside to this (possibly) is that you will also need access to the internet and be fairly computer savvy, although a family member can also set this up for you if you have someone you trust who can help.
Amazon also has an additional service available in major US cities called Amazon Fresh. This service is available to Prime members only and offers delivery of fresh produce to your home. If you don't live in a major urban center, this might not be able option for you but it's worth looking into as they will deliver right to your door like all other Amazon products would be.  
You might like to read How To Thicken Liquids For The Elderly
Instacart
This is a website that brings together multiple grocery stores in your area that you can shop from.
The website does require a member log in, but once you have created one it will show you the stores in your area and it will act as a personal shopper for you. If you need items from multiple stores, you can pick what you need and have someone pick them up for you.
Now with this service, you are trusting one of the Instacart employees to pick the right items for you (including produce), but they are trained to pick items as though they are shopping for themselves so they will pick the best items for you.
Now with this service, you may have to pay a delivery fee for each time you order but there is an option for free delivery. With a yearly membership of $99 you will get free delivery, so if you get weekly deliveries or even bi-weekly deliveries then signing up for the yearly membership might be worthwhile for you so that you save money on delivery fees.
Produce Delivery Services
Services like Fresh Direct are usually only available in major cities, but they can be very helpful for those who want fresh produce on a regular basis.
Fresh produce is incredibly nutritious and great for anyone's health, but when you don't have access to it on a regular basis it can make keeping a healthy diet difficult.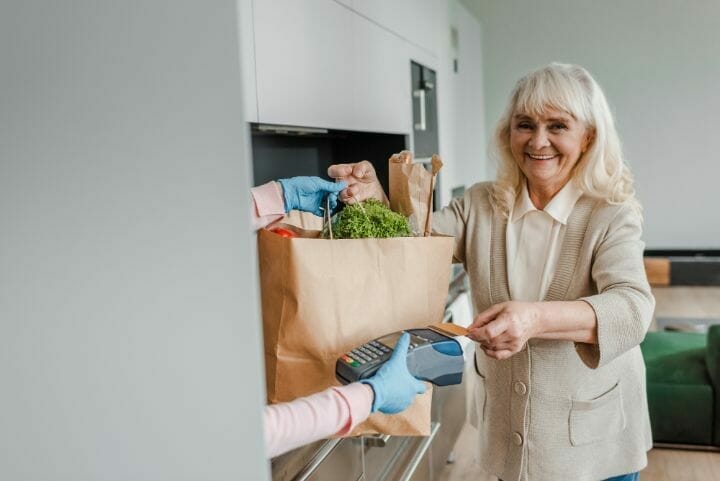 With produce delivery services, most give you the option to order a pre-made box or you can customize the kinds and amounts of produce you want to have in the box.
These kinds of services will definitely make sure you are getting healthy and nutritious produce delivered weekly to your door, so it's always fresh and you always have fresh foods to eat.
You might like to read Best Protein Shakes For Seniors
Meal Kit Delivery
This is a trend that has become increasingly popular for families everywhere, not just seniors. These services will send you all the ingredients along with the recipe card needed for you to make a delicious meal, maybe even something you haven't tried before.
These services offer options for 2 or 4 people, usually, so even if you live alone you can order enough for left overs and you don't have to cook nearly as often.
Here are a few different meal kit delivery services to consider
Blue Apron
This service has meals as low as about $10 a meal. Each week, you will get between two and four different recipes delivered to your home, and you get to pick which ones you want to try.
Each week, you will get an email notification with the new options so you go into their website and pick the recipes you want to try.
What's great about this service is that if you don't want to order for the week or you won't be home, you can skip the week so and not be billed for it. Often times, you can skip multiple weeks at a time if you know you won't need it or just don't like any of the available recipes.
As an added bonus, they will send you recipe cards as to how to make the meals and you can keep these. This can work as a way to build your recipe library so you can note the ones you like and can purchase the ingredients on your own to make at a later date if you want to.
Hello Fresh
This service is very similar to Blue Apron, but users of both services have noted that Hello Fresh recipes are little bit easier to make for those who don't have as much experience in the kitchen. This might be better for someone with limited mobility as they require less experience and are easier to make.
The price is around the same as Blue Apron per meal, so you won't notice a big difference in your budget if you can or want to try out one of these services.
Pre-Cooked Meals
This kind of service is a little different from the others, but it does work similarly.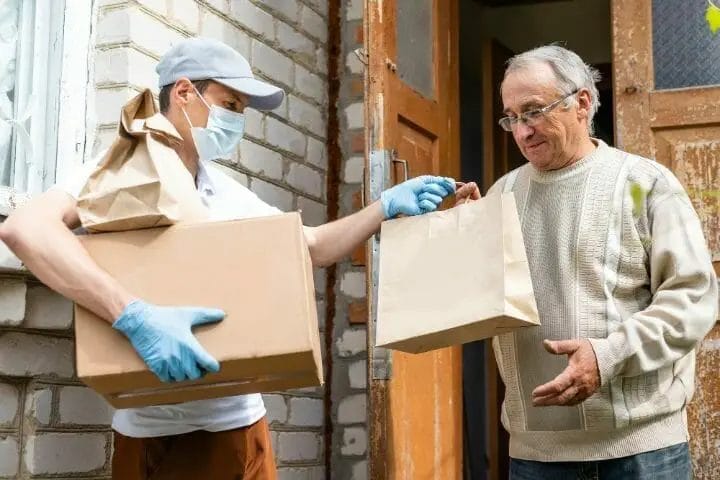 This kind of service will bring already cooked and pre-portioned meals to your home (or your loved one's home). They often need to be frozen until they are ready to be eaten, but they are incredibly convenient.
If your loved one doesn't have the ability to cook for themselves anymore, or perhaps you're worried about them using the stove on their own, these kinds of services make sure they are still getting nutritious meals and you don't have to worry about them venturing out to the grocery store on their own.
You can schedule these services to be delivered weekly, biweekly or even monthly – depending on what is needed. You can also often choose what kinds of meals you get. For example, if you don't like chicken or beef, then you can request your meals not have that kind of protein in it. Additionally, if you need to follow a special diet (low sodium, gluten free, vegetarian, etc) you can choose your meals based on those needs too. The fact that you can customize all your choices for meals makes this a perfect option for seniors!
You might like to read How to Increase Elderly Appetite and What to Do When Seniors Don't Eat
Restaurant Delivery
Depending on where you live, you may have access to many different kinds of restaurants to order from. While eating out all the time can get very expensive, and it isn't always all that healthy, it is a great option when you don't have any groceries in the house or just want something a little different for dinner.
What's great about restaurant foods is that many of the portions are really big so they will give enough for left overs and you can easily get two meals out of them.
Services like Grub Hub, Door Dash and Uber Eats have partnered with various restaurants so you can go to one website to order the food you want. They will list the entire menu on the website so you can pick what you want, and even customize to suit your dietary needs.
The downside to this is that there is often a small fee associated with this kind of service so it can be a little more expensive than cooking meals at home.
For seniors, it is always a worry that they won't be getting the nutritious meals they should be due to mobility or other health issues. By making the most of delivery services available to them, you can make sure your loved one is eating well in a convenient way for them – they might not even have to leave their home!