This article provides safety tips on how to keep elderly people from falling out of their wheelchairs.
It helps the readers understand how to help and elderly use the wheelchair, possible situations of accidents and how to avoid it. It provides generic tips on travel, outdoor usage, and maintenance of a wheelchair.
For the elderly and their caregivers, several worries arise when it comes to mobility, and it would be wise to acquire knowledge on every possible concern you have.
If you are going to start using a wheelchair for the first time,  there are several things to keep in mind. You ought to know about the possible risks and preventive measures one must take to stay safe.
To lead a hassle-free life, wheelchairs contribute much in terms of mobility and convenience. There are times when you can't get anyone to accompany you and also situations where you just want to do your own chores independently.
Wheelchairs are designed for the comfort of the elderly but you need to be careful while using them. If you haven't used a wheelchair ever then it is better to know your mobility device first. Here are some of the tips for beginners on getting used to your wheelchair
You may also like Best Reclining Wheelchairs with Headrest
Tips for Beginners Using a Wheelchair
Try different seating positions
Invest a good amount of time to find out the most suitable position for yourself. Preferably, try different positions in someone's vigilance or through guidance as you might need some assistance making initial adjustments.
Bending on your wheelchair
It is important to know how far you can bend forward or backward without toppling over. This helps in case you have to lift anything fallen behind you or in front of you while you are sitting on your chair. Make sure you do it in someone's presence to avoid any accident.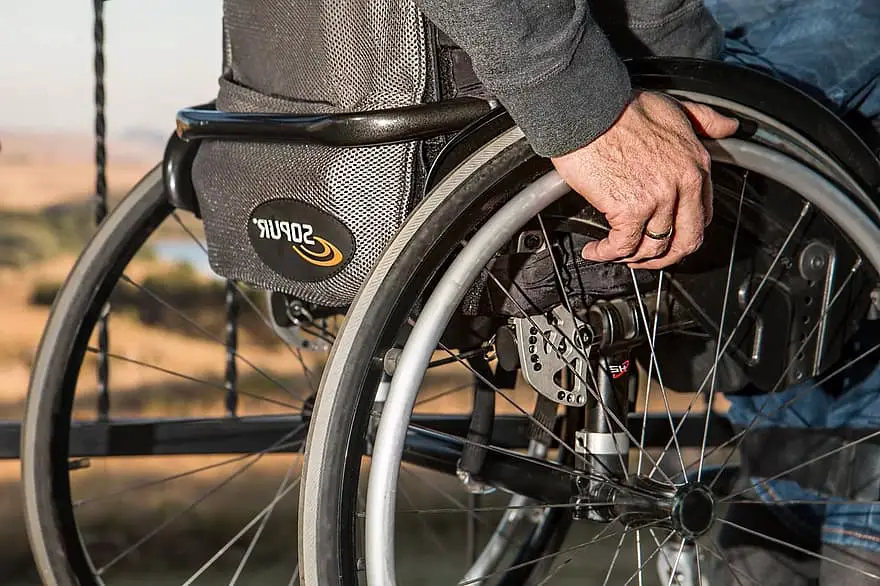 Learning its parts and their function
Before using a wheelchair independently, it is important to know the parts and the functions you will be needing often. Familiarize yourself with seat adjustment levers, break, footrests, speed control, etc. before venturing out on your own.
Depending on your requirements and constraints, you can decide on the kind of wheelchair that best suits your need. There are advanced battery-operated electronic wheelchairs as well as basic ones in the market.
Select wisely depending on your need and usage. Automated wheelchairs can be chosen by ones who can manage things without any assistance. However, preventive measures are common for both types of wheelchairs, although maintenance and functionality are complex for the battery-operated ones.
You may also like How to Use an Electric Wheelchair Correctly
Knowing about the possible accidents
Once you have familiarized yourself with your wheelchair it is time to anticipate and prepare for situations that might cause accidents. With the movement dependent on wheels the most common risks are falling and tipping over.
Lack of pelvic stability and sitting balance, speed, uneven or slippery surfaces could result in falls. In case the user bumps into something, the impact of collision could throw off the occupant from their wheelchair, especially if they were not seated properly.
Some of the preventive measures to be taken to prevent wheelchair accidents are as follows:
Do not reach out for things that are far from you as that might cause the wheelchair to imbalance and fall forward
Do not lean or bend forward or backward
Do not sit on the outer edge of the wheelchair
Lock the breaks before getting out or into the wheelchair
Do not hang a heavy bag at the back of the wheelchair to avoid tipping backward during transfer. If you do, remember to remove it before getting up
Keep footrest in place to avoid toppling over while getting off the chair
Find out your balance by trying different positions (under supervision only)
Maintain a controllable speed in case you need to stop suddenly
Avoid slippery and wet surfaces
Avoid pavements- especially steep pavements or inclines
Follow regular maintenance procedures, the most common being replacing casters
Sliding down in a wheelchair is different from falling
Some wheelchair users are not independent enough to control their body on their own therefore, they have a caretaker with them to look after or help them to move. The most common problem with such users is that they might slump or slide off the wheelchair. Here are some measures that should be taken to prevent a person from sliding off a wheelchair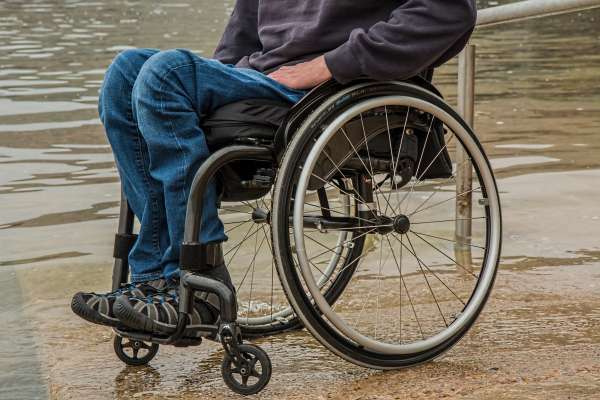 Here are some measures that should be taken to prevent a person from sliding off a wheelchair:
Adjust the back seat in a suitable recline for fixed hip angle
Create a stable seat with an accurate angle
Adjust footplates to balance on the feet or load the feet for balance
Use of seat-belts wherever possible
Have additional supports for seating so the person is not inclined towards the side but the center
Use restraints such as lap buddy but be mindful of the usage
Adjust the seat depth in a manner that neither it is too low nor too high
Be cautious while helping an elderly one who is getting onto their wheelchair- the accident might happen before he/she person can raise the alarm and it is wise to be attentive.
You may also like Best Wheelchair Tire Pump
Moving a person from a wheelchair
Accidents often happen while transferring a person from a wheelchair onto a bed, toilet seat, into a car etc. The accidents might happen if the person who is assisting the person in a wheelchair is not using appropriate positions in lifting or not providing accurate support. It is important that you take all the preventive measures to ensure the safety of the person in a wheelchair.
Here are some of the tips:
Lock the wheels of the wheelchair
Park the wheelchair as close as possible to the car or bed
Move the armrest and footrest out your way
Use objects like belt or sliding board only if necessary
Ensure that the chair back is not loaded
Despite taking all preventive measures, there are risks that might cause harm to the person being moved. Always ask for assistance wherever necessary as a slight misjudgment can cause injury.
Using wheelchairs outdoors
With the advancement of wheelchairs and more elderly people choosing to live independently, the number of elderly people moving outdoors in wheelchairs has risen. From visiting nearby markets to traveling long distances on buses, they carry out their chores relying on wheelchairs alone. Here are some of the things to be taken care of while going out with wheelchair.
Avoid sandy, wet, or uneven surfaces (Sand or even surface might restrain wheelchair from moving and causes damage to the chair too)
Check that the ramp is stable and in good condition before proceeding. We have a separate article on how to push a wheelchair up a steep ramp.
Avoid steep inclines
Ask for help if in need
Move at a controlled pace(especially if you can't avoid wet surfaces it is important that you move at a controlled speed)
Avoid moving through the gravel and puddles
You may also like Best Manual Travel Wheelchair
Traveling with a wheelchair
With the convenience of wheelchairs and independent mobility, wheelchairs users find it comfortable to travel on their own. However, they need to be mindful when they travel in wheelchairs.
There are pre-travel formalities or must-do procedures to follow the most important being getting their wheelchairs serviced or repaired. Carrying out necessary replacements is also one of them.
It is important that before traveling the user must get the wheelchair inspected for any damage or wear and tear. Here are some of the tips you must follow for safe travel.
As mentioned above, get your wheelchair checked for damages and follow regular maintenance procedures
Ensure that you have photos of your wheelchair in its original condition
Maintain a record of the existing damages
While making reservations mention that you are a wheelchair user
Remove any accessories on your wheelchair
Before traveling, look up where you'll find a local repairing place for wheelchairs in case of emergency
Get a thorough security check of your wheelchair at airports
Keep the staff well-informed about your limitations
Plan ahead, taking into account your restrictions, to save time
The safety measures are subject to change with respect to the travel purpose and external situations.
Maintaining and servicing your wheelchair
Any machine or equipment lasts longer if you take care of it. A wheelchair also has to be maintained and serviced regularly so it gives better performance results. Even if the usage is limited, regular maintenance is essential. Some of the regular maintenance procedure are as follows
Replace the casters at regular intervals as they are exposed to major wear and tear
Grease wheelchair tires regularly
Replace and service arm joints, footrest, leg guards, back cushions, etc.
In the case of battery-operated wheelchairs, check the joysticks for functionality, get the batteries replaced, get the programming and machine maintenance, etc.
The machine-based or battery-operated wheelchairs are more complex. It requires more care and maintenance than regular wheelchairs. Follow regular service and maintenance procedures for these advanced wheelchairs to experience safe travel and better performance.
In a nutshell, by familiarizing yourself thoroughly with the use of your machine, following regular maintenance procedures, and taking precautions wherever needed, you can move around safely and comfortably on your own.