If you are planning to buy a mobility scooter, it is natural that you will have questions about its usage. Mobility scooters are expensive devices. A good mobility scooter costs between $1500 to $2500. So it is best to get answers to all your questions before you go out and buy one.
What Are Mobility Scooters Used For?
Mobility scooters are intended for use by people who have an ambulatory disability and find it difficult to move longer distances due to old age, injury or disease.
They can be used for many purposes, everyday activities like being out and about, grocery shopping, moving around airports, vacationing in places that require a lot of traveling on foot (for example Disney world), and sometimes even for transportation when the distance is not very large.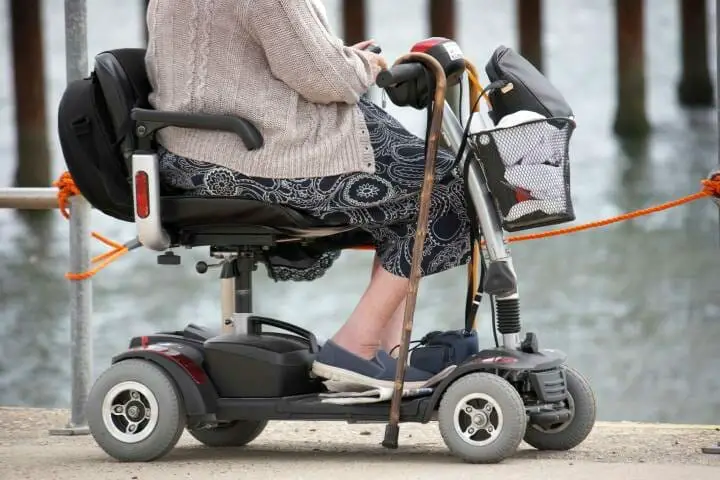 How Do Mobility Scooters Work?
A mobility scooter is a bit like a wheelchair with a motor attached to it. Of course, most modern mobility scooters have several features added to them and are definitely much more than this basic definition.
Mobility scooters have a battery-powered motor that helps you move forward or reverse. But unlike a power wheelchair, you steer using handlebars rather than a joystick.
How Far Do Mobility Scooters Go?
While smaller electric scooters may have a maximum range of anywhere between 15-20 miles, larger and more powerful scooters can even travel up to 30 miles on a single battery charge. Make sure to check the specifications from your user manual before buying a mobility scooter.
Do Mobility Scooters Need Tax and Insurance?
As long as your mobility scooter is classified as a ''class 3 invalid carriage', you neither need to register it nor pay any road tax on it. You can check with your supplier whether your scooter meets these criteria.
You do not need insurance for a mobility scooter, although for your own safety it might be prudent to get one.
You may also like: How to Start a Mobility Scooter Without a Key
Do Mobility Scooters Need Number Plates?
As explained earlier, mobility scooters are not considered motor vehicles, and therefore do not require a number plate, registration, or even a driving license on the part of the user.
Will Medicare Cover Mobility Scooters?
The short answer is yes. Medicare Part B covers Durable Medical Equipment which includes wheelchairs as well as mobility scooters1.
The long answer is that there are conditions. Firstly, your doctor needs to write an order specifying that you have a need for a mobility device for your daily activity. Secondly, you must satisfy the following 5 conditions:
You must have a condition that restricts your mobility

You are unable to do daily activities such as bathing, dressing etc.

You are capable to operate a DME

Your doctor and supplier are both enrolled in medicare and lastly

You can operate the DME within your home.
But even if they do not qualify for Medicare, it is possible to get a mobility scooter for free (or at subsidized rates) through various government and private programs.
You may also like: Does Medicare Pay for Rollator Walkers
Does Disney World Rent Mobility Scooters?
Yes, wheelchairs and mobility scooters are available for rent at most Disney World locations. However, they are typically in limited supply, and therefore it is best to reach early and reserve one.
You are also allowed to use your own wheelchair or mobility scooter at Disney World, so long as it meets the criteria as set out by the park's authorities.
What are the Best Mobility Scooters for Disney World?
When selecting a mobility scooter for exploring a large theme park such as Disney world, it is important to note a few characteristics. The mobility scooter should be able to run a long-distance range on a single battery charge. it should be lightweight and easy to carry. And lastly, it should be able to give a good top speed, so that you can avoid the park transportation services and move around freely on your own.
The following mobility scooters are good for use in Disney World.
Pride Mobility S74 Mobility Scooter
Slightly less expensive, as compared to its BUZZAROUND counterpart, this mobility scooter accordingly has a lesser (though still formidable) range of 14.5 miles on a single full charge. It also has a comfortable top speed of 4.7 miles per hour. Along with the front basket, you get an armrest bag to help you carry things that you may need. You can have it in any color as long as it is blue!
Do Airlines Charge For Mobility Scooters?
No. Airlines are required to check-in DME's free of charge. However, it is important to inform them about your mobility issues at least 48 hours in advance, and also check-in early so that requisite time is available for both you and the airline authorities to assist you in reaching your plane. Also, make sure to remove all accessories and batteries so that the scooter can be safely stored.
You may also like: Best Accessible Airlines for Disabled Passengers
Are Mobility Scooters Allowed on Trains?
Most railway stations around the world support mobility devices such as wheelchairs and mobility scooters, including VIA in Canada and Amtrak in the US.
Due to the gap between the train and station platform, ramps are used in many stations for loading and unloading mobility scooters. There can however be restrictions on the number of mobility scooters allower per train – for example, All VIA trains allow for 2 mobility scooters on board.
Are Mobility Scooters Allowed on Main Roads?
Technically, mobility scooters are not motor vehicles under the law. Hence, the rules applicable for pedestrians are equally applicable to mobility scooters as well. This means that they are not allowed on main roads.
Instead, medical scooters should be used on sidewalks, and if no sidewalk is available, then they should move along the left shoulder of the road.
How Heavy Are Mobility Scooters?
A three-wheeled mobility scooter weighs anywhere between 200 to 250 pounds and a four-wheeled mobility scooter can weigh anywhere between 350 to 400 pounds. The weight of the scooter matters a lot since ideally, you would prefer to have a scooter that can easily be folded up and put away in your car trunk for when you are vacationing or going to another place.
How Wide Are Mobility Scooters?
Most standard-sized mobility scooters are 27 inches wide, though there are leaner as well as wider options as well. Most standard interior doors are 28 inches wide while exterior doors are 36 inches wide, therefore it is important to have a mobility scooter that is narrower than 28 inches so that it can fit through interior doors.
You may also like: What is the Width of a Standard Wheelchair?
Are 3 Wheel Mobility Scooters Safe?
3-wheeled mobility scooters have several advantages – they are lightweight, more aerodynamic and therefore have higher top speeds. Most are narrower than 4-wheeled options and therefore can fit into thin pathways.
However, it is true that they are more likely to tip over or get unbalanced than their 4-wheeled counterparts, which means that they are better suited for indoor usage and if used outdoors, should preferably be kept only on smooth surfaces and pavements.
Are Mobility Scooters Allowed on Pavements and Sidewalks?
As explained earlier, mobility scooters are not considered as motor vehicles, therefore rules of pedestrian walking are applicable to them, which means that they can be used on pavement and sidewalks. 
Are Mobility Scooters Tax-Deductible?
Mobility scooters are considered as medical equipment, hence you do not have to pay tax when purchasing them AND you can claim them as deductions on your tax returns.
You may also like: A Guide on How to Get a Free Wheelchair
Do Mobility Scooters Have Reverse?
On most mobility scooters, the lever that works for forwarding motion also doubles up as a reverse lever. There is usually an additional button on the control panel which allows the user to switch the function of the lever between forward and reverse.
The video below shows a model of a mobility scooter including how to set up and drive it.
Does ODSP (Ontario Disability Support Program) Cover Mobility Scooters?
The Ontario disability support program also provides aid for assistive devices such as a mobility scooter. Under this program, you can receive up to 75% of the cost of the approved mobility scooter.
You may also like: Best Electric Wheelchairs in Canada
How Fast Do Mobility Scooters Go?
Most mobility scooters have a top speed anywhere between 4mph to 9mph. However, they are legally restricted to a speed of 4 mph (6.4 kmph) on the pavement. Most scooters, therefore, have a speed limiting switch which ensures that they do not go any faster than the legally allowed limit on the sidewalks.
Do Mobility Scooters Have Brakes?
Yes. In fact, disability scooters have regenerative brakes on them so that they can be left anywhere, even on an incline without fear of them slipping away. In order to move a mobility scooter, the forward/reverse lever needs to be pushed, until then they will not move. This is to ensure that persons with disabilities are not forced to hold on to the brakes when moving up an incline and from a safety perspective.
What Type Of Batteries Do Mobility Scooters Use?
Mobility scooters usually require two 12v rechargeable batteries connected in tandem. The power output (which is usually measured in Amp/hour) is written on the side of the batteries. The batteries might be either GEL or AGM type. 
You may also like: Best Mobility Scooter and Power Wheelchair Batteries
Best Cars for Mobility Scooters
There are several wheelchair accessible vans (WAN) available in the market, which can be modified to accommodate mobility scooters. Some of the more popular models that can support mobility scooters are mentioned below: 
Sedans: Toyota Avalon, Prius

SUV's: Toyota Prius-V, Scion xB

Minivans: Toyota Sienna, Mercedes Benz Sprinter, Ford Transit Connect

Others: Kangoo from Renault, Chrysler Voyager, Citroen Berlingo, Kia Sedona and Doblo from Fiat
References