Old age may bring along its share of physical problems for the elderly. One common problem for the elderly is always feeling cold or chilly.
For a variety of reasons, some of which we have detailed below, the elderly may feel unreasonably cold even in moderate weather. When it comes to choosing a gift for such a person, what do you give them?
In this article, we will share some common things that make excellent gifts for seniors who are always cold.
Why are Some Elderly People Always Cold?
As we age, our body loses some of its self-healing power and the ability to keep itself heated and sufficiently warm. Few reasons which lead to the elderly feeling unreasonably cold are:
The most common cause is the loss of subcutaneous layer of fat in the elderly. Loss of fat reduces the ability of our body to insulate itself from cold and to maintain a warmer body temperature
Blood circulation rate reduces throughout the body due to the thickening of walls of blood vessels or blood vessels losing their elasticity. Suboptimal circulation leads to your body extremities becoming colder
Medical conditions like the anemia, thyroid problems and diabetes may also lead to older people feeling cold all the time.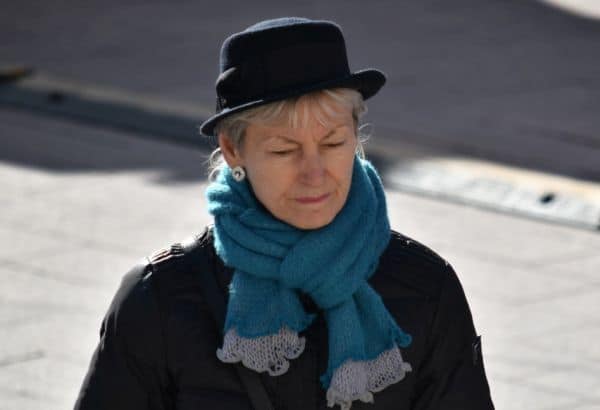 The video below explains how cold weather affects old people.
What should I Gift an Elderly Person Who is Always Cold?
We have all come across colleagues or family members who shiver at the very thought of switching on a fan or the air conditioner. We either must switch off the cooling for their comfort or they will have to be covered under layers of clothing. Most common symptoms which indicate that an elderly person is super sensitive to cold are:
Unnatural shivering even in moderate temperatures
Undue fatigue and exhaustion
Drowsiness, memory loss or confusion
Paler skin tone and skin which is always dry, even in summer
The unnatural feeling of cold must be dealt with in the same way as you would deal with severe cold temperatures – measures like cranking up the heating system or thermostat of the room, use of an extra blanket or sweater and drink or sip through a hot beverage.
Below, we have compiled a list of gifts that you can think of presenting your elderly parent with, to make her feel cozier and lead a more comfortable life.
Electric Blanket
An electric blanket, also known as a bed warmer or a heating pad is a blanket with its own electrical heating wiring. It may be used below the bedsheet and on top of the mattress to pre-heat your bedding before you sleep. You may use it directly on top while sleeping, or on the couch while watching television like an electrical duvet. The blanket will have a control panel by which you would be able to adjust the amount of heating and in case you are buying a queen or king size blanket, there will be options to separately control the temperatures on both halves of the blanket.
While newer electrical blankets have auto switch-off feature once the required heating level has been attained, older versions may be dangerous to use all night due to risks of over-heating or fires. This is a great gift for the elderly who are unreasonably cold, as it will significantly reduce their initial discomfort while sleeping on cold bedding, particularly during winters.
Here are some of the best electric blankets on Amazon that you might like.
USB Heated Finger Less Gloves
The gloves can be of soft knitted wool or leather and have a USB plug with integrated wiring. USB heated finger gloves are very easy to use. You just need to plug them into the USB port of your laptop. The mittens are very useful if you feel cold in your body extremities due to low circulation in your body – offering a super convenient way to keep your hands and fingers warm, while you work on your laptop. They typically can maintain temperatures are 40 degree Celsius with a 5-degree buffer on each side. You must remember to remove the heating pad before washing it. It is good practice to remove the USB from the port when you are not using it, to enhance the longevity of the mittens.
Here are some of the best USB heated fingerless gloves on Amazon that you might like.
You may also like 53 Thoughtful Gifts for the Elderly That They Will Love
Wearable Blanket
Wearable blankets are generally made of fleece or wool. They have sleeves and can be worn over your head and shoulders in a way that it practically covers your entire body. It is a very convenient way of putting on a cozy extra layer for days on which you are feeling the extra chills.
They would typically have pockets or pouches for you to be able to store essentials like a mobile phone. Generally, the blankets come in one size fits all or free sizes and are baggy enough for you to be able to freely move your arms and hands for normal house chores.
Here are some of the best wearable blankets on Amazon that you might like.
Sherpa Blanket
The Sherpa fleece is a type of fabric which is made from polyester with a smooth knit side and the other side having the look and feel of real sheep fleece. Blankets made of this material are called Sherpa blankets, which are very effective in keeping you warm even during chilly winters.
They are typically like the normal blanket which can be used while you are sleeping, or they can be of the wearable type which you may use throughout your workday.
The material is relatively heavier than normal blankets which offers that added feeling of coziness for the elderly who are always cold. This can also be used inside a car, as car air conditioners are sometimes notorious for being very chilly. Considering there may be other travelers alongside you, it may not always be possible to increase the heating levels in a car, instead you can use your Sherpa blanket.
Here are some of the best sherpa blankets on Amazon that you might like.
Hot Chocolate Maker with a Handheld Frothing Device
A cup of hot beverage greatly helps in bringing your body temperature to levels which will make you feel comfortable and reduce the feeling of chilliness. A hot chocolate maker is therefore a very practical addition to the kitchen for the elderly and you will not be deterred by the thought of the effort behind making a cup.
It is a very easy to operate device and not only helps you with making a hot chocolate, but also lets you quickly steam up your cup of milk or add a frothy layer to your espresso with the handheld frothing device. However, this may not be suitable for diabetic patients whose sugar intake is restricted.
Here are some of the best hot chocolate makers and handheld frothing devices on Amazon that you might like.
Hot Chocolate Makers
Handheld Frothing Devices
Portable Desktop Heater or a Space Heater
Space heaters or mini desktop heaters are an excellent choice of gift for the elderly who are always cold. Small and compact, it can not only heat up your working space, it is also a portable device and you can take it anywhere along with you. Most heaters have an oscillating option to spread heating across a wider space and make your immediate environment cozier.
This product is very suitable for the elderly when they are feeling cold and cannot increase the ambient temperature or mark-up the central heating system due to presence of other people or family members. However, the heaters would generally need a power source to function and cannot run on batteries, which makes them unsuitable for outdoor use.
Here are some of the best portable desktop heaters on Amazon that you might like.
You may also like DIY Gifts for the Elderly
Electric Furniture Warming Quilt
These are quilts that can be placed on top of your couches, sofas or chairs, covering the seat, the backrest and the arm rest at a minimum, with electrical heating pads to warm up your furniture so that you can use them comfortably.
For the elderly, who are always old, furniture that is cold to the touch is an annoyance and this product helps to make that couch more alluring to spend the evening in. They come in different sizes and quality and mostly can fit any type of seating furniture that you own.
Below are some of the best electric furniture warming quilts on Amazon that you might like.
Hand Warmers
The rechargeable electric hand warmers are an extremely convenient piece of simple technology that can restore comfort for the elderly who are cold.
The device, once switched on, reaches the target temperature very quickly and is typically ergonomically shaped to fit the palm of your hands very well. It is portable and will easily fit in your pockets. The device outer covering is made of aluminum alloy for a uniform spread of the heat and it is easy to charge through a USB interface.
Below are some of the best hand warmers on Amazon that you might like.
Heated Toilet Seat
Toilet seats are notorious in turning chillingly cold in normal weather, and more so, during winters and early morning, making it an inconvenient experience to use them. A heated toilet seat is plugged on to an electric outlet and keeps the seat comfortably warm for ready use.
They often come with a bidet or a regulated water spray, which helps the elderly in having a hands-free and tissue-paper free cleaning experience at the toilet.
It also creates a more hygienic environment as germs and bacteria tend to reduce in the heat produced by the toilet seat. Some toilet seats are battery operated, however, the one which work on direct electricity are more convenient with no requirement for charging the batteries.
Here are some of the best heated toilet seats on Amazon that you might like.
Weighted Blankets
Weighted blankets are, true to their names, quite heavy. They are typically around 15 lbs in weight. Apart from being warm, the weighted blanket uses pressure therapy to calm down the user, with a feeling that is similar to being cuddled or being held. Weighted blankets work well for the elderly who are more sensitive to cold and for those who have anxiety issues and disturbed sleep patterns.
Below are some of the best weighted blankets on Amazon that you might like.
You may also like Best Gifts for Elderly in Assisted Living
Thick Woolen Sweaters
This must be the most popular gift that elderly parents receive and with good reason. A thick, comfortable and cozy sweater comes in very handy in cold climate, especially for people who are more sensitive to cold.
Good sweaters are made of cashmere and wool, which have the natural properties of insulation and moisture wicking. A sweater can also be complemented with matching woolen mittens, socks and neck and head protection for harsh winters.
Here are some of the best thick woolen sweaters on Amazon that you might like.
Mug Warmer and Heated Mug
You must have come across winter mornings when holding a hot mug between your hands itself is greatly comforting, irrespective of whether you are drinking a hot beverage or not. The mug warmer set consists of a charging coaster and a mug.
The coaster converts electricity (has to be plugged into a power source) into radio magnetic field which is used to heat the cup placed on it through built-in wireless heat receiver module at the bottom of the cup. It is very easy to use and the smart wireless technology helps to maintain the cup and its contents at a constant temperature, avoiding the need to repeatedly heat the cup.
Here are some of the best mug warmers on Amazon that you might like.
Electric Heated Socks
Meant for restoring comfort to the cold feet, the battery operated electric heated socks are typically made of double layered soft and skin-friendly fabric and work on 2 'AA' 1.5-volt alkaline batteries. They are fairly elastic and come in one-size-fits-all mode.
These can be worn at home or with shoes for outdoor use and are helpful for seniors who complain about unnaturally cold feet. The batteries are mostly housed in an on-sock pouch and you will get used to the extra weight on your socks in no time. There are variations of the socks which are enabled for USB charging, in which case you can lose the battery weight from your feet.
Below are some of the best electric heated socks on Amazon that you might like.
Towel Warming Bin
A towel warming bin can pre-heat your towel and warm it up, readying it for use. It is very convenient to use, you just have to put the towel inside the bin and switch on the power source. Instead of a bin, you may also choose to gift a warming bar set which has multiple bars like a clothes hanger and can be used to concurrently warm multiple pieces of clothes or laundry.
A warming bar also has the benefit that it can moderate room temperature and reduce mold inducing dampness in the room that will keep your clothes and laundry fresh, especially in the rainy season.
Here are some of the best towel warming bins and bars on Amazon that you might like.
You may also like Best Gifts For Someone With Rheumatoid Arthritis
Heated Insoles for Shoes
This product is very useful to the elderly whose feet are always unnaturally cold. The insoles typically work on rechargeable batteries and can be inserted into your shoes for a comfortable footwear experience. The batteries can be strapped onto your ankle or shin bone and the wires are connected to the insole. It does not take much time to get used to the battery strapping around your ankle.
Here are some of the best heated insoles for shoes on Amazon that you might like.
Heating Pad for Back Pain
If your elderly parent is suffering from back pain or shoulder pain, the electric heating pad will make her recover from strained muscles much faster than other forms of treatment. It is a very handy item to have by you, since on and off back pain is a part of life for elderly people. It is an extremely portable device and can be folded and taken anywhere.
Not only can you use it indoor, but you can also use it wherever you may find a power outlet. It is important to remember, however, that the relief will be temporary and the main cause pain has to be treated to prevent it from snowballing into something serious.
Below are some of the best heating pads on Amazon that you might like.
Electric Stove or Fireplace
An electric stove or a mini artificial fireplace is the perfect gift to be enjoyed on a cold evening. While they are not supposed to be replacement for the main heating system of the house, they can heat up a smaller room or your immediate seating area, more efficiently than the main thermostat system.
Also, it warms up isolated places in the house and does not affect other family members as you are not changing the target temperature of the central heating system.
Here are some of the best electric stoves or fireplaces on Amazon that you might like.
Touchscreen Compatible Gloves
The main reason why the elderly may compromise on a warm pair of gloves as part of their winter attire is that they do not allow them to browse their smartphones or tablets, as gloves are more often than not, not compatible with touchscreens. The touchscreen compatible gloves continue to let you use a touchscreen without sacrificing on warmth in your hands and fingers.
While some gloves have only the index and thumbs equipped with touchscreen compatibility, premium gloves are made of fleece and have touchscreen compatibility on all fingers.
Below are some of the best touchscreen compatible gloves on Amazon that you might like.
You may also like Best Gifts For Bedridden Person
Woolen Slippers
Woolen slippers typically have unisex designs and can be worn as casual slippers meant for use within your home or garden. The material is breathable and will likely not be absorbing foot odor or perspiration. At the same time, the slippers are cozy and works great in case of unnaturally cold feet of the elderly.
You may want to buy a one size larger slipper to accommodate for a warm pair of socks as well. It is very easy to slip on and the soles are typically flat.
Here are some of the best woolen slippers on Amazon that you might like.
Conclusion
When it comes to gifting the elderly who are always cold, we should carefully think about the person's daily activities and routine and the nature of chilliness the person experiences. Depending on these factors, one or more of the above ideas may be extremely relevant for your loved one. So, go ahead and select the best possible gift for her and wait for that smile to appear on her face.