In this article, have reviewed the best percussion massagers for athletes. If you are in a hurry, the table below gives a quick snapshot of the top ones. Or you can scroll down for detailed product reviews.
Warranty
30 day money back, 1 year replacement
90 day money back, 1 year guarantee
Massages have increasingly become commonplace as a pain relief and relaxation therapy over the last few years. Medical practitioners are also increasingly recommending their patients some form of massage therapy.
In a 2018 survey of more than 1200 participants, the American Massage Therapy Association found that 29 percent were recommended massage therapy by their medical practitioner1.
While assisted massages (through a certified masseur) are certainly gaining traction, self-massage (using a massage gun or a percussion massager) is also a fast-growing industry.
It is estimated that the global massage gun market is already at US $242.63mn revenue, and is expected to continue to grow at 10% every year over the next few years2.
The primary reason why massage guns are becoming popular is the increasing demand from professional and amateur athletes, gym-goers, and patients who suffer from chronic pain. And massage guns or percussion massagers have their role to play in this.
Massage guns use vibration therapy to relieve muscle pain, increase flexibility, and improve performance. There are essentially two varieties of massage guns: vibration guns and percussion guns or percussion massagers.
The main difference between the two is the strength of vibration used, percussion massage being much stronger than a vibration massage.
Delayed Onset Muscle Soreness (DOMS) and Percussion Massagers
After you have had an intense session of physical exercise, your muscles feel sore, not only immediately after the workout, but as long as 24 to 72 hours later. This is called Delayed Onset Muscle Soreness (DOMS).
A percussive massage is known to be able to shorten the duration of DOMS3. This means that you will recover faster, feel better, and be able to train more.
Here we have a video that shows what is percussive therapy using a massage gun.
You may also like Best Massage Tables for Home Use
How to Select a Good Percussion Massager for Athletes?
Athletes have specific requirements when it comes to selecting a good percussion massager.
Since they are likely going to be heavy users of the percussion massager, athletes need a robust product with a long enough battery life that it can be used in locker rooms or breakout areas or after a gym session without needing to be frequently charged.
Below are some of the features athletes should look out for in percussion massagers.
Percussion mechanism
The Percussion Mechanism or the "hammer" is the core of the Percussion Massager. You should be looking for a massager that has a strong motor so that the hammer can reach muscles and tissues deep inside the body.
The hammer should have interchangeable heads so that you can use different types of percussion heads to massage different types of muscle groups.
Percussion heads
Percussion massagers use different "heads" for targeting different muscle groups. Typically you have larger heads for targeting larger muscle groups and smaller ones for reaching specific muscle groups that are otherwise difficult to reach.
Each head has a unique shape and use. Try to find the massager which has the right heads for your needs.
Cordless and battery life
Cordless designs are easier to work with because they can be used on any part of the body without having to worry about getting tangled up in wires.
Do make sure that the battery life of the product is enough that you are not running around charging it or are stuck to use it near a power outlet.
If you are a heavy-duty user and don't mind the wire, there are several wired percussion massagers that are more powerful and have greater percussive strength
You may also like Best Cold Massage Roller Balls
Ease of use
Look for lightweight models that have a longer handle (easier to hold) and ergonomic design. The handle should have a textured surface or a good grip on it so that you don't accidentally drop the massager while using it.
Heating options
While heating in itself is not necessary to have for a percussive massage, it does tend to have a softening effect on body tissue, which makes it easier for blood to circulate and therefore reduce healing time.
What Are The Best Percussion Massagers for athletes?
To find out the effectiveness of percussion massagers for athletes, we decided to get our athletically oriented team members to try the products. We tested 5 out of the 8 products personally and took user inputs for the other 2.
California based runner and mountain climber, Ayush Sobti used the addsfit Massage Gun and came out quite impressed. We have included his experience of using the percussion massager in the addsfit Massage Gun review.
Ontario based jogger and Help and Wellness editor, Gaurav tried the Hydragun, Opove M3 and the Mebak 3 percussion massagers and loved them. Yash, a cyclist living in New York tried Opove M3 Pro from the same company and he too was impressed.
Along with in-depth features and benefits, we have included these personal experiences for you to be able to choose the massage gun that best fits your athletic needs.
The Hydragun, addsfit and OPOVE teams provided us with their products to experience and review.
You may also like Best Massage Mat for Bed
Best Percussion Massagers for Athletes – Our Top Choice
In our opinion, the Hydragun is the best percussion massager for athletes. If you are looking for a budget option, you can go for the Mebak 3 Massage Gun, Massage Gun Deep Tissue for Athletes, Professional Muscle Percussion Massage Gun,Massager Gun for Shoulder Leg Back Body Pain Relief,Quiet Portable Sport Massager, Gifts for Him.
If you are looking for detailed product information, you can read the reviews below.
#1. Hydragun – The Best Percussion Massager for Athletes
If we had to select 1 massage gun that stands out heads and shoulders above the competition, it has to be the Hydragun. In our opinion, it is the best percussion massager for athletes.
The Hydragun was the last percussion massager that we experienced among all the percussion massagers on this list. by this time, we thought that we had seen it all when it came to percussion massagers. But when we started using it, we were in for a very pleasant surprise!
Of the 5 massage guns that we tried for this review, the Hydragun was able to provide the best deep tissue massage. So what does it really mean? In short, a faster recovery time and a more relaxing massage. Here you can see our unboxing of the Hydragun.
The Hydragun Review
This percussion massager comes in a very classy box pack. The company has taken customization to the next level. Unlike a nameless delivery, you find that the box itself is addressed to you.
Once you open the box, there is a personalized note addressed to you. Round 1 – Hydragun!
As we opened the massage gun, we saw that it had a BS1363 plug 0f the types the Brits (Brexit notwithstanding) use. Dang!
We thought this is going to be a big bummer. We are in North America, how does the company expect us to be able to charge the massager? But as we continued with the unboxing, out came a super cool, universal plug converter.
With the combinations in the in-box plug converter, you could live anywhere from the remotest Pacific Islands to downtown Manhattan to bustling South Asia and still be able to charge the Hydragun Percussion Masager.
Round 2 – Hydragun!
Hydragun Massage Heads
The Hydragun comes with 6 different massage heads. You can target from the biggest to the smallest muscle groups using these. Now while this is pretty standard on most massage guns, we were particularly impressed with the ease of switching between the different heads.
Round 3 – Hydragun!
Overall Massage Experience
Finally, we set up the Hydragun, charged it and used it after a particularly intense run. Here is the first-hand experience of our editor Gaurav using the Hydragun.
It was a cold day (the temperature outside -9 degrees Celcius (16 degrees Fahrenheit). I normally do an 8 km (5 mile) loop in the neighborhood. But this time, I decided to push myself and do 12 kms (7.5 miles) instead.

Naturally, I was particularly spent after this run but I had the Hydragun waiting. I had heard good things about it, so I wanted to give it a real good test.

I set myself up with the spherical head for my thighs, hamstrings, glutes and calfs. 15 minutes later, my legs were refreshed and ready for another run!

I thought, while I am at it, I may as well do my shoulders and back. So I got the V shaped head and a 5 minute massage meant that I was feeling better in my upper body too!

Having used 4 other massage guns, I knew that this one was the most effective and quietest percussion massager of them all. I will not hesitate to recommend it to athletes and runners.
Round 4 – Hydragun!
With a 3200 RPM motor and deep tissue massage technology, the Hydragun is the ideal percussion massager for athletes.
If you want to warm up, a 20-30 second massage of the main muscle groups should be sufficient. In between sets, to keep your muscles limbered up, a 15-second massage should suffice. After the workout, to prevent DOMs, you can use the Hydragun for up to 2 minutes per muscle group.
Overall, it should not take you more than 10-15 minutes to get a full body massage using the Hydragun. The massage gun shuts off after 10 minutes (of continuous usage).
The Hydragun's overall build is very sturdy with an aerospace-grade aluminum body. The 990 ergonomic handle is very different from all the other massage guns on this list (which have a 900 handle). It makes the massage gun easier to use.
If you use this percussion massager for 10-15 minutes per massage session and for 2 massage sessions a day, its 6-hour battery life would easily last you up to two weeks.
Depending on the intensity setting, the noise level is between 30-50 dB. It compares a wee bit favorably with other massage guns.
The Hydragun team was kind enough to share a coupon code that will give our readers $50 off.
HW20
Buy the Hydragun from the Manufacturer
A Word of Caution
As of the last update of this article, Hydragun does not sell on Amazon. So if you are used to lightning-fast deliveries or need your percussion massager yesterday, Hydragun is probably not the best option. It takes about 7-10 days to arrive. But when it arrives, it is totally worth the wait.
Also, it is a bit pricey as compared to some other massagers that you may find on this list. But the quality and the deep-tissue percussive technology totally makes up for the cost difference.
So if you think you'd like to get the Hydragun, you can use the coupon code HW20 to get $20 off and buy it directly from the manufacturer below.
Buy the Hydragun from the Manufacturer
#2. Mebak M3 Massage Gun
Mebak M3 Massage Gun is probably the best budget massage gun for its features and overall build quality.
We came out impressed by its features, product quality and packaging. The Mebak M3 comes in solid packaging and looks like a premium gift. The overall handling of the massager is great and the 5 speeds, 5 pressure settings, and 7 heads are all very well thought through.
We have been using this manager over the past couple of weeks after our work out and are very satisfied with the product.
This is what our editor, Gaurav had to share about using the Mebak M3 Massage Gun first hand:
The Mebak M3 Massage Gun is a very good quality percussion massager, great to use on tired muscles.

Its 7 different percussion heads are useful for pretty much all the muscle groups. My personal favorite is the spherical head most useful on the bigger muscle groups. I have found it extremely handy to use on my calf, hamstring and glutes after a run.

Since I work mostly from home, I have bought a standing desk. 7-9 hours of standing all day means that I used to have sore calf and hamstring muscles at the end of the day.

I found the Mebak M3 Massage Gun most useful for a 15 minute massage after a day's standing. Once I was done with it, I was ready to take on whatever the evening threw at me – be it household chores or a quick run in the neighborhood.
Pros
Good Percussion Strength (3200RPM) with 5 speed-settings
3-hour battery backup
Low noise device (40 to 50 dB depending on the speed)
Lightweight and comes with its carry case
Cons
Not many cons on this one, though more detailed usage instructions for a first time user, could be handy, but pretty much all information can be found online 🙂
Unboxing the Mebak M3 Percussion Massager
You may also like Best Massage Gun For Lower Back Pain
#3 Addsfit Mini Massage Gun
If you are looking for a versatile Massage gun for gym, office, home, or travel, you can end your search with the Addsfit Mini Massage Gun. It is a leading massage gun in our lineup. 
 The three main things that I like about this product that makes it a great on-the-go massage gun are the long battery life, the quiet motor, and the lightweight. It makes this a very suitable option for carrying around. 
It is a mini massage gun that is highly effective for 6 mm deep massage treatment and comes with two massage heads, of which one is a thumb head and the other a flat one. It also has 3-speed settings, and all this makes the product a viable option for all ages.
The aerodynamic shell covers the motor making the device run quietly. The sound-absorbing casing of the massager makes it very good for on-the-go use.
You do not have to worry about protecting this device at all times. It is made of a very sturdy material. The metal body provides strength and durability to this product. The best feature about this device is that it has an auto-off mode that activates after 10 minutes of use to save the battery.
Pros
It has three adjustable speed settings and two massage head shapes, making it suitable for all age groups, including athletes.

The strong, pure aluminum metal body speaks for durability.

The quiet and powerful motor ensures that you can use it on the go at ease.

It has a long battery life and provision for fast charging.

It comes in a very classy travel case for you to carry it around.
Cons
You can only use this product for 10 minutes at a stretch, after which it auto-stops to prevent overuse.
#4. Opove M3 Pro Max
With 5 different massage heads, the Opove M3Pro Max can target all the major big and small muscle groups. It is a fairly quiet percussion massager with noise level ranging between 45 and 63 dB depending on the speed. The LCD screen is nice and controls are handy with a touch of a thumb.
We spoke with Opove M3 Pro Max user, Gaurav and this is what he had to say.
Opening the Opove M3 Pro Max massager was like opening an iPad! The neat, white, matt finish box gave the aura of luxury. I was very impressed by the quality of the carry case too. Companies sometimes scrimp on the case of a device but not here. Unlike other massage guns, the Opove M3 Pro Max's LCD is quite useful. The thumb controls are well thought through and very conveniently placed.

I used it on my big muscle groups and shoulders after an hour's run and came out feeling quite relaxed. The shoulder attachment is also quite handy for a nice back and shoulder massage. Having used other massage guns in the past, I found it faily light weight. I charged it once and have been using it for over a week now without the need to charge again.

The Opove M3 Pro Max works as well on the shoulders and neck area. With the correct attachment, it is a handy device for a shoulder massage. A word of caution here, though. You should start with a lower percussion level and increase the intensity as you go along. The higher percussion settings can be too intense for some users.

Overall, it was a good experience and I will be adding it to my workout regimen!
The Opove team has given Helpandwellness readers a 15% discount on all their products. You can use the button below and the coupon code below to avail the discount.
Pros
Quiet operation
Long battery life
5 different massage heads can help target all muscle groups
LCD is an upgrade from the other Opove models
Cons
None that we could come up with!
You may also like Best Foot Massager for Neuropathy
#5. QIQIGO Massage Gun
While it is coming up last on our Top 5 list, The QIQIGO is also a fairly good massage gun. It has a vast range of percussion strength (1800 RPM to 4800 RPM), along with 30 speed settings and 6 massage heads, to give you the most flexible and customized massage.
The battery life ranges from 6 to 8 hours and the device has a maximum noise level of 42dB. It also has a heat dissipation design which reduces the chances of overheating and is lightweight (only 2 pounds)
Pros
1800RPM to 4800RPM percussion strength
6 massage heads and 30 speed settings
6-8 hour battery life
Low noise massager (42dB maximum noise)
Cons
There were a few complaints of the product conking out after the first few hours or days
#6. MIGHTY BLISS™ Deep Tissue Back and Body Massager
While the Mighty Bliss Deep Tissue massage gun is not as customizable to your massage regimen as the Sonic gun, it makes up by being super powerful. The 3700 RPM percussion strength is much stronger, making it a very impressive motor. It also features 6 different massage heads for customized massage in various parts of the body.
Unlike Sonic, this device is lightweight and can be carried with you anywhere. It also has a very ergonomic design, perfect for holding in your hand while you apply it to your body for a massage. The battery life is up to a maximum of 2 hours, which is lower than that of the Sonic.
The device has a lifetime warranty, no questions asked and no need to even return the product! Makes it an ultimate peace of mind purchase. You can even get a complete refund if you don't like the device.
Pros
3700 RPM percussion strength
6 massage heads for a customized massage
Ergonomic design, lightweight
Lifetime warranty
Cons
There are a few complaints of a used product being shipped as a new massage gun to users, so please be wary and ready to get your product exchanged
Due to its higher RPM's, this massage gun is a bit noisier than the Sonic.
You may also like Best Foot Massager For Diabetics
#7. Mebak M5 Massage Gun
The Mebak M5 Percussion Massager comes with 6 different heads or attachments to target the different muscle groups. Its 5-speed settings can give a massage from 1150 percussions per minute to 2800 percussions per minute. The massage amplitude of 10 mm gives a deep massage.
Weighing only 1.8 pounds, the Mebak M5 is light enough to be carried around in your gym bag and can even work as a travel massager
Help and Wellness contributor and cyclist Yash, based in New York, tried the Mebak M5 Massage Gun. The manufacturer had sent it to us earlier to give the product a trial. This is another impressive product from Mebak and you can read Yash's feedback below.
The Mebak M5 comes in very nice packaging. It is very light to use and is highly portable. I am quite satisfied with its build quality and sturdiness.

The product is good for instant pain relief and is quite sturdy! The feature that I really liked about the product is the availability of different attachments that can be used for different pain-needs. I had pain in my right arm and the round attachment was very useful for quick pain relief.

There are multiple power settings that provide different intensity levels to help with the pain. I found the lowest level of 1 to be most helpful for my arm pain. The touch button is very convenient to adjust the speed settings. The LED display works well and displays speed and battery levels.

Overall, the Mebak M5 is a nice massager to use after a workout.
The Mebak team has given Helpandwellness readers a 15% discount on all their products. You can use the button below and the coupon code below to avail the discount.
[wpsm_button color="red" size="medium" link="https://www.opove.com/?ref=8ldbyna25l7o" icon="none" class="" target="_blank" rel="nofollow sponsored"]Buy directly from the manufacturer and use coupon code below for a 15% discount[/wpsm_button]
[wpsm_highlight color="yellow"]helpandwellness[/wpsm_highlight]
Pros
At 1.8 pounds, it is a lightweight percussion massager
The battery can support 6 to 8 hours of use on a single charge
6 massage heads allow different muscle groups to be targetted
Cons
The latest from the manufacturer, this product seems to have taken care of shortcomings of previous models
Unboxing the Mebak M5 Percussion Massager
[wpsm_quick_slider ids="4419,4420,4421,4422,4423,4424,4425,4426,4427,4428″]
#8. Sonic Handheld Percussion Massage Gun
The Sonic Handheld Percussion Massage Gun is another top rated percussion massager for athletes. This device ticks all the boxes on our list. This is a wireless device with a powerful motor, which produces up to 70 pounds of force, and has 5 different levels of percussion (from 1200 RPM to 2800 RPM). The motor is also very quiet (a maximum noise volume of 75 dB).
There are 5 massage speeds and 5 different massage heads for a customized massage. The device has a 3-5 hour battery life on a full charge. It has a long handle for maximum ease of holding and a comfortable and an ergonomic design, wherein the vibration switch is conveniently located where the index finger would rest on the handle.
As part of the device's extra features, Sonic also offers its video library free of cost for as long as you have the device.
Pros
Powerful but quiet motor
5 percussion settings so that you can select the strength that you need
5 massage heads for optimal massage on various muscle groups
3-5 hour battery life on a full charge
Long handle with ergonomic design
Cons
The gun is a bit heavy as per a few customers
You may also like Best Foot Massager For Arthritis
#9. ExoGun DreamPro Massage Gun
Buy the Exogun DreamPro from the Manufacturer
Use Discount code HAW10 for a 10% discount on all Exogun products
The Exogun DreamPro is a superb percussion massager for athletes. The massager is both versatile and customizable, and to top it all it is very powerful. One look at the technical specifications of the ExoGun Dream Pro and you will understand why this is a product made for heavy-duty recovery:
Stroke length of 16mm
1200-3200 RPMs
60lbs stall force
20-53Hz vibration speed
Despite the super-high RPM rating of this device, it is extremely quiet: it has a maximum sound level of just 70dB. This is possible because of its high-quality brushless motor, which ensures the minimum sound is produced.
Many percussion massagers in the market are quite heavy to hold and therefore uncomfortable, but the people at ExoGun know their stuff: at just 2.5 lbs, this is one of the lightest percussion massagers in the market. It feels lighter than air when your hand muscles are struggling to hold a heavy item.
Another super feature is battery life: with a 2400mAh battery, this massager lasts really long, so the next time you have sore muscles after your workout, you can use the massager at the gym itself instead of having to come back to your home.
With six-speed ranges and four customizable heads, this massager is very versatile. You can use it on your neck, chest, deltoids, forearms, upper arms, upper and lower back, and many other places where other massagers may not be able to help you.
The UltraGun also comes with a free high-quality carry case.
Pros
Quite yet strong motor
Versatile massager: six speed settings based on the level of soreness
4 massage heads for a variety of applications
Super lightweight
Long battery life
Ergonomic design
Cons
It's a bit expensive, though ExoGun has a sale going on right now which makes buying this product a steal.
Buy the Exogun DreamPro from the Manufacturer
Use Discount code HAW10 for a 10% discount on all Exogun products
Percussion Massager FAQs
What is Percussion Massage?
Percussion massage guns use rapid, strong vibrations to penetrate deep inside your skin, soft tissue, and muscles. This helps to soften the muscles which in turn reduces pain, repairs tissue,  and relieves pressure. Following are some of the key benefits of Percussion Massage:
Reduces pain

Accelerates the recovery of muscles from injury

Improves muscle growth

Improves blood circulation

Stretches muscles & improves their responsiveness

Improves range of motion

Releases lactic acid
Percussion therapy is quite similar to getting an actual massage if performed correctly. The consistent vibration from Percussion massagers offers a similar impact on the body as the constant kneading of a trained physical therapist, thereby helping to rapidly heal muscles by dissolving scar tissue.
How should I use a Percussion Massage Gun?
If you are doing home therapy, start your percussion massage with the shoulders, moving slowly down the back. Avoid applying percussion directly on the spine, instead, massage the sides of the spine. Next, move towards the hamstring and the calves, then taking it back up towards the abs, the abdomen, and then finally the hands and wrist.
Always make sure to start with the lowest percussion setting and then gently increase the strength. This will help protect you from unnecessary injury.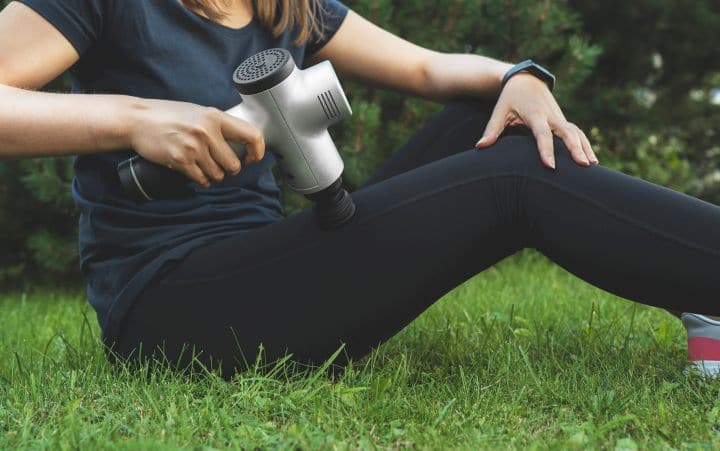 Who should use a Percussion Massager?
Percussion massagers are good for almost everybody. It can be used for relaxing massage after a hard day at the office, and it can also be used after a good workout session to relieve muscle pain and soreness. A handheld percussion massager is a great option to get a quick and relaxing massage if you don't want to spend a bomb on massage therapists.
People with injury or trauma or those who have recently had surgery may also be recommended percussive massages for pain relief in certain circumstances. However, we recommend that you consult your physician/doctor before going ahead with any kind of massage.
You may also like Best Foot Massager for Arch Pain
Conclusion
Workouts can be stressful on your muscles. A particularly tough workout will cause both soreness as well as pain. Percussion massagers can help you manage this muscle stress. Percussion massagers work deep inside the skin, healing the scar tissue and reducing pressure on your muscles, which helps them to heal quickly.
Over the last few years, the percussion massager market has grown tremendously. Many new manufacturers have come to the fore, some good, some not so good. It is difficult to identify which ones will create a real difference as compared to those that will pay lip service to pain relief.
We believe that the way in which our team of reviewers and enthusiasts has used and rated the products themselves in this article will help you make the right choice when it comes to buying online.
If you are looking for options for a massage at home, you can try other products in the market like Shiatsu massage chair pads or cold massage roller balls. Massagers are also a great option for sciatica and can help relieve sciatic pain.
If you are looking for a real spa experience and have someone who can give you a good (and safe) massage, you should consider getting yourself a massage table for your home use. For our senior readers, massage chairs and recliner chairs can be great options to choose from.
As always, this guide is meant for instructionn, but should not be construed as medical advice. Please consult your physician or therapist before using any of the massage guns we have mentioned here, especially if you are recovering from an injury.
References