Getting a massage is scientifically proven to improve blood and lymphatic circulation1,2. We have reviewed the best massage tables for home use. If you are in a hurry, the table below gives a quick snapshot of the top 5.
Dimensions
84 inch (L) X 23.6 inch (W)
84 inch (L) X 27.5 inch (W)
84 inch (L) X 37 inch (W)
72 inch (L) X 37 inch (W)
What are the benefits of a massage?
Massages are relaxing because they relieve stress from our bodies. Many regular visitors at a massage center see relief from painful conditions such as arthritis and muscle spasms2. It is no wonder that people are fond of telling others that they indulged in a relaxing massage over the weekend.
Cancer patients who suffer from extreme levels of pain and anxiety also get relief from regular massages to some extent, and they help induce a positive mindset as well. A 2016 study based on an amalgamation of 19 different studies and 1200 participants corroborated this fact. Patients suffering from fibromyalgia symptoms also claim to have some relief with regular massages.
Even if you may not be suffering from any chronic conditions, a massage is still relaxing. It helps relieve stress from muscles and improves their range of motion. As most of us lead a sedentary lifestyle today, indulging in a massage is an essential aspect of self-care.
However, visiting a massage center may burn a hole in your pocket. Along with the cost factor, the services provided may also not be as per your needs. Therefore, it is important to invest in and purchase the best massage table for home use, so that we can utilize the benefits of a massage at our convenience.
Pediatricians often suggest massage as a way to soothe babies and enhance their growth. An investment in a massage table can, therefore, have a lasting impact on all the members of your family.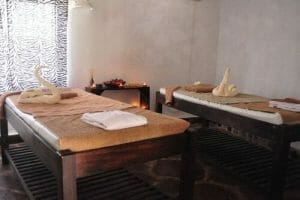 The video below shows how to set up a massage table.
What should you look for before buying a massage table for home use?
Dimensions
Before zeroing on a massage table, it is crucial to determine its length, width, and height. Most of the massage tables are about 84 inches in length. However, some may be lesser, up to 72 inches.
In the case of width, massage beds range from 24 to 37 inches. Massage tables are usually adjustable in height, so they may be anywhere from 23 to 34 inches tall.
While all this may sound a bit complicated, let's break it down for you. If you plan to use your massage table as a common one for the entire family, get one that is comfortable for the biggest member. In case you want the table for personal use, get the one most suitable to your physique.
Portability
If you want the massage bed to stay in one place, its portability may not bother you. Otherwise, ensure that the bed is foldable and lightweight so that it can be easily carried to different places. Most beds range from 27 to 37 pounds.
You may also like Best Foot Massager For Diabetics
Weight capacity
The best massage table for home use will be able to withstand your weight. Most of them are capable of handling at least 450 to 500 pounds, so it's usually not a major worry. In case you are looking for one that is for a heavier built person, there are bariatric models available.
Accessories
A proper massage table contains multiple segments. There is an adjustable backrest, several inclinations, headrest, knobs, etc. attached to the table for comfort.
You can choose whether to or not to include these in your table. However, opting for the one with the necessary accessories will be extremely helpful during the session.
Frames
The stability of a massage table depends on the material of its structure. Most tables are built of sturdy aluminum or wood. Both of these have pros and cons.
In the case of wood, it is sturdier and makes less noise. But, aluminum, on the other hand, may wiggle a lot yet remain intact for a long time. All of this is related to the quality of wood or aluminum as if it is good; it will be robust and stay strong for long.
Thickness of padding
Always make sure to purchase a table that has high-density foam to help you relax. Foam is available in three different densities, i.e., low, medium, and high. The low-density foam might be incredibly soft in the beginning but later loses its shape and become thin.
The medium density foam may last a tad bit more than the low one, but eventually, it may become a punctured bag. To keep your massage table intact for many years, it is advisable to invest in high-density foam.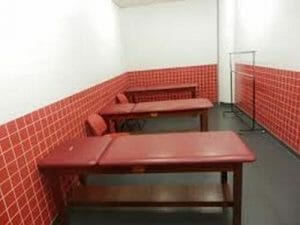 You may also like Best Massage Mat for Bed
Best massage table for home use
#1 BestMassage Massage Table
The massage table is made with superior quality hardwood that can handle a maximum of 450lbs weight. It contains thick high-density foam for the comfort of the user. With a length of 73 inches and breadth of 28 inches, it is a comfortable table for most people. Also, with the deluxe PVC leather covering, this massage table becomes one that needs minimum maintenance as you can simply wipe off any mess, and it again becomes sparkling clean.
The height of this table can be adjusted by turning a knob, and one can set it anywhere between 24 to 33 inches. It is extremely lightweight; hence when not in use, it can be folded and carried to places with the shoulder strap. There is a headrest well too that is comfortable for the user as it cradles and fits every face.
Pros
Adjustable height from 24 to 33 inches

Weight endurance capacity at 450lbs

Available at affordable rates

2-inch thick padding

Robust hardwood frame
Cons
Height adjustability is manual

May need 2 people to assemble the table

.
You may also like Best Massager for Sciatica
#2 Uenjoy Folding Massage Table
The 2-fold portable table is made of a sturdy hardwood frame. It also has an adjustable face cradle that fits all face shapes. The length of this massage table is 84 inches, and the width is 23.6 inches, which makes it an ideal choice for big people. High-density foam of 1.57 inches makes it a comfortable place for the users. The massage bed has a detachable head and armrests for ease during folding.
This portable massage table can be adjusted from 22.8 to 33.5 inches. Installing this table is an easy feat as no tools are needed in the process, and with a helping hand, one can easily set it up. The company also provides a parts replacement policy for 1 year, which is great. This massage table comes with a carrying case so that users can easily carry it to places and enjoy their relaxing sessions.
Pros
Weight endurance of 500lbs

Length of 84 inch

Parts replacement policy of 1 year

Comfortable hand and armrest

Sturdy hardwood frame
Cons
Foam density only 1.57 inches

It is heavy to ferry around
#3 BestMassage Portable 84 Inches 2 Fold
The 84-inch long table is 27.5 inches wide, which makes it an ideal choice for people with big bodies. It is a 2-fold portable massage table that can be transported to places with the help of a carrying bag because of its low weight. Although the massage table is lightweight, it can withstand a maximum of 450 lbs.
This massage table is made of hardwood that makes it a sturdy and robust buy. Users do not have to worry about the installation process as it unfolds automatically. The foam is of high density covered with luxurious PU leather that doesn't emit any foul odor and allows the user to lie down comfortably for longer periods. A flexible headrest and hand panel is also provided that enables the user to relax completely.
Pros
27.5-inch width ensures space for big people

High-density foam for maximum comfort

Height adjustment from 24 to 34 inch

No foul smell of synthetic fibers

2-inch soft high-density foam
Cons
Armrests are not sturdy

Face rest is small and may not suit everybody
You may also like Best Cold Massage Roller Balls
#4 Saloniture Portable Massage Table with Backrest
The premium quality, thick high-density foam of 2.5 inches, and the pillow that is 3 inches higher make the massaging experience extremely relaxing. It is covered in luxurious PU leather that makes cleaning an easy job. Due to its huge size, i.e., 84-inch length and 37-inch width, the massage table proves to be one of the best spots for heavily weighted people. In this massage bed, there is a tilting backrest and a bolster for lumbar support.
Any person below the weight range of 450 lbs can easily relax on this bed without the fear of wiggle. When folded, this bed weighs at 37 lbs and is compact enough to be stored anywhere in the house or carried to different places.
Pros
Length and width of 84 and 37 inch makes it comfortable for all

Created in a sturdy hardwood frame with steel wire support

Tilting backrest

Strong nylon bag to pack and carry

Sturdy bolder for support
Cons
Head and armrest don't have a locking mechanism

Folding and unfolding is a tedious task
#5 Saloniture Portable Physical Therapy Massage Table
This massage bed is an effortless and clean 2-fold design. It has a 2-inch thick high-density foam for premium comfort that is also covered in high-quality PU synthetic design that also boasts of a vegan-friendly material. High-quality hardwood, along with steel frames, is used for the robust construction of the table.
The massage table is 72 inches long and 37 inches broad. Its height can be altered from between 16 to 24 inches, according to the preference of your masseur. There is also skid-free material installed at the feet of this bed so that it is secure even in the most vigorous massage sessions. This massage bed for home use can handle a maximum weight of 450 lbs. There is also an extension for headrest, which is unique and sturdy.
Pros
Simple and mess-free design

Anti-skid material on the feet of bed

Waterproof PU synthetic leather

Adjustable headrest

Easy to carry in the sturdy nylon bag
Cons
The length seems less at 72 inches

May sometimes make a squeaky noise
You may also like Is a Massage Chair Good for the Elderly
Conclusion
The best massage tables for home use are not only a place for relaxation but also a life-altering method to relieve stress from your mind, with each of your senses unlocking the negativity and paving the way to positive energy.
According to us, the Saloniture Professional Portable Massage Table with Backrest is the best choice for almost all households as it can accommodate anyone, and also the upholstery is smooth and comfortable for the user.
You may have to find someone to set up the table. But once the massage starts, there is no wobbling or jiggle, and you can easily enjoy a relaxing therapy on this massage table.
References: