In this article, we have reviewed the best luggage for seniors. If you are in a hurry, the table below gives a quick snapshot of the top 5.
Fabric
Ballistic Nylon Outer Fabric
Ultra-Durable Tensile Fabric
High density ballistic nylon fabric
Special feature
Self aligning magnetic dual wheel spinners
Dimensions
20.08 X 11.02 X 27.95 Inches
14.96 X 10.04 X 21.65 Inches
By 2025, seniors will account for 13% of all international travel, up from 10% in 2016[1]. This implies that the demand for senior-specific luggage will also be growing exponentially.
Regardless of his traveling philosophy, every accomplished traveler has a few simple rules when trying to find the right luggage. It has to be something that can survive wear and tear. It has to help them stay organized. It has to be strong enough to make it through baggage handlers and international airport terminals.
When talking about luggage for seniors, there are some more criteria as well – it should be lightweight, it should have an easy to pull retractable handle, it should have durable wheels that move in all directions, and it should be expandable when needed.
Today, let us have a look at some of the best luggage for seniors.
Our Top Choice – eBags Fortis Carry-On Spinner
The ebags Fortis Pro 22 Inches USB Carry-On Spinner (Ocean Blue) is our top choice for "best luggage for seniors" due to the following given features:
The luggage comes with a portable battery pocket, which implies that you can locate it easily for quick removal without needing to open the entire bag.

The removable laundry bag makes it comfortable for the seniors to separate their dirty laundry from others.

The luggage can expand up to 1.5-inches, and you can still fit it in the overhead bin.

It has a built-in USB port at the top – a perfect device for charging your phone or tab while on the move

The compression strap has wet and dry pockets for separating your toiletries

Its super sleek 8.5-pound design makes it easier for the seniors to carry it around.
Best Luggage For Seniors
#1 Briggs & Riley Luggage
The Briggs & Riley Baseline-Softside CX Expandable luggage is a first-rate bag, of very high quality and equipped with many great features.
It is made with CX Compression-Expansion Technology, which means one simple pull of yours will expand the bag. Another simple push will compress it back down to original size for smooth overhead storage and carry-ons and less shuffling of transit contents. It is a great feature for seniors who don't have the hand strength to compress a packed suitcase.
This extremely flexible wheeled bag has the capacity to expand 2.5 inches to allow up to 25% more packing space. Cinch-down mesh garment panels prevent inside contents from shifting and reduce wrinkling.
It is built with ballistic nylon outer fabric, preventing wear, moisture, dirt, and abrasion. This awesome luggage comes with a lockable double zipper to keep contents secure, and also its SpeedThru pocket design helps quick access to travel items at security checkpoints. In fact, Briggs & Riley offers an unconditional repair lifetime guarantee in case of damage or breakage. This luggage allows seniors to fit it perfectly in their lifestyle.
Pros
The CX compression system ensures maximum packing capacity that can easily safeguard the contents without stressing compressing the luggage.

It comes with a large main compartment, which ensures easy packing.

The mesh-lid zip pockets enable easy set up of smaller accessories such as socks and ties or medicines.

The handle tubes are robust and ensure less jamming.

The four double swivel wheels imply perfect 360 degrees of navigation.
Cons
Some users complained that their clothes smelled of a chemical like substance.

As per some users, the handles can break easily.
#2 eBags Fortis Carry-On Spinner
eBags Fortis Spinner, with its integrated packing system, has made packing easy. A well made bag with excellent features. This lightweight luggage is equipped with an integrated USB charging system. Hence you can charge your phone without having to search for an outlet desperately. There are a cord connection and a dedicated battery pocket on the interior of the bag. The USB port is placed on the outside of the bag, allowing you access to your phone while charging.
This eBags Spinner features an updated compression strap with in-built packing cubes containing wet/dry pockets, to help you remain organized when compressing your stuff. Also, it includes a removable laundry bag for your dirties. Equipped with a unique feature of expanding up to 1.5 inches, it is sleek enough to still fit overhead cabin luggage space because of its sleek design. Even better, it has four silent Hinomoto wheels for smooth rolling.
Pros
The luggage comes with top and sides easy handles that make it easy to carry around for seniors.

The said model can easily satisfy most of the airline's carry-on conditions.

It comes with an in-built USB port.

The luggage comes endowed with a removable laundry bag.

The internal battery pocket can be easily located without the need for opening the entire bag.
Cons
Some users complained that the combination lock does not open sometimes.
You may also like Best Place To Live In The US When You Have Arthritis
#3 Dakine Split Roller Rolling Luggage
Dakine Split Roller luggage offers the finest celebrated feature in organization and access with its divided top and bottom compartments.
It has a big main compartment and individual divided sections, with see-through mesh dividers acting as a boundary between them to keep clean linen separate from dirty one, or adventure and sports gear separate from clothing stuff.
This is a strong product from Dakine, featuring perfect size and great compartments. The zip is of high quality. Each bag is built from 600D polyester and equipped with augmented and retractable handles.
It can fold flat for storage and comes with great stability. The strong urethane wheels guarantee ease of mobility on any road surface. The mesh dividers add a secure, tucked-away ID pocket for extra security.
Pros
This luggage model comes with a lifetime warranty.

It comes with 10 lockable zippers.

The internal compartment can help you keep dirty clothes or any other items apart from your luggage.

You can easily access the tuck-away ID pocket for extra safety.
Cons
Users complained that they could not find any locking mechanism which was built-in to the zippers.
#4 AmazonBasics Hardside Carry-On Spinner Suitcase Luggage
This Black hard side spinner luggage acts as excellent storage for international travel and weekend gateways. It offers enough parking space for clothes, toiletries, and a pair of shoes. Its expandable design feature creates up to 15% more packing space for extra room when you require it most (and less when there is no requirement). It also provides a durable zipper for safe closure.
It comes equipped with a protective hard shell for your peace of mind when you know that items won't be crushed after rough and tumble travel conditions. It has a durable, scratch-resistant finish. Its internal handy divider helps keep every item neatly organized and separated.
An interior organizer, built with 150D polyester for phenomenal strength, this bag contains three separate zippered pockets that work well for securely storing smaller stuff, like important papers, accessories, or phone cords and chargers.
Enlarge the handle when rolling the luggage, and then collapse it down in one smooth move for condensed storage when not in use or placed in the trunk or cabinet. Enjoy the smooth movement of luggage, thanks to its four double spinner wheels. It can glide smoothly in any direction.
Pros
It comes with 15 percent more packing space.

The luggage comes with a secure hardshell scratch-resistant finish.

You can find a fully-lined internal storage system with a divider.

The zippers are solid and robust.
Cons
The handles come off easily.

Some users complained that the wheels also come off sometimes.
You may also like Best Places To Travel In A Wheelchair
#5 It Luggage World's Lightest Collection
The It luggage 2 Wheel Red Clay is considered one of the world's best selling 2 wheels lightest luggage. This means you can pack more without the tension of excess baggage charges. Built with an ultra-strong fiberglass structure, it contains high-tensile outer fabric. The easy-grip, wide strong handle leaves the interiors of the luggage flat for maximum packing space.
Its lightweight feature makes it easy to lift the suitcase into an overhead rack. Equipped with strong and durable interiors. The weight can make the difference for international travel. The wheels are relatively stable.
Pros
The luggage model is made up of an ultra-durable tensile fabric.

It is endowed with a comfortable flat packing base.

The wheels are gentle and silent.

It comes with a 10 year warranty.
Cons
Some users complained that the handle of the luggage did not telescope which makes it difficult to negotiate easily through airports.
#6 Travelpro Platinum Magna 2
The Travelpro Platinum Magna 2 is crafted with ultra-durable fabric and has intelligent innovations in design, which make it the ideal luggage for seniors who travel frequently.
This bag can be moved through the airport effortlessly with eight MagnaTrac self-aligning wheels, which have 360-degree rolling, giving you complete mobility.
The luggage has a huge capacity, ensuring that there is room for everything you should carry for longer trips. The bag is expandable up to two inches to get even more incremental space. This upright suitcase features a telescoping handle that can be extended to three lengths: 38 inches, 40 inches, and 42.5 inches, making it perfect for seniors of various heights.
Some other important features of this bag are a cushioned grip with contouring for ease of use and effortless control, SUPRA zipper heads which are resistant to damage, a suiter compartment for suits and dresses to remain wrinkle-free, and a tie-down system which has pockets built-in to keep your clothing, personal items and shoes neatly organized.
The ballistic nylon fabric of this bag has DuraGuard coating, which protects it against abrasions and staining due to handling at airports.
With a Travelpro comprehensive warranty, this bag is a completely worry-free accessory for your travel, since you are completely protected against any airline damage and material defects for the bag's entire lifetime. The exterior surface of the bag is made with 100% nylon. The lining is made from 100% polyester.
Pros
Ideal for frequent travelers

MagnaTrac self-aligning wheels with a 360-degree swivel for complete ease of movement

Huge capacity, further extensible by 2 inches with a built-in zipper

Telescopic handle with 3 lengths, perfect to fit your height and helps you to remain upright at all times

Contouring cushioned grip

Suiter for suits and dresses, a tie-down system with built-in pockets

Lifetime TravelPro comprehensive warranty
Cons
Some users complained that the zipper of the bag did not work properly

A few users said that the telescoping handle tends to get jammed a lot and does not lift easily
You may also like Best Country For Elderly Care
Buyer's Guide: Best Luggage For Seniors
Age accompanies several weaknesses in elders. Thus, all travel luggage may not be fit for seniors. You can go through the buyers' guide to check which features of the best luggage is meant for seniors.
Ball-Bearing Inline Skate Wheels
Seniors cannot tug luggage that does not cooperate with them. Thus, ball-bearing wheels with inline skate are the most convenient suitcases since they are made of polyurethane. Such ball-bearing inline skate wheels reduce frictional resistance and extend smooth rolling on rough patches.
Size
It is not suitable for seniors to reach the overhead compartments to pull down their heavy suitcase. Thus, elders should opt for luggage that glides effortlessly under the airline seat. Small-sized luggage is convenient for them to roll out from under the chair.
Easy Grip
Seniors should choose a suitcase with a retractable handle. These handles do not put extra pressure on their wrist and shoulder while strolling their suitcase alongside. A comfortable grip suitcase provides easy maneuverability, particularly on rough surfaces.
Lightweight
The most popular option for luggage, which the elderly prefer, is its lightweight feature. Suitcases made from polyester and nylon fabrics do not bear weight and prove to be durable. An empty suitcase should not exceed the weight between 5 to 7 lbs.
You may also like Best Manual Travel Wheelchair
FAQs
Q1) What kind of luggage should seniors travel with?
Ans. Luggage is available in various shapes and sizes, and you have to personally and practically choose which set will be right for you. Carry-on bags for airlines must adjust in the overhead compartment or beneath your seat. It means the luggage's maximum dimensions can't exceed 22 x 14 x 9 inches for most commercial aircraft.
The primary carry-on bag (i.e., the bag with all of your valuables and personal belongings) should not be larger than the aircraft's maximum carry-on. Always check the baggage limit of a bus or train if you are planning to travel with them.
Q2.What should seniors look for in a reliable bag?
Ans. Seniors should ask themselves a few questions before they buy a new set of luggage:
Hard luggage or soft?

: Hard-variety luggage will secure your belongings, but they tend to weigh more and are less flexible. It becomes tough for you to push the bag into an overhead bin and overpack the hand luggage. Also, for soft-sided luggage, destinations with high humidity or tropical ones can cause your clothes to become moist. So always choose the set of luggage depending on your travel destination.

Check if the luggage is well-made

: Check for covered exterior joints, zippers with well-built joints, and lock stitches. Don't hesitate to give the bag a pull to ensure that the stitches, zippers, and handles have a solid touch.

Wheels or no wheels?: Wheels can make the carry-on so much more convenient despite that it adds weight to luggage. You can carry comfortably wheeled luggage when you're in an airport terminal or checking into a hotel.
Q3. What size is oversized suitcase
?
Ans. Although the restriction on size for baggage changes within different airlines, many permits 62 linear inches for checked luggage. Any Baggage exceeding above this would be declared as oversized in these airlines.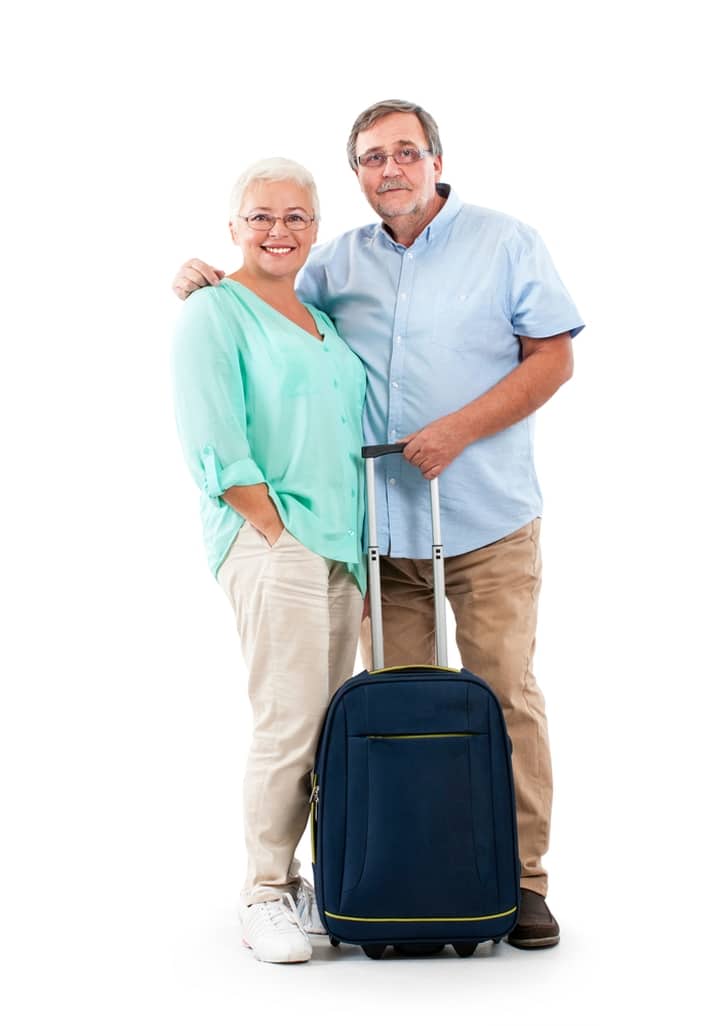 You may also like Best Portable Bidet For Travel
Conclusion
Luggage has always been an important part of travel. Without proper luggage or travel bag, you will put yourself at risk of losing possessions. Always choose the best luggage keeping all the factors in mind, and enjoy your holiday. Today there is a huge variety of suitcases, bags, and backpacks that modern-day travelers can choose from. We hope this article could point you in the right direction to select the best luggage for seniors.
In this article, we have selected the best luggage for seniors based on the features mentioned in our buyer's guide and the ratings and comments mentioned by actual users on Amazon.
In our opinion, the ebags Fortis Pro 22 Inches USB Carry-On Spinner (Ocean Blue) is the best choice among the various options that we have considered, as it comes with an in-built USB battery and a removable laundry bag.
If you are looking for a value for money option, you can also consider the it luggage World's Lightest Collection 2 Wheel with Non-Locking Handle 22 Inch Carry On, Red Clay, One Size, that can easily accommodate in your budget.
References: