In this article, we have reviewed the best e-readers for seniors. If you are in a hurry, the table below gives a quick snapshot. Or you can scroll down for detailed product reviews.
If you have been an avid reader all your life, you may have gotten used to reading paperbacks for a long time before e-readers came along. Some people could not change their habit and stuck to physical paperbacks. Others embraced the latest technology and switched to e-readers.
Whichever camp you belong to, paperback or e-reader, you cannot deny the many benefits that e-readers have brought along for the avid readers – especially seniors. Which is the reason why e-readers have flourished over the last decade, with more and more readers switching to them.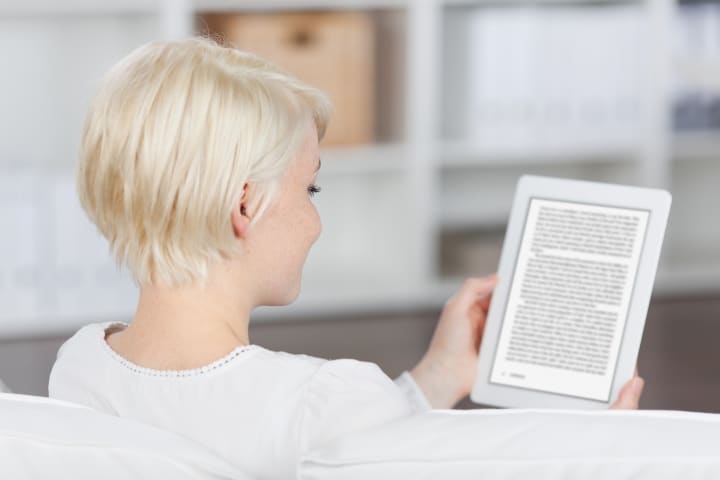 E-Readers – A Perfect Companion for Seniors
While it is easy to rattle off a number of benefits that e-readers can bring in general, some of these benefits are extremely relevant for the elderly. The elderly are generally expected to have more time for leisure reading.
For those who could move along with technology and embrace e-readers, they are able to access whole libraries from the comfort of their homes.
Benefits of E-Readers for Seniors
E-readers have many benefits for the elderly over paper books. Let us look at some of them below.
Can You Adjust Font Size
It is common among seniors to have lost a bit of eyesight. It automatically takes out a lot of small print that comes in paperbacks, unless you want to strain your eyes and read a 300-page novel at the cost of aggravating your vision loss.
In most e-readers, you will be able to select font size and therefore, you will be able to recover those lost pages that you could not read just because the font size was too small.
Lugging Around a Library?
This is probably the most generational difference between paperbacks and e-readers. You would need a truck to carry around 6000 volumes to read. With an e-reader (8 GB storage) you would still need just the e-reader – the 7 inch (on average) device that may fit into your jacket pocket.
Of course, you may need to charge it a few times, but the point is reading suddenly is liberated from the burden of books. In fact, most e-readers weigh just as much as a single paperback and therefore, drastically reduces your travel luggage as well.
Making Frequent Trips to Refer the 5-pound Dictionary?
Once in a while, you encounter that weird word while reading that simply will not let you proceed without you knowing the meaning of it. Well, you do not have to take refuge of your dictionary anymore, the meaning of the word will just be a click away with new e-readers, especially with Amazon Kindles.
Environment, Anyone?
Well, the more you read using e-readers, the fewer paperbacks are printed and the more trees you save. It is estimated that one tree is equivalent to about 60 books on average. Well, that means you saved one tree from being felled once you have read up 60 books on your e-reader.
You may also like Is Alexa or Amazon Echo Good for the Elderly
Unparalleled Reading Convenience
With an e-reader, you can read effortlessly in a dark room, in strong sunlight or while eating, even when you are using both hands. You no longer have to care about your partner wanting the lights off while you are at an interesting juncture of your story. There is a fair degree of customization which you can play with to suit the screen brightness with your eyes.
Your Best Friend if You are Mobility Challenged
As an elderly, if you have a disability or you are not feeling like stepping out for the day to the library to borrow books, well, you can just get the e-reader copy and start reading. It helps you to avoid non-essential travel.
Bookmark
In old age, it is common to forget till where you have read. Physical bookmarks are flimsy and may not stay in place. You may forget to place the bookmark in the first place. In e-readers, bookmarks are automatically placed till the point or page you have read so that you can doze off with peace of mind and not care about the physical bookmark.
Amazon Audible
Finally, Amazon takes it a step further with Audible, where you can just put on your Bluetooth headphones and relax – and the story will be read out to you. This is extremely convenient for seniors with significant eye-sight loss.
In fact, unless your hearing ability is impaired, Audible gives you an unmatched convenience if you like to listen to your books rather than read them. And not to mention the lure of free e-books that are available for most readers.
You may also like Alexa vs Google Home for Elderly
Below, we have reviewed a few of the best e-readers available. Amazon Kindle has a majority share of the market in e-readers and there are a few variations of the Kindle that we will have a look at.
#1 Kindle Paperwhite
The Kindle paperwhite is a Wi-Fi and cellular connectivity capable device which was the first version of kindle to be waterproof (up to 2 meter under water). This is also the first model to have option of Audible which you can switch to for listening to audiobooks (with paired Bluetooth headphones) instead of reading.
Pros
Comprehensive light adjustability features let you read anywhere in any kind of light
Good screen resolution with high pixel density of 300 ppi (pixels per inch)
Extremely lightweight at under 200 gms; lighter than a book – easy and convenient for the elderly to hold
Instant access to huge book base for very reasonable subscription fees
Available in 2 storage options of 8 GB and 32 GB; You should try 32 GB if you want to read magazines, comics and extensively try out audiobooks
Option of switching to Audible: Listen to the story instead of reading – very useful for seniors with impaired eyesight
Waterproof till up to 2 meters under water
Comes with Wi-Fi and free cellular connectivity
Cloud storage available for free for all Amazon content
Cons
Battery life may be short depending on light and brightness settings and use of Audible; Takes 4 – 5 hours to fully charge
Wake up or boot up is not fast
Here we have a video on how to set up you Kindle.
https://www.youtube.com/watch?v=0uVD5PNJK44
You may also like How to Set Up Tablet for Elderly
#2 Kindle Oasis
This is the latest version of the Amazon Kindle series (as of May 2020) and is lighter than previous versions even though it has a larger screen at 7 inches.
The model has dedicated buttons for page turns and is convenient for single handed use. It also employs the e-ink technology that more closely reproduces a book reading experience for faster reading speeds.
Pros
7 inch screen for larger page viewing
Comes in 2 storage versions – 8 GB and 32 GB – try out the 32 GB if you are planning to extensively use audiobooks
Option to quickly switch to Audible – if your eyes are paining from long reading, switch to listening instead
Auto adjusting light sensors: screen automatically brightens up in low light
Automatically re-orients screen to match page orientation
Dedicated presence of page turn buttons increases convenience of use
Lightweight at under 190 gms; easy to hold for long
Takes only 3 hours to fully charge
Cons
#3 Amazon Fire 8 Tablet
This device is a tablet which can be used for e-reading, Audible, Social Networking, Browsing, watching movies, video calling and pretty much everything that you can do on a laptop.  It is much more than just an e-reader. The display is 8-inch long with a resolution of 1280 x 800 (189 ppi)
Pros
Fast processing speeds with quad core 2.0 GHz and 2 GB RAM allows for running parallel applications.
Can be used for video calls as well using skype and in-built camera
8-inch screen for better visibility for seniors with partial eyesight loss
Comes in 4 different colours and 2 storage capacities of 16 GB and 32 GB
Lightweight at just under 300 gms
Internal storage is expandable by up to 1 TB
Good value for money
Cons
Speaker quality can be better; mono-speakers do not do justice to music content
Only micro USB ports available; results in slow transfer of files
Screen resolution is not among the best
You may also like Best Intercom for the Elderly
#4 Likebook Mars E-Reader
The e-reader runs on Android 6.0 marshmallow with an octa-core 1.5 GHz processor, up to 2 GB RAM and 16 GB storage space. While you can install android apps after you have activated Google Play on your device, this device can be considered as midway between an e-reader and tablet, in terms of utility.
No products found.
Pros
Adjustable backlight and easy to switch between cold and warm light
Font size and style can be customized for better readability
Large 7.8 inch (300 ppi) touchscreen based on e-ink technology
Fast processing speeds with up to 2 GB processing RAM; faster page turns
Supports usage of micro-SD cards for transfer of files
Android apps can be installed to further increase the device utility
Cons
Priced aggressively
Software needs to be upgraded for a few bugs; Some users have reported repeated crashing and rebooting
No products found.
#5 Barnes & Noble Nook GlowLight 3 eReader
This is a 6-inch e-reader with 8 GB storage and has multiple brightness and light settings to make for comfortable screen viewing experience. The auto screen setting can mimic the sun's natural progression throughout the day, which is helpful for the elderly; however, if it's a cloudy day, you need to change the settings manually.
Pros
Dedicated page turning buttons for easy navigation
Night mode display for comfortable reading
Lightweight and can be easily held for long
Good screen resolution with high pixel density (300 ppi)
Good value for money
Cons
Compatible with only NOOK e-books. You cannot directly read Amazon Kindle e-books on this e-reader. Amazon e-books can be separately downloaded on another device and transferred to this device for reading.
Cannot support audiobooks
You may also like Best Cell Phones for Seniors with Dementia
Conclusion
E-readers are a technological boon for the elderly who are not that active to step out of their homes and access the public library. It is a one-time investment that gives them access to a treasure of reading (and listening in case of audiobooks) material and entertainment options.
In terms of convenience, an e-reader wins hands-down against the paperback reading experience. It is just a matter of time before a senior user gets used to it.
So whether you are looking for a thoughtful gift for your elderly parents or as a senior citizen, you want to get on with the times and get yourself an e-reader, it will be a great investment!