The progressively sedentary lifestyle of people in the past few decades has impacted our health, leading to higher incidences of joint and bone diseases in the elderly. An overwhelming 65 to 85 percent of the elderly suffer from some kind of musculoskeletal pain and 40 to 70 percent suffer from back pain1. The onset of these painful conditions appears to be happening earlier in the lifetimes of people now than at any other time in the past.
Musculoskeletal pains can make ordinary tasks like household chores more challenging because pain in and around joints and muscles can render a person to move more slowly, gingerly, and with all around less mobility. The household task of cleaning around the house with a vacuum cleaner can take more effort and time than without musculoskeletal pains.
Fortunately, we can take into account musculoskeletal challenges when we shop for a vacuum cleaner and buy a device that is optimized for use with these physical conditions. Vacuum cleaners for arthritis sufferers and those with bad back need to be lightweight, portable, and easy to maneuver.
In this article, we review some of the best vacuum cleaners for people who suffer from arthritis and/or have a bad back. If you are in a hurry, you can look at the table below which gives a quick snapshot. Or you can scroll down to read the detailed product reviews.
Wattage or Suction Power for Robot
Arthritis and Its Symptoms
Arthritis is an umbrella term that refers to most inflammatory conditions of the joints and tissue surrounding the joints. The most common form of arthritis is osteoarthritis or the one that affects bone joints. It is the condition in which the cartilage that surrounds and protects the bone wears down over time.
The most common joints to be affected by osteoarthritis are the knees, hands, hips, and backbone. If your loved one is suffering from arthritis, you would know that niggling pains are likely a part of his or her daily life. In this situation, it can be more challenging to go through your day and complete tasks like cooking and cleaning. In this article, we will be reviewing some vacuum cleaners that may just make the task of cleaning a bit easier for arthritis patients.
You may be surprised at how much this condition has engulfed the elderly population. If you are over the age of 65, there is over 45 percent likelihood that you will develop arthritis in your knee joints. If you are over 85 years of age, there is a 40 percent chance that you will be developing arthritis in at least one of your hands1.
Some common symptoms of arthritis include stiffness and pain in joints, joint swelling, and tenderness around the joint, the state of being easily fatigued, gradually losing range of motion in your joints, returning fever, redness, or warm to touch around the joint.
What Causes Back Pain in the Elderly?
Common causes for back pain in the elderly are osteoarthritis, muscle or ligament strain, and spondylitis.  With osteoarthritis, especially if it is in an advanced stage, it is likely that your movements will be limited, and you would find it difficult to continue to do housework. Muscle or ligament strain and spondylitis can be treated with physiotherapy, and if follow your physician advised routines, you are likely to get back your full range of back movements over time.
How Can You Ease Your Back Pain?
Depending upon how advanced a stage your bad back is at, there are a number of things that you can do to ease your back and get your strength back, including: Routinely pursue physiotherapy sessions, lead a more physically active lifestyle within your capabilities, take medications on time, apply cold and heat pads to ease pain, and adequately rest your back. Correcting your posture during sitting and standing also contributes to your recovery.
Can You Vacuum If You Have a Bad Back?
It depends on how bad or recoverable a condition your back is in and if light physical activity is good for your back or is likely to further aggravate your bad back. It is best that you consult your physician regarding how much physical activity is suitable in your case. Most patients are advised complete bed-rest for some time before they should ease into daily activities.
You may also like Best UV Sanitizing Wand
Features of Vacuum Cleaners for Arthritis and Bad Back
If you have mild arthritis or back pain, it is unlikely to interfere with your daily activities. At the same time, you should consult your doctor to devise a daily schedule for yourself so that you can resume your daily activities safely and avoid aggravating your existing condition.
If your arthritis or back pain has progressed to an advanced stage like gout or you are suffering from spondylitis of the spine, it is likely that you will find it difficult to complete your daily chores. At advanced stages of arthritis, you are likely to continuously experience nagging pain that has the potential to worsen as you progress through your day.
Therefore, it is essential that you work with tools that will cause less stress and strain to your joints. When you look to buy a vacuum cleaner for somebody with arthritis, remember to focus on these aspects:
Weight and Size
This is of utmost importance and should be the number one priority for you. Your vacuum cleaner should be of medium size and should be lightweight. The benchmark for being lightweight is somewhere around 11 pounds or 5 kgs.
Reach
The vacuum cleaner should come with some extra fitting nozzles which can extend the reach of the cleaner for comfortable use when you want to vacuum harder to reach places. Arthritic patients may find it difficult to bend and stretch, and therefore, the longer and lighter the nozzle, the easier and safer it will be to use.
Wheels and Maneuverability
Wheels on the bottom of the cleaner make it easy to move the device between rooms and to store after using. Even a relatively lightweight vacuum cleaner can become unwieldy to lug around the house without wheels.
Storage
It is best if your vacuum cleaner does not store the garbage in a dirt bag that needs to be changed at regular intervals. Instead, the cleaner may have a transparent garbage storage which can be unlocked with a click of a button and emptied easily when full.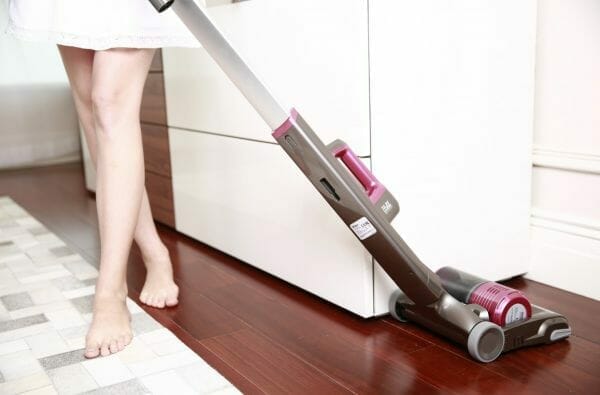 Reviews of the Best Vacuum Cleaners for Arthritis Sufferers and Bad Back
Let us look at some of the vacuum cleaners more suitable for those with musculoskeletal pain.
#1 – Hoover Power Dash Vacuum Cleaner
The Hoover Power Dash is our top choice among vacuums for arthritis sufferers and bad back. It is mainly used as a carpet cleaner and works well with carpet shampoo. The device is good for a quick cleaning and drying experience with in-built protection against tearing of carpet pile through its brush roll mechanism.
Pros
Provides powerful cleaning through good suction force
Brush roll provides protection for high pile during carpet cleaning
The nozzle can be easily removed and cleaned
Dual tank system keeps clean water separate from the dirty water
Blow dries with heated air for faster drying of carpet
Cons
A bit on the heavier side at 12.5 lbs; however, large wheels make it easier to wheel around
Works only as a carpet cleaner and cannot be used to clean dirt from ceiling, walls or upholstery
Here is a video featuring the Hoover PowerDash Pet Compact Carpet Cleaner and how to use it:
#2 – Eureka Power Speed Vacuum Cleaner
This is a commercial grade vacuum cleaner that you can consider if you are comfortable with a 10 lbs device. This is a powerful cleaner that runs on a 960W motor and has a large collection chamber of 4.1 liter. The product comes with standard one-year limited warranty.
Pros
Bagless cleaner; large 4.1 litre dust collection chamber requires less frequent emptying
Height adjustable vacuum cleaner, for better cleaning across different grades of carpets and floors
High suction power and runs on 960 W motor
Comparatively lightweight at under 10 lbs, given its suction power and collection chamber capacity
Wide cleaning path of 12.6 inches
Cons
The vacuum motor may be too noisy for you if you are not used to commercial grade vacuum cleaners
You may find the hose for reaching high places too short, depending on your own height
You may also like Best Mop For Seniors
#3 – Bissell Featherweight Vacuum Cleaner
This is one of the lightest vacuum cleaners at 2.6 lbs and can be easily converted to a hand device for cleaning furniture and upholstery. The product comes with a standard one-year limited warranty and is suitable for all types of flooring except high pile carpet.
Pros
Extremely lightweight at under 3 lbs and easy to handle; Due to its low weight arthritis patients will find it easy to use the hand-held mode for cleaning furniture
Easy to switch between different modes of cleaning – floor, stairs and hand cleaning mode for furniture
Bagless and easy to empty garbage collection chamber
Cost efficient device
Cons
No roller brush and hence not safe for high pile carpets
15 ft power cord is on the shorter side; may require you to change plugs multiple times which may not be very convenient for somebody with arthritis
#4 – Eureka Rapid Clean Cordless Vacuum Cleaner
This is battery powered cordless vacuum cleaner that frees you from adjusting power cables and changing power points while vacuuming your home. The device has two operating modes – normal and turbo mode for more powerful cleaning. At about 5.5 lbs, this is a device that can be perfect for arthritis patients.
Pros
Cordless cleaning experience; no hassles to remove cables from the cleaning path and no requirement to change power points
Long battery life of 40 min on full charge; enough to clean mid-sized homes
Extremely lightweight and easy to handle
LED lights on the cleaner allow you to see dark corners
Adjustable between 2 cleaning modes for light and deeper clean
Long reach under furniture and very easy to maneuver
Cons
Not suitable for curtains and ceiling corners due to absence of long nozzle
Suction force may not be sufficient for stubborn dirt and stains
You may also like Best UV Phone Sanitizer
#5 – Eureka Blaze Swivel Lightweight Vacuum Cleaner
This is lightweight vacuum cleaner at about 4 lbs, and can be converted to a hand vacuum or a stair cleaning vacuum from a stick vacuum. The device also comes with a crevice tool for reaching hard to reach corners.
Pros
Lightweight and has wheels and swivel feature for ease of manoeuvring; useful features for the elderly with a bad back
Fairly wide cleaning path of over 9 inches; requires less time to cover entire rooms
Large dust collection chamber requires emptying less frequently
Good value for money
Cons
Not suitable for high pile carpets; may result in damaged carpet
Power cord could have been longer for better reach
#6 – Black and Decker Air Swivel Vacuum Cleaner
This device is an upright vacuum cleaner with a well-designed handle and swiveling steering capability for convenience in maneuverability. The machine comes with 2 extra differently shaped nozzles for cleaning upholstery and hard to reach areas like AC and heater vents.
Pros
Bagless cleaner; has large dust collection chamber capacity of 2 litres, requires infrequent emptying
Dust cup and filters are easy to remove and clean
Lightweight at just about 9 lbs
Wide cleaning path of 12 inches
Long cord length of 30 feet reduces requirement to change plug points, which may be a problem for arthritis patients
Extra accessories like nozzles and pet tool accessory makes it easier to reach corners and crevices and easily clean out pet hairs from furniture upholstery
Cons
Some users have found that it can damage small and thinner rugs if not handled carefully, so it may be better to avoid thinner rugs.
Vacuuming clearance from the ground cannot be adjusted; best to avoid on carpets
You may also like How to Sleep With Lower Back Pain and Sciatica?
#7 – SowTech Cordless Vacuum Cleaner
This cordless lightweight vacuum cleaner comes with 4 types of cleaning nozzles and two extension pipes for better reach. The weight of the device is 3.3 lbs and can be converted to hand-held vacuum easily to clean furniture, stairs, or curtains.
Pros
Very lightweight at 3.3 lbs and easy to use
Low noise while in use
Sufficient battery life of 40 minutes on full charge
Comes with 4 accessories – floor brush, mattress brush, square brush, and a crevice tool
Cordless vacuum – so you do not need to bother about interfering cables and changing power points
Good value for money
Cons
Suction force may not be sufficient for deep cleaning
Battery cannot be removed and changed with back-up for extending usage time beyond 40 minutes
No swivel option in stick-steering mode may make it difficult to reach hard-to-reach places
#8 – Cordless Vacuum Cleaner by Goovi
This vacuum cleaner is a cordless device that has dual functioning modes – standard and higher suction – for use across all floor types. The device comes with a crevice nozzle for reaching corners and a bristled brush for picking up dried stains on upholstery. The battery is detachable, and you can keep a backup battery charged and ready to use, if you have a large home.
No products found.
Pros
Run time of 40 minutes on full charge; sufficient for cleaning the average house
2 cleaning capability modes – light suction and heavy suction. Recommended to use the light suction mode for high pile carpets
No cord – does not require changing power plugs multiple times
Easy to empty dust collection chamber
Very lightweight at 3 lbs
LED lights in the front help user to see in low light and in dark places
Cons
Battery takes long time to charge fully
Dust collection chamber is lower capacity leading to frequent emptying
No swiveling feature for easy maneuverability
No products found.
You may also like Best Massage Gun For Lower Back Pain
Robot Vacuum Cleaners
Finally, let's take a look at robot vacuum cleaners, which are a fairly novel category of vacuums that automatically seek out dusty areas and clean on their own. With robot vacuum cleaners, you do not need to worry about vacuuming the house with arthritis or a bad back – they will do the heavy work for you.
However, while these devices are understandably convenient to use, a good robot vacuum can set you back by as much as five hundred dollars. We have reviewed four robot vacuums here, with the common drawback of being on the more expensive side for many.
#1 – Eufy Anker RoboVac Robotic Vacuum Cleaner
The Eufy Anker RoboVac is our top choice among robotic vacuum cleaners. Along with having all the important features of a robot vacuum, it is well priced too. This robotic vacuum cleaner uses BoostIQ technology, which increases suction power automatically by 1.5 times when required.
No products found.
It works well on hard floor and carpets up to medium pile. The device has a climbing threshold of 0.6 inches and can go over room thresholds for continuous cleaning with no need for intervention.
Pros
Good suction force for thorough cleaning
Thin design for better access under furniture
Comes with an extra set of filter
Good battery life and easily works for one and half hours of cleaning
Cleans noiselessly
Can automatically detect drops and cliffs to avoid falling off
Device comes with 12 month warranty
Cons
Does not work on high pile carpets
Requires more frequent cleaning of collection chamber than hand-held vacuums
No products found.
#2 – Roborock S5 Robot Vacuum
The Roborock S5 model is a high suction automatic vacuum cleaner that can work in multiple – carpet mode, quiet mode, mopping mode, turbo mode, and max mode. The device has a maximum climbing threshold of 2 cm and has the ability to go back to its dock charger automatically once battery runs low.
Pros
High suction force of 2,000 Pascal in turbo mode, higher than most robotic vacuum cleaners
Multiple modes of cleaning offers for customized cleaning experience depending on floor type
Can be controlled through application on smartphone
Comes with 1-year warranty
Compatible and controllable with Amazon Alexa
Large battery capacity which allows two and half hours of cleaning; suitable for large houses
Cons
On the expensive side; may be out of budget for the elderly
Not suitable for cleaning upholstery and furniture; suitable for only floor cleaning
Floor space needs to be cleared of any cables and litter for an interruption-free experience
You may also like Best Mattress for Seniors with Back Pain
#3 – iRobot Roomba Robot Vacuum Cleaner
This robotic vacuum cleaner by one of the leading robot vacuum manufacturers uses patented iAdapt 2.0 technology that cleans 99% allergens and pollen and all particles as small as 10 microns. This device can be connected to Wi-Fi and can be controlled from your smartphone and is also compatible with Amazon Alexa. It comes with one extra filter.
No products found.
Pros
The device automatically recharges itself and continues cleaning
The cleaner automatically maps its surroundings and cleans an entire level of your home
Easy to clean under furniture and hard to reach corners of your house.
Compatible with Amazon Alexa or Google Assistant
Cleans carpets reasonably well
Cons
Upholstery and furniture cannot be cleaned with this device.
Anything scattered on the ground will make it change direction and avoid strewn objects. If it's a wire or cable, the device may get stuck or drag them along.
No products found.
#4 – Roborock S6 Robot Vacuum Cleaner
The Roborock robotic cleaner is a highly intelligent device that can be programmed for a very customizable cleaning experience, including sequence of rooms to be cleaned and no-go zones. The machine uses fourteen types of sensors to navigate your home effectively and avoid obstacles or sharp falls.
Pros
High suction power offers a deep clean of carpets and hardwood floors
Compatible with Amazon Alexa and capability to add voice control
Noiseless when compared to conventional vacuum cleaners with similar suction power
Good battery life and can continue cleaning for 3 hours on full charge
Large wheels enable the device to move on top of high carpets or go over thresholds between rooms
Cons
Expensive product; more likely to be out of budget for seniors
The edge brush may get stuck on a high pile carpet and stop the device.
You may also like How To Use A TENS Machine For Back Pain
Frequently Asked Questions
Q. If I have arthritis or a bad back, should I opt for a
or stick with a manual
?
The first thought may be that a robot vacuum would be ideal for an individual with musculoskeletal challenges, as they clean automatically and require very little manual interface with the device. However, there are certainly a few caveats to consider before opting for a robot.
Firstly is price. Robot vacuums are a fairly new category and the technology is still being developed, so companies are still investing in research and development constantly. As a result, the most inexpensive, reliable robot vacuums are priced at a few hundred dollars, whilst the flagships are generally around a nice $1000. If cost is a consideration, maybe it would be worth waiting a few more years for robot vacuums to fall in price a bit more.
Secondly, as the technology is still improving, robot vacuums may be slower at vacuuming and imperfect. To ensure safety, robot vacuums generally move slower than a person can with a handheld vacuum, and relies on its scanning technology and movement patterning to detect areas of the house that need cleaning.
A human would be very familiar with the layout of their house that this scanning and patterning can be bypassed and the cleaning process can be quicker. With that said, a robot vacuum can also potentially detect areas of the house that are dusty that a human may miss in a regular cleaning session. This is a certainly a tradeoff to think about.
Lastly, if a manual handheld vacuum is light enough and functionally convenient, a person may just enjoy the benefit of the exercise and cleaning satisfaction that comes with vacuuming a house manually. If this matters to you, make sure to look through the rest of this article and pick a vacuum that is on the lighter side with good reach so that it is easy to maneuver if you choose to clean your house manually.
Q. What are some of the best vacuum cleaner brands?
In this article, we focused on the more budget-focused brands of manual vacuum cleaners that have a long-standing reputation. These comprise of Hoover, Bissell, Eureka, Black and Decker, and a few others.
There are also top tier manufacturers of high-end vacuum cleaners, many which produce vacuum models that cover the important aspects that we are looking for in a manual vacuum for somebody with musculoskeletal challenges, namely weight, handling, and reachability. These higher end brands include Dyson, Miele, LG, and Samsung.
The trend for high end manual vacuums has gone in the direction of the stick vac that runs on battery that are versatile and powerful enough to rival corded vacuums. Just be sure if shopping for a higher end manual vacuum to ensure that it is a light enough model and that it is within your reasonable budget of course.
Among manufacturers of robot vacuums, some of the reliable ones include iRobot, Roborock, and Eufy, and longer term vacuum brands like Bissell, Shark, and the big technology and appliance companies previously mentioned have recently joined the market as well. The robot vacuum industry has a lot of room to grow, as will be discussed below.
Q. What innovations might we see in the future for vacuum cleaners that can aid those with health-related challenges?
The main innovations in manual vacuums that we have been seeing and will continue to see more models adopt are bagless vacuum models which just have a compartment that can be quickly emptied of dirt, and a HEPA filtrated, sealed system that ensures that none of the dirt being vacuumed up gets leaked out of the vacuum.
It would be nice to see more models of canister vacuum adopt a retractable power cord as this will make a vacuuming session tidier and easier, yet this becomes less of an issue with the gradual transition from corded vacuum cleaner to cordless stick vacuum cleaner that runs on batter and does not require a constant power connection by cord.
Dyson, one of the leading high end vacuum manufacturers, has developed a cyclonic system that funnels debris via a whirlwind, making for a powerful suction system that does not require a bag. This cyclonic technology has been integrated into its vacuums for several years of models now. Perhaps we'll see more manufacturers utilizing suction technologies like this, or otherwise developing similar or better suction technologies.
The last important innovation is of course robotics. As the category grows, we expect to see more manufacturers joining in, a wider breadth of models, and much more affordability. Currently, robot vacuums are still a bit of a niche category, mainly due to their price point. The least expensive robot vacuums as of right now still go for a few hundred dollars.
Aside from availability and price point, we expect robot vacuums to improve in their ability to scan dirty areas better, move faster whilst avoiding obstacles, improve in pathfinding and efficiency, increased power, and better customizability and smart home support.
Parting Words – The Ubiquitous Home Cleaner Optimized for Arthritis and Back Problems
If you are suffering from arthritis or a bad back, we would recommend a light vacuum cleaner cleaner with a few nozzles. It should suit the purpose of household cleaning for the most part. If you have the budget, you may also like to consider a robot vacuum that can do all the heavy cleaning for you with minimal interaction required, though robots may take longer to reach the areas of the house that you want to have cleaned.
The Hoover Power Dash is our top choice among manual vacuum cleaners. We loved Eufy Anker RoboVac among robotic ones. Vacuuming the house does help you engage in light workout. If you look at it that way, do have a word with your physician to ensure that your condition should not be exacerbated if you engage in house chores like vacuuming.
If you are looking for other technology products to make seniors' lives easier, we have reviewed the best e-readers and the best fixed line phones for seniors.
Sometimes, caring for an elderly person can take some effort and extra involvement. As our parents age, they can become increasingly more dependent on us. To hand some independence back to your elderly parents and take a bit of load off your back and your schedule, you may like to find ways to help them be more independent. They will love you for it and this will free up your time that you can then spend with your parents.
If you would like to gift your parents something, knowing that parents have essentially everything they need, what can they gift them? We have also profiled 52 thoughtful gifts that you can give to your parents. Even if your parents have all that they need, they might not have thought of the various small and big devices that have come about that can help them make their lives easier.
References