We have reviewed the best headphones for seniors. If you are in a hurry, the table below gives a quick snapshot of the top 6.
Do your elderly loved ones complain incessantly about the volume of the TV not being loud enough? Are you worried that turning the TV on too loud may end up bothering your neighbors?
Hearing loss is common among seniors. Approximately a third of those between the ages of 65 and 74, and nearly half of those above 75 have been diagnosed with hearing problems in the US[1]. With age, the ability to hear clearly, correctly, and at a normal volume deteriorates significantly. This is mostly because the hair cells in our ears die with age, but do not re-grow.
While traditional air conduction-based headphones are available, they end up doing nothing more than amplifying the sound level, worsening the condition of the already strained ear.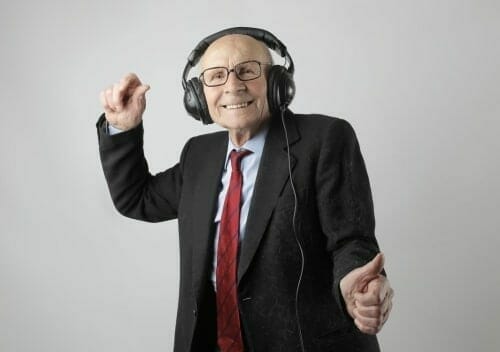 When you are faced with this situation, it is time to look for specialized headphones that protect the ear, while also making sound clearer.
In this article, we will discuss information on the best headphones for seniors based on our research and reviews from actual users. We have provided a small buyers guide, which would guide you in making the right buying decision. Lastly, we have even recommended some products based on our feature list and in-depth analysis.
Features Of A Headphone Meant For Seniors
As mentioned above, most conventional headphones are useless for seniors. The elderly need headphones which can produce clear sound and are lightweight.
Headphones that use excessive bass are not good for seniors, since they have trouble hearing mid-level tones. Also, the usage pattern for seniors is different – they need headphones for TV and audiobooks, not just music – so clarity is essential.
Lastly, many seniors use hearing aids, and compatibility with hearing aids, so it is important to make sure that the headphone is compatible with the hearing aid which they are wearing.
Below, we have explained a few more features of the best headphones for seniors.
Hearing protection & Balance
The headphone should be able to distinguish the target sounds (like from a TV) from background noise and should amplify those sounds to keep the overall volume at a safe level. Some headphones also have a balance control feature that is useful for people who have different hearing levels in the right and left ears.
Multiple connectivities
If you have more than one senior living together, you should consider a headphone that has an audio sharing feature. This way, you can share the audio feed to multiple headphones using the same transmitter.
Treble and bass adjustment
Treble and Bass adjustment facilities allow your loved one to customize the hearing experience to the specific frequency at which they are most comfortable.
Comfort
The headphones should be comfortable to wear for a long time. The headphones should have ergonomically designed earmuffs and a soft-padded headband. The earpads should be fully sealed with noise-isolating pads that effectively reduce the outside noise.
Lightweight
As mentioned before, you need to make sure that the headphones that you are considering are lightweight, because heavy headphones can cause discomfort in the ear, and long-term usage can also cause neck problems.
Wireless
While for the rest of us, the best feature about wireless headphones is the mobility that you get, for seniors, there is the added advantage that it reduces the chances of getting stuck and tripping and falling over the wire.
You may also like Hearing Aids vs Hearing Amplifiers
Low tech
Headphones these days can be fairly complicated, with Bluetooth and wi-fi connectivity, noise cancellation, bass, and treble modification functions, auto-play and auto-shuffle options, and so on. Most seniors are not comfortable with such complicated options. A simple headphone that serves the purpose of producing clear sound is perfect for most seniors.
Plug and play
Continuing our theme of simplicity from the previous point, the headphone needs to be plug-and-play with minimal intervention required for pairing. Complex pairing procedures can confuse and turn off most seniors.
Convenient charging
While we already talked about long hours of usage, the charging options available should also be simple and easy to use. Look for a headphone that can be plugged into both USB as well as normal wall sockets. Many headphones come with a docking station to charge them easily.
Compatibility
While most headphones designed for seniors are compatible with the latest Smart TV models, it is always good to check that the model you are buying should be compatible with your TV set.
Other Points of Note
Some headphones can not be used by seniors who use a pacemaker, and others may not work for those seniors who have severe hearing loss.
You may also like Best TV Speakers for Elderly and Hard of Hearing
Best Headphones For Seniors
#1 SIMOLIO Hearing Protection Wireless TV Headphones
This headphone is suitable for seniors who find it hard to hear. These headphones provide crystal clear sound and make older adults enjoy watching TV.
The wireless headphones can be connected through wi-fi and give you the experience of watching TV with three tone-setting options (treble, normal, bass).
The headphones come with memory foam ear muffs for long term user comfort and to reduce echo. Moreover, with the headphones on, there is no sound isolation.
The device has 500 mAh rechargeable batteries with a mobile USB port. There is a MIC button on the device that lets you temporarily hear others while watching the TV, without taking the headsets off. This RF wireless device covers an extended range of up to 100ft
Pros
The headphones support optical/RCA/AUX 3.5mm Audio Output.

No pairing needed – easy to use. Pure plug and play device

There is a Left and Right balance adjustment feature that perfects sound for those who have a different hearing ability in the two ears.

It features 2.4GHz FHSS tech that helps to watch TV with perfect sound quality.

500 mAh rechargeable batteries can work continuously for 10 hours – a spare battery is also provided with the pack so that you can charge one while the other is in use

The audio sharing function allows you to share your TV feed with a partner.

The headphones are convenient to plug in to watch uninterrupted sound with 100% clarity.

MIC button for temporarily listening to others while watching the TV

There are 12 levels for adjusting the headphones according to the head size.
Cons
Not suitable for people with pacemakers.

Does not work with home theater systems.
#2 RCA Wireless TV Headphones With 45 Meter Range
With the RCA wireless headphone, the hearing experience with these headphones is taken to the next level. Connect the headphone to your PC, TV, mobile, Ipod, laptop, and more and enjoy the clarity of sound.
The package contains the headphones, an instruction manual, transmitter, RCA audio cable, power adaptor, and RCA adaptor. With a one-touch button, switch on the headphones and connect it with any device conveniently.
The headphone also has audio sharing for compatible devices. The headphone has quick charging and can remain charged for up to 8 hours.
The headphones have a huge transmission range of 147ft (45meters), which means you can enjoy your TV sitting in a completely different room.
There are three frequency channels for tuning voice clarity. There is an auto-tune button to cancel unwanted noise.
Pros
Audi sharing – multiple headsets can work with a single device

148ft transmission range – enjoy TV while walking around the house doing other chores

Both 3.5mm and RCA compatible output ports.

HP3090 rechargeable batteries with 8 hours of battery backup. Easy to charge

Three frequency channels to get the best reception, along with the auto-tune button

Setting up the Headphones with the transmitter is very easy.

Easy to understand user manual
Cons
There is no light to show whether the autotune is on or not.

Due to the base unit charging the headphones becomes difficult

A few users complained of a crackling sound and background noise in the headphones
You may also like Best At Home Earwax Removal Kit
#3 ANSTEN Wireless Headphones With Range Of 100 Ft
The Ansten wireless headphones are designed to connect to laptops, smartphones, Ac receiver, PC, FM, and record players – they have very high compatibility to almost all listening devices.
The headphones are pure plug and play devices with no need to pair them to your TV or laptop.
This sound clarity is amazing, with a 30Hz – 20kHz.2.4Ghz frequency response and zero-latency technology. Get connected to your headphones even while in the kitchen, wash dishes, clean the house, or do any other work as its range is up to 30 meters.
The headphones have an amazing 12-hour battery backup, and soft padding combined with elastic headbands, which implies that you can wear them all day long without any discomfort or adverse effects.
There is a high volume setting for seniors who are hearing impaired. The headphones have free lifetime tech support and a 1-year manufacturer warranty.
Pros
The device uses proprietary 2.4GHz wireless technology for zero audio delays.

These headphones are easy to just plug and play. They don't need any pairing, which makes them perfect for seniors.

The headphone uses D1 rechargeable batteries, and a charging dock is provided along with the headsets. There is a 12-hour battery backup for these batteries.

The headphones are compatible with almost any device you can think of

Lightweight and durable device.

Soft leather earmuffs and adjustable headband make it comfortable to wear for extended periods

40mm high resolution drivers improve mids output.
Cons
Not very budget-friendly for those who have a limited budget.

The maximum volume is not very high.

The company gives only a year warranty on this device.
You may also like Where Can I Donate Hearing Aids?
#4 RCA DH780 Headphones With 100 Ft Range And 2.4 GHz Wireless Technology
This RCA DHP780 headphone is available with an ergonomically designed transmitter that changes the look of the device.
The stereo sound quality and no background disturbance makes the headphone ideal for seniors. Its range is up to 30 meters that makes you sit anywhere in the room to enjoy your favorite games, TV shows, and movies with maximum comfort.
You can watch TV without even disturbing others. The headband is very flexible, and the ear puffs are very soft and comfortable. It makes you enjoy wearing the device for a long time.
This device is a feast for those who have hearing problems.
The device is compatible with a wide variety of devices, with both 3.5mm and RCA ports. There is an 8-hour lasting rechargeable battery in the headphones.
With a wide range of volume adjustment, the headphones help to enjoy the clear sound without any interference.
Pros
Enjoy high-resolution crisp sound with RCADH780 Headphones.

No background sound interference when headphones are on.

Comfortable and lightweight device.

It also provides a steady signal transmission.

Compatible with your iPod, laptop, PC, TV, smartphone, VCR, CD player, and almost every device.

Stereo sound with zero latency and interference
Cons
If the TV set has an optical port, then you will need a digital to analog converter.

Do not use any other battery to recharge the device; it can damage the transmitter.

Batteries give a backup of only 8 hours.
You may also like Best Medical Alert System For Hearing Impaired
#5 Bonein Hearing Aid: Wireless Headphones
Uniquely designed wireless hearing aid headphones support various audio sources like TV, PC, AM\FM, and PC. Just plug in your transmitter to the TV, and the work is done.
Get perfect sound clarity with the Bonein headset. One can experience superior quality sound effects with these headphones as it guarantees to improve the hearing ability of people who have hearing problems.
An inbuilt microphone in the transmitter T10 helps to connect wirelessly with the headphone. Elders in the house can enjoy their favorite TV channels and movies using this wireless headphone.
Long telephonic conversations, listening to music, and enjoying TV, everything is possible with Bonein's hearing aid. All the TV with 3.5 output or RCA output can connect with this headset. Four different color options are available for one to choose from.
Pros
Both headset and transmitter connect automatically to each other, no pairing is required.

The headphones can connect to a wide range of TVs with 3.5mm and RCA out ports.

The ergonomic design makes it unique from other headphones.

Comfortable for wearing for seniors.

A lightweight, flexible device that is convenient to wear.
Cons
Not suitable for elders who have an aging ear nerve.

Elders must not wear this headphone for more than 1-1.5 hours
You may also like Best Headphones For Autistic Children And Adults
#6 TV Ears Original Wireless Headsets System
As the name suggests, TV Ears Original Wireless Headsets System is a headset designed to be used for TV watching with compatibility to both 3.5mm and RCA output ports.
This headset uses infrared technology to connect wirelessly with your TV and uses voice clarifying circuitry to give you crystal clear audio quality.
The TV and headset volume is separate from each other; therefore, others can watch TV as per their desired sound level while your seniors can enjoy the TV at their own hearing comfort.
This headset is ultra-lightweight and does not have bulky headbands that can cause discomfort to your skull. There is a rechargeable battery with 4-6 hours of charge.
The ear tips on the headset are foam-based, which helps to reduce background noise while watching TV. The ear tips can be aligned easily as per your ear canals by rotating them a few times. The product has a five years warranty period as well.
Pros
Infrared technology based wireless connectivity, which can connect through walls as well

Voice clarifying circuitry to increase clarity while reducing background sound

The headphones use Speed of Light, infrared technology (SoLIT) which has zero lag as compared to Bluetooth technology

These headphones have been classified as Assistive Learning Devices, which allows them to have twice the maximum volume as compared to other headphones

There are a 30-day money-back guarantee and 5-year limited warranty on the product
Cons
Not compatible with digital TV's

Voice clarifying function does not work well

A few users complained that the battery loses life after a couple of months
You may also like Are Used Hearing Aids Right for You?
Conclusion
Hearing problems with old age means that it becomes an arduous task to do even simple things such as TV watching or listening to music or audiobooks. Your loved ones may have to give up these simple pleasures, especially if they live with others or else have sensitive neighbors.
There are several headphones that can solve this problem easily available in the market. These specialized headphones have several features such as noise cancellation, voice clarity enhancement, Bluetooth connectivity, soft and comfortable ear muffs as well as a headband.
They are lightweight, have a long battery backup, and other features such as low latency, long-range, and audio sharing function.
In this article, we have chosen the best headphones for seniors based on the features mentioned in our buyer's guide and the ratings and comments mentioned by actual users on Amazon. We hope you find the inputs in this article relevant and are able to come to an informed decision based on our targeted inputs.
Lastly, in our considered opinion, the 【Upgraded】SIMOLIO Voice Enhanced Wireless TV Headphones with Extra Battery for Seniors & Hard of Hearing, Balance & Tone Adjustment, No Pairing, No Lip-sync Delay, Digital Optical RCA AUX, 100FT Range is the best choice among the various options that we have considered because it is rich in features and ideal for the purpose.
If you are looking for a value for money option, you can also consider the Wireless TV Headphones, RCA Over Ear Hi-Fi Stereo Headset for TV Watching PC VCD, Headphones with 2.4GHz RF Transmitter, Charging Dock for Seniors Hearing Impaired, 100ft Range, Rechargeable, Black, which offers great value and features at a very reasonable price point.
While we make every effort to provide updated and correct information, the advice given in this article and website should not be construed as "medical advice".
Please consult with your physician or medical practitioner before using any headphones. Each individual may have his or her unique hearing issues, and your medical practitioner is the best person to decide the best headphones for seniors for your case.
References:
[1] https://www.nidcd.nih.gov/health/hearing-loss-older-adults#1