In this article, we profile the best rehab bikes for wheelchair users. If you are in a hurry, have a look at the snapshot below. Or scroll down for greater details.
About 2.7 million people in the US use wheelchairs. Confinement to a wheelchair does not only physically constrain the person, but also creates a huge mental barrier. People with disability, old age, obesity, respiratory conditions, diabetes, arthritis and/or other illnesses who are confined to a wheelchair often feel that it is impossible for them to exercise. However, this is far from true.
Exercise is a very beneficial activity for any person. Not only does exercise reduce the risk of long-term diseases, but it also helps in improving one's mood and state of happiness.
When we exercise, our body releases endorphins that trigger the opioid receptors in the brain. These help to reduce pain, relieve stress, and increase happiness. This is why it is important for people who are wheelchair-bound to have and practice a good exercise regimen.
Regardless of your age and how physically active you are, there are always means to overcome mobility issues and reap the benefits of exercise.
Below are some benefits of exercise that are very important for wheelchair-bound people:
Increasing endurance

Reducing pain in muscles and joints

Improving balance

Building muscles and bone mass

Increasing range of motion
WHO recommends that all adults aged 19 to 64, including wheelchair users, should do:
150 minutes of physical activity

Aerobic activity in bouts of >10 minutes and

Muscle-strengthening activities on >2 days a week.
What Type of Exercises Can People with Limited Mobility Do?
Flexibility Exercises
Flexibility exercises, or stretches as they are more commonly known, are the first kind of exercise that needs to be done before proceeding with any other exercise.
Stretching exercises and even Yoga prepare your muscles for upcoming stress due to cardiovascular or strength exercises and reduce your chances of injuring yourself by preparing your muscles.
They also enhance your range of movement, reduce pain and are beneficial to keep your muscles toned up. If, for example, you have limited mobility in your feet, stretching exercises can help in preventing or delaying further muscle atrophy
In practice, stretching is similar to light cardio movements but it is less strenuous and slower to do. Even a simple motion of taking your hand from one end to the other sideways and back and forth can act as a stretching exercise that can be done before starting more strenuous exercises. If you can move your legs, then straightening them and touching your toes by your hands is also a form of flexibility exercise.
Another simple method is to hold a PVC pipe or stick with your hands in a wide grip and lift it above your head, keep it there for a few seconds, and then bring it down slowly. Repeat this exercise several times, and you will feel your shoulders and upper body more flexible and ready to move.
Cardiovascular exercises
The aim of cardiovascular exercises is to burn calories through rapid heart movement. Therefore, any activity which increases heartbeat can be counted as a cardio exercise.
For example, simply moving your arms up and down rapidly and repetitively whilst sitting on your wheelchair is also a form of cardiovascular exercise!
Some typical forms of cardio exercise are walking and running, swimming, tennis, squash and "Aquajogging". Aqua jogging is particularly recommended for people with mobility issues since exercising in the water reduces the weight on the legs and supports the body.
Another great cardio exercise is hand-cycling. You need a rehab-bike for this exercise. Put pressure on the cycle and gradually increase it, moving the pedals with your hands. This exercise is also useful in strengthening the muscles required to pull the wheelchair, namely your shoulder and arms.
There are also gyms that have exercise facilities for wheelchair-bound people. They support such exercises as hand rowing and bicycling.
Strength Training
Strength training involves building muscles and bone mass using weights. Strength training improves balance, helps prevent falls and increases upper body strength which is used in pulling most manual wheelchairs. The shoulders, triceps and chest are the muscles involved in pulling a wheelchair.
Chest pressing (like bench presses) can also be done by first making sure that the wheelchair is not movable. The other way can be by lying on the bed and placing the equipment overhead while ensuring that there is no discomfort to the body.
Another great exercise is the lateral pulldown which involves installing a bar higher than your wheelchair and a resistance band with handles. Tie the resistance band to the bar, pull it towards you, pull your shoulder behind your back, then move your back inward and let go slowly.
Dumbbells can also be done easily while sitting in a wheelchair.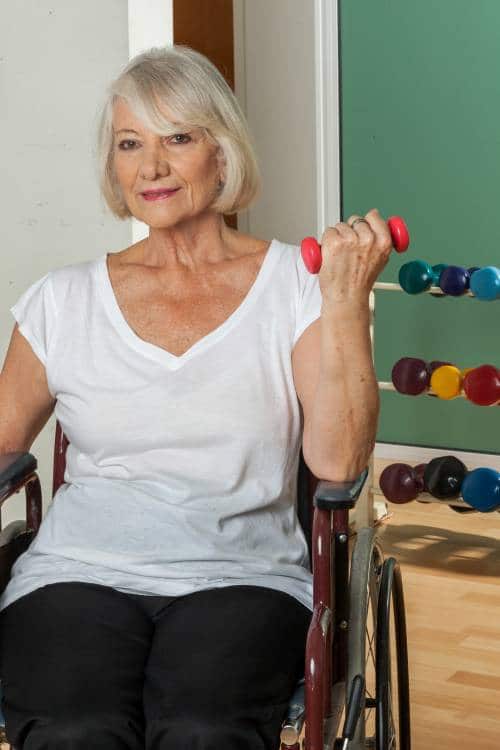 Injury Specific
Two aspects need to be kept in mind with respect to injury-specific exercises. The first is that there are exercises that can do harm to certain conditions and should be avoided. The second is that there are some exercises that are specifically beneficial to certain types of disabilities and/or injuries.
For example, isometric exercises (which are recommended for arthritis patients) involves pushing an immovable object without moving the joints or altering muscle lengths.
Our next section focuses on Cardio exercises, specifically: Rehab bikes. We will discuss our choices for the best rehab bikes for the wheelchair-bound.
You may also like How to Get Elderly Walking Again
Best Rehab Bikes for Wheelchair Users
Rehab bikes can be both motorized or completely manual. Most rehab bikes have an option to adopt for both hand and feet exercise. Rehab bikes are great exercise gadgets for circulation issues, MS sufferers, stroke victims, people who have undergone knee replacement surgery or anyone who has been prescribed limb movement as part of their exercise regimen.
We have ranked 5 top rehab bikes for use of wheelchair-bound individuals:
#1 Sunny Health & Fitness SF-B0418 Magnetic Mini Exercise Bike
The Sunny health & fitness bike features a reliable and quiet magnetic system, With 8 low-level micro tabs to increase or decrease resistance and tailor you work out as per your need
It also features large, ergonomically designed paddles on hand and foot which can be used as both paddles as well as grips.
An LCD display featuring exercise details such as time, speed, distance and calories makes it easy to track how much exercise you have been able to grind. The rehab machine can be placed on top of a table.
Pros
Compact, portable design
Ergonomically designed handles/paddles
Quiet
Cons
Slides around if not held by tape or backed to a wall
No switch off option for the LCD display
The video below shows more info about Sunny Health & Fitness SF-B0418.
You may also like Cubii Jr. Seated Elliptical Review
#2 MagneTrainer-Exercise Bike Leg and Arm Exerciser
This is a compact, lightweight exercise bike with a sturdy frame and a 15-inch wide base. The Patented Magnetic resistance provides double the resistance of other similar rehab bikes.
There are adjustable velcro straps on the foot paddles to accommodate for all types of sizes and a small LCD monitor measures Time, distance, speed and calories.
The bike can be placed on top of a table to use it as a hand exercise machine as well.
The Magne Trainer has a step-less resistance dial, which means that it is not limited to 8 settings and can be refined exactly as per the user's needs.
Pros
Patented magnetic resistance machine

No-step resistance settings

Small size
Cons
Expensive

It can be difficult to set it up with a chair for hand exercise
#3 Vaunn Medical Pedal Exerciser
Simple design, high utility, sturdy frame. These are the characteristics that define the Vaunn medical pedal exercise machine. It is a low impact, gentle exerciser for the arms and legs.
The machine has a single chrome structure, with no messy screws and soldering to hold together multiple pieces. This gives the structure a lot of stability and gives it an elegant look as well. The chrome frame also ensures that the exerciser remains rust-free during its lifetime.
The legs have non-skid ribbed rubber covers which keep the machine stable on the ground or table while exercising and reduces the risk of accidental injury due to the machine skidding off or slipping.
At a size of 15X21X12 inches, the machine is compact and can be put anywhere (like under the table, or over a desk). Thus, it gives a lot of freedom to exercise at any time as per one's choosing.
Pros
Compact, durable rust-free frame
Anti-skid rubber padding on the feet
No assembly required comes packed as a complete piece
Small size
Cons
The pedal has straps that are not easy to put on
The pedal cycle is a bit bumpy
You may also like Bedridden Exercise Equipment
#4 Hausse Folding Exercise Peddler
This is another compact, light exerciser which can be used atop a table for exercising the hands. This exerciser has options to adjust the amount of friction generated, thus increasing or decreasing the tension and hence the intensity of the exercise.
It has anti-slip rubber pads on the legs to hold it in place during exercise, and an electronic display that shows useful info like exercise time, revolution count, revolutions per minute(RPM) and calories burned.
It has a unique folding design which makes it compact for storage and for taking with you anywhere you go.
Pros
Folding design for storage and portability
Good features for the price
Sturdy frame
Cons
The unit's metal parts become very hot when pedalled for a long duration or at high resistance
Pedalling motion may not be very smooth
#5 Portable Mini Bike Foot Pedal
The Portable mini-cycle bike has features similar to other rehab bikes on this list.
One can use it to exercise both legs and arms, it has a tension adjustment knob to adjust the resistance level
It also has a multifunction display for tracking the Time, Distance, Count and Calorie.
Pros
Cons
Assembly of the pedal is a bit complicated
You may also like Best Exercise Equipment for Seniors
Conclusion
As with most other things in life, exercise is a task that the wheelchair-bound should approach with confidence and a positive attitude.
While it is true that there may be many forms of exercise that are out of bounds for someone in a wheelchair, it is equally true that the benefits of even light, regular exercise are immense.
It helps to keep the muscles and tendons flexible, keeps the heart in good shape and wards off many chronic and debilitating diseases such as diabetes and coronary dysfunction, it can also help in reducing muscle atrophy and bringing back strength into the legs (in case of injury-related or temporary use of a wheelchair).
Even more important than the physical benefits of doing exercise are the mental benefits that it brings – Exercise builds self-confidence, releasing endorphins which improve your mood and make you cheerful.
It is very important to form a habit, even if you are doing light exercise. You should always have a regimen, fixed schedules and a complementary diet and nutrition plan along with your exercises.