In this article, we have reviewed the best yoga mats with alignment lines. If you are in a hurry, the table below gives a quick snapshot of the top 5.
Nature has tremendous healing powers and in today's world we all search for ways to connect with nature to tap into its bounty. 
Yoga is an age-old practice originating from the ancient Hindu text called the "Rigveda", which brings to us the knowledge of ancient gurus on how to connect our mind, body, and soul with nature. Yoga is a path to mental, emotional, and physical well being. It relaxes, rejuvenates, and strengthens the body from the inside out.
About one-seventh of the adult population in the U.S. has practiced yoga at least once in the preceding year, according to a national survey done in 2017, a testament to the popularity of this form of exercise.[1]
Like other forms of exercise, Yoga requires the right equipment to get the best results.  A yoga mat with alignment lines is the best way to learn, practice, and enjoy Yoga.
In our article, we will talk about the importance of alignment lines, and how they complement your Yoga practice. We will look at what features are necessary for a Yoga mat, with a specific focus on alignment lines.
Lastly, we will also talk about the best yoga mats with alignment lines that are present in the market, based on our research and review.
What is alignment in Yoga?
When you begin your journey in the practice of Yoga, you will hear this word often – "Alignment". Alignment is simply adjusting parts of your body in relation to other parts so that you are able to perform the Asanas in perfect harmony, and as intended.
The yogic practice focuses a lot on harmony and alignment. For example, in the "Mountain Pose" (Tadasana), you align yourself for even weight distribution between your feet.
Similarly in the Downward Facing Dog (Adho Mukha Svanasana), you should align your shoulders, hands, head, and torso to get the maximum benefit of the Asana.
The middle alignment line on a Yoga mat helps you to center your body and get the necessary symmetry to align the various part of your body as necessary.
There are several poses in Yoga, and alignment may mean different things in different poses. A yoga mat that has the right alignment lines will help you to make sure your body parts are correctly balanced as per the need of the pose.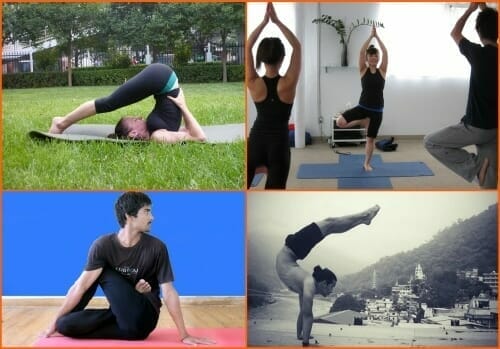 You may also like Strength Exercises For Seniors
Things to Look For Before Buying a Yoga Mat With Alignment Lines
Alignment Lines
First and foremost, the alignment lines need to be in the correct positions and places so that they can guide you in the various Asanas. The lines should be deep and non-erasable so that you do not find yourself searching for them after a week!
Reversible Design
It is good to have a Yoga mat that can be used on either side. It saves you the trouble from having to find the right side every time, and secondly, it means that the wear and tear are distributed on both sides, thus increasing the mat's longevity. 
The video below shows how to choose yoga mat thickness.
Size
The Yoga mat should be large enough to accommodate your length as well as width. If you are taller than most people or else have a heavier build, you should prefer to buy an oversized mat.
Non-slip pad
The pad surface should be textured and easy to grip so that you do not slip off during your Yoga exercises.
Eco-friendly material
Yoga is a way of connecting with nature. You do not want to be doing it on a mat that requires sacrificing hundreds of trees or which is created from materials that are polluting the environment.
Waterproof material
Yoga is often practiced outside, where you can be one with nature. It makes sense to be prepared with a waterproof mat in case you get caught in the rain!
Thickness (cushion and protection for your joints and knees)
A thicker mat is able to protect your elbow and knee joints from the impact of your body weight when doing certain poses.

Lightweight, Carrying bag and a Yoga strap
Yoga mats need to be easily portable since you might want to use it at your Yoga training center, or the nearby park, or your backyard. Look for a mat that is lightweight and easy to carry. Also, a few yoga mats come with a carrying bag with a strap to hold the whole thing. That can be a good accessory to have.
Easy to clean
A solid yoga workout can work up a sweat. Your yoga mat should be made of an easy-to-clean material so that you can wipe the sweat and dirt off easily.
You may also like Aerobic Exercises for Seniors
Best Yoga Mats With Alignment Lines
So without further ado, let us look at some top yoga mats that have alignment lines to help you attain the correct Yoga pose easily.
#1 Ewedoos Eco-Friendly TEP Yoga Mat
When it comes to Yoga mats with alignment lines, our top choice is The Ewedoos Eco-Friendly TEP Yoga Mat.
It has one central alignment line to help you balance when in the horizontal position. It also has four 45 degree lines to help you position your heels when in the standing position. The 4 reverse points help position your hand and feet when lying on your back.
The 8 horizontal alignment lines help guide your hand and feet for vertical alignment. And lastly, the one center point helps to align your body's core. These different alignment lines guide your shoulders, hands, neck, and legs to be in their proper position while in pose.
It is made from eco-friendly and innovative TPE material that is flexible yet strong and has a low modulus, which means that it can be stretched out several times while retaining its shape.
The alignment lines on this mat are ingrained, so you do not have to worry about metal coatings and other poisonous substances.
The mat has a double-sided non-slip surface which distributes the wear and tear, making it more durable and long-lasting while also being non-slip, therefore making your exercise easier.
The mat comes with its own carry bag and yoga strap to carry it around. It is very lightweight (only 2.3 pounds). This makes the mat very easy to carry around.
The mat is easy to clean, waterproof, and sweat absorbing. It is available in 5 bright and beautiful colors.
If you have to choose one Yoga mat with alignment lines, with its clearly marked lines, a plethora of great features, and a very affordable price, the Ewedoos Yoga Mat, should be the one you choose.
Pros
The mat provides a perfect grip even while doing complicated Asanas.

It is useful on both sides, which makes it a very durable mat

The eco-friendly material is waterproof and convenient to clean.

Available with a nice shoulder strap that makes it convenient to carry the mat anywhere to do yoga.

Highly durable and comfortable to use.

Comes with his own carry bag and yoga strap
Cons
If the mat could be a bit thicker it would have been a lot better

Some users complained that the mat is not as tall or wide as indicated

The textured surface gets removed in a few months
You may also like Best Exercises for Bone Health
#2 IUGA Eco-Friendly Yoga Mat with Alignment Lines
The IUGA Yoga mat is our value for money option in this list of the best Yoga mats with alignment lines. It has a single alignment stripe, running as a double line, right through the middle (lengthwise) of the mat.
It is available with a carry strap that makes it convenient to carry. The double textured material of the mat gives it a nice grip and makes it convenient to use on both sides.
With a 6 mm thickness, 72-inch length, and 26-inch width, the mat is convenient to use by most people. The thickness makes the mat very comfortable for use and especially easy on your bones and joints. 
The IUGA Mat is available in 6 different colors for one to choose from yellow, purple, green, grey, blue, and dark pink.
Pros
Perfect length and width that makes it suitable for everyone.

It provides a perfect grip in all kinds of poses.

Cushion mat is suitable for people with knee and joint issues.

Available in 6 different colors
Cons
Available with only the center alignment line.

Heavier than other yoga mats.

Cannot withstand extreme hot temperatures.
#3 Heathyoga Yoga Mats with Alignment Line
This yoga mat by Heathyoga is ideal for the home, gym, and for regular yoga as well as hot yoga. It is available in 6 colors for one to choose a color according to preference (blue, grey, purple, green, and pink are the color options). 
The mat is 72 inches X 26 inches, a size large enough to accommodate most people. It is also a thick mat, with a 5mm width, that protects your joints and bones while exercising from the impact made while striking the ground. 
The mat is anti-slip and moisture resistant, thus making it perfect to practice Yoga even under the hot summer sun. It is made from 100% recyclable materials and is free from PVC. PVC causes yoga mats to have a chemical like odor, which is another reason this mat is very good.
It has its own carry bag that has a strap attached to it. It is also lightweight (only 3.5 pounds). These features make it very easy to carry.
The alignment lines and marks on the mat are engraved using lasers, thus there are no poisonous heavy metals like cadmium on the mat. The alignment lines are placed to support you in a large variety of poses and asanas.
Pros
Laser engraved alignment lines, free from cadmium and other heavy metals

Cushioned padding with a thickness of 5mm on the mat, comfortable for daily use

Sweat and moisture resistant

Lightweight (only 3.5 pounds) and durable

The mat has its own carrying bag and yoga strap for easily carrying it around

Extra large size (72 X 26 inches), can accommodate most people

Available in 6 color options

Odor-free due to absence of PVC
Cons
The alignment lines are not marked, and therefore can be confusing especially for beginners.

Regular use can cause wear and tear to the mat.

Several users complained of an unpleasant smell originating from the mat
You may also like Best Weighed Vest for CrossFit
#4 Oudort Non-Slip Yoga Mat with Alignment Lines
The Oudort Non-Slip Yoga Matquality is available in a combination of two colors that makes it look really outstanding. 
With a unique anti-slip front and textured laser design at the back, the mat is very convenient to use, supports you during your exercise, and provides the right alignment for your poses. 
The mat is tear-resistant and sweat absorbent too. At 2.3 pounds, it is one of the most lightweight yoga mats available in the market. It has 6mm thickness, which makes it perfect for seniors and people with joint problems
The innovative design and eco-friendly TPE material make the mat different from other yoga mats.
Pros
The two-sided anti-slip coating makes the mat durable as well as good for summer months

The alignment marks on the mat help to position the body in a correct manner.

A waterproof surface makes the mat suitable for outdoor use.

The mat is thick (6mm), which makes it perfect for people with joint and bone problems

The mat is tear resistant and lightweight
Cons
Not very budget friendly.

The top layer is sticky, that is it does not absorb sweat to a great extent.
You may also like Best Pilates Spine Corrector
#5 Rochan Eco-Friendly Yoga Mat With Carrying Bag And Strap
The stylish design of Rochan mats makes it different from other yoga mats. It is available with a carry bag that makes it very convenient and easy to carry. Moreover, the carry bag protects the mat from wear and tear. With the strap, one can perform stretches and different forms of exercise. 
The length of the mat is 183 cm, width is 68 cm, and thickness is 6mm that makes it fit for most yogis. The yoga mat has a two-sided coating that makes it slip-resistant from both sides. It is made from TPE material which is eco friendly. 
It is available in three colors: green, purple, and grey according to one's choice. The mat is waterproof and odor-free
Pros
Its ergonomic design makes it unique from other mats.

Available with a strap and carry bag.

Environment-friendly material that is chemical-free and convenient to use.

The base of the mat is of rubber that helps to grip the floor really well.

Longer in height than other mats that make it suitable for anyone of any size.
Cons
Thickness is only 0.5 mm that makes the mat really flat like a thin sheet.

Not suitable for hot yoga.
You may also like Running With a Weighted Vest – Benefits and Precautions
Conclusion
In this article, we have selected the best yoga mat with alignment lines based on the features mentioned in our buyer's guide and the ratings and comments mentioned by actual users on Amazon. 
In our opinion, the Ewedoos Eco Friendly Yoga Mat with Alignment Lines, TPE Yoga Mat Non Slip Textured Surfaces ¼-Inch Thick High Density Padding To Avoid Sore Knees, Perfect for Yoga, Pilates and Fitness (Jade)  is the best choice among the various options that we have considered, due to its durability and comfort level for the user, as quoted by several actual users of the mat.
If you are looking for a value for money option, you can also consider the ROCHAN Eco Friendly Yoga Mat with Alignment Lines Non Slip Exercises Mat with Carrying Bag and Strap Optimal Cushioning Workout Mat for Women Men Fitness (Blue), as it is an eco-friendly mat which can be adjusted as per your budget.
While we make every effort to provide updated and correct information, the advice given in this article and website should not be construed as "medical advice.†Please consult with your physician or medical practitioner before using any yoga mat with alignment lines. Each individual may have his or her unique issues, and your medical practitioner is the best person to decide the best yoga mat with alignment lines for your case.
References:
[1] https://www.nccih.nih.gov/health/yoga-what-you-need-to-know