Old age is usually associated with health issues, both physical and mental. If you are lucky, you may have escaped any major ailments, but still, small aches and pains may end up being a part of your daily life.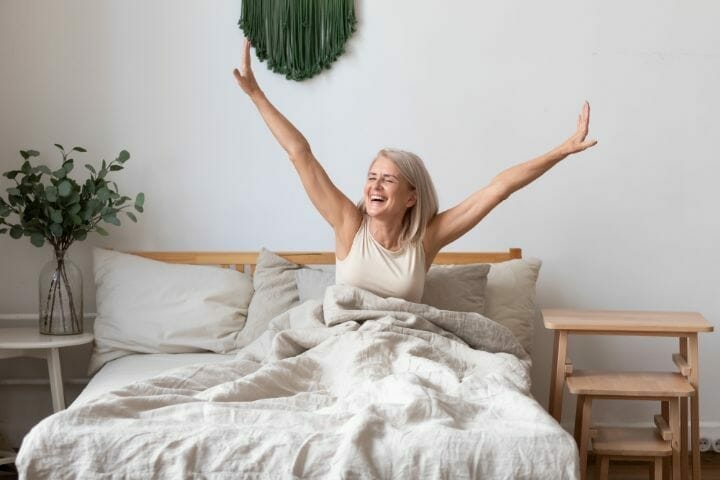 These nagging pains can often lead to sleep issues, leaving you staring at the ceiling in the middle of the night with a sore back or stiff shoulder and neck. Most of you might shrug off these minor pains as a part of growing old, but sometimes this can lead to more severe conditions.
Thus, it is best to nip sleep problems in the bud and find out the main culprit. One of the leading causes of stiff neck and back pain is the type of mattress that the elderly sleep on. As we age, our requirements change, and the body needs the right kind of support and cushioning while sleeping. This ignored fact results in bad sleep patterns, irritation, and chronic back and joint pains.
It is best to invest in a good quality mattress that will help you sleep like a baby and get you going for the next day. But today, there are so many types of mattresses available in the market that it can leave you confused.
Fret not! We have a step-by-step guide that will tell you what are the most important things to look for in a mattress, the different types of mattresses that are available, along with their price range. This should help you in making an informed decision. And before you get yourself a new mattress, read our article on how to dispose off your old mattress.
Benefits of a Suitable Mattress for the Elderly
Sleep plays a critical role in the good physical health and general well-being of any individual, especially for older adults who are already dealing with some of the other ailments. On average, older adults should aim to get 7-9 hours of undisturbed sleep every night.
However, more than 50% of them experience disturbances in their sleep. In fact, as per research, one in three American adults does not get sound sleep at night. According to a National Sleep Foundation study that age progresses sleep complaints increase with 40-70% of older adults having sleep issues of which 50% of the cases go undiagnosed.
There is a natural shift in the quality and duration of sleep as you grow older due to changes in the body's internal clock. Older people find themselves waking up at the slightest noise or change in routine.
But sleep is all the more crucial as you age because it is the best way to give complete rest to the mind and body and let it heal naturally. A comfortable mattress can help resolve most of the sleep issues. Here is why:
1. Offers Complete Body Support
Good quality and comfortable mattresses offer complete body support especially in case of muscle injuries and weaker bones (osteoporosis) or any inflammatory conditions. It has the right amount of reactive pressure that provides support without it causing any additional posture problems and pain.
If you are caring for a bedridden elderly, you need to take special care of bedsores and pressure ulcers. Alternating pressure mattresses and low air loss mattresses are great for pressure ulcers. Our guide on low air loss mattresses vs alternating pressure mattresses can help you choose which mattress is best for bedridden patients.
The right apparatus for turning an elderly patient in bed and the correct mattress for bedridden patients can help you prevent bedsores.
2. Relieves Chronic Pain
A proper mattress supports each part of the body equally so that the lower part of the back, which is the leading cause of back issues, is sufficiently supported. So if you are not getting proper support, your mattress is too soft. Thus, it is essential to choose a mattress that supports the natural curve of the spine. For example, arthritis patients can choose mattresses that help with arthritic pain.
3. Reduces Stress Levels
Good quality, deep sleep can reduce stress levels, which keeps problems like blood pressure at bay. This is especially true for heavier people. Using the right mattress for overweight elderly is one of the best ways to get a proper shuteye.
4. Stops Tossing and Turning
Regular tossing and turning in bed can drastically affect sleep quality, not only for yourself but for your partner too. The action of rolling over creates motion waves that are transferred through the mattress. The correct mattress will absorb these waves giving you undisturbed sleep.
You might also like Best Heated Mattress Pad for Seniors
What to Look For While Choosing a Mattress
There are a variety of mattresses available on the market, and each of them serves a unique purpose. Some mattresses offer complete spinal support, while others are better for joint pains. Here are some of the essential factors to consider while choosing a mattress for seniors.
1. Material Quality
The material used to make the mattress is another crucial factor to consider while buying one. It determines its longevity and comfort. It is best to go in for mattresses that have high-GSM fabric and high-density foam composition.
Such mattresses are more durable and require low maintenance. This becomes an added advantage especially for elders, reducing their effort in the upkeep of the mattress.
2. Firmness Level
The firmness of a mattress is one of the most important considerations while buying one. The firmness tells you how hard or soft the mattress is. Your preferred firmness will depend on your weight and any chronic back condition. Generally, for seniors, a medium-firm mattress offers optimal support.
3. Pressure Relief
The proper mattress can reduce the impact and tension with weight on it. A mattress that has enough pressure relief can accommodate pressure points and offer proper cushioning, especially for people with bedsores. This helps in proper spinal alignment for the users.
Also, if the patient is bedridden or has to lie down for long periods of the day, she can develop bed sores or pressure ulcers. In such a case, it is best to look for mattresses meant for bedridden patients.
Most older adults need to have a mattress with good pressure relief. This helps reduce the pressure in critical points like the shoulders and hips, helping do away with joint and back pain.
4. Edge Support
This is another crucial but often ignored point to consider while picking up a mattress. A mattress with good edge support ensures that you can hold the bodyweight even at the perimeter of the bed and not sink at the edges.
Such a mattress also helps in more effortless movement from the bed and increases the usable area of the mattress. This is especially helpful for the elderly in maintaining balance while getting in and out of bed.
5. Price
Mattresses are not cheap. A good quality mattress can cost anywhere between $500- $4,000, depending on the material used and thickness. For seniors with limited finances and have a fixed budget, the price plays a crucial role in selecting a mattress.
You might also like Best Weighted Blankets for Insomnia and Restless Legs
Types of Mattress and Prices
Every mattress is defined by the material it is made up of and its internal construction and each has its pros and cons. It is important to understand the different types of mattresses and their specific purpose, before homing on to any particular one.
1. Innerspring
These are the conventional mattresses with a core of metal coils and an outer covering layer. The outer layer has a thin lining of cotton, polyester, foam, or latex but does not change how the mattress feels.
Usually, these mattresses are quite bouncy and resilient, along with being easy on the pocket. Somehow, these mattresses are waning in popularity as the coiled construction makes it tough to compress and transport.
Brands and Price Range
These mattresses are one of the cheapest varieties of mattresses, with prices ranging between $150 – 1,000. Some of the best innerspring mattress brands are WinkBed, Saatva Classic, and IKEA Hesstun.
2. Hybrid
These mattresses are essentially evolved innerspring mattresses as they have an inner support core made out of pocketed coils. However, they come with a thick layer of foam or latex to add to the comfort quotient of the mattress. This unique combination of foam/latex with traditional metal coils helps in good airflow and contouring of the spine to relieve pressure points.
Brands and Price Range
These mattresses come in the range of $700 – $2,500. Some of the best brands in this variety are Helix Midnight, Saatva Latex Hybrid, and Avenco Zone Hybrid.
3. Foam
These mattresses are made entirely out of foam with different types of foam layered one on top of the other to create an uber comfortable upper layer and a dense, lower support core. Memory foam and polyurethane foam are two common materials used in these mattresses to increase viscosity and density.
Memory foam mattresses are best when it comes to contouring the body shape, which is integral for seniors as it relieves pressure in joints. They are silent when bearing weight and eliminate motion transfer disbalance by absorbing movements. However, most of them do not have the best temperature regulation.
Since memory foam mattresses have a memory foam layer at the top, you can also consider going for memory foam toppers over your standard mattress. It will save you some money and provide comforts very similar to a memory foam mattress.
Brands and Price Range
The price range for these mattresses will depend on the type of foam used and density, but on average, they cost between $500 – $1000, though the luxury brands can go up to $4,000. Our popular picks from this category include Layla, Cocoon Chill, and Nectar Mattress.
4. Latex
As the name suggests, these mattresses are made with latex. Most often, manufacturers use natural latex made from rubber trees. However, some manufacturers make them with blended or synthetic latex. These mattresses have moderate contouring that molds into the shape of the body without letting you sink too deep.
They are great to relieve painful pressure points. They are more breathable and tend to cool easily, offering better temperature regulation for older adults. Also, latex is a resilient material with little bounce, making it easier for seniors to get in and out of bed as well as change positions.
Brands and Price Range
Latex mattresses with natural latex cost between $1,500 and $2, 000 while those with synthetic latex come for about $1, 000. Our favorite picks are PlushBeds Botanical Bliss, EcoCloud, and Amerisleep Organica.
5. Airbed
These mattresses have adjustable air chambers in their support core. You can use a remote or a smartphone app to remove the air and adjust it to the level you want.
These mattresses use different materials like latex and foam to make comfortable and transitional layers. The main benefit of an airbed for seniors is that you can adjust the firmness of the mattress according to the aches and pains. Also, for those who love to travel but want to carry their bed along, airbeds are most convenient to port.
Brands and Price Range
Some of the popular brands of air mattresses are Insta-Bed Raised Air Mattress, Intex Pillow Rest Raised Airbed, and Lazery Sleep Air Mattress. These mattresses are economical and range between $45 and $150.
You might also like Best Electric Hospital Beds for Home Use
Conclusion
Age might be just a number and not a thing to be worried about while you are young, healthy, and active. However, as one age, physiological changes in the body lead to weaker bones and muscles, among other things.
Thus, the spine and joints need more care. Besides, there are age-related changes in sleeping patterns reducing the number of hours of sleep in general. So why not do all that it takes to make your sleeping time the most restful and peaceful.
It is a fantastic idea to invest in a good quality mattress. With these inputs, you are sure to find the perfect one so you can sleep well.