This article talks about the available options for binoculars for users who have shaky or wobbly hands. If you are in a hurry, the table below gives a quick snapshot or you can scroll down for detailed reviews.
Pros
Multi-coated lens and all weather resistant.
Fiberglass reinforced plastic lens.
Cons
Carry case quality can be improved.
A bit heavier than other options available in similar price ranges
A bit heavy and large for regular usage
Editor's Choice
Pros
Multi-coated lens and all weather resistant.
Cons
Carry case quality can be improved.
Pros
Fiberglass reinforced plastic lens.
Cons
A bit heavier than other options available in similar price ranges
Cons
A bit heavy and large for regular usage
Selecting a binocular that would fit into an individual's strengths and limitations is quite important. A binocular is used to give a person a better view for a long time. If it tends to be too heavy or unbalanced in the hands, is too hard to hold steady, too difficult to focus, then the chances of it being used by the owner would be pretty slim no matter how excellent its optics are.
How Do Image Stabilizing Binoculars Work?
Image stabilizing binoculars use either a vibration reduction system or a gyro sensor. They detect any slight vibration or tilt in the system thereby correcting the imagery on the basis of the findings of the sensors.
Problems Using Binoculars With Shaky Hands
Focus: Limited mobility in fingers and hands can pose certain problems while using binoculars. Some binoculars need only a full turn or less to focus or have a comparatively smoother focusing mechanism. Others may have a flipper or lever focal mechanism instead.
For someone who finds it difficult to roll the focus knob easily to focus on their subject, limited mobility can be a major issue. The above features make using binoculars a little easier. However, a flipper-type focusing mechanism is not available as a common feature in binoculars, barring few high-quality ones.
Grip: Apart from focus, getting a comfortable grip would be another issue that a lot of users with shaky hands face. In such situations, one should opt for a binocular model that is not too heavy and has a grip with a comfortable barrel diameter. The diameter is easily held to compensate for the limited mobility and strength in the user's hands.
To address this issue, the users can look for alternatives to traditional hand-held binoculars. This may include a binocular or a monocular mounted on a monopod. The monopods offer additional support for better image stability and can compensate for limitations in hand movements or upper body strength.
Balance: Balance is one of the key factors that you should consider in case you are suffering from tremors or shaky hands. How a binocular would balance in your hand is more important than the actual weight of the instrument. The higher the magnification of the binocular, lesser stable would be the image that you are viewing out of it.
If you are experiencing tremors, you may prefer to consider a lightweight, low magnification binocular that can be held easily. As an alternative, you can also consider using a tripod-mounted binocular or spotting scope. However, this may be considerably difficult in terms of quickly setting up or finding and focusing on an image readily.
Using a monopod mounted binocular or monocular can solve problems in selecting a binocular that offers a limited range of motion in the upper extremities as well as in the ability to lift a binocular to the eye level.
You may also like How To Treat Shaky Hands At Home
Why Do Image-Stabilized Binoculars Cost More?
Image stabilized binoculars cost more than their regular counterparts as they use electronic sensors and prisms that make up a stable image even if the user's hands are shaky and wobbly.
They automatically regulate the lens inside or also shift the prisms. The manufacturers use technologies that are cutting edge thereby resulting in higher price tags.
What Is the Ideal Price Range for a Pair of Image-Stabilized Binoculars?
The market will provide you with multiple options ranging from $400 to upwards of $8000. However, you can choose the binoculars that suit your basic requirements. Those below $500 might retreat in terms of features available and those upwards of $2000 might be too premium and expensive for your requirements.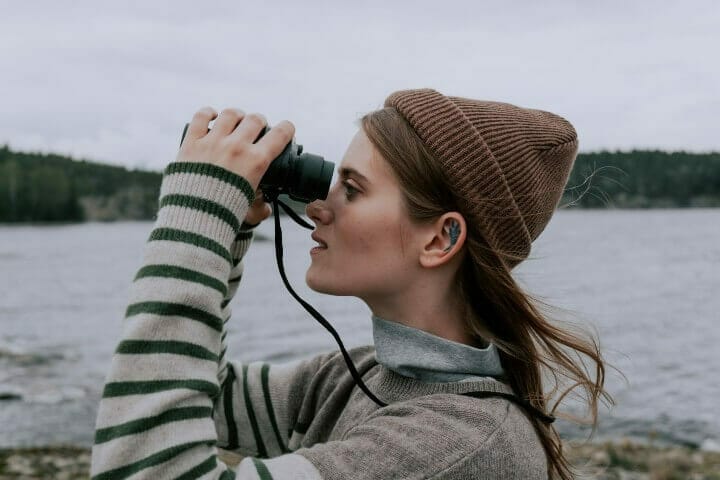 Considering the need to have a pair that proves to be useful with shaky hands, the range of $500-$2000 is ideal to get a good quality of image-stabilized binoculars.
You may also like How to Stop Shaky Hands When Gaming
How Do I Experience Using a Binocular Before Purchasing It?
Considering that your purchase of a good-quality pair of binoculars doesn't really happen on a regular basis, it is advisable to experience using your choice of binoculars before your final purchase.
If you have physical limitations, you can field-test any binocular you are interested in to see how they function for you visually and physically both. Nothing is better than testing the suitability of a pair of binoculars than to test it in the field itself.
Most of the sport optics companies and other manufacturers attend events and symposia along with birding shows to give users a first-hand opportunity for a hands-on experience with their product lines. You can also connect with local groups of birding enthusiasts, etc. and attend their events to meet like-minded individuals who can assist you in trying their pairs of binoculars.
There are multiple options for image-stabilizing binoculars that can be used especially by users suffering from shaky hands or tremors. We are highlighting some of the best options here.
#1 Canon 18×50 Image Stabilization All-Weather Binoculars W/Case, Neck Strap & Batteries
The Canon 18×50 Image Stabilization Binoculars use an optical image stabilizer that enables shake-free viewing as well as minimal eye fatigue. They feature a water-resistant and shock-resistant rubber coating that ensures a non-slip grip and better durability. This means that they would not fog up in case you are stuck in rain and still want to use them.
The binoculars offer high magnification and wide-field viewing. The controls for image stabilization and focusing are located centrally on the binoculars and can be accessed by both hands. They provide long eye-relief for additional comfort.
With any high magnification binoculars available in the market, most users experience image shake which can be frustrating at times. These binoculars address this concern and eliminate the problem through their advanced IS technology.
The binoculars weigh 2.6 pounds and require 2 AA batteries to operate. They have an 18x magnification and a 50mm aperture in them. They are trustworthy enough if you do a lot of distant viewing outdoors.
The binoculars also provide you with additional clarity because of the usage of multi-coated lenses that is responsible for producing good quality clarity and fidelity.
Pros
High 18x magnification gets you really close to your target image
Excellent image quality
Multi-coated lens
All weather resistant
Cons
Carry case quality can be improved
A bit expensive
#2
Canon 10×42 L Image Stabilization Waterproof Binoculars
The Canon 10×42 L Image Stabilization Waterproof Binoculars are the first waterproof binoculars that feature Canon's Image Stabilizer technology that ensures a steady and shake-free viewing for its users.
They have a large lens diameter and a 4.2 mm exit pupil diameter that provides an exceptionally bright view, a boon for use in low-light conditions. The binoculars thus offer desired brightness as well as excellent waterproof capabilities, thereby making them perfect for multiple activities like stargazing and wildlife observation.
They have a distinctive easy-grip design and a metallic coating that prevents fogging in rainy situations. They come in a padded case with a neoprene strap. They come with a rain guard for the eyepiece that facilitates clear vision even when being used in the rain.
With a weight of 2.45 pounds, they are powered by two 1.5 Volt AA alkaline batteries.
Pros
Fully waterproof
Superb image stabilization and crisp images
Padded case with neoprene strap included
Cons
Lens cap quality could have been better
Short eye relief
#3
Fujinon Techno Stabi TS1440-14×40 Image Stabilization Binocular
The Fujinon Techno Stabi TS1440-14×40 Image Stabilization Binocular have a rubber armour around them to ensure a firm grip on them at all times. Their lens is phase coated which essentially means that they are an excellent choice in terms of controlling contrast and brightness.
The fiberglass reinforced plastic lenses offer these binoculars extra durability. The Fujinon vertical image stabilization allows you to lock in on the sight creating an image-stabilized FOV view even when viewed at high magnifications. This prevents inconsistent and shaky views especially for those users who have shaky hands or experience tremors due to medical reasons.
The binoculars weigh 4 pounds and use four AA batteries for maximum power output during usage. This also reduces concerns regarding replacing the battery while using the binoculars.
Pros
Strong rubber armor
Water and fog proof
Fiberglass reinforced plastic lens
Phase coated lens controls brightness and contrast
Cons
A bit heavier than other options available in similar price ranges
Short eye relief
#4
Zeiss Carl Optical 20×60 Image Stabilization Binocular
Zeiss Carl Optical 20×60 Image Stabilization Binocular is a pair of gyro-stabilized binoculars that offer better image stabilization than a number of their alternatives.
They have a maximum magnification rate of 20x that turns out to be a significant increase over many of their competitors. The image stabilization binoculars are manufactured in Germany and then imported to the US.
Their shake-free viewing allows the user to observe their subjects at a long distance with no issues of image stability. They come with a rugged carry case that offers adequate protection when using them in the outdoors.
The waterproof cover also ensures that the binoculars are protected against rain and water. The binoculars weigh 3.66 pounds and are fully mechanical. There is no requirement for any batteries
Pros
20x magnification
Gyro-stabilized
Shake-free long-distance imagery
Weatherproof
Carry case included
No batteries required, completely mechanical
Cons
A very high price tag compared to competitors
#5
Canon 15×50 Image Stabilization All Weather Binoculars w/Case, Neck Strap & Batteries
The Canon 15×50 Image Stabilization All-Weather Binoculars feature an objective lens size of 50 mm that provides superior clarity when viewing subjects at a longer distance. The multi-Coated Ultra-Low Dispersion Objective Elements add contrast, colour fidelity, and clarity to the image being viewed.
Along with a 15x magnification ratio, they also possess a vibration reduction system that offers one of the best image stabilization available in the market. the Image Stabilizer technology compensates for hand tremors or shaking of any kind as well as minute vibrations at the mere touch of a button.
Their all-weather design makes it easy to take these binoculars out at any time you want, be it rain or sun outdoors. The body of these binoculars offers durable construction and focuses on providing a comfortable grip. They come with a carry case as well as a neck strap.
The 15-mm long eye relief ensures that the binoculars are comfortable to use. They weigh 2.6 pounds and offer excellent performance to their user.
Pros
Weatherproof construction
Comes with rechargeable batteries
Vibration reduction
15x magnification
Multi-coated lenses
Cons
The carry case does not offer a rugged design
A bit heavy and large for regular usage
#6
Fujinon Techno-Stabi TS12x28 Image Stabilization Binocular
The Fujinon Techno-Stabi TS12x28 Binoculars offer a reliable vibration reduction system. They are high powered and stabilized offering unique performance when used from moving objects or vessels, or with shaky hands.
These binoculars use Optical Stabilized technologies that help in minimizing the synergistic vibration typically occurring while holding the product. It can deliver significantly stable images with 12x magnification without the use of a tripod.
The multi-coated optics provide exceptional light transmission which makes it a great product for low light performance. They provide high contrast and bright view with the phase-coated prisms giving a sharp and high contrast image.
Weighing a mere 0.93 pounds, they are also one of the lightest binoculars available in the market. They use a Cr2 lithium battery that provides an adequate usage of up to 12 hours with a single recharge.
The Fujinon Techno-Stabi TS12x28 Binoculars are one of the best-stabilized binoculars for those who prefer vibration reduction. They feature a three-degree vibration correction range.
Pros
Long-lasting rechargeable batteries
Lightweight construction
Vibration reduction
Comfortable grip
Multi-coated optics
12x magnification
Cons
A bit small objective lens
You may also like How to Draw With Shaky Hands
Conclusion
Buying the right pair of binoculars that provide you with both comfort and convenience is essential. It also depends on the extent to which you are experiencing shakiness in your hands.
There are additional ways in which one can use a pair of binoculars even with shaky hands. You may use the right technique of holding them, lean against a solid surface, use it while sitting down, or use alternatives like a monopod, tripod, etc.
The key idea is to identify the binoculars that fit your requirements while staying within your budget.