As per the Americans with Disabilities Act, 1990 (ADA), it is illegal for an employer to discriminate against a potential candidate to be hired or an employee on the job, on the basis of disability.
In this article, we will discuss the disability job space in general, which companies are hiring employees with disabilities, and which are the best jobs for a wheelchair user.
The act has been since modified and strengthened and companies are now required to plan for and target at least 7 per cent of their workforce to be comprised of workers who are differently-abled.
So if you are a wheelchair user and are wondering how to make money when disabled, we have some options for you.
What Percentage of Disabled People Are Employed?
According to the Centres for Disease Control and Prevention (CDC), nearly 61 million people or roughly 25 percent of America's population suffer from some form of disability.
While the form of challenge varies greatly and impairs abilities to a different extent, about 14 percent of the population have a disability concerned with mobility, that is, serious difficulty in walking or climbing stairs.
According to the Bureau of Labour Statistics (BLS), the unemployment rate among the disabled workforce was 8 percent in 2018. While it is down from 15 percent in 2009, it is much higher than the overall average unemployment rate of 4 – 5 percent.
Who is Hiring Employees with Disability?
Growing awareness and somewhat spurred by ADA, a lot of companies now actively hire employees who are differently-abled. A few examples of prominent companies to hire differently-abled talent in 2019 are Accenture, AT&T, Barclays, Capital One, Disney, General Motors, Humana, KPMG, P&G, Randstad, PwC and Wells Fargo1.
Apart from Monster.com and Indeed, good resources to find jobs for wheelchair users are:
https://www.disabilityjobexchange.com
https://connect.ourability.com
Wheelchair users are better equipped to fulfill any role which does not require a lot of physical activity but is more of a desk job and requires to exercise their intellectual abilities.
However, if you are a wheelchair-bound individual, and must travel to work every day, you have to be prepared to deal with public transport and office spaces that are not a hundred percent wheelchair friendly.
Often, it is a good idea to choose an employer who has flexible work options for the differently-abled, like work from home option, at least for some days in a week.
Below, we have collated a list of jobs that will be better suited to you if you are a wheelchair user. They involve minimal physical activity, if at all, and most can be carried out on a fully remote basis, which will let you cut out on work commute.
You may also like Best Exercise Balls To Sit On At Work
#1 Software Developer
We live in an age where if you know software programming, your skills will sell like hot cakes in the job market. When every industry is making rapid strides towards digitization, a software programmer is a highly sought-after skill.
Be it web or mobile application development, database management, cloud infrastructure management or machine learning and artificial intelligence, as a software developer, you will find something in your area of expertise.
Not only are these jobs extremely remote-work friendly, but it is also possible to continuously upgrade yourself in your field by completing online courses like the massive open online courses (MOOCs).
While these are relatively high paying jobs, most of them will require you to complete a bachelor's degree in computer science or mathematics at the minimum.
Likely employers: Well, software programmers and developers are being employed by almost all companies nowadays.
The larger employers are software service provider companies like Accenture, Cognizant and IBM and product development companies like Google and Microsoft. Every major company is also likely to have a captive IT department.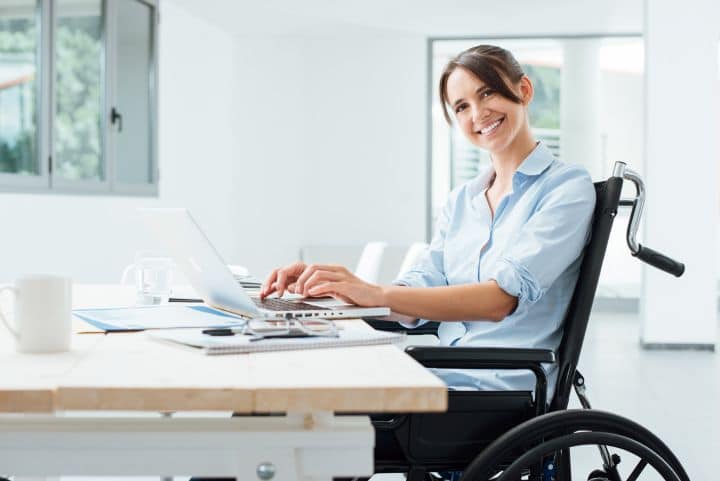 You may also like How to Choose a Power Wheelchair?
#2 Software Tester
The job profile of software testers is quite different from those of software programmers, but this profile is also equally in demand. The main responsibility of a software tester is to be involved in the quality assurance step of software development or once the software is deployed in the test environment.
As a software tester, you will write test cases for different modules of the software, manually test these cases or write small pieces of codes to automate these test cases.
The objective of testers is to identify bugs or defects in the software and help improve the quality before final deployment for use by its targeted users.
After the first deployment, the testing and programming teams go into iterative software development processes to arrive at the final deployable release as soon as possible.
Like a software developer job, a software testing job is also remote-work friendly and requires minimal office travel. Software testing is also a well-paying job profile and requires formal education in the computer science domain.
However, if you are looking to work as a software tester, be prepared to put in long hours during the final stages of software deployment.
Likely employers: The companies that employ software testers are similar to those that employ software programmers. However, as a rule of thumb, testing jobs are more in number than development jobs.
You may also like What Are the Best Jobs for Quadriplegics?
#3 Accountant
An accountant or financial analyst's primary role is to assist in preparing a company's financial statements and examining its financial records or bookkeeping, including checking the validity and correctness of taxes paid and returns filed. The role may also require you to expand to regular forecasting and budgeting of all financial needs of a company.
The main benefit of this role is that it can be done from your home and there is no need to travel to your office. The work is mainly software-based tallying work and you will be able to accomplish it with working knowledge of Microsoft Office tools and accounting softwares.
However, a potential hurdle may be that these roles often require the completion of a professional license like that of a chartered accountant (CA) or a chartered professional accountant (CPA).
If you have the professional license you also set up your own practice of filing tax returns for your corporate or private individual clients.
Likely employers: Major employers in this space will include accounting firms like KPMG, Deloitte and Price Waterhouse Coopers. In addition, every company will also have its very own accounting team for smooth financial operations.
You may also like Activities for Disabled Adults in Wheelchairs
#4 Teacher or Trainer
With the advent of high bandwidth internet, and in general, more computing power at less cost, home computers have considerable resources to support video calls and video streaming capabilities.
This has been a great facilitator in allowing trainers and teachers to teach online, either live or through pre-recorded videos.
If you have thorough knowledge on a subject, you can try this option, which supports fully remote work.
You can either get associated with an organization that supports training in your subject of interest or you can start a teaching practice of your own with the support of basic digital marketing tools to have better reach.
Getting hired as a teacher will be easier if you have a teaching degree in elementary, higher or specialized education.
Likely employers: While you may find employment with local schools, colleges and universities for live training, you can also explore creating course contents on popular websites like Udemy, who would pay sale commissions based on the popularity of your course content.
#5 Content Writing / Content Editor
If you have sought after writing talent, you can be hired as a blog post writer or a website content writer or better still, a content editor.
While a content writer develops content aligned with the objective of the website, a content editor's responsibilities are wider and include editing all content that goes live on the website, enhancing the visibility of the content by improving search engine optimization parameters.
As with all website technologies, responsibilities in this work profile can be comfortably completed from the comfort of your home.
Likely employers: Any new companies looking to create a good website for digitally accessing customers or existing companies trying to revamp their existing content can be employers in this space.
You may also like Best Jobs for Moms With Special Needs Child
#6 Customer Service Representative
The customer service representative is a profile that has lately embraced the remote-work culture. A customer service representative can easily work from home with appropriate hardware, which includes a laptop with minimum specifications and good quality headphones.
Most companies will train you initially to be able to help their customers. While previous customer service experience will be an added advantage for you, it is not a mandatory condition for you to land a similar job.
However, these profiles often have to work within strict routines of 8 to 12-hour shifts and you should be prepared to put in an equivalent time of continuous work.
A recent twist in the customer service representative is that of being a Live Chat support person. With the proliferation of Live Chat, many businesses use this, instead of voice calls to support their customers.
As a Live Chat Specialist, you will not need to speak to the customer, just answer live chats.
Likely employers: A whole range of software and technology companies hiring for customer service representatives for their products – from the likes of Microsoft, Amazon to small scale companies with niche products.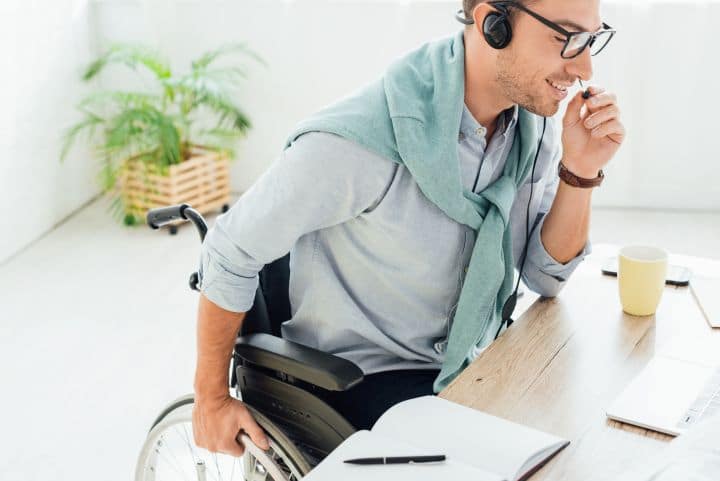 #7 YouTuber
YouTube videos that become popular start earning through advertisement revenue. If your video is drawing a lot of attention and popularity, related companies would want to put their ads on your video for better reach to their audience.
If you have a niche skill or knowledge about a niche topic that has a wide-spread interest, you may be able to put your thoughts in a video and upload it on YouTube.
If your content is engaging it will generate a lot of interest among the viewer community and after a while, Google will start paying you a share of the advertising revenues that your content is generating.
For example, if you have been a wheelchair user for a while, you may prepare and upload a video on the ways to maintain your wheelchair or how to clean your wheelchair.
While earning through YouTube videos is an extremely competitive activity nowadays, this work is totally remote-based and you are not required to leave your home.
Apart from your subject, you must have a working knowledge of video editing software.
Likely employers: This is mainly a self-employment work profile.
You may also like Best Area Rugs for Wheelchair Users
Conclusion
With the advancement of technology, it is becoming easier to work remotely for a wider variety of job profiles.
Some years before we could not have imagined working from home in profiles like customer service representative, due to constraints in internet bandwidth and computer processing power.
These technologies will further evolve and make it easier for us to work remotely and cut out on office travel. Gradually, therefore, the job space is becoming a level playing field for the physically able and wheelchair users.
Hopefully, in the not so distant future, this will lead to a lower unemployment rate among wheelchair users.
References