In this article we review bedside commodes with large opening. If you are in a hurry, the table below gives a quick snapshot of the top 5 products. Or you can scroll down for detailed reviews and more products.
Bedside commodes are essential medical devices in the form of freestanding toilet chairs. They are portable and not connected to any plumbing system in your house. They are designed to help children and adults who are bedridden, disabled, or unable to walk quickly to the washroom when nature calls.
Bedside commodes look similar to a chair or bench, but they have an opening in the seat. Below the seat, there is a basin that collects feces and urine. The basin can be easily detached after use so that it can be emptied into the toilet to be flushed away.
They are usually kept next to the bed for the convenience of the people using it. They come in different styles, colors, and models. They can be used to accompany you to multiple rooms, and even on some overnight trips.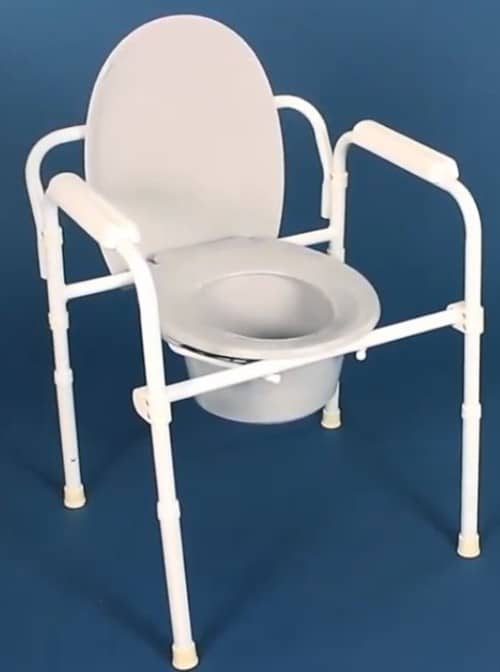 Bedside commodes are an amazing solution for patients in all types of healthcare environments ranging from hospitals to long-term care to home care. Using them is quite an easy task, even for those with a range of different mobility challenges.
They can be made of aluminum, plastic, steel or PVC. Some of the bedside commode chairs can be easily maneuvered into the shower, thereby doubling up as a shower chair. Some of them can also be attached to a regular toilet where the users can adjust the height of the seat with additional stability when they use the washroom.
The video below shows how to use bedside commode chair.
Who Can Benefit From a Bedside Commode Chair?
A bedside commode is useful for anyone who has incontinence or is facing mobility issues.
Continence and incontinence refer to an individual's ability to control their bladder and/or bowels. For someone who is unable to briskly walk and reach the washroom, covering the distance between the bed and the bathroom can be a real struggle. Other reasons that can create such trouble can be surgical recovery and rehabilitation, infections of the urinary tract, age, balance issues, difficulty walking, and the effects of some medications.
Bedpan vs Bedside Commodes
A bedside commode is always a better option than a bedpan. Many doctors and caregivers recommend using them as compared to a bedpan as it facilitates getting out of the bed. It can also assist in preventing pressure points and bedsores. However, rushing to get to the bathroom can increase the risk of falling and injuring yourself.
The way you sit on the bedside commode is quite similar to a normal toilet. This makes it easier for you to relieve yourself. Bedside commodes are very convenient as compared to bedpans and give you peace of mind when you know that it is safe to use the bathroom as and when you need to.
You may also like Bedpan Alternatives for Managing Urinal Incontinence
What Features Should You Consider When Choosing a Bedside Commode?
Bedside commode chairs assist people with a variety of mobility and continence-related issues, from pediatric to adult and bariatric users. During the process of selecting the best-suited bedside commode, you should look at the agility of the user and the ease with which they would be able to move and support their own body weight. Depending on the body weight, you can choose the commode material between PVC, steel, plastic, or aluminum.
User mobility
You will find five different kinds of commodes in the market – traditional fixed arm, bench style, bariatric bedside commodes, cantilever drop-arm, and three-in-ones. Different people have different needs. A full time wheelchair user's needs will differ substantially from someone who is temporarily bedridden while recovering from surgery.
For individuals in wheelchairs, there are specific kinds of bedside commodes that will serve them efficiently, such as the cantilever drop arm commodes and the bench style bedside commodes.
The back support and fixed-arm commodes work well for users that are more self-sufficient. The cantilever drop-arm, bench style, or three-in-one units work better for people who require assistance from caregivers.
While all the five kinds of bedside commodes are sturdy, the three-in-one is more functional than others because it can be used in the shower as a bath chair, at the bedside, and overtop a standard toilet as well.
Versatility
The kind of bedside commode you choose would depend on the strength and mobility of the person who is using it. But it is also important to keep in mind the indoor space that is available. You would need to factor in the size and style of the commode depending on how much space do you have.
A standard commode chair can be accommodated in most bedrooms, but many portable commodes also double up as shower chairs. For such cases, you would need to consider the width of the tub or the shower area.
A drop arm, traditional two-arm, or bench-style commode works well for bedside use. An armless, three-in-one or bench commode would be more suitable if the equipment is required to be utilized in multiple indoor locations.
In addition to bedside use, you can also use portable commodes over the toilet. However, you should ensure that they are positioned properly so as to avoid any dangerous spills and leaks.
It is very important to place the commode appropriately, be it beside the bed, or in the bathroom. Keeping it in a slip-free fixed location ensures safe transfer of the user and lowers their risk of slipping, falling, and injuring themselves further.
You may also like How Long Do You Have To Use A Raised Toilet Seat After A Hip Replacement?
Form, function, and pricing
Bedside commode chairs come in different pricing ranges- from $50 to more than $1000. The price varies mostly due to differences in the design. A simple chair or a bench seat style portable commode will cost much less than a three-in-one chair that is well padded and has cantilever arms, a splash guard, and a removable backrest.
However, there are some standard features that are commonly expected in all models of bedside commode chairs, regardless of their price. Rubber tips on the legs that prevent the unit from sliding, height-adjustable legs, and an easy to empty pail are some of the features that you can commonly expect in almost all models.
If you are looking at the more expensive luxurious models, you will find features like thick, padded seat cushion with foam hand grips. Certain models also come with a powder-coated painted finish in multiple colors against a standard and basic aluminum, PVC, or raw steel finish.
Weight Capacity
Bedside commodes come with strict weight limits in order to protect the users. That is why it is important to use the correct information while considering which bedside commode should you purchase. using inaccurate information or trying to use the commode without understanding can lead to safety risks such as failure of the arm support, buckling of the commode legs, and slippage.
The devices are exceptionally safe to use if you decide to purchase the bedside commode within the range of the user's body mass. Just to provide you a reference, the weight capacity for a standard portable toilet is 300 pounds and for some specific very heavy duty bariatric models, it can be up to 1,000 pounds.
 In terms of the kinds of bedside commodes, bench-style and arm-less commodes have a more generous weight limit as compared to the chair style or a three-in-one commode.
Height and width
The standard height for the traditional in-ground toilet in your washroom is 16 1/8 inches, while the ADA compliant toilets, fixed or portable have a typical height of 17 to 19 inches. This additional height ensures that the portable commode can slide over the top of the in-ground toilet.
For individuals who are looking at using their commode in multiple locations, they should look for features like adjustable legs and a removable back. some bedside commodes in the market are useful in these scenarios exceeding the ADA adjustability requirement by raising them up to 25 inches.
Commode widths are generally not adjustable. Instead, they are mainly based on the equipment's weight capacity. For example, a basic fixed-arm commode chair that can accommodate a weight capacity of 350 pounds has 16 inches of width between the arms. A bariatric drop arm toilet which can accommodate up to 1,000 pounds has a width measurement of 28 inches.
You may also like Best Comfort Height Toilet For Small Bathroom
How Can a Bedside Commode Be Helpful to Your Loved One?
The greatest advantage for your loved one would be the convenience of having the bathroom come to them instead of them struggling to their way to the bathroom as and when nature calls. This becomes a life-changing experience for those who experience mobility challenges.
Another benefit of a commode is the height adjustability. People who are suffering from weakness of legs, those who are recovering from back or knee surgery, or seniors suffering from arthritis, the option of raising the height of their toilet can help them in avoiding any kind of falls and injuring themselves. This would definitely make their experience more pleasant.
How Is Choosing a Bedside Commode Helpful to the Caregivers?
Owning a bedside commode not only improves the quality of life of the user but makes it easier for the parent or the caregiver. It is much easier to move the user a few feet than to try and sprint them across the room to reach the toilet to answer the call of nature, especially at night time.
Choosing the right bedside commode for a loved one gives the caregiver peace of mind, and increases the confidence in the patient or loved one as they are able to retain their dignity and avoid embarrassing instances.
Are Bedside Commodes Covered Under Medicare?
Commode chairs are often the only equipment in the bathroom that is covered under Medicare. Medicare considers bedside commode chairs as Durable Medical Equipment (DME), which is covered under Medicare B. However a deductible applies to this situation. Medicare covers up to 80% of the cost of a commode chair, as long as other criteria such as a physician's prescription are met.
You may also like Do I Need a Raised Toilet Seat After Hip Replacement Surgery
Is the Cost of a Bedside Commode Covered Under Private Insurance?
Bedside commodes are considered to be medically necessary for users who cannot use traditional facilities due to physical restrictions. However, many insurers require that the qualifying member be confined to a single room or a level in the home, where there is no washroom available.
Before making your decision to purchase a bedside commode, you should check your insurance policy. It will be a good idea to talk to your broker or insurance provider to get more details on what would be covered and under what conditions.
Reviews of the Best Bedside Commodes with Large Opening
We have identified and are featuring some of the best options of bedside commode chairs keeping the two factors of comfort and convenience in mind.
#1 Drive Medical Folding Bedside Commode Seat
The Drive Medical Folding Bedside Commode Seat features a durable plastic snap-on seat and lid that installs without pushing any buttons. It has blue powder-coated steel welded construction with plastic arms enabling greater comfort and support.
It can easily open and fold for storage and transportation. It comes complete with a 7.5-quart commode bucket with a carry handle, cover, and a splash shield. It can accommodate up to a weight capacity of 350 pounds.
The chair legs whose height can be adjusted just by pushing a button, allow the commode to be used as an elevated toilet seat. It also has an elastic cord that allows legs to fold up for the smallest folded commode that is available for the user.
Pros
Easy to store and transport
The elastic cord allows legs to fold up for smallest folded commode available
Cons
With a weight capacity of 300 pounds, the chair does not support users on the heavy side.
The seat cannot be changed or replaced.
You may also like Best Tall Toilets for Elderly
#2 MedPro Homecare Commode Chair
The MedPro Homecare Commode CHair is a safe and convenient toilet alternative for individuals with reduced mobility. This is a durable and rust-resistant commode chair that has 7 height adjustments that can adjust the height in the range of 15.5 inches to 21.5 inches. It also features molded plastic armrests that offer added comfort and support.
You can use this chair as a commode for bedside, a toilet safety frame as well as a raised toilet seat. It has a pail and splash guard.
It weighs 11 pounds and has a weight capacity of 300 pounds and can be assembled easily without the requirement fo any additional tools.
Pros
7 position push button height adjustments.
Easy tool-free assembly.
Cons
With a weight capacity of 300 pounds, the chair does not support users on the heavy side.
#3 DMI Bedside Adjustable Commode
The DMI Bedside Adjustable Commode is a heavy-duty and an extra-wide commode that assists its users who find it difficult to travel to the washroom or use traditional toilets. It can be used as a bedside commode or can be positioned over the existing toilet as a toilet rise or safety frame.
The extra-wide platform seating is sturdy and can accommodate up to a capacity of 500 pounds. The large frame of this chair can easily be put over a toilet. The pail can be emptied easily and can slide out from underneath for emptying and comes with a lid that rests on the top. It holds up to 7 quarts. The contoured plastic arms of this commode chair are handy and assist you in comfortably steadying yourself and getting up and down.
The rubber tips of the legs are slip-resistant and add to the safety of using this chair and contain latex. The chair can be adjusted in the height range of 16.5 inches to 23.5 inches in increments of 1 inch to suit individual requirements. The chair in itself weighs 19 pounds.
Pros
It has dual uses, it acts as a safety frame for toilet and can be positioned over a toilet easily.
A great option for plus-sized adults, it supports a weight capacity of up to 500 pounds.
Cons
The arms do not move or drop down.
You may also like Best Wheelchair Accessible Bathroom Sink
#4 Medline – MDS89664KDMBG Steel Bedside Commode
The Medline Steel Bedside commode works three ways for temporary or chronic medical mobility issues. While you can use it at the bedside to eradicate the requirement of traveling to the washroom, you can also use it as an heighted seat above your toilet by removing the bucket and adding a splashguard.
You can also completely remove the seat and use its safety rails while using your toilet seat for extra security. This commode has Micro ban protection infusion on its handles and seats. This protection inhibits the growth of any form of stains or odors from the bacteria, mold, or mildew as it won't wear off or wash away.
The chair features a splash guard for over-the-toilet use, and a removable clip-on seat and lid facilitating easy cleaning.
It has a built-in holder that keeps the toilet paper close at hand. The rubber feet ensure that the commode is held in place and they will not scratch the wood or tile floors.
The height of the chair can be easily adjusted using the locking push-buttons without requiring any tools. It provides height increments of 1 inch from 23.5 inches to 29.75 inches.
The chair accommodates a weight capacity of up to 350 pounds.
Pros
It has a toilet paper holder feature which increases the comfort.
Easy assemble.
Microban protection antimicrobial prevents any stains and odors caused by mold, bacteria, and mildew.
Cons
The backrest can not be removed.
The chair is not foldable.
#5 Bariatric Bedside Commode by Vive
The Bariatric Bedside Commode Chair by Vive is a versatile commode option that comes with a 6-quart capacity pail. The pail comes with a lid and a splash guard.
This chair can will offer three benefits in one commode chair. You can use it as standalone unit, as a safety toilet rail frame, or as an heighted toilet seat for your existing toilet. It can easily fold away and is thus convenient for storage purposes.
This commode is pre-assembled and features tool-free height adjustments. The pail which is drop-in makes the initial commode setup quick and free of any hassles.
The user can raise or lower the height of the chair through easy tool-free adjustments. The leg height can be easily adjusted from 14.5 inches to 20 inches for user comfort.
The chair construction is of stainless steel and it is lightweight and corrosion-resistant. It provides a stable and sturdy bedside option accommodating a weight capacity of up to 500 pounds. Each leg tip has a non-marking anti-skid rubber cap that prevents tipping of user and thus provides additional stability.
The armrests of this chair are covered with a soft material that provides a secure and comfortable grip while the user is sitting or standing.
The chair comes with an lifetime guarantee without any condition.
Pros
Unconditional lifetime guarantee.
It comes with a bucket splash guard.
It supports a weight capacity of up to 500 pounds.
Cons
The chair does not have a drop arm.
The seat and arms are sturdy but they do not come with padding.
You may also like Best Floor To Ceiling Grab Bar Poles
#6 OMECAL Drop Arm Medical Bedside Commode Chair
The OMECAL Drop Arm Medical Bedside Commode Chair offers easy bedside access to the user, is sturdy and portable. It can also work as a toilet elevator or for safety on your existing toilet.
It has a stable and sturdy base and accommodates up to a static weight capacity of 450 pounds. It features contoured plastic armrests that add to the safety and comfort of the user.
Each leg of this chair has a rubber cap at the bottom which is slip-resistant and prevents the user from tipping over, thereby,  adding to their safety. The pail has a capacity of 8 quarts and comes with a lid that can rest on the top. The steel frame is easy to maintain and clean and is durable. The frame has a fixed back and drop-arms for easy patient transfer.
It functions as a multipurpose commode and can be used as a bedside commode, an elevated toilet seat, a toilet safety frame, or over your existing toilet. It assists in easily getting up and down from the toilet helping the user maintain independent living. It can, however, not be used as a shower seat.
It is made of steel and plastic with a seat to floor height adjustment ranging from 17.5 inches to 23.62 inches. The chair legs have buttons that can be used for height adjustment to meet your specific needs. It weighs 16.1 pounds and comes with an instruction manual.
Pros
The feature of drop arm allows for easy transfer of the user.
It supports a static weight capacity of up to 450 pounds.
Cons
It cannot be used as a shower chair.
It does not come with a splash guard.
#7 Dignity Ultra-Premium Padded Bedside Commode, Shower Chair
The Dignity Ultra-Premium Padded Commode chair provides exceptional comfort with its soft, padded, warm seat base, armrest, and backrest. The PU foam is commercial grade and will never absorb water.
It prevents any form of sliding and is convenient to clean and disinfect. This 3-in-1 chair can be used as a bedside commode, over the toilet, and as a shower chair.
Its extra-large seat is 16 inches X 16 inches with the width between the armrests being 20 inches. The competitive commodes in the market are generally too small to be useful or comfortable.
This commode chair provides superior access to the perineal area with its 100% open front that allows for proper and effective wiping and cleaning. The open unobstructed front offers comfort and convenience to the users. It does not feature any metal bar or toilet seat like the way old-style commodes have. The padded and extra-high armrests are weight-bearing and provide great safety and convenient leverage points for assistance in standing and sitting.
You do not require any tools to assemble this chair and it can be done in less than 60 seconds. The frame is made of aluminum and is medical grade rust-free. The commercial-grade construction offers safe, solid, long term durability and reliability. The seat height is adjustable ensuring a perfect fit and it includes a free commode pail.
The Dignity Commode Chair features modern blue or gray padding options along with a contemporary brushed aluminum frame. It includes an integrated toilet paper holder providing safety and convenience.
Pros
The open unobstructed front makes it convenient and comfortable for effective wiping and cleaning.
Fast and Easy to assemble.
Cons
The armrests are stationary making the transfer of user from the wheelchair to the Dignity chair a little cumbersome.
You may also like How High Should Grab Bars Be Installed?
#8 Health Line Massage Products Bedside Commode Chair
The Health Line Massage Products Bedside Commode Chair is a versatile premium quality chair that enables the commode you can use at your bedside, as a safety on your regular toiled and an elevated toilet seat. The multi-purpose nature of this chair makes it easy for those users who face difficulty in traveling to the bathroom or using the traditional toilets.
It features a rust-proof 1.4 mm aluminum frame that as a removable backrest and can support a load of up to 300 pounds. You just need to press push pin for assembling it or detaching and attaching the backrest. No additional tools are needed for the easy and quick opens and folds. This chair can fold flat for convenient transportation and storage.
The seat uses a 7 position height adjustment mechanism that enables adjustment in a range from 16.4 inches to 22.4 inches. It has rubber feet that are non slip making it safe to accommodate any individual. The chair weighs only 8.2 pounds and you can use it in most toilets and bathrooms.
The chair has a 7.5-quart pail that is generously sized and is easy to empty. It features a convenient carry handle and a pail cover that reduces the chances of splashes and spills. The pail can also be used with the most standard commode liners available in the market. The folding commode can be wiped down with disinfectant wipes or a similar solution.
The manufacturers offer a 30-days free money-back guarantee and 60-day unconditional return policy with a 3-year limited warranty.
Pros
Comfortable and convenient with removable backrest, padded arms, and adjustable height.
Easy assemble.
Cons
With a weight capacity of 300 pounds, the chair does not support users on the heavy side.
#9 SUKONG Bedside Commode
The Sukong Bedside commode chair is sturdy and easy to install. It is made using high-grade plastic and lightweight aluminum alloy, which means it is rust-proof and durable both.
There is a comfortable seat board that has a toilet style. The assembly does not require any additional tools and is quite simple.
This chair has a soft seat and PVC blow molding cover, send blickey, and bottomless blickey. The cushion of the portable toilet is made up of elastic cotton making it cozier while seated. the seat cushion is detachable and can be cleaned easily with no need to worry about soiling. It is, however, recommended by the manufacturers to wipe it with a moist cloth so as to prolong the cushion's lifespan.
The bedside commode is adjustable to 5 levels of heights. Depending on your own height or the position in which you would be comfortable sitting on the chair, you can choose the apt height for adjustment. It comes with a simple push-button mechanism that permits you to adjust the height from 16.9 inches to 20.9 inches. It supports a weight capacity of up to 285 pounds ( or 130 kgs)
The handrails are non-slip and fixed and have been reinforced to withstand the greater weight. The chair comes equipped with a backrest that can relieve your back tension effectively.
The bedside commode chair comes with a plastic bucket and a cover. The plastic material makes it easy to clean. You can also put a rubbish bag on, helping the caretaker feel more relaxed in disposing of the waste. You can pull out the bucket from the commode and handle it even when the user is seated. Do note that the garbage bags do not come with the seat and would need to be purchased separately.
It acts as a multipurpose chair once the bucket is taken away and it can be used as a normal chair then. Additionally, it also serves the purpose of a handrail for toilets.
Pros
Sturdy and Durable.
Easy to assemble.
Acts as a Multi-functional normal chair after you take away the bucket.
Cons
Not suitable for plus-sized adults on the heavy side.
The chair is not foldable.
You may also like Best Wheelchairs With Commode
Conclusion
Bedside commodes are a medical necessity for people recovering from a surgical procedure, are elderly, or are incapacitated. The greatest advantage for a user in using a bedside commode is that the bathroom is coming to them, instead of them trying to reach the bathroom. They are mostly placed next to the bed, but almost all of them are portable and can be easily moved around the house depending on the needs of the user.
You may want to read and know more about other incontinence solutions. You can read about how can you stop urine leakage and heavy duty incontinence bedpads.