Overbed tables allow you to keep things close to you if you are bedridden. They can also be used to eat, work or read on. We have reviewed 10 best hospital overbed tables for you. If you are in a hurry, below is a snapshot of the 5 best ones. Or you can scroll down to read the detailed reviews.
Recovery from injury or medical procedures can take a long time. Being on long-term bed rest can make even seemingly simple activities more difficult. One major challenge faced by people with limited mobility and chronic illness at hospitals is loss of independence.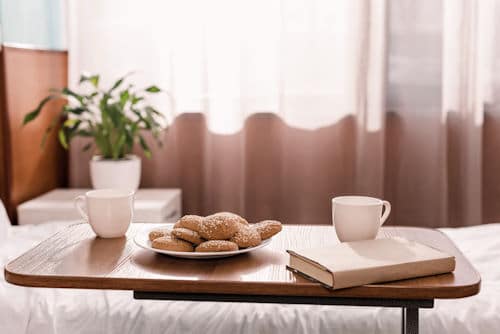 Things such as reading, enjoying a meal or a drink, or getting any work done on a laptop or handling paperwork become much more difficult when one is on bed rest. It becomes frustrating as well as disheartening over time to always ask for help for little things.
The risk of injury increases, especially when one is trying to reach for distant objects. It is also not a good idea to keep things on the bed or over one's lap as there are chances of spillage (in case of liquids or other food items).
Thankfully, with overbed tables, you can keep the most important things closest to you. Whether you are recovering at home or in a hospital, these tables can be a real lifesaver! Overbed tables aren't like other tables.
They come with a frame on one side so that they can be easily slid over the top of the bed without needing to be hauled up and over as a normal table would.
How Does One Find the Right Overbed Table?
The type of overbed table that will suit you the most will depend upon your specific needs. Some people may want portability while others may look for more stability or longevity.
There are many variations of the overbed table meeting different needs of people. For instance, some are wider with more storage room, while others are longer and narrower in order to fit into smaller spaces.
The 3 types of design usually encountered in overbed tables are standard C bases, low profile U or extra stable H shapes. The top of the table can be made from either hardwood or plastic and the base typically contains heavy-gauge steel.
You may also need to decide on weight capacity in addition to the basic features mentioned above. The weight capacity is higher for some models that can hold a many items, while others are lighter and can only handle a small weight. These lighter overbed tables may have other advantages like convenient storage and quick transportation.
There are additional elements like spill guards, laminated tops and vanity kits in many hospital overbed tables. Some have features that allow work well with wheelchairs while others are made up of 2 different parts (one static and one that swivels).
Many users have issues putting the table together so it is always a good idea to check for a quality instruction manual that allows for quick and simple assembly. The table may be made from recyclable content offering a longer life span like walnut, maple and oak, depending on the brand one chooses.
You may also like Bedwetting Alarms for Seniors and Children
Best Hospital Overbed Tables Reviews
There are several factors to consider when choosing the best overbed table for your circumstances, including the type of bed you plan on using it with and whether you need to use it with a computer. We looked at a variety of factors, and also combed through user reviews of the better tables, and came up with this list of the top ones in the market:
1. Vaunn Adjustable Overbed Bedside Table with Wheels
When it comes to the best hospital overbed tables, our top choice is Vaunn Adjustable Overbed Bedside Table. This stunning walnut wood-grained overbed table is a favorite among individuals.
With a textured, laminated top and molded edges, it's perfect for those who want to continue upgrading their home space with equipment that doesn't look like hospital furnishing.
Product Description
This gorgeous walnut hospital overbed table looks like a desk that one might find in a library or home office. In addition to its beautiful top, it is finished off with chrome-plated steel welded construction, making it a durable model for consistent usage. Users do not need to fear bending or breaking as it can support up to fifty pounds of weight.
This bed also includes four wheels, two of which lock in place for stability. Not every bed is the same size, and sometimes it is better for a table to be higher up or lower and closer to an individual's legs. For this reason, this overbed table adjusts easily between twenty-eight and forty inches with the use of an easy spring-loaded locking handle.
Product Specifications
Supports up to 50 pounds
Adjusts from 28â€-40â€
Heavy-gauge tubular steel construction
Two locking wheels
Spring-loaded locking handle
Advantages
Doctor Recommended – This product is the top selling hospital bedside table in hospitals and clinics.
Durability – With a laminated top and flush mounted molded edge design, this model can withstand months or even years of wear and tear while still looking brand new.
Stability – The simple framework and H frame base construction keep this hospital bed table from bending or breaking, and its two locking wheels mean that it stays in place so that individuals can enjoy full meals and drinks on their table without spills.
Is This The Table For You?
At an affordable cost, this is one of the most highly demanded overbed table units among individuals experiencing long-term bed rest or immobility. If you are looking for a table that does the job well and is a beautiful furnishing for the home, the Medical Adjustable Overbed Bedside Table with wheels might be the best option for you.
The video below shows how to assemble Vaunn Adjustable Overbed Bedside Table with Wheels.
You may also like Step Stool with Handle for the Elderly
2. Drive Medical Overbed Table
With a simple design, this overbed table is by far the most efficient on the market. Rather than shell out a ton of money on a hospital overbed table, spend less on an equally durable, equally functional unit that can do the same job.
Product Description
When it comes to adjustable features, this table is one of the best out there, with an adjustable height range spanning from twenty-eight inches to forty-five inches. It also maintains the industry standard for durability with a common H-style base and swivel casters.
One of the benefits of this model is that it utilizes easy-to-use adjustment levers that make raising or lowering the table simple and maneuverable even from the bed position. The table can support forty pounds of weight and has an affordable price point, making it one of the best value overbed tables.
Product Specifications
Supports up to 40 pounds
H-style base
Swivel casters
Adjusts from 28â€-45â€
Advantages
Stability – The H-style frame base makes it easy to simply slide this table over the hospital bed.
Height Range – This unit extends from 28†to 45â€, which is one of the larger ranges of heights in bedside tables.
Price: This model doesn't compromise on stability, durability, or features, but it does make it much more affordable to enjoy the pleasures of an overbed table.
Is This The Table For You?
Anyone who doesn't want to compromise on quality, but does need to shop on a budget would definitely be well suited to the Drive Medical Overbed Table. This simple design serves all the purposes other models do, without the exorbitant prices.
3. Vaunn Medical Deluxe Tiltable Overbed Table
Of all the products on the market at this time, this overbed table might be the one with the most exciting new features. It comes with all the same height adjustments and locking wheels, but this model also makes use of a tilting mechanism for increased usage.
Product Description
With the turn of a lever, this table can rotate at an angle for three hundred and sixty degrees. This rotation makes reading or using a laptop easier, and can allow for maximized mobility and functionality. One of the other fantastic factors of this model is that it is a two-part table.
While one side rotates to hold up a notebook or tablet, a smaller section remains upright to hold your coffee, water, or snack upright and in place. You can have the best of both worlds with this fantastic new design.
The unit also doesn't compromise on other impressive factors. It supports up to fifty pounds of weight and adjusts within the impressive range of twenty-eight inches to forty-seven inches. It also utilizes a laminated wood grain top with a molded edge so that it not only functions well, but looks sophisticated.
Product Specifications
Supports up to 50 pounds
Adjusts from 28â€-47â€
One touch height adjustment feature
Two-part tilt-top
360 degree angle adjustment
Two locking wheels
Advantages
Customization Options – The height range of this product is impressive to start with, but it is also able to partially tilt 360 degrees while leaving a segment upright for more mobility.
Appearance – This table looks gorgeous in a home or hospital room with its wood grain top.
Is This The Table For You?
If you want to have the most independence and mobility while in bed, the Medical Deluxe Tiltable Overbed Bedside Table is one of the best options out there. Its tilting and height adjustment mechanisms are easy to operate and great for enjoying a number of activities or tasks in bed.
You may also like Best Bed Alarms for Dementia Patients
4. Vive Overbed Table
This product exceeds the industry standards when it comes to how easy it is to operate and maintain. The Vive overbed table has made life easier for a number of bedridden individuals residing in hospitals and homes.
Product Description
By simply pushing the table up lightly, it can be adjusted, without need for levers or difficult switches. This product can support up to fifty pounds of materials.
With corrosion-resistant surfaces of wood-grain laminate, this product maintains well over time and can be cleaned easily. It also includes a lip around the edges of the surface in order to keep necessary items to avoid any spillage.
Product Specifications
Supports up to 50 pounds
Adjusts from 28â€-39â€
Corrosion-resistant surface
Lifetime guarantee
Advantages
Durability and Maintenance – This product stands up well to spills and stains, and prevents them as well.
User-Friendly – This unit is incredibly easy to clean and to adjust. Simply lifting up the table or pushing up from the bottom lightly adjusts it and locks it into place, and for downward motion there is an easy-to-use lever.
Is This The Table For You?
With so many options on the market, this overbed table is best for those who want an easy-to-maintain product that will last them a while. The Vive Overbed Table – Swivel Wheel Rolling Tray Table stands up to wear and tear.
5. Medical Adjustable Overbed Bedside Table
With the rise in popularity of new and exciting designs, the tiltable overbed model has made an appearance twice on this list. Individuals flock to this walnut table for use in their homes or clinics.
Product Description
This product easily adjusts from twenty-eight to thirty-nine inches, but that's not all. It also moves on an axis and tilts so that users can more easily utilize notebooks and writing utensils or have a better viewing of their tablet or electronic device.
Product Specifications
Supports up to 50 pounds
Adjusts from 28â€-39â€
Tilt-top
Advantages
Customization Options – In addition to customizing the height of this model, users can also tilt the face of the table in order to function easier.
Appearance – With lovely walnut wood-grain laminate, this model is a stunning addition to a hospital room or bedroom at home.
Is This The Table For You?
For a beautiful furniture piece in addition to an adjustable, customizable tilt-table, try the Medical  Adjustable Overbed Bedside Table with wheels.
You may also like Best Bed Stool And Stairs For Elderly
6. Drive Plastic Top Overbed Table
This is a budget friendly bed table that can be used both in a hospital setting as well as at home. The main advantage from this model is in its plastic top which does not break easily, is low maintenance, lightweight and offers a longer lifespan.
The table base is solid and offers increased stability due to H shape. Additionally, the table top also allows for height adjustment!
Pros
Affordable
Fast, effortless assembly
Increase surface space
Well designed and sturdy
Top includes raised edge to collect spills
Easy to clean
2 areas for placing drinks
Wheels roll well on hard indoor surfaces like linoleum
Cons
Slipper surface
Does not tilt
Slightly unsteady when rolled on carpet
7. Invacare Hospital Overbed Table
This tilt  overbed table offers more reliability and flexibility compared to its fixed counterparts. This model is better as it allows one's loved one to perform daily activities like work, writing from their hospital bed.
You can tilt the table into 3 different angle positions. The base is also made of steel and the foundation is chrome plated making the table longer lasting, easier to clean, corrosion resistant and wear resistant.
Pros
Can be tilted between 20 and 30 degrees in any direction
Low cost
Durable, low maintenance and secure
Safe and easy-to-use locking mechanism
Large enough surface for a laptop
No pointed edges and plated metal parts
Casters with brakes that prevent unwanted gliding
Rolls easily on most indoor surfaces
Excellent customer service (replacements arrive very quickly)
Laminated top
Wheels can be set not to turn
Features a lip around the edge that corrects spills
Cons
Slight lateral wobble when the table is moved
Instruction manual could be improved
The small lip is not suitable to prevent items from falling off the table
You may also like Best Coccyx Cushions for Tailbone Pain
8. Carex Overbed Table
This overbed table model offers a quality frame and extra large surface offering more versatility than most of its counterparts currently on the market. Hence, the table is suitable for both at home and hospital use.
The unique C-shaped design enables proximity to the table and is more comfortable without any space in between, making it a wise choice if one's loved one is left handed.
The foundation is weighted to reduce the risk of tipping and includes 2 areas for holding drinks. It also offers height adjustment options and works well with most wheelchairs. Carex's product easily slides under the bed due to its four caster wheels that ensure a smooth transition.
Pros
Low cost
Suitable for left-handed patients
Also suitable for wheelchair use
Features footrests on the bottom
Adjustable height
Simple and quick assembly
Large surface and solid construction
Comfortable and lightweight
Wheels move effortlessly on linoleum, wood and carpet
Ways to lower and raise
Items like drinks, pens, remotes can be stored in the grooved sections
Resistant to rust and wear, easy to sanitize
Cons
Does not tilt
Cup holder is only 1/4 inches deep
Package does not include essential tools to put it together
Wheels do not feature a locking mechanism
Top is not completely flat
9. Overbed Table with Vanity Non-Tilt
This is a sturdy and practical model featuring a straightforward design made up of solid materials that guarantee increased durability. The unique offering of this model is its small storage drawer on each side of the table allowing one's loved one to keep personal hygiene items, medication within reach.
Pros
2 drawers on each side of the table for extra storage space
Height can be adjusted for increased comfort
Secure, convenient, and durable
Low maintenance
Portable, easy to use, store and transport
More stable than other models (does not move easily when touched or pushed)
Has an elegant walnut finish
Automatic spring assisted life mechanism to prevent tipping
Drawers include 2 quality mirrors
Cons
Does not roll easily on rugged surfaces like carpet
Higher cost
Set up instructions that are difficult to understand
Table's dimensions are fairly small
You may also like Best Patient Lifts for Home Use
10. Silver Spring Overbed Table
The advantage of this model lies in its tilting feature that allows a comfortable position in all settings and easy access. It has an H-shaped design and is more durable, convenient and can easily slide under beds.
The height is adjustable to fit various bed sizes and the table has a designated knob to change the height. The casters will make it easy to roll with less effort on many surfaces indoor. They come with a unique mechanism of  that will keep the table secure and firm  giving you more control over their mobility.
This table can be used as a desk or to eat meals on as well as to keep personal belongings and medication within reach. The product is made of high density board and strong stain-resistant steel making it easy to clean. The top has a laminated finish and the frame is powder coated to protect against scratches, corrosion and rust.
Pros
Very low cost : one of the least expensive options on the market
Tilting feature and adjustable height
Wheels with a safe locking mechanism
Smart design for increased stability
Sturdy and long lasting construction
Easy to clean and maintain, stain and rust resistant
Fits different bed sizes
Cons
Does not have a lip around the edges to prevent food or items from sliding off
Wheels are light, small and do not turn properly when the table is moved
Handle does not tighten well enough and pressure may cause table to fold down
Using An Overbed Table
These units are so easy to maneuver that a patient can even move it themselves from the comfort of the bed, without external help from a nurse or loved one. This makes independent functioning just that much easier for individuals experiencing immobility or long-term bed rest.
If you've never used an overbed table before, here is a helpful YouTube video demonstrating how they work: